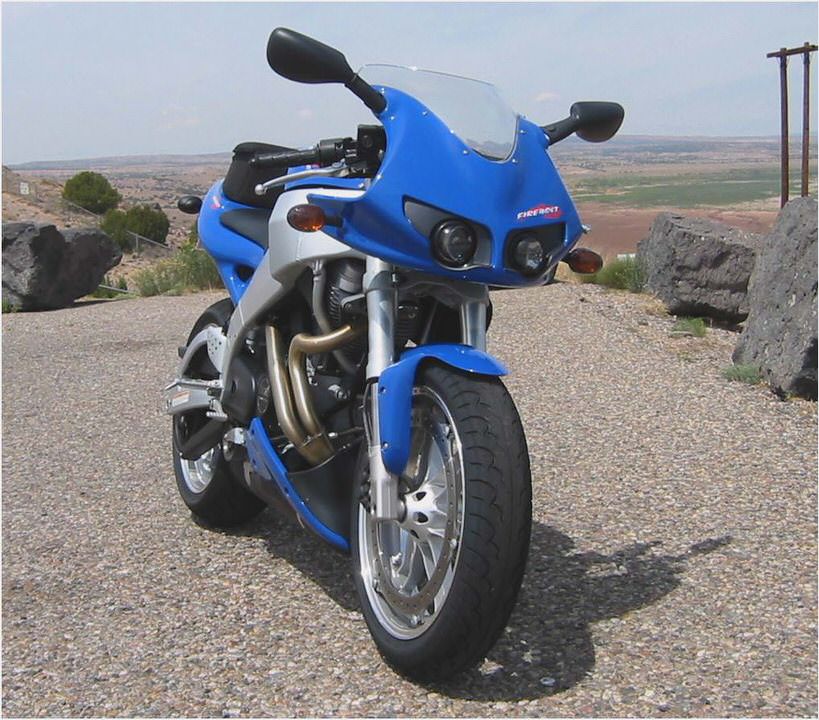 Motorcycle-USA / Motormag / Motorbikes Today / Motociclismo / Sport Rider / Motorandagio.it
I consider myself one of the fortunate journalists that get to test new motorcycles all year round, primarily because of my geographical location Florida, the sun capital of the world or should I say, the bike capital of the United States. But, like most of us, Im not privileged enough to live on a canyon road or near the surroundings that resemble the environment for which some of these sportbikes were created for that long, winding road that in a word is motorcycle nirvana.
For years I rooted for the concept of an American-made sportbike, but after testing some Buell products a few years ago and listening to the constant complaints about quality and service, I sort of put that idea on hold until a few weeks ago, when I finally got to test Buells new XB12R for the first time. And boy was I surprised, for this new model mates the intuitive handling and innovative technology of the original Firebolt XB9R with a torque-monster engine – a new 1203cc lightweight 45 degree, air/fan and oil-cooled fuel-injected V-Twin rated at 103 peak horsepower and 84 ft. lbs. of tire-twisting torque. Its entire displacement boost comes through an increase in stroke, from 3.125 inches to 3.812 inches with a compression ratio of 10:1.
Torque comes from the big cylinders, of course, but the linearity of the powerband is due to the fact that this new engine comes equipped with Buell InterActive Exhaust, thus broadening its torque band by way of an electronic actuator that activates a butterfly valve in the muffler to adjust back-pressure by alternating between two exhaust gas flow paths. The engine computer monitors engine speed and throttle position while activating the valve to optimize torque and horsepower for the riding condition.
The valve opens at low rpm for the best flow, and then closes in the midrange for optimum torque before opening again at high rpm. As part of the system, header pipe diameter is increased from 1.50 inches to 1.75 inches. The intake throttle body diameter is increased from 45mm to 49mm, and a stiffer clutch spring and new Aramid reinforced Hibrex drive belt are fitted to handle the torque demands of the 1203cc engine. The primary drive ratio is lowered from 1.68:1 to 1.50:1.
Gear ratios in the five-speed transmission remain unchanged.
The rigid aluminum frame is a light-weight, multi-functional structure that serves as a solid foundation for the bike as well as a support for the 3.7-gallon fuel tank. Using the frame to carry fuel significantly lowers the center of gravity and reduces the moment of inertia, both of which improve the bike's reaction to rider input. Mass centralization and a low center of gravity are further enhanced by locating the muffler below the Firebolts engine.
A massive aluminum swingarm doubles as the engine oil reservoir, and is supported by an adjustable Showa shock absorber.
The Buell Zero Torsional Load front brake system feeds braking forces from a six-piston caliper through a 375mm inside-out rotor mounted near the wheel rim to virtually eliminate torsional loads to the front wheel. This permits the use of a light-weight, six-spoke cast aluminum wheel that significantly reduces unsprung weight and steering inertia. The front end is suspended by a fully adjustable 41mm Showa inverted fork.
It surely feels like the best sportbike ever built by Buell; definitely the smoothest drivetrain Ive experienced on a sportbike, with not a hint of abruptness many other injected bikes have when re-applying the throttle coming out of corners. Simply put, one that will satisfy the needs of most sport riders, and its not just the peak horsepower, but the ground-pounding, mid-range torque you can command to accelerate almost instantly in any given situation. I felt comfortable all the time I was riding — my average 57 body wasnt too crumpled up, and the close-coupled riding position on the new Firebolt didnt force too much pressure on my wrists, although it might be different for taller riders, who might get cramped from the high pegs that offer plenty of ground clearance.
At speeds of up to 80 mph, its a smooth cruise, as the engine turns at just 3800 rpm thanks to a taller primary drive ratio than fitted to the XB9s, but when you go past that 80 mark, vibration becomes an issue and could get intrusive, eventually numbing the riders hands. Despite the vibration-isolating engine mounts, vibration sneaks through the solid-mounted clip-on handlebars and the firm seat; a skinny butt will get sore after more than an hour in the saddle.
There are two colors to choose from; either the Racing Red color that I tested, or Midnight Black. The bike features a Graphite Grey frame and swingarm, black-and-amber tail and airbox graphics, magnesium-toned clutch and cam covers, and a wild amber windscreen. The cast aluminum wheels receive an exclusive, high-gloss translucent paint process that produces a beautiful amber color with natural variations and depth.
The perforated seat cover completes the premium look.
Though a terrific bike, I would like to see a few changes made or at least addressed — the unfinished (non-glossy) inner fairing panels look inexpensive, the bar control housing and the plastic turn signal switch looks and feels tacky, the clutch cable rubbed against the plastic lower fairing, and the yellow-tinted windscreen causes the yellow fuel light to appear illuminated in daylight.
Theres plenty to like about the XB12R, starting with the fact that they have totally abandoned the barrel-type key and separate fork lock of previous models in favor of a regular slot key and integrated fork lock. The analog instruments with two tripmeters and a clock are easy to read, and one of my favorites are the wheels with thin spokes and that translucent amber color that glows in sunlight.
I say this bike is worth considering for many reasons, but at $10,995 with the new two-year unlimited warranty (unlike one-year coverage for models prior to 2003), plus the comfort and dynamics, and the uniqueness of riding this proud American bike, makes it worth every penny. And if you ever felt the power was not cutting it for you, there are always plenty of aftermarket parts for the engine to make it DYNOMITE.
All in all, this new Buell XB12R Firebolt is one to think about, for it not only gives you plenty of fun riding, but youll look plenty good while riding it!
CarpiMoto – Zero Gravity Windscreen Buell Lightning XB9S / CityX XB9SX
Buell Northwest Harley Blog
Buell 1125CR Ash On Bikes
2005 Buell Lightning CityX XB9SX – Used 2005 Lightning CityX XB 9SX at…
2008 Buell 1125R First Ride Super Streetbike