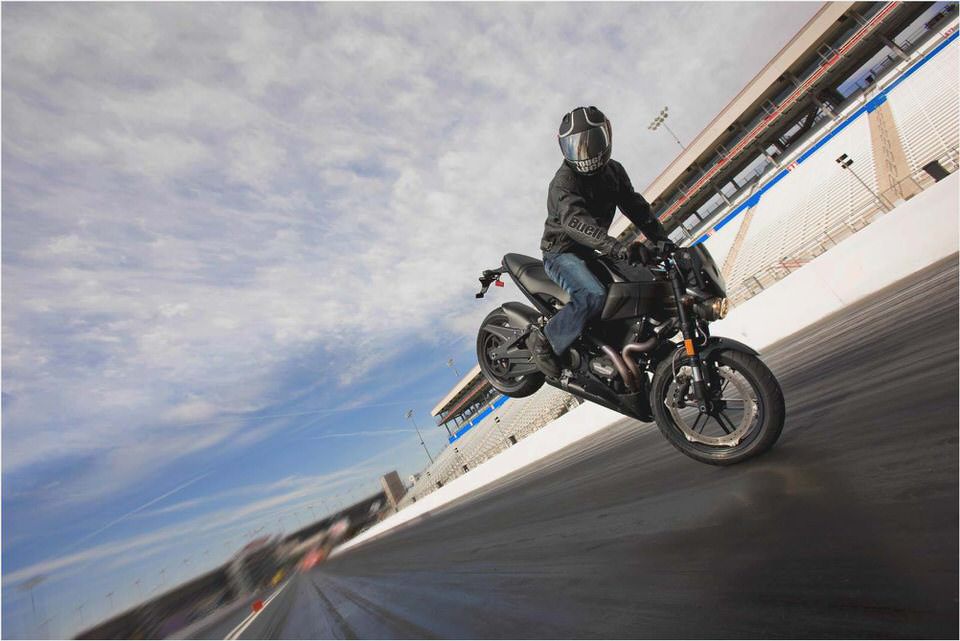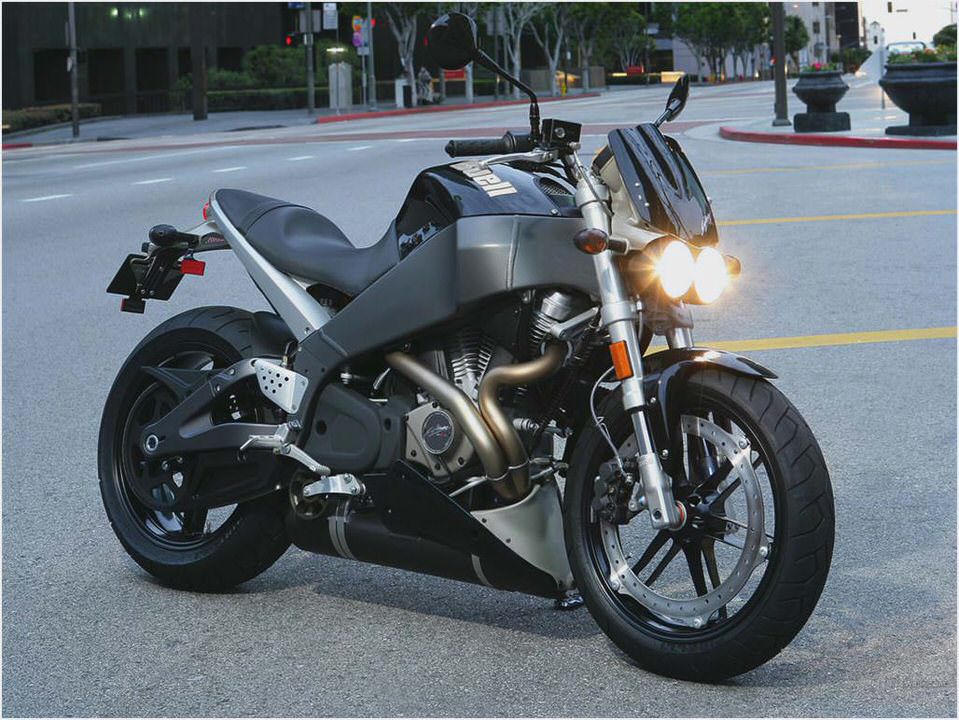 Buell XB9S Lightning
2003 Buell XB9S Lightning.
Patriotism By Mike Emery
Photos By Tom Riles
It's a wonderful thing. The ability to pass between two countries, enjoying the courtesy of each, as if you were a native of both. Me? – I get to wave the Stars and Stripes and sip my tea in between Monty Python repeats on BBC America.
So what about the Buell? It has the lungs of the proverbial Iron Horse and the legs of a thoroughbred sportbike. Can it mingle with the unwashed (only joking) and hang in the canyons with the uncomfortable?
Let's go find out.
It's winter in Florida, which means perfect biking weather for three fabulous months of the year. Unfortunately, and due to the scarcity of this model I'm forced from the lush and luxuriously equipped 2WF garage, 3000 miles west to California to go taste the flavor of Erik Buell's latest creation.
Now, I'm just like you, I have a stereotypical image of American iron, I secretly smiled to myself as I picked the bike up from the Buell press fleet and loaded it straight onto the back of my rented pick-up…
Better up there than down here
Short enough for ya?
But after unloading, that was the last I saw of the Fudget rental pick-up. Upon swinging my leg over the Buell it became immediately apparent – Dual citizenship? Forgeddaboutit.
This is a naked sport bike it's as comfortable and practical as it is sporting and stuntable. It's not a Harley, my two-wheel-freaks, it's a Buell.
The looks are totally streetfighter, naked, aggressive and stripped of any unnecessary implements like excessive plastique. The seat locks you into a comfortable elbow out style that mimics, flat tracking or my own much-favored supermotard.
Pasta Strainer or Cheese Grater?
Pressing the go button introduces one to all sorts of rattles and vibes that could shock the unwary. This bike has a unique feel (literally) as well as a unique look. The 984cc V-Twin is wedged into a stubby frame using a Uniplaner vibration isolation system (a what?) The bike is phenomenally short in length verging on err, stubby.
It looked like a Pitbull and when underway and has the urgency of that same dog looking for a mailbox to pee on.
Looks comfortable and was
With only a 52-inch wheelbase and a 21-degree trail this thing is agile, pulling away it's immediately apparent that you can turn on the proverbial dime, and turn right now. Cross-town traffic is a minor hindrance when you can turn this quick and squirt from light to light. Helping up front is a set of three-way adjustable Showa's complimenting the three-way adjustabubble rear unit.
Check your oil sir?
The footpegs are a tad lower than a typical Buell (I'm told) they felt right to me regardless. Weight, gassed up, is the wrong side of 400lbs, but due to its low center of gravity, didn't feel it. Whilst on the subject of gas, it's no secret that it's in the frame and the oil is in the swingarm.
Technilogical marvel or Mr Buell showing off? You decide.
The Clocks were visible and in the right place, two trip meters aided trip metering and it had a useful low fuel light to boot.
I took this bike with me to a tire intro at Buttonwillow. I half expected to be jumping straight off of this bike onto the first available Supersport or similar as quickly as my bowlegs would carry me. I didn't – The bike was so much fun and with an attitude that totally amazed me.
I could run rings around quite a few other so-called sport only bikes and spent most of the day chasing after a couple of 998′s with (d)illusions of grandeur.
The chassis was very composed; I had to take off the feeler pegs after a lap or four because I was catching both sides here and there, and here again. On its ear, it felt extremely stable and fun to thrash around.
Due to its relatively low rev ceiling, 8000rpm instead of the usual race rep 14K, I shook hands with the rev limiter more than a couple of times. But once into short-shift mode my progress was uninhibited in every way. The gearshift was reasonably slick and I only lost my way once or twice, The XB reminded a bit like a fussy Italian bike, if you treat the shift firmly – forward momentum is unrestrained.
I must admit that I expected the bike to be puking its guts out after the thrashing I gave it. It wasn't, it gave me that "is that the best you got" look. No groans, warning lights or anything – How embarrassing.
All the right parts are in the right place, even if it took me a couple of minutes to find the ignition key. Fit and finish was more than reasonable, with a minor foo-far being the edge of the faux gas tank, which was a little jagged. Brakes were good and top notch.
As mentioned, nothing leaked, broke or fell off – go figure?
The front brake takes a different approach to the norm with its funky perimeter style rotor. I had to adjust my riding style accordingly.
Head for the nearest corner brake, release and turn. Got it? Don't be trying that trail braking stuff with this bike…
Trail braking's for cissies so get off those brakes and turn it in, if you try to trail brake, the bike resists turn in and you won't. I had to learn this quick once I hit the canyons, mid corner braking shenanigans would have this bike standing up and heading in directions uncharted. This was a minor irritation and just reminded me of the right way to set up a corner anyway.
On the track I never noticed this at all.
I dyno'd the bike at Orange County Harley Davidson and had a chance to further quell any preconceived opinions of the Harley lifestyle too. I turned up to Dyno the bike and ended leaving it for them to squeeze onto the dyno the very next day. I didn't attend when I should have and I ended up picking the bike up when the service was closed, good luck said one wag (it was a Sunday).
No fear, Orange County Harley Davidson went out of their way to get this bike back to me, clean and all.
Top shop too with proper Harley pricing, a big thanks to Richard Hodges and all in the service department – I really was the worst kind of demanding customer and they dealt with me superbly. Your mileage may vary, but this was definitely a great American Iron service experience.
Would I buy this bike?
Where do I sign Buckaroo? It's the sort of neat and quirky bike for this particular quirky and not so neat Brit. This is not your typical disposable sportbike.
It's a bike that has a character and an attitude that is lacking in some of the latest participants of the naked division.
Hey, it even has a race kit available and the fact that it's 'mericun made brings out the patriotism on one side of my dual national loyalty.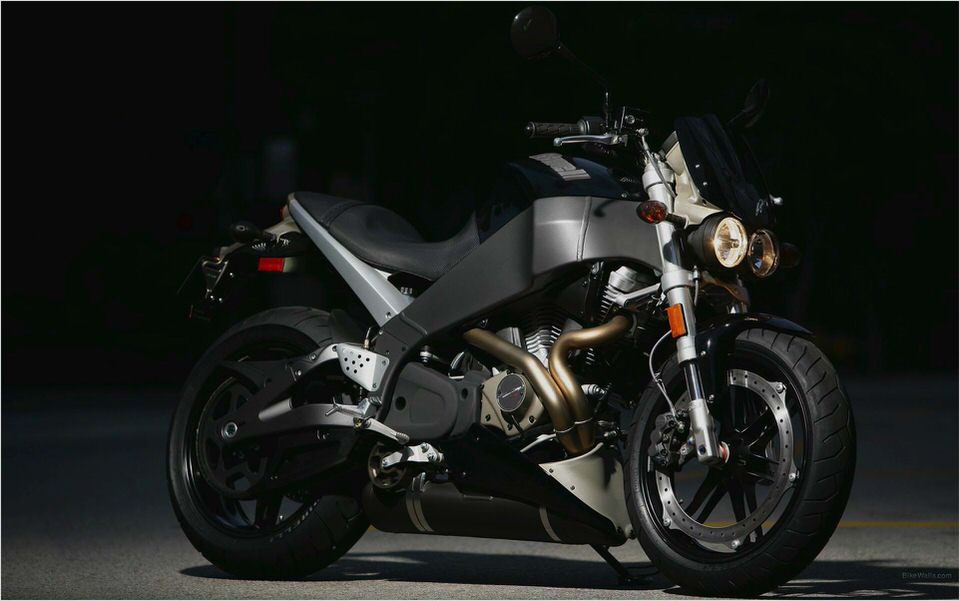 God save the king of short, pudgy, fun, naked motorbikes.
MikeE
2003 Buell XB9S
Engine: Air cooled, Four Stroke, 45 degree V-Twin
Displacement: 984 cc
Bore – Stroke: 3.5 x 3.125 in./ 88.9 x 79.38 mm
Power: 73.8 HP @ 7200 rpm / Torque 58.6 ft-lb @ 5500 rpm
Gearbox: 5 speed constant mesh
Carburetion: 45 mm downdraft DDFI fuel injection
Ignition: CDI
Frame: Aluminum Frame with Uniplanar powertrain vibration isolation system
Front Suspension: Showa inverted fork with adjustable compression damping, rebound damping and spring preload
Rear suspension: Showa shock absorber with adjustable compression damping, rebound damping and spring preload
Front Brakes: ZTL type brake, 375 mm stainless steel floating rotor, 6 piston caliper
Rear Brakes: 240 mm stainless steel rotor, single piston floating caliper
Wheels: 6 spoke cast, 3.5-17; Stardust Silver finish
Front tire: Dunlop D207 FY 120/70 ZR17
Rear Tire: Dunlop D 207 U 180/55 ZR17
Wheelbase: 52 inches
Rake and Trail 21 degree / 3.3 in./83 mm
Weight: Dry weight 385 lb/ 175 kg
Fuel Capacity: 3.7 Gal./14 liters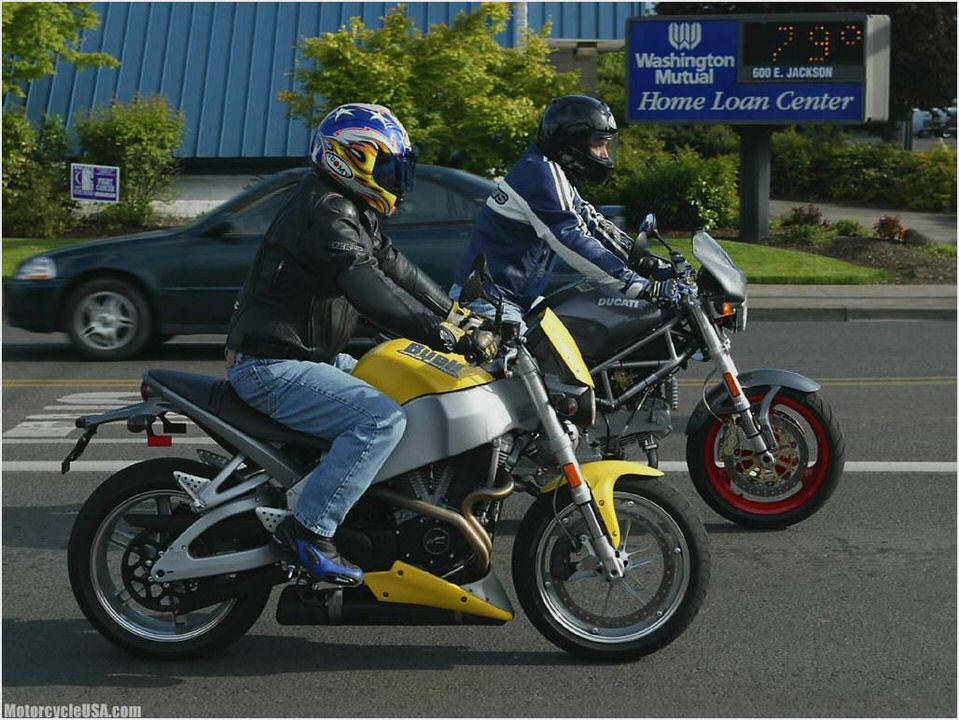 Erik Buell Racing 1190RS Debuts, Asks "Harley Who?"
2012 EBR 1190RS Motorcycle Fans Blog – Motorcycle Fans Blog
Test Buell XB9R Firebolt Motors TV
2009 Buell 1125CR First Ride – Motorcycle USA
Erik Buell Racing 1190RS Exclusive First Ride- EBR 1190RS Review