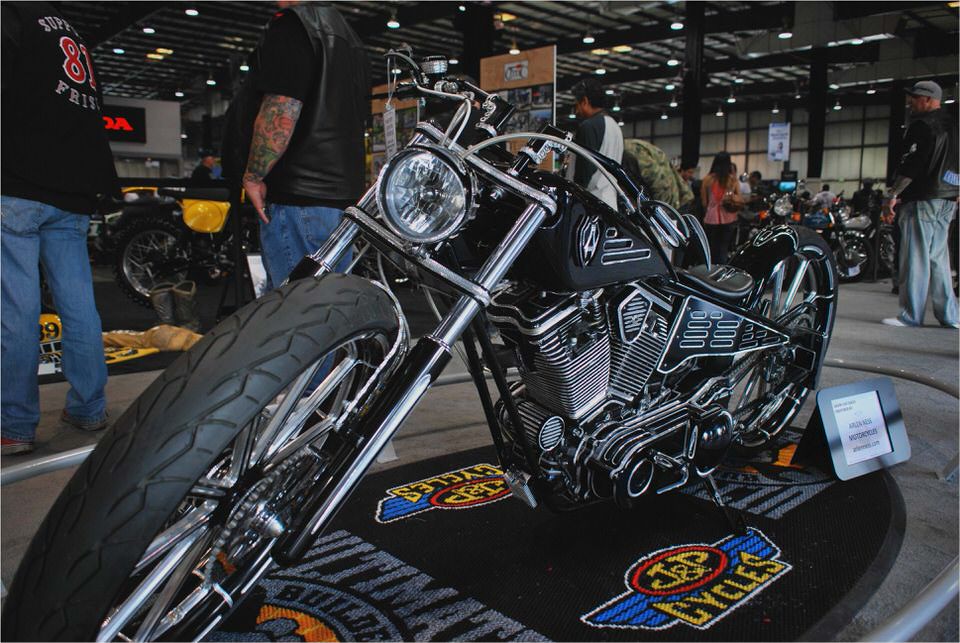 by Scott Sharer
Greetings. In Part 1 of this article we discussed numerous elements of the Wheels and Tires that offer the Detailer of any vehicle, including motorcycles, an opportunity to provide basic yet critical Safety-Checks and procedures. As promised, in this Part 2 of 2 of "Detailing = Safety" we will look at a number of items and elements that are beyond the wheels and tires.
Let's get right to it..
Beyond Wheels and Tires
Fasteners: The very next elements we check as we clean are what I generally refer-to as the " Nuts–Bolts" and "Connectors". We try to remain very sensitive to any missing or loose fasteners, no matter what they are actually fastening. Common problems are often found in loose or even missing clamps for pipes and heat-shields.
One Harley Trike I cleaned actually had one exhaust pipe bolted at the engine flange-mount only the two other clamps that should have held the pipe to the frame along the side and to the rear were completely missing (this was a pipe just waiting to fall off from a smack of loose pavement, possibly cracking the engine in the process). On another bike, a chopper, I found that the left foot controls (the "shift-peg" assembly) were being held in place by only one small set-screw out of a pattern of 4 screws.
On yet another memorable bike I found that the wiring for the headlamp and the front turn signals was actually only laying loose on top of the frame member under the gas tank (the owner had added some Lizard Lights himself). By simply lightly touching this wiring during cleaning the small "bundle" of thin low-voltage wires, that had no special heat-resistant sheathing, actually fell down on top of the rocker box where it no doubt would have quickly lost most of it's thin plastic outer insulation (it would have quickly melted away), placing wire-to-engine-metal in direct contact with one another, completely shorting-out the lights.
Suffice it to say: As you clean and polish a bike, report any "holes" where it seems there should be a fastener or bolt, or any missing or loose washers, nuts or clamps, and have someone replace or tighten them. Sometimes there are bolt-holes that that are no longer being used after the bike has been modified, but play it safe and ask.
Likewise after "modification" the wiring assembly for some portion of the motorcycle may have changed, and some wires may even no longer be in-use. Either way, any loose wires or loose connectors need to be re-fastened properly and / or modified to a different arrangement. In all cases: Ask a qualified Service Technician or build-specialist when you find these types of things don't guess.
Don't be afraid of looking foolish in front of people in the shop be proud of being Safety conscious. In my case, later in the day, after pointing out the missing screws to the foot control on the Chopper and having one of the great LCC technicians replace them, I asked George (the owner of LCC), just in general chit-chat, how he was doing that day and he responded, "Great, now that you found that problem before the bike went down the road".
Lights: It takes only a moment for the Detailer to turn the key for any bike to the "on" position, look at the running lights (headlight, tail-light, turn signals, etc.), use the foot and hand brake to verify the brake lights, and use the turn signals to verify that all turn signal indicators are working and can be seen . The last three words of that sentence are often the "key". At ChopperDetailing.com (with rare exceptions) we generally find that the lamps (the light-bulbs) on the motorcycles are all functional, and the lights and indicators are usually in working order.
We often find, however, that the bike has been modified or added-to by the owner (they may have added saddle-bags, an accessory pouch or different seat and backrest configuration) and the lighting elements may have become obscured or obstructed. Lights have to be physically and electrically operational, and they must be seen by other motorists if they are to be part of the Safety systems for the motorcycle.
A less obvious element of the "lights" on the motorcycle, that is becoming more of a problem today, is the haze or general "fogginess" that occurs as plastic lens-covers "age" over time. More and more manufacturers are using plastic covers for the headlamps where there used to be either no cover or a glass cover.
As the plastic lenses and plastic or acrylic lens-covers "age", especially when exposed to the UV rays from sunlight, they begin to haze-over, thereby restricting the amount of light that can penetrate from the light source or "bulb" to the outside world. In some cases we have seen headlamps that have lost more than 50% of their transmission capability, dramatically hampering a clear and bright view of the road ahead for the rider.
On certain bikes the hazing is caused by water vapor that gets inside the lens. Remove the lens cover and clean this out, then wipe with a protective wax or chemical element to prevent water build-up on the inside surface of the lens (even Windex has a "no-fog" characteristic that can help with this). Re-install the lens cover and make sure it is well-sealed from the elements.
In many instances, however, the problem of haze and fogginess happens on the outside of the lens. In that case you will need to use special cleaners to restore the clarity and transmissiveness of the cover. A product we are very pleased with is available from Bling Masters Incorporated. We already use and recommend their Aluminator product (see "Products We Use" on the ChopperDetailing.com web site), but they have a lot more than just that one product for your motorcycle.
They have a full lamp and lens restoration kit that is an "easy application, simple buff and wipe technique" of nano-particle cleaner and protection, and the kit comes with all of the elements, including the buffing wheel for your drill motor for buffing the product to a perfect finish. You can find them on the web at BlingMaster.com.
The final important thing related to the lights and signals on the motorcycle is this – – these not only keep you visible to others on the road, and allow you to see the road and other motorists properly, they are generally also required by law. Having them in proper condition and operation might actually save you the expense of a ticket.
Fluids: All motorcycles get greasy and dirty, and all of them have the appearance of fluid-originating stains from time to time due to liquids that spill during Service work or liquids that are encountered in the environment. The key here is to determine if you are cleaning fluid stains and excess-liquid that has come from the environment or if you are cleaning fluids or grease that are coming from inside the motorcycle.
Be sensitive to any physical connections on the engine or any ports or parts that show an unusual amount of fluid that appears reasonably "fresh" or "wet". Old oil fluid will be thick, gummy and filled with road-dirt. On-going leaks will seem very "wet". Try to determine, as you clean any fluid off of the bike, what the point of origin might be, and then suggest any corrective actions that might be necessary to fix the leak.
We look for leaking engine oil, leaks in front forks, brake-fluid leaks in the lines or the brake assembly, unusually excessive hub-grease after wheel mounting and lubrication, and any coolant leaks from a radiator if the engine is water-cooled instead of air-cooled. Leaks can result in an unnecessary expense to the owner if they cause the engine or other elements to fail unexpectedly or prematurely, and in the case of leaking forks or brake-fluid leaks any resultant malfunction can be life threatening if it occurs while the bike is underway on the highway.
At the very least, a motorcycle that is "leaking" anything will not remain clean and good-looking for long, and it adds contaminants to the road surface that become a hazard for everyone. The first step towards "going-green" is, in my mind, "going-clean", which means keeping the fluids for any vehicle, including motorcycles, where they belong – – inside the vehicle, not on the road or in the environment.
Chains and Belts: Except for those motorcycles that are shaft-drives (like the Vulcan Mean Streak my wife, Sandra, rides), all bikes have either a chain or a belt that transfers the engine energy output from the transmission to the rear wheel. It is usually best to have a qualified Service Tech check and verify the safety of these items. The Detailer, however, can often alert the Tech to possible problems.
On a chain drive look to see that there isn't any deformation to any of the links, and that the links all move around the pulley even and clean, without sticking beyond the transport release point of the sprocket. Also make certain that the chain is properly lubricated. There are several different chain lubricants that people might use.
Check with the Service folks and find out which one is best for a particular motorcycle, and then, after finishing the Detailing, go ahead and lube the chain. After lubrication remove any excess so that it will not get thrown-off and onto your newly cleaned surfaces.
At times lubricating the chain might even be considered a required step in the Detailing, since some of your work to remove grease and grime from other elements close-by the chain may have also removed, inadvertently, some of the chain lubricant. If the drive is a belt-drive . then check the belt to make certain there are no gashes or worn areas along the edges of the belt, and that all of the "teeth" of the belt are in good shape.
Proper check of both chains and belts will include checking the amount of "slack" that should be present on the lower portion of the assembly as the belt or chain moves towards the rear sprocket and on the upper portion as it leaves the rear sprocket. If you are not sure or are not properly trained in these elements, ask the Service folks to check this and/or teach you how to use a ruler and measure the slack state yourself.
For those of you who actually operate a Cleaning and Detailing business, some of the items I have mentioned in this article may be costly enough in both time and associated cleaning materials that you will need to charge an additional fee to perform the extra service. Price this accurately and fairly. For those of you who take your motorcycle to a Detailer, bear in mind that they need to remain profitable in order to be there for you and make your ride safe shiny.
At ChopperDetailing.com we work at a flat rate until it comes to an element that will, by its very nature, add considerable time (more than 1.5-2 hours) beyond the normal and typical 5-hour detail. Restoring pipes, "de-fogging" plastic lamp or lens housings, repairing spokes, running new wiring or replacing clamps mounts on exhaust systems these all have a direct cost to us in terms of time and materials, and we get prior approval before passing those costs along.
Many items we have mentioned in this article, however, we do "at-no-extra-charge", in the interest of Safety for everyone. Checking tire pressure, tightening bolts or quickly re-routing a short simple wire-harness all take only a minute or two, and we do these as a matter of course, encouraging the owners of the bikes to do these things themselves at regular and frequent intervals.
Finally – If you run a Detailing and Cleaning service, one way to think of basic Safety service is this if your customer wrecks their bike, you won't have anything to clean or anyone to clean-for. In the interest of having repeat business, the Detailer plays a role in making certain that the customer can actually return, with an intact motorcycle that can be made Clean and Safe.
That is about it for this discussion of "Detailing = Safety". This is a topic that could go on and on, and I hope that all of you find this helpful and informative, and that your joy with riding and caring for your motorcycle is enhanced as a result. Please keep these lessons in mind as you clean and care-for your motorcycle, or as you clean motorcycles that belong to others.
Thanks for visiting ChopperDetailing.com, for letting your friends and associates know about the site, and for participating in our Newsletter service. We look forward to getting another Newsletter out to you soon.
The Reason For This Article
One final unfortunate note from 2007: I have been in the "thought" of "Safety" ever since November 15-16 of this past year, the Thursday-Friday prior-to the week of Thanksgiving. On the night of November 15, 2007, Herb, one of the finest "Old-School" and modern motorcycle Service Technicians ever, and the one-time lead tech at Low Country Customs, was killed when around mid-night, through no fault of his own, his Harley went off the road at high-speed and into a stand of pine-trees.
Herb was killed virtually instantly, and I think that everyone who knew him also died a little that night and during the very difficult days that followed the accident. His passing left a hole in many hearts that I do not think can or will ever be filled. Herb was his own man, hard-living to the end, and a great and dear friend to some select very special and fortunate people who knew him well.
I knew him for only a year, but in our limited interaction at Low Country Customs he was always helpful to me, he was kind to the other young Detailers who work for me, and he was always ready to answer even my most ridiculous questions without making me feel like a complete idiot. To other individuals at LCC and in the Savannah biker community who had known Herb for many years, he was a real Brother, one they each Loved with all of their hearts.
Herb will be sorely missed, and this article is dedicated to his memory.
Goodbye, Friend and Brother.
Every Detailer at Chopper Detailing.com is personally experienced with:
American Ironhorse, Bourget Bike Works, Martin Brothers, Big-Dog, Titan, Harley-Davidson, Victory Motorcycles, Jailhouse Choppers, and many others.
We're eager to Clean, Polish, and Protect your valuable pride-and-joy, and we look forward to seeing you and your ride real soon!
_________________________________________________________
For the best in bikes, parts, service and supplies.
T hey handle Ironhorse, Bourget, Victory, Big-Dog, and a wide selection of the highest-quality pre-owned bikes available.
ChopperDetailing.com is now providing advanced custom Detailing Services in a new partnership with Hilton Head MotorSports on Hwy 278. They have expanded hours of operation – – Monday – Friday 10a.m. – 7p.m. Saturday 9 a.m. – 5 p.m.
Sunday 11a.m. – 4p.m. You can drop by their shop or contact them at 888-750-3940 to set up an appointment to have your ride Detailed .www.hiltonheadmotorsports.com
HEY: Pass this article on to others who could benefit from the special tips and techniques that we have described, and visit us often for more information on caring for your motorcycle, or Call Stop-by for Services or Advice .
Custom Motorcycle ArtBiker World : art, bikes, bikers, culture
Lauge Jensen Motorcycles The Aging Rebel
Motorcycle Accessory News from Metric Thunder News
Motorcycle Chopper
Motorcycle taxi