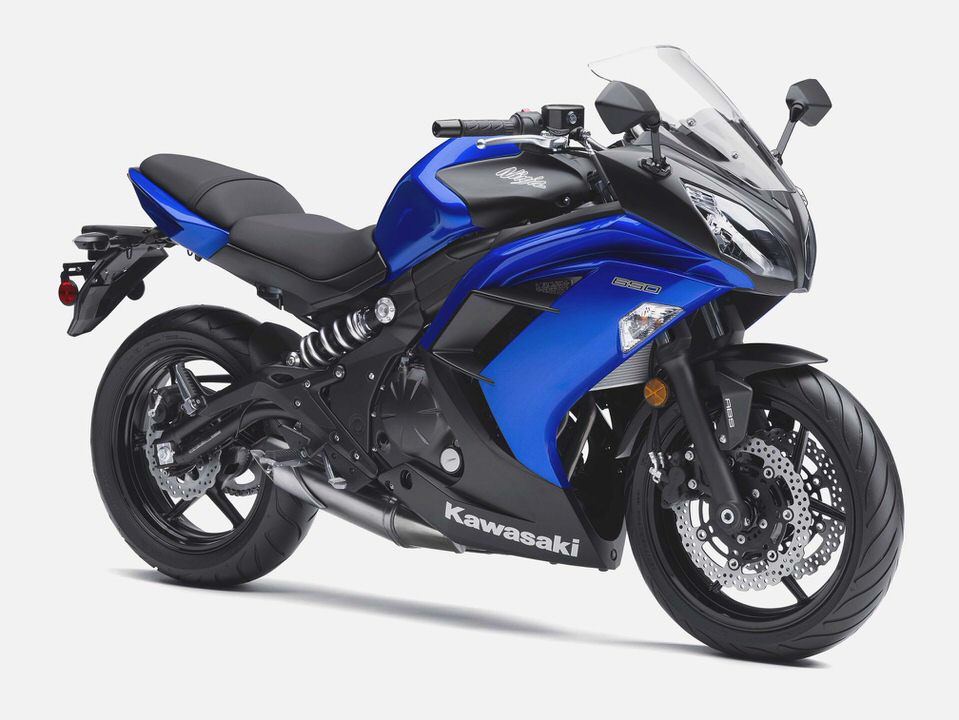 Countryphiles: Honda CBF600S, Kawasaki ER-6f, Yamaha XJ6 Diversion, Suzuki GSX650F – Kawasaki ER-6f
See above. Nice hedge
Kawasaki ER-6f
Very green and very impressive, Kawasaki's brilliant little ER-6f proves that you don't need to be banging the same four-cylinder drum as everyone else to be top fun
The Kawasaki is a tremendous little thing. It's incredibly green, so green in fact that it matches the green of the neutral light, shade for shade. It's also a stylish bus, particularly the side-mounted shock and tubular swingarm arrangement.
It's also physically very small so that anyone can feel comfortable on it, even those of the female persuasion will hop on the Kawasaki and speed off without a moment's hesitation. But it's also roomy enough for lanky bastards (like me). In fact the relationship twixt seat and footpegs is almost luxurious in its length.
The screen is high enough to work, the digital clocks are a bit silly but do the job, and it exudes a level of finish that, although a bit rubbery, belies its budget status. I'd imagine that a good dose of British winter would give it a kicking, but stay on top of the cleaning regime and you've got yourself a great-looking bike.
Once the 650cc parallel-twin engine is up and running (it sounds very much like an irate humming bird at most revs) it becomes obvious that to go anywhere in a hurry you have to keep it cooking. Below 6,000rpm it's a bit of a slouch, great news for learners but less so for commuters who could do with a fat midrange for town work. Parallel-twins are historically rev-hungry, so this is just the way things are.
In town, the baby Ninja is effortless and slim enough to squeeze through the tiniest of gaps in traffic, although it's so smart you'll not want it to get scratched in motorcycle parking bays. Which is inevitable in London.
Once out in the open, the under-slung exhaust spits out its tiny emissions with increasing exuberance all the way up to an indicated 130mph which is plenty for a little thing like this. "I really like this," said young Mr Boyson after his first ride. "It sounds good and looks good, which is important. It's like a halfway house between a sportsbike and a commuter bike, really usable and surprisingly fun to ride. It's very small, isn't it?"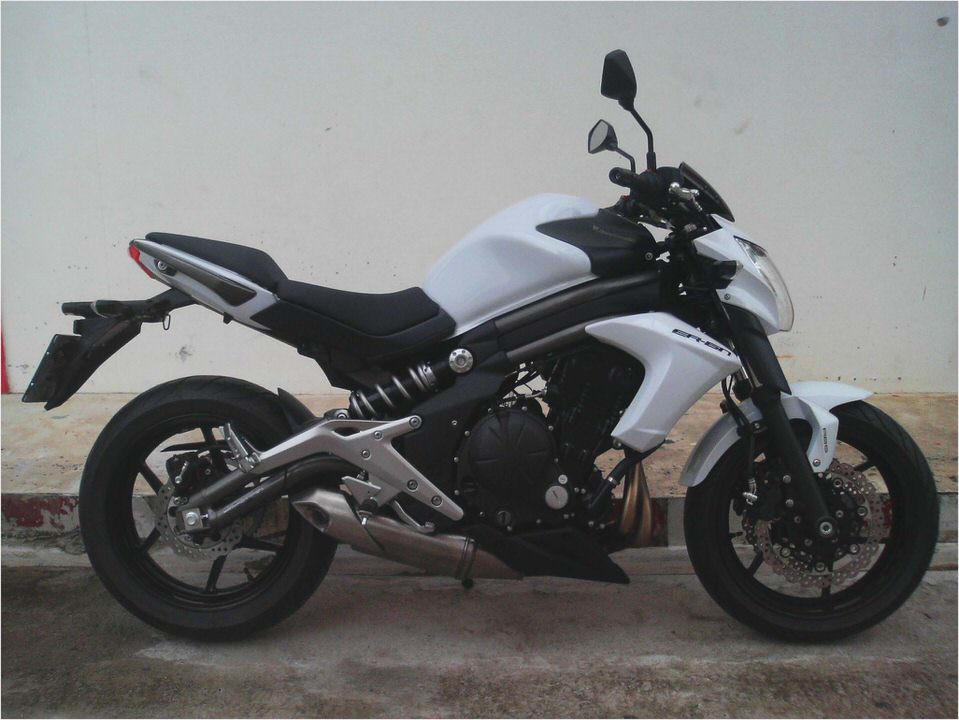 The ER-6f is the only bike here to have fancy brakes in the shape of wavy discs (all the bikes bar the Suzuki have ABS, which is very impressive) although ironically these are the second-weakest brakes on test. It takes a quarter-second before anything happens, and you need a good four-fingered squeeze if you have to slow down in a hurry. What's impressive is the basic suspension and handling package.
Our test was conducted on a mix of roads, and the Kawasaki would scurry along in total composure regardless of what you threw at it. It'll bounce around and give the odd waggle through the handlebars for sure, but in a fun, engaging way. "If I hadn't ridden before, something like this would be an ideal start," admits Henry. "Out of all the bikes here, this is my favourite as it's got something going on."
And that's the ER-6f down to a tee. It's not the fastest or smoothest, and the brakes are a bit ropey, but the bike is lightning quick through town due to its tiny dimensions, easy to ride whether you're big or small, and packed full of character once you get out on the open stuff. Next to three other four-cylinder bikes, the twin Kawasaki is forging its own path and doing a bloody good job at it, too.
Rating: 4 out of 5
For – Looks fantastic, engaging parallel-twin engine and innovative chassis design
Against – Midrange power is flat, and. that's it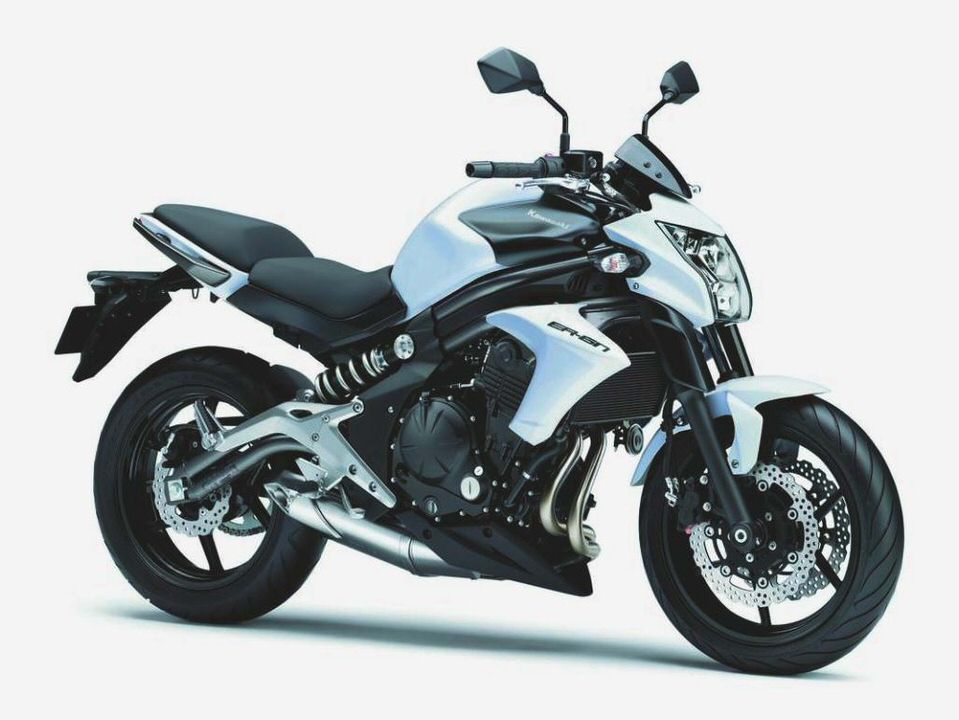 2002 Kawasaki Vulcan 800 Classic –
2013 Kawasaki D-Tracker Review How To Make & Do Everything!
Kawasaki
Kawasaki GPz 1100 – Vintage Motorcycles Online
Kawasaki H1 Mach III brought to you by MadaboutMotorcycles