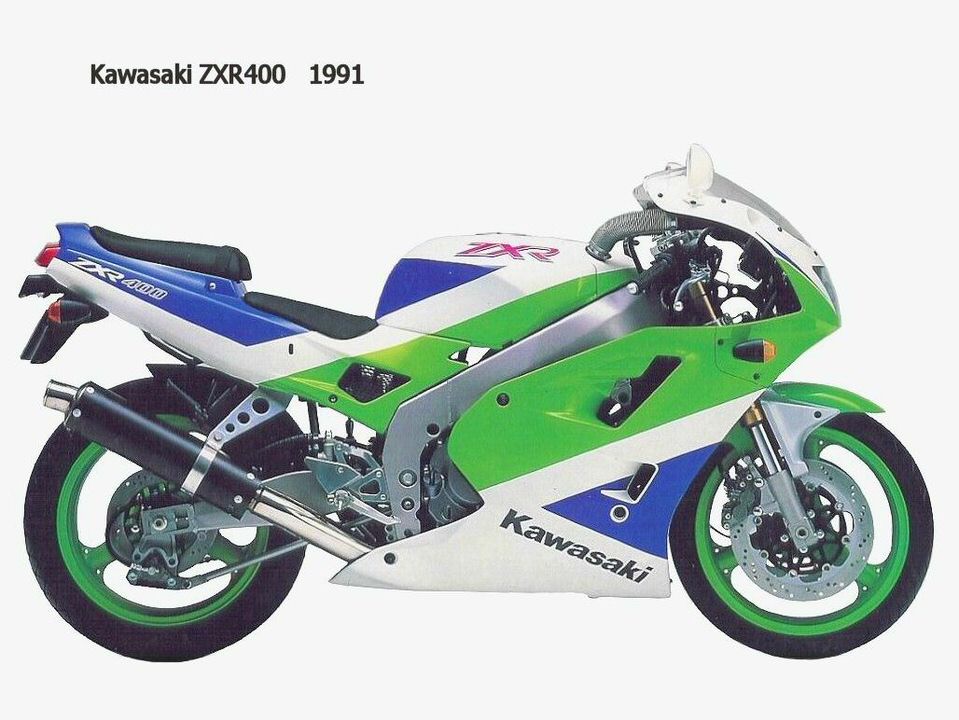 Imagine if you will that bitter-sweet moment of realisation when you have elearly overstepped the limits of your own ability. You know the road, and you know you've overdone it. The outcome of your actions will be decided, for gmd or ill. by forces quite outside your control.
The first time this happens on the ZXR400. there is a moment's regrel that the horny new bodywork will be smashed to bits – a moment's empathy with the designer who sweated over the carbon-fibre silencer thai you are about to grind into dust, a split second's. hang on, what's happened?
While you were mentally filling in your insurance form the ZXR was making the most of your vague input and getting you through the bend faster and in better shape than you thought possible – you are now approaching the next wiggly bit ready to repeat the experience. Splendid stuff.
The thing is. it just doesn't behave the way you expect it to. I had expected a four-stroke version of a KR-IS – fast and capable of taking you to new levels, but unforgiving and all too ready to throw you off. The ZXR is certainly fast, but you can get away with more.
It's rather like an FZRKXX) in this respect – taut and racer-sharp, but happy to cope with last minute instructions without getting in a huff.
All this is really just a first impression. At the time of writing I've only had the bike for just over a week. In that lime I've managed to rack up the best part of a thousand miles, including quite a bit two-up, some motorway and lots of back-lane thrashing due to being late for work (again).
When we were dividing up the long-term bikes I really wauled the ZXR750, but asked for the 4(K) instead. Everyone told me I'd soon get bored with racing around at 14,(XX) revs, calming wild slappers over the smallest bumps and running up a huge bill at the osteopath due lo the crippling position. I believed them, but didn't care: I only wanted it so I could do a bit of Superspori 400 racing on the side.
Now I'm glad I chose the baby of the family. Having ridden the 750. which I found a huge disappointment, the 4(H) was a revelation.
Gone is the rock-hard suspension and slappy nature of the previous Japan-only models, to be replaced by supple damping and stable steering – the only thing that lets it down slightly is (he rear shock, which conies out of the crate with too much preload (must see if 1 can blag an Ohlins or something).
1 he forks have no compression damping adjustment but cope superbly with violent braking and bumps and it will steer with no more than a clench of the appropriate bullock. This bike turns so fast it takes your breath away – pull back on one bar and it leans lo the other side so quickly that you think it will simply fall over, but il just digs in hard on the very sticky Bridgestone ('yrox tyres (same as the RGV250) and takes up its new set ready lor your next ni( ve.
This manoeuvrability is more due to lack of weight than radical geometry – you just don't need stupidh sleep angles on a roadbike this light. The most impressive thing for me is the combination ol thai kind of steering with outstanding straight-line stability. Rupert castigated the J-spec ZXR lor its tendency lo produce frightening Slappers at the drop of a camber-change.
The new one doesn't even need a steering damper.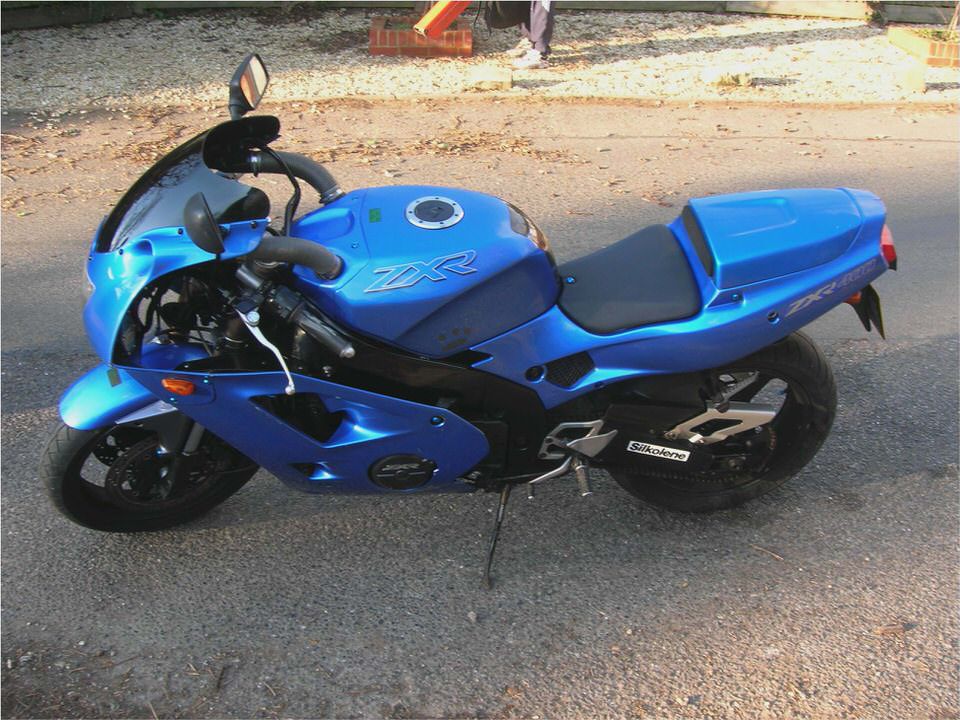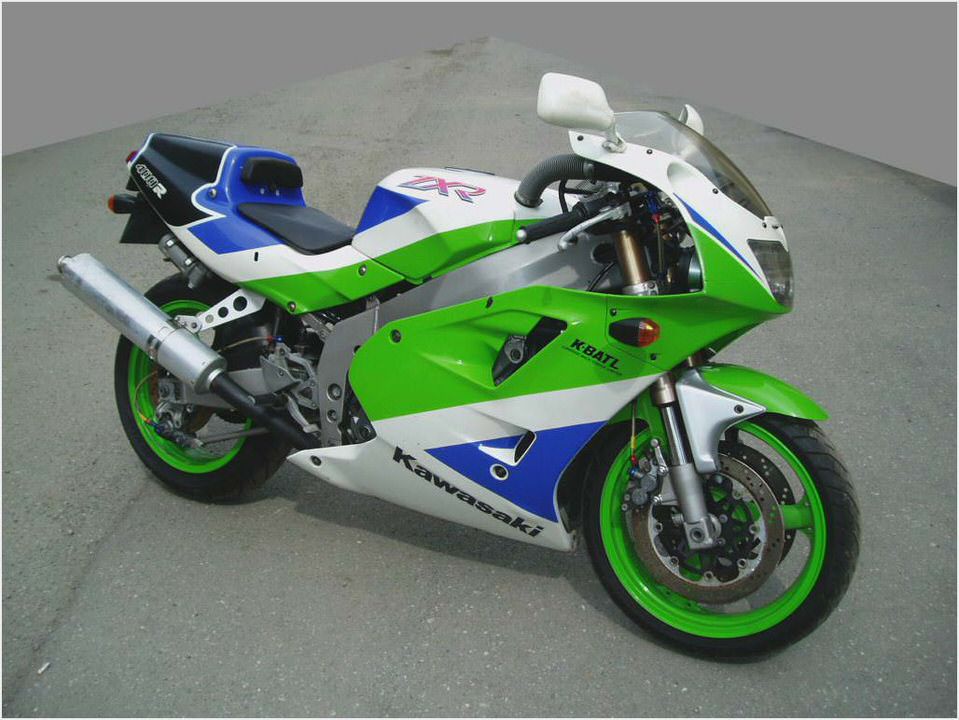 The riding position is less extreme than before, too, and better than the 750 – your weight is distributed evenly between bum, hands and feet, making it easy to climb all over the bike. Even the pillion has a relatively easy time of it, except for the absence of any kind of grab rail. The most I have done so far is 250 miles in a day, and that was no more uncomfortable than a similar distance on most 600s (ZZ-R excluded).
So much for the chassis, what about that 16-valve screamer with the 14,500rpm red-line?
Crack the throttle anywhere under 8,000 revs and the response is the same: it doesn't die, but it doesn't go either. It's probably best described by likening it to a small child who has just chomped off more of a proffered sandwich than he can comfortably handle: he can't chew it, he can't swallow it whole and he can't spit it out. All he can do is roll it around until it reaches managable proportions and deal with it then.
Above 8,000 the motor will swallow anything you force down its four throats, but it is happiest when the needle is flirting with the red bit and the wail of the carbon-fibre exhaust is approaching perfect pitch on middle C – it's not outrageously loud, thank God, but it is an addictive noise.
It's become a bit of a truism that these small four-strokes behave a lot like two-strokes. This is, quite clearly, a load of old shoe-makers – a KR-1S will bog,bog,bog, pull-your-arms-off. The ZXR gathers speed to itself in a slightly less histrionic way, winding up quickly but gently, with none of the abrupt manners of its two-stroke stablemate.
Despite its love of the upper reaches of the rev range, the motor is very easy to use in real life as well – so long as you are realistic and don't expect it to wheelie in top it is surprisingly flexible and will pull top from under 3,000 revs. That might not sound too impressive if you habitually ride a Guzzi, but in this context it's nothing short of amazing.
The only downside to the power unit is the gearbox, which is rather clunky at low speed, a trait which can be minimised by regular and pedantic chain adjustment. This disappears as the revs rise, but requires a positive left foot to avoid graunches in traffic. It may be that this will improve as it gets further running-in.
Source Performance Bikes 1991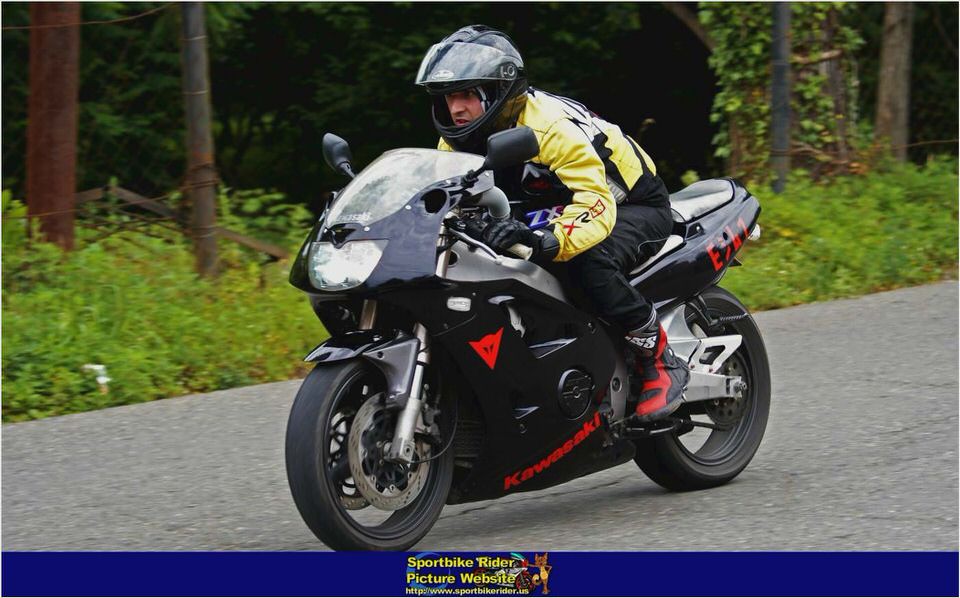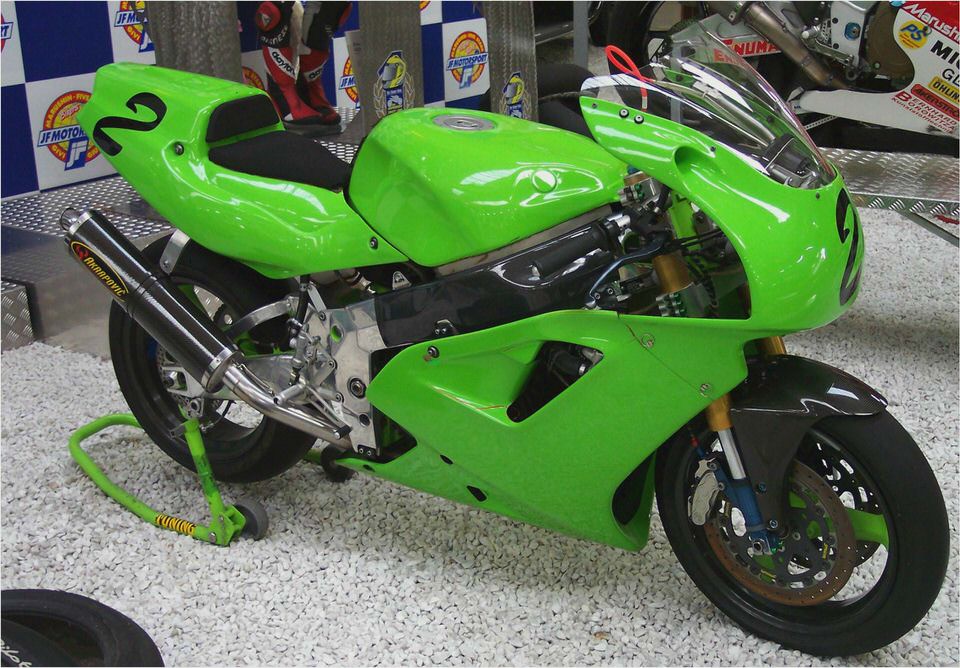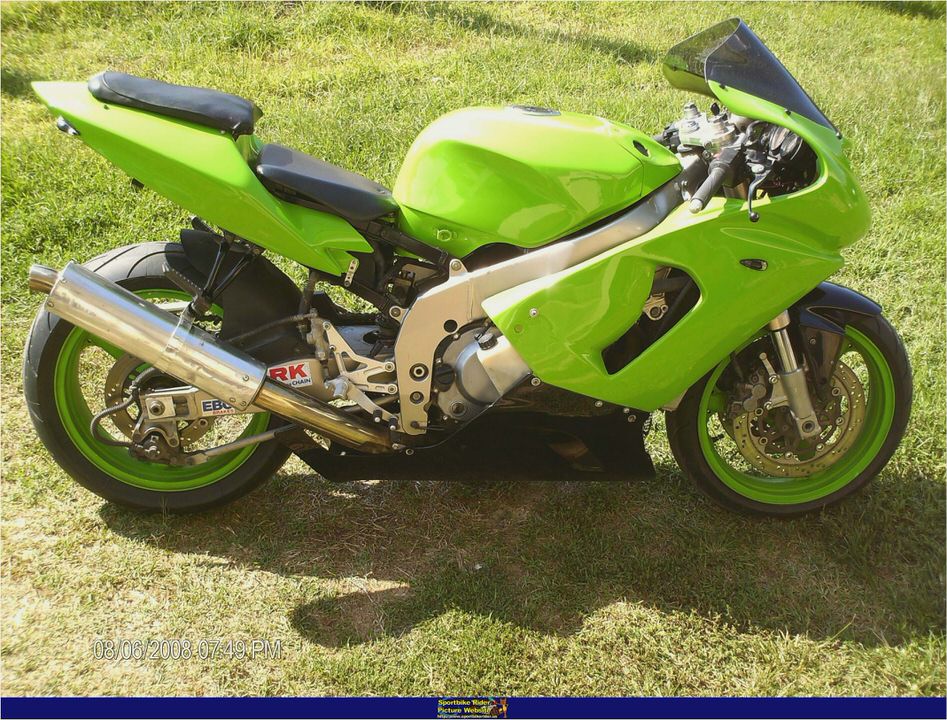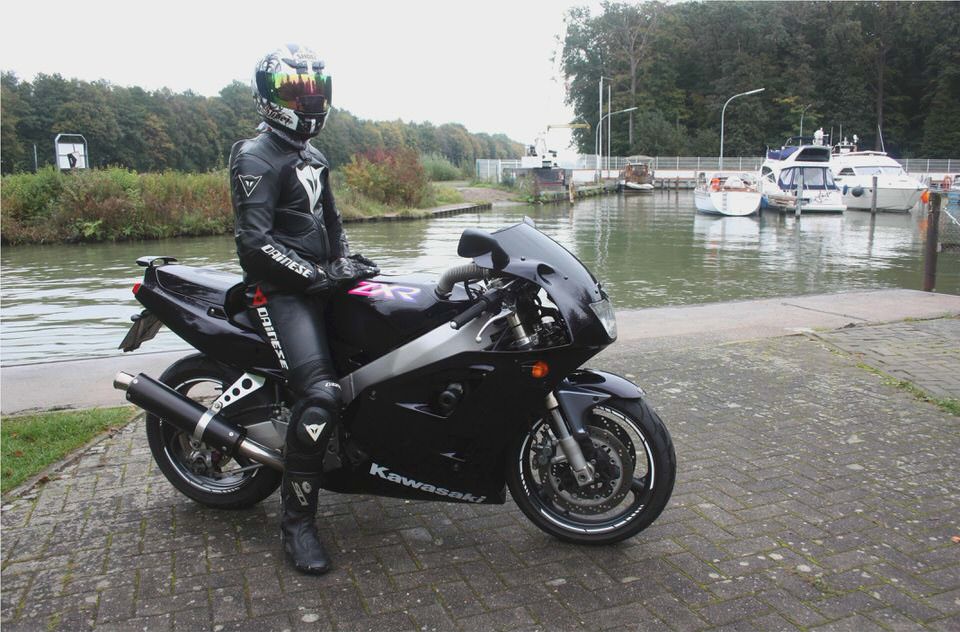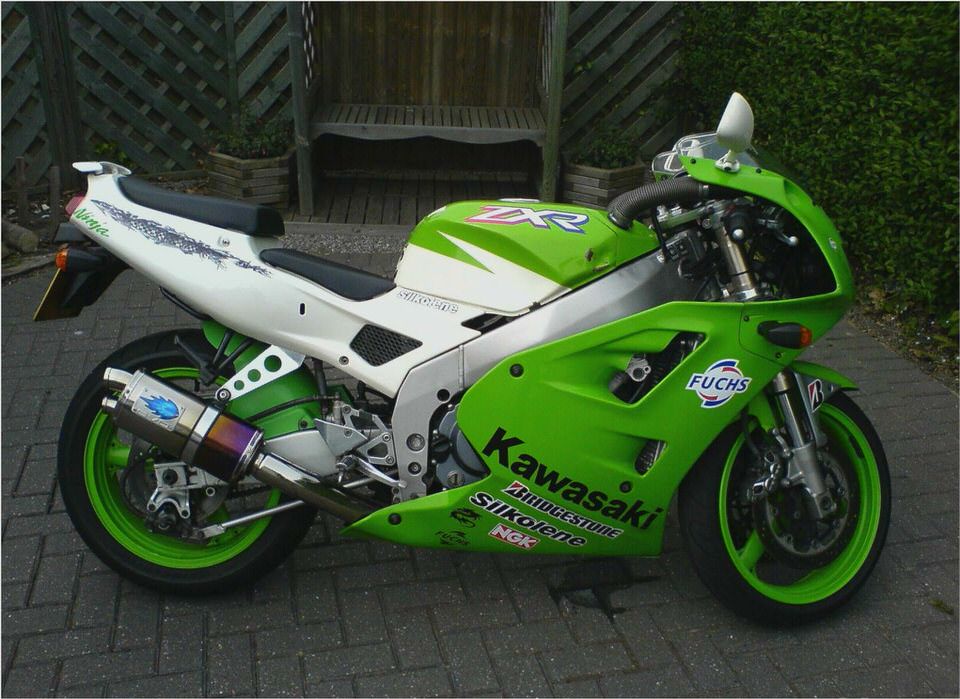 KAWASAKI ER-6n 2005 – 2006
Kawasaki W800 Road Test Retro Write Up
2010 Kawasaki Motorcycles Under $8,000: KLR650, Versys, ER-6n, Ninja 650R…
2009 Kawasaki Vulcan 1700 Cruisers First Ride – Motorcycle USA
2008 Kawasaki Vulcan 2000 Classic LT Riding Impression