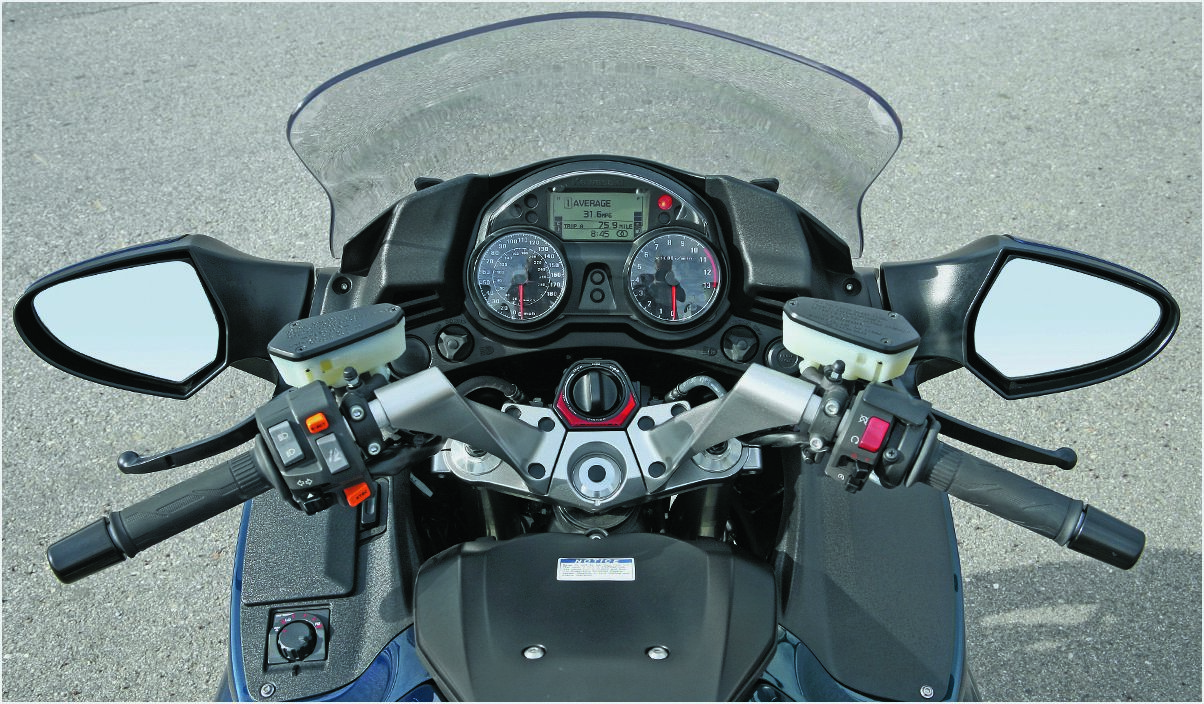 Transforming Kawasaki's Tire-Shredding ZX-14 into an Impressive Sport Tourer
Balancing Ride Quality with Handling Prowess
Sport touring bikes face a particular challenge in the area of suspension tuning: should they cater more towards long distance comfort, or the responsiveness required to carve a canyon? While the considerably pricier BMW K1200GT offers electronically adjustable suspension settings which are easily set with the touch of a button, the Concours 14 opts for manually adjustable preload and rebound with the 43mm front forks, and hydraulic pre-load and rebound adjustability with the Uni-Trak rear suspension. The bike I tested at the Concours launch event in Santa Rosa, California was setup to ride somewhat firmly, which was a good thing since we traversed some incredibly twisty roads, including one 8 mile stretch boasting 135 turns.
The Concours weighs 606 lbs dry (615 lbs with ABS), but it flicks its mass with surprising ease, feeling committed to each turn. Though a pure sportbike would have been the ideal way to attack some of the tightest bends, it wouldn't have offered nearly as much comfort or ride quality as the Concours. During high speed runs, the Concours felt stable and planted, never wavering or wandering.
Ground clearance is good and offers similar lean angles to the ZX-14, and though riders need to tuck their feet in not to scrape boots on some of the tighter turns, there was only one moment during our spirited riding that the peg feelers scraped. Incidentally, a center stand tucks tidily underneath the bike's body.
The $900 ABS Question
Optional ABS-equipped brakes offer secure stops when traction is low.
Photo © Basem Wasef
The Concours 14's only option is ABS, which bumps the base price from $12,899 to $13,799. While the most performance-oriented of enthusiasts will find fault in a system that pulses its brakes under traction-challenged circumstances, ABS makes a lot of sense for most riding situations. For instance, hard braking on graveled road shoulders with the ABS-equipped Concours provided stress-free stops.
Conditions were dry during testing, but deceleration should be similarly skidless under wet conditions.
Kawasaki's unlinked brakes invoke ABS only when a loss of traction was sensed by the system. Under routine braking conditions, the bike's radially mounted 310mm petal-type 4-piston front brakes operate with excellent feel and strong stopping power. The rear 270mm brakes are, incidentally, larger than the ZX-14's in order to cope with the Concours's greater weight.
The only moment of ABS-related doubt during two days of riding occurred while approaching a tight right-turn on the aforementioned 135-turn, serpentine road. Velocity was high and the road surface was a bit rough, and it took a heart-stopping beat for the brakes to engage, but ongoing brake lever pressure made them kick in sure and strong, slowing the bike down enough for the curve. In spite of the momentary pause, I wouldn't hesitate to recommend ordering ABS on the Concours 14, as its benefits far outweigh its drawbacks.
Expandability for a Variety of Touring Needs
The Concours's rear-mounted hard cases are voluminous enough to each hold a full-face helmet. and are easily removed using the KIPASS switch (which doubles as a key.) Without the bags, the Concours looks quite a bit sportier. taking on a slimmer profile and more aggressive appearance.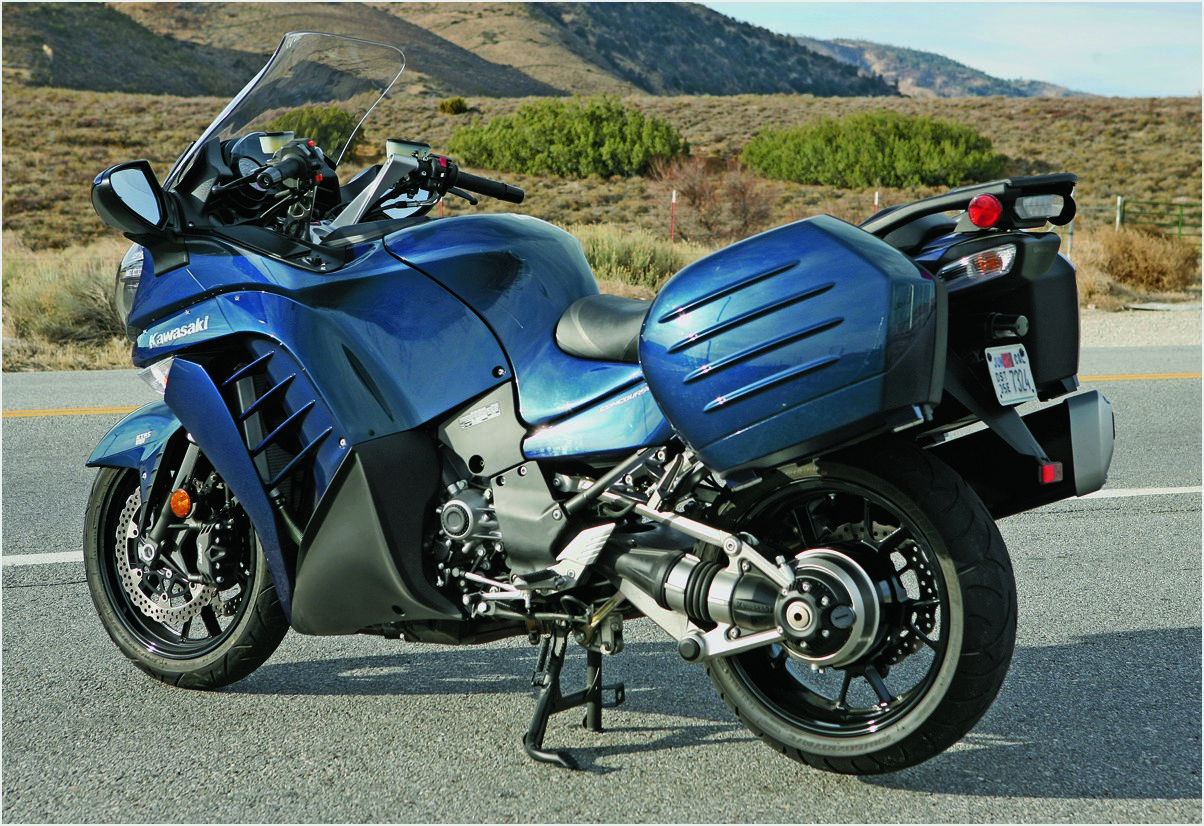 Even more storage will be available when Kawasaki releases a center trunk, which will double as a passenger backrest.
All in All, a Great Bike at a Great Price
The Concours 14 at home on the twisties.
Photo © Alfonse Palaima
If Kawasaki fans had a lot to cheer about with previous iteration of the Concours, the 14 should get them into quite a lather: it's fast, comfortable, and relatively nimble, offering a package that's well-suited for riders who enjoy long distance touring without feeling numb or disconnected from the road. Power is awesome, ride and handling strike a pleasing balance, and generous storage space lends the Concours a good combination of fun and practicality.
Though buyers might be discouraged by the single color option (Neutron Silver) and the engine's propensity to spill hot air onto the rider, the Concours 14 offers up an inviting package for $12,899 (or $13,799 with ABS.)
Stunning performance, impressive technological advances, and an attractive price point make it hard not to fall for the all-new Kawasaki Concours 14.
As is common in the travel industry, the writer was provided with complimentary (accommodation, meals, flight, cruise, car rental) for the purpose of reviewing those services. While it has not influenced this review, About.com believes in full disclosure of all potential conflicts of interest. For more information, see our ethics policy .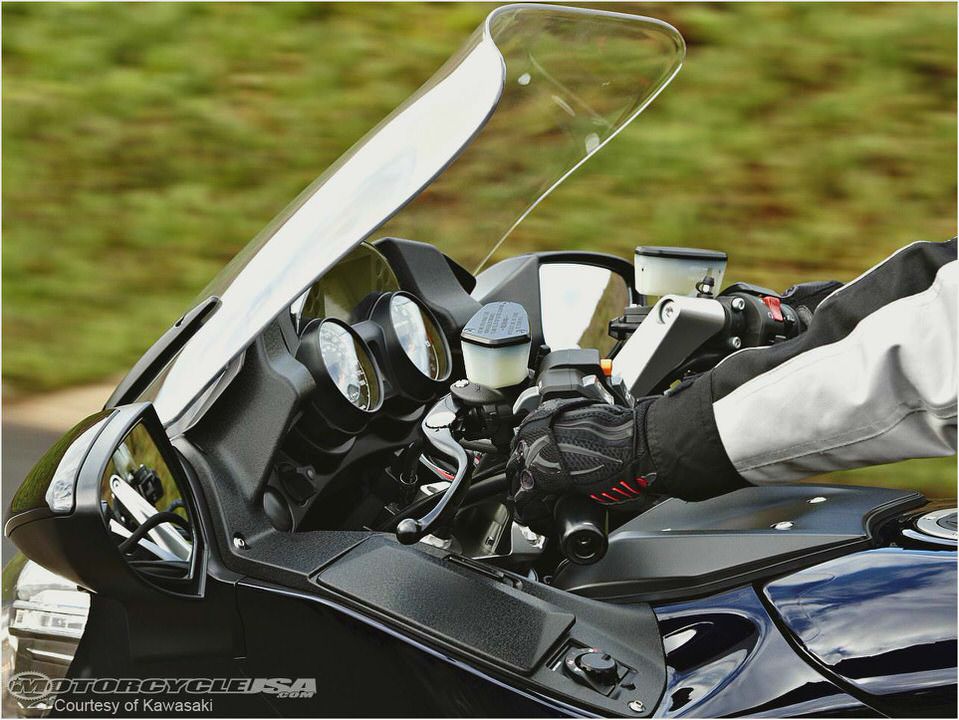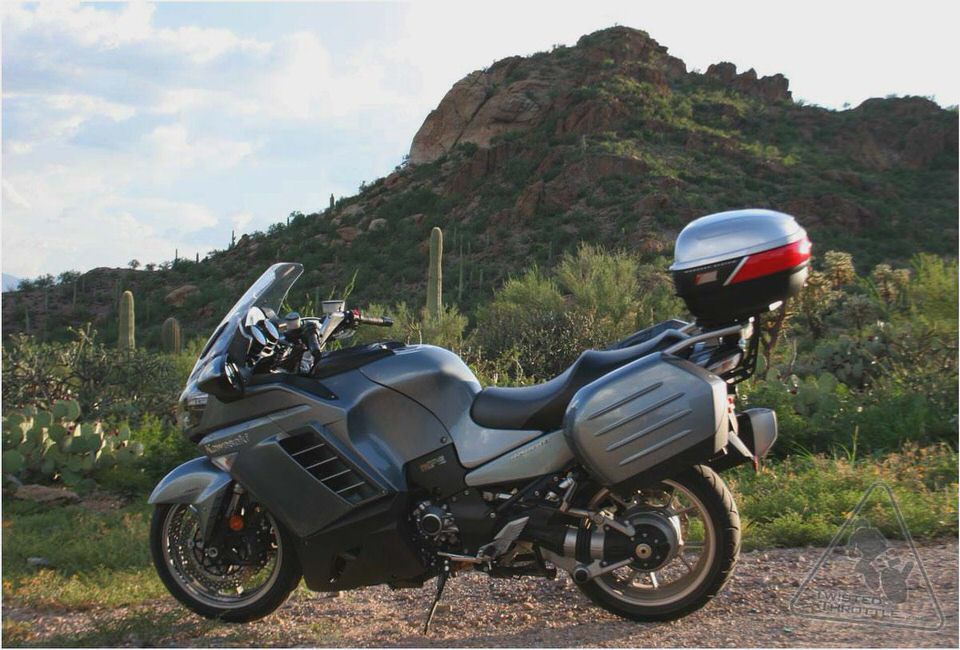 7 Frugal Habits Everyone Should Develop
Kawasaki VN 1700 Voyager world bikes info
2009 Kawasaki VN1700 Classic Tourer
AutoRacing1.com – Hot News Page
Kawasaki Versys qinoyz