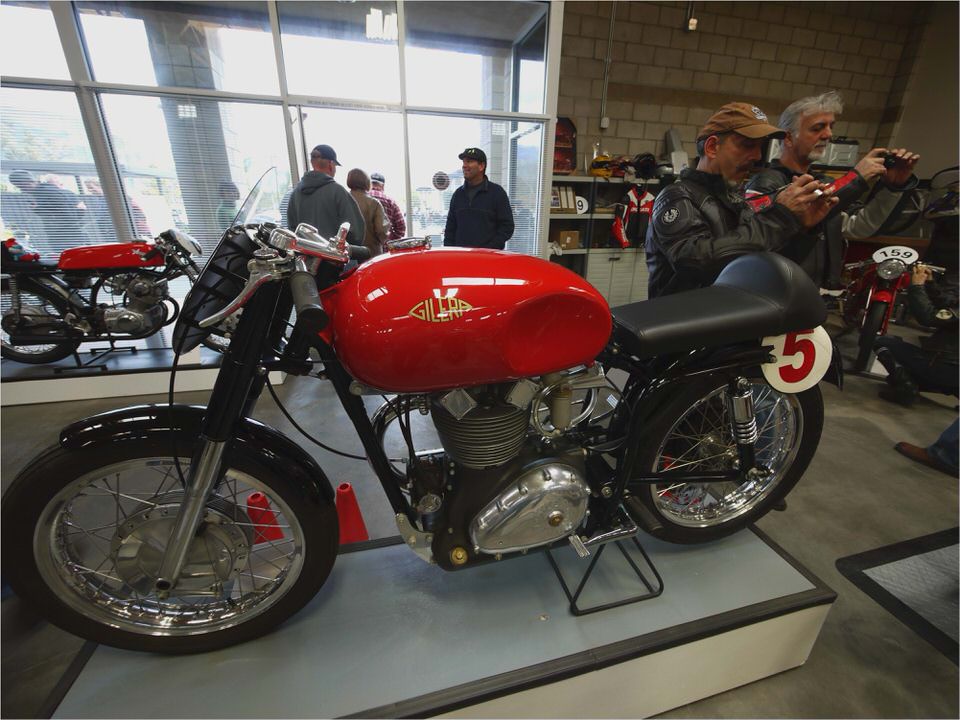 Posts by Category: Gilera
1988 Gilera Saturno 500 available in California
Almost never seen in the US, and very desirable both here and abroad, the Gilera Saturno Bialbero 500 was part of an attempt by Piaggio to resurrect the famed marque in the 1980's. The original Gilera Saturno's sometimes show up on our sister site, Classic Sport Bikes for Sale. where their 1950's singles can occasionally be found. The company began in 1909 and had a strong focus on racing, fielding one of the very first successful four-cylinder bikes that solved the traditional inline and square-four cylinder cooling problems by slinging the whole powertrain transversely across the frame. So all of you Japanese sportbike jockeys can take a moment to genuflect before this little long-lost child of the founder of the feast…
1988 Gilera Saturno 500 for sale on eBay
But they built their reputation for their Saturno singles, and battled it out on racetracks throughout the 40's and 50's. The resurrected Saturno 500 featured a thumping single like its ancestor, in this case a liquid-cooled, four-valve 491cc single making 45hp, but everything else is modern spec: a fully-floating Brembo Goldline brake disc/caliper up front, trellis frame, and lightweight Marvic wheels.
There are only 5 speeds in the gearbox, although it does feature that very cool open clutch. This combination is enough to push the claimed sub-300lb machine north of 100mph, but that's really beside the point here.
In the US at least, the market for lightweight bikes with small motors and high-spec parts is relatively small, but bikes like this have definite value to riders who realize that there's more to track and back road riding than huge power, and bikes like the Saturno, Ducati's Supermono, and Bimota's BB1 always attract a great deal of attention when they come up for sale.
From the original eBay listing:
Very rare 1988? Gilera Saturno 500 Road Racer
I haven't tried to start it so condition of the motor is unknown
This is an ex race bike so it is sold as seen
This has been stood unused for some time in a private collection
I have no idea of its history, please let me know if you have any info on it
Has some spares for the motor and the clocks are in a box
Great opportunity to buy a valuable investment
Tank is a dummy cover over an alloy one
Has a carbon fibre seat – front fender
Custom built dual exhaust
Just a very cool rare bike
This particular example is in slightly rough shape, but Bialbero's are collectable enough that it should be well worth a look. While clearly not a road bike, hese machines are very focused anyway and suited for the track. I'd be tempted to snap this up in a hot minute if bidding stays low…
Gilera Nexus 500 Scooter News and Reviews Scootersales
Gilera GP 800 Scooter Review Scooters Mopeds
Gilera Nexus 300 test
Gilera nordwest
Gilera Ice