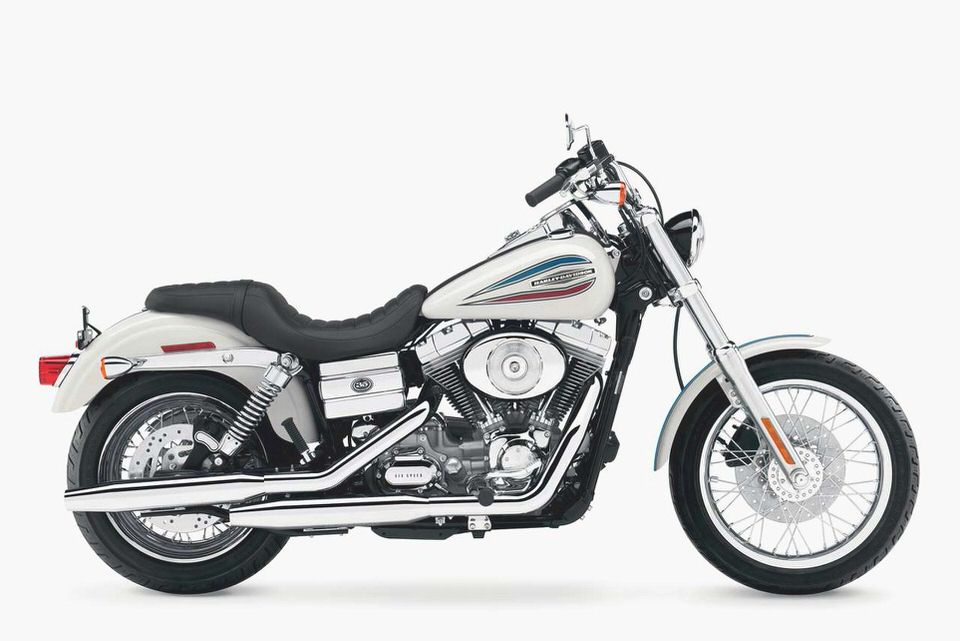 2009 Harley-Davidson Dyna Super Glide
It's still easy to identify the Harley-Davidson 2009 Dyna Super Glide by its coil-over suspension, aggressive appearance, and powerful twin cam 96 cubic-inch engine. It also sports unique styling features which include 10-spoke cast aluminum wheels, chrome staggered shorty exhaust, front sport fender, and a rear wrap-around fender.
The Harley-Davidson Dyna family has its roots in the factory-custom revolution of the 1970s. These motorcycles match Big Twin power to an extended FX front end. These bikes have normally been associated with great handling, lots of moxy, and an aggressive look that appeals to those who tend to ride through life on their own terms.
All 2009 Dyna models feature a newly developed Harley-Davidson silver-face speedometer with fuel range read-out, a new low-profile front fender and a new fuel sender. Other common Dyna characteristics consist of the under-seat battery box, exposed rear shock absorbers, and a classic Fat Bob-style fuel tank with console. A new low-profile front fender tightens up the look of the bike in 2009 as well.
The '09 Dyna Super Glide is powered by a 1584cc Twin Cam 96 powertrain with Electronic Sequential Port Fuel Injection (ESPFI). It is matched to the 6-Speed Cruise Drive transmission and together the powerplant transfers 92 ft.-lbs. of torque to the pavement at 3000 rpm. The engine receives a silver powder-coat finish along with polished rocker boxes.
'09 Dyna Super Glide Specifications
Style aspects of this Harley-Davidson motorcycle mostly remain consistent with others in the Dyna lineup. A chrome – staggered shorty dual exhaust transmits the rumble of the powerful engine as the bike tears through a city or cruises through back country roads. The wheels are of the 10-spoke cast aluminum variety.
Handle bars are low-rise type with the speedometer mounted center mass between the two. For those looking to bring a passenger along for the ride should be aware that this particular bike has a solo seat only.
Color choices for this Harley are extremely limited with only two options available: Vivid Black and Pewter Pearl.
Because of the overall combination of power and aggressive base styling the 2009 Dyna Super Glide is often the starting point for many custom bike projects. Of course, whether taken at face value as a pure riding machine or as a blank canvas for a unique custom vision, this bike is the essence of what riding a Harley-Davidson motorcycle is all about.
Reviews of the 2009 Harley-Davidson Dyna Super Glide (Model: FXD) can be found below. Please write a review of your own if you've had the chance to ride this particular motorcycle. Be sure to match your review to the proper review set as the '09 Dyna Street Bob. '09 Dyna Fat Bob. '09 Dyna Low Rider. and '09 Dyna Super Glide Custom all have their own individual review sets. If you have pictures of your bike, please email them to pictures@hdreviewspot.net with the Make, Model, and Year in the subject line and we'll be sure to include it in the '09 Dyna Super Glide Photo Gallery .
Harley Davidson History
2010 Harley-Davidson XL1200X Sportster Forty-Eight Road Test Rider Magazine
2010 Harley Davidson Tri Glide Ultra Classic Harley Reviews
Harley Davidson XLCR 1000 Caf Racer-Harley Davidson
2002 Harley Davidson V-ROD VRSCA Pick of the Pen Hot Bike