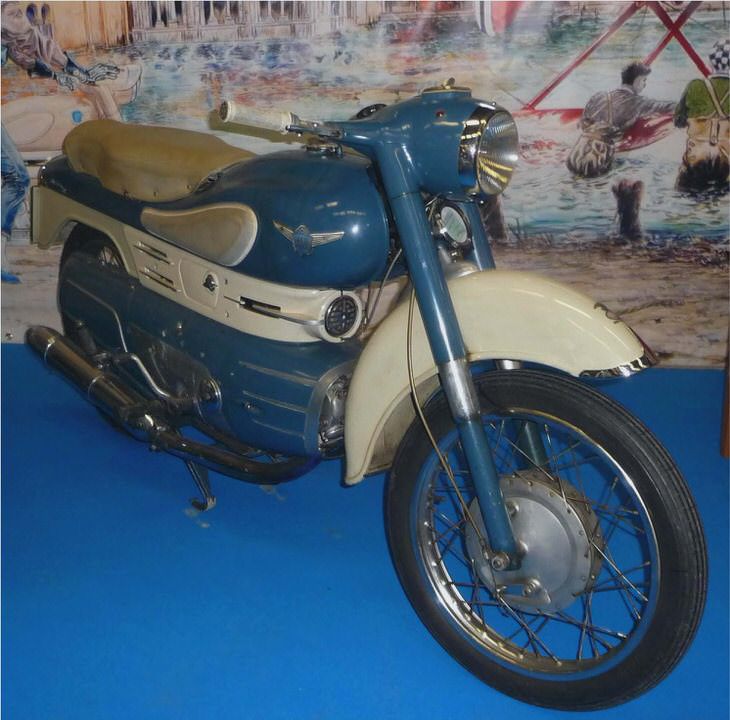 Harley Davidson Sprint: The Spaghetti Hoglet
October 28, 2011
( Welcome our newest Contributor Lee Wilcox, also known here as wstarvingteacher. And no, bikes aren't his only wheeled interest )
Why is the Harley Davidson Sprint such a contradiction? In the hands of a slug like me they become a heavy, somewhat awkward, vibrating, slow, and uncomfortable machine. In the hands of some of the guys that grabbed U.S. and World titles, the bike was a champion. You know how some machines just make the rider better?
Well, this was not one of them. But it said Harley Davidson on it, and they did sponsor racers. You get the picture.
How Harley Davidson (and I) came about to have this little Italian one-lunger is a bit of a longer story.
Aermacchi is shortened from Aeronautico Macchi. For you folks that don't speak Italian I am told that means Macchi's Aeronautical company. They made airplanes. Still do.
Their first planes were in 1917 and they were flying boats. As I recall (no I'm not that old, but I can read) they were on our side in that war and came out fairly prosperous.
Between the wars they continued to grow and then in a fit they picked the wrong side in the second war. While it paid off in the short term, in the long term it proved very detrimental.
Actually all of Europe was in the same boat no matter which side you had been on if you were a civilian trying to feed yourself. At any rate, Aermacchi and everyone else knew that fuel was precious and that motorcycles would sell. They found an engineer named Lino Tonti who had been at Benelli and worked on aircraft engines during the war. Tonti designed and built a 50cc bike that set the land speed record for it's size.
While it's not their first bike this is a good example of Italian bikes in 1950.
Probably because of their involvement in racing, Aermacchi was quite successful in postwar Italy. They incorporated the Italian word "Ala" in the name of their bikes. They had (at least) Ala Verde – Green Wing, Ala Blu – Blue Wing, and Ala Oro – Golden Wing (take that Honda).
Their 250 cc four-stroke single had a rather unusual near-horizontal cylinder, which in the case of this handsome vintage example, allows for an interesting use of the body fairing to also channel cooling air to the cylinder.
Because Aermacchi fell on hard times (supposedly bad investments), Harley Davidson acquired 50% of their stock in 1960. The light bike market had been growing since WW2, and Harley's little 125 cc Hummer left too big a hole between it and the firm's signature the big V-twin bikes. Harley was feeling besieged by the onslaught of Honyasakis.
They got a real deal, reportedly $250k for 50% of a competitive motorcycle manufacturing company. At the time of the purchase, it was as good as any in Europe.
Harley Davidson first imported the 250cc and named it the Wisconsin. Someone in the sales department must have reminded them that there were 49 other states and that good regional citizenship does not sell bikes (outside of Wisconsin). They renamed it the Sprint so quickly that I cannot find a picture of the Wisconsin with that label. You can see the resemblance between the Italian Chimera 250 and the Sprint (Wisconsin) if you look past the aerodynamic panels.
The horizontal engine made for a low center of gravity and the torque was lawn-tractorlike. With some effort there was obvious promise.
Well folks, this might come as a shock knowing how receptive most people are to change but many Harley dealers resisted selling the small Italian bikes. "We reely don't care how they do it in Yurrup." That makes me a little curious about something that has been in the trade pubs recently.
ATK is a brand that has been around for a while selling small to midsize bikes. Right now they are packaging Hyosung 250's and 650's as entry level bikes to be sold by Harley dealers. The Harley factory does not appear to be involved. Considering the early success of Aermacchi's and the dealers' resistance to change, I guess we will see if 51 years changes anything. (www.atkusa.com )
Harley raced the sprint pretty successfully during the sixties. In AMA racing in the sixties, championship standing was determined by the combined points for road racing, motocross, and flat track. If you have read about the era, perhaps the names Romero (above), Resweber, and Leonard might ring a bell.
Prior to the XR750, the Sprint was for their flat track competition and for one class (250) of road racing.
The Sprint was successful on both short and long tracks, because there were actually two versions of the engine.
There was the original long stroke "long rod" motor, and the later (1965 up) short-stroke "short-rod". The long-rod's torque curve was better suited on the dirt tracks. The short rod engine would rev to 10,500 rpm, pretty good for the times (and a single cylinder 250).
There is a very interesting web site dedicate to the Sprint's racing career, and where many of these shots came from. If you want to become the bore of the party by knowing more Harley Sprint esoterica than you can believe possible, click here: SprintCR
Cal Rayborn was perhaps the most famous of the Harley stable during the late sixties and early seventies. You may know of the competition between him and Don Vesco for the land speed record. Vesco raced Yamahas. They each ran dual engined streamliners for their brand.
Each owned the land speed record for a time..
Well, before Harley had Rayborn they had Roeder. George Roeder piloted a streamliner for Harley that ran with a single 250cc sprint engine. He shattered Class A and C records with an amazing 177mph two-way average run.
In 1969, competition from the Japanese caused HD to enlarge the sprint engine to 350, and were now called SS350.
In 1972 Renzo Pasolini finished second in the world in the 250cc class. He raced for Aermacchi. Evidently that wasn't good enough for Harley (then owned by AMF) because in 1974 they acquired control. Then Aermacchi bikes rebadged as Harleys won the 250 championship in 1974, 1975, and 1976. They also won the 350cc championship in 1976.
For those years you will not see Aermacchis name in the records at all. From 1974, they were all rebadged as Harleys.
Walter Villa was the top rider during this period. He was a pretty quiet guy who became anything but quiet on a bike. He was short and had weight problems even while he was racing.
Not the Kenny Roberts type at all.
Even with excellent race prep, there was no way that a heavy four stroke bike could keep up with the two stroke hordes. The Sprint single cylinder was already a living dinosaur among all the high-revving Japanese twins. Harley tasked the Aermacchi factory with producing competitive two strokes. The result was the ss-250.
Reportedly, it was based on a Yamaha design. Certainly the engine bears a resemblance to the DT250 that I rode around Panama. The fact that the SS250 too was a single compared to all the two-stroke twins from japan made it look pretty obsolete as a street bike from day one. the SS250 didn't sell, has a rep for iffy quality, and HD soon abandoned the whole program, and started focusing on what it did best: big twins.
One of my favorite Aermacchi racers was the Linto 500. This is essentially two sprint cylinder barrels grafted on a single bottom end.  That type of bike was commonly called a twingle.
Dick Mann attempted to introduce such a bike utilizing OSSA barrels on a completely new frame. In performance it was said to be excellent and was built for the International six day trials (ISDT) but it was a commercial failure. It was easier to win Daytona and AMA1 then to sell new concepts.
I had not been aware of the Linto until doing research for this article.
In a move that puzzled many and stunned some, Harley sold its italian operations to the Castiglioni brothers who founded the Cagiva Motorcycle Company. Cagiva continued to produce bikes for Harley that were labeled HD Cagiva until 1980. But Harley surely must have learned their lesson.
Right. MV Agusta anybody?
So now to the second part of my story(if you're still with me), of how I came to own a Sprint.
Until shortly before I bought the bike, I was riding the USS Sailfish and we had just completed a cruise in the Tonkin gulf. With the work done and time to play, we pulled into Yokosuka Japan. At that time, for whatever reason, your future starving teacher began to experience internal bleeding. Without going into detail, that disqualifies you from riding submarines.
I was surfaced.
Once stabilized, I was flown from the hospital in Japan back to the Naval Hospital, Great Lakes, Il. I was caged with a group of other young, now relatively healthy men, who were awaiting transfer back to active duty. Since I had money to burn, I burned some on this.
That's from Google images but it could have been mine. Two extra doors here but otherwise a spitting image. It was just a little 230 inline six with three on the tree. You know the drill. Wish I still had it.
I think old guy code requires me to say that. It's probably true.
The powers that be decided they would send me back to active duty but not to sea. Therefore, I received my first duty ashore, in the states, in nine years.  A frequent subject while awaiting orders became what we were going to do with our new duty stations and temporary wealth. Many of the guys wanted to buy bikes. So did I. I really didn't know what I wanted (certainly Honda had caught my eye) and one of the men I was caged with said he had a Harley that he wanted to sell.
I told him that I didn't want to spend that kind of money and felt I needed a smaller bike for a first bike. He laughed, told me it was a 250 that was made in Italy and that he wanted $400. That got my attention.
We went to his home in Dale, Indiana to see the bike. I had already received orders to Frederick, Md. and knew I could return to retrieve the bike. I fell in love.
Once again, the picture is a spitting image.
Well that weekend I had my first motorcycle ride, got my first taste of homemade beer, and had my first solo ride on a motorcycle. I would love to tell you that I turned into Kenny Roberts during that weekend but the truth is that I rode it into a ditch and needed help getting out. Then I managed to keep it on the road and develop some rudimentary skills.
Very rudimentary.
Over the next year I did become adept with the bike and actually think I was pretty good. For the first time as an adult, I had time and I took to the mountains by Hagerstown and anywhere else that looked worth seeing. I even rode with snow on the ground.
I learned about point of entry over railroad tracks the hard way and saw my first motorcycle racing death (flat track) at the Frederick fairgrounds. Whether I actually became good or just a legend in my own mind is a moot point as I am now old and do not ride.
I wasn't going to let age stop me from building another bike but I had a stepladder collapse this past May and it broke my leg. I told my wife that if I couldn't ride a stepladder I shouldn't be riding a bike. There is now a mostly complete XS650 disintegrating in my yard. I wish it weren't true but time passes.
As we get older, our memories transform us and we were excellent riders when we were young. Regardless, I thought my Sprint was the coolest thing on two wheels. And this resto-mod version captures its essence better than any other.
Aermacchi Grand Prix Racer Restored Motorcycle
AGV Backmarker: Poking around the Harley-Davidson Museum
Bonhams : 1967 Aermacchi Harley-Davidson 250 CRTT Frame no. 67CR5040 Engine…
Classic Sport Bikes For Sale Archive Aermacchi
Moto Italiano NY