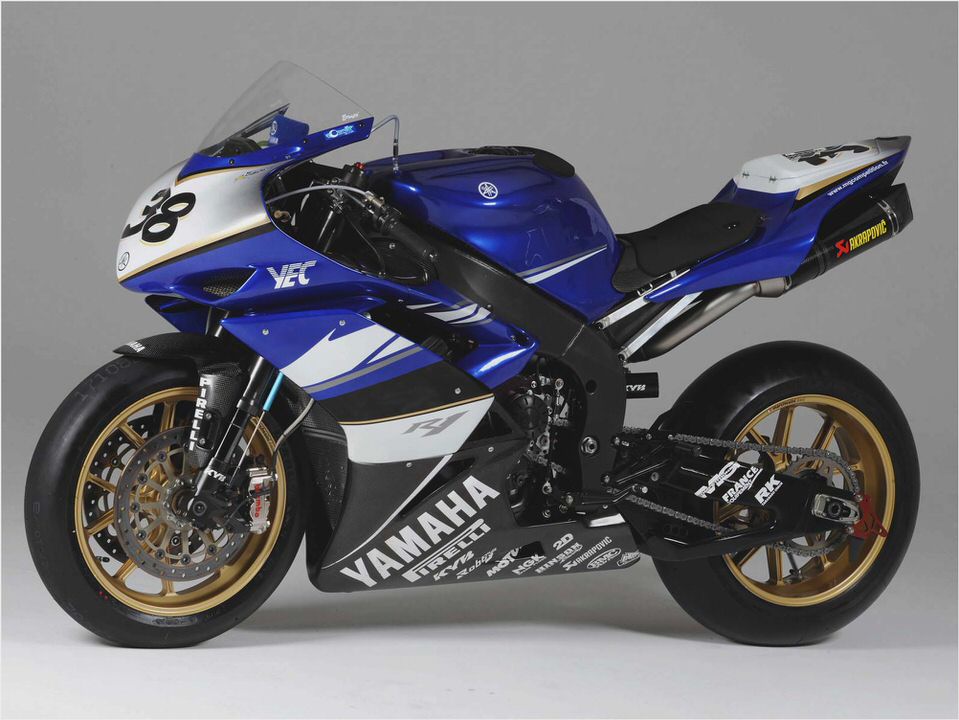 Hayes Yamaha YZF-R1 Superbike Review
Back in the day. Old school. When men were men.
Executive Editor Atlas puts Hayes' Yamaha YZF-R1 American Superbike to the test.
Rolling Art
One look at the Yamaha  Superbike and any Petrolhead will surely fall in love. A simple glance at that deep blue-bathed bodywork covering a host of too-trick-for-mere-mortals parts, the lot lathered in carbon fiber and titanium, and it's utterly impossible for one's jaw not to drop to the floor from excessive staring. It's the prettiest bike I've ridden this year, no question.
Beyond the beauty, though, let's have a look at what is responsible for propelling it around the racetrack to seven American Superbike wins this season.
As per DMG's new American Superbike rules, much of the internal engine parts must remain stock. These include the pistons, rods, crank, transmission and clutch assembly. One would think with so much standard equipment internally, the amount of power possible from the bike wouldn't be much more than stock. One would be wrong, though.
While not willing to divulge actual numbers, they did hint it's close to 200 horsepower at the crank on Yamaha's engine dyno. So where does this added power come from? Yamaha's YEC kit parts mated to the team's handiwork.
That's where.
It's all in the details, they say.
YEC kit cams, generator and variable YCC-I intakes are used in the engine, while Yamaha U.S. modifies the cylinder head in house and it is one of the biggest secrets to the added oomph. This is aided by an Akrapovic exhaust designed just for the Yamaha R1 SBK in conjunction with the team. The final piece in the power puzzle comes from Magneti Marelli electronics – ECU, fuel mapping, dash – which are designed solely for the Yamaha squad and their machines.
Included in the Marelli system is full data acquisition, though that goes to tuning the chassis equally as much as the engine.
And, like the engine, more of the chassis now must remain stock per the rules as well. This includes the frame and fork externals. The swingarm must start stock but can have gusseting or bracing added, though the Yamaha boys stick with a totally OE unit. For the fork they run Ohlins TTX internals, while the shock is an Ohlins TTX unit throughout. Graves Motorsports provides adjustable triple clamps, different shock links, handlebars, rearsets and case guards.
As for other trick bits, the handmade aluminum fuel tank comes from Gmeiner Racing Parts and brakes are all top-spec Brembo throughout, while lightweight 17-inch (as per the rules) wheels come from Marchesini and are shod with Dunlop's latest spec slick tires.
Throw on some Sharkskinz bodywork covered in a slick coat of paint from MC Pro Designs and, more or less, you've got yourself a factory Yamaha American Superbike. Add some No. 4s and a couple windscreen stickers and now it's Josh Hayes' daily driver, sitting and idling while emitting a soothing lump in Spring Mountain Motorsports Park's paddock, waiting for I to descend the red mist upon thee.
Time to rock 'n' roll!
Art at Speed
The harder you ride it the better it performs.
Read any racebike review and there's a good chance a statement of this context is art of it. And while I'm sure this is true of all of these bikes – a racing machine's intended purpose is such, after all – never has it been as apparent to yours truly as with Hayes' factory Yamaha. At anything less than really, really hard, the R1 plain kicks your butt.
But gather the balls to really push the beautiful blue girl toward its limit and she comes to life like a stripper that's just seen a fat roll of $100s. And it's every bit as exciting as you may think. Exciting like taking a bath with a toaster, that is…
Much of this comes down to Hayes' preference to run extremely stiff suspension – I'm talking high school principal stiff! As the crew puts it, "Josh runs it stiff to know what's going on under him, to always know the limit." I thought big boy Aaron Yates ran a rigid set-up on his Jordan Suzuki, which I rode a few months back; that was until I hopped aboard the No. 4 machine.
I would be surprised if the suspension even moved at all during my warm-up laps as I got acclimated with the Superbike. At those speeds the bike kicked my ass. I was knackered after only a handful of laps; wrists pumped up, hands numb, knees locked.
It was time to summon the racer within, otherwise it was going to be a very long and tiring day.
Watching a recent broadcast of the last round of the American Superbike Series at New Jersey Motorsports Park I caught wind from the announcers that double-race-winner Hayes wasn't running any traction control. As I was due to ride the bike in a week's time, this piqued my interest. But as sometimes announcers have been known to exaggerate a tad, I was skeptical.
Especially in this day and age, where every Superbike I've recently ridden has had it in some form or another. As it turns out, for once the TV folk weren't exaggerating. And the plan was for me to ride the bike just as it rolled off the track from Hayes' season-ending double-win. In fact, even if I wanted to switch it on I couldn't, as the option doesn't exist on the No.
4 Yamaha. Time for some good ol' right-hand-TC to keep this nearly 200-horsepower Superbike at bay. Nervous? Never…
Hayes R1 surprised with its stiff suspension and rigid chassis, though once acclimated things came into focus.
Due to my complete trust in the cat-like reflexes and sheer talent I am blessed with, I hopped right on and gave the bike the beans exiting the pits. Yeah, right… To keep life, limb and that wondrous blue paint intact, easing up to speed was the name of the game. But as I said before, going at an "easy" pace on this bike is quite tiring.
And while I wasn't about to abuse the right grip immediately, no such caution was needed with the chassis.
When you are put on a stripped down motorcycle like this you get back to what the core of road racing is all about; the noises, the vibration, the feel. oh, man, the feel . While I had assumed the unorthodox Inline-Four crossplane engine would garner most of my attention right off the bat, it was actually the Yamaha's chassis and resulting mid-corner ability that was the most eye-opening.
Begging to be leaned further and further, corner speed building, the feedback and ability to push the big-bore blue bike through the center of the turn was downright staggering. Compared to the street version it's as if layers of filtering have been stripped away. Think decaf versus triple-shot espresso.
Quickly finding myself pulling my knees in as tight as possible and even picking up my elbows to miss the curbing in spots, never in my life have I pushed a production-based literbike of any caliber through corners with such aggression and pace. And ease, for that matter. Only complaint?
The footpegs were too cramped for my bum right knee. Thus, we lowered them and back out I went,
But something strange happened as a result. The R1 wouldn't change direction like it had previously, wanting to run wide mid-corner and all the way out though to the exit. I'm not talking a small change, either. I'm taking a massive change – it felt like a totally different bike. Never have I ridden a machine so sensitive to such a small differences.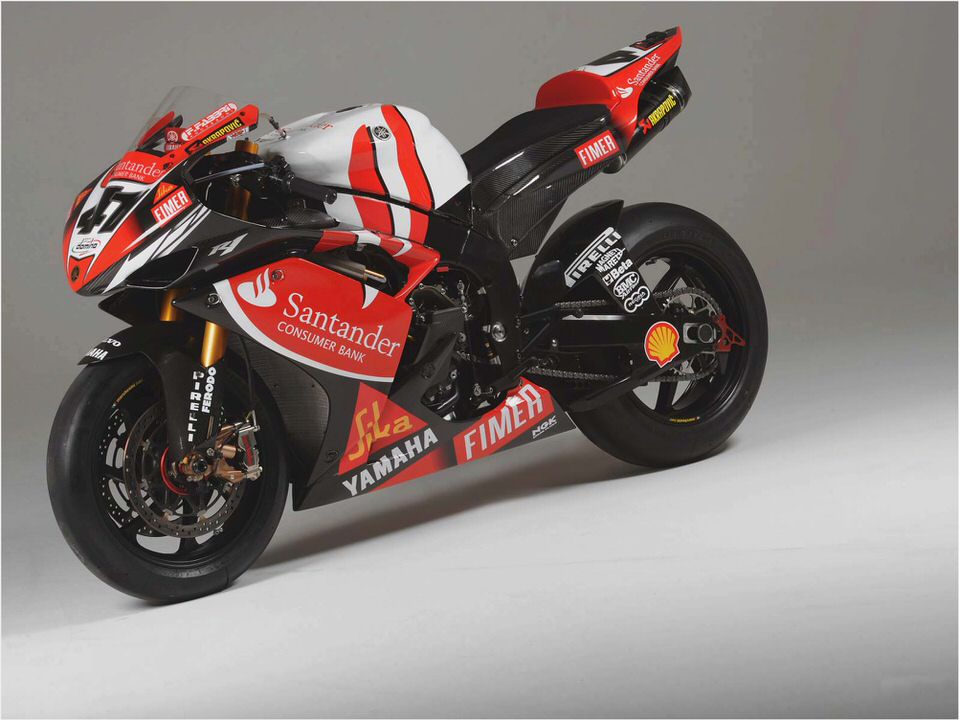 Turns out Hayes and crew spent a good deal of time this season with such things and, not surprisingly, know what they are doing. Back went the footpegs…
While the engine impressed, the real star was the motorcycle's ability to hold loads of corner speed with ease and inspire loads of confidence in the process.
While getting acclimated to the chassis helped increase my pace to a point, somewhere in the mid-1:43 range, the real speed would come from picking up the throttle earlier and being harder on the brakes. That is what Superbikes are all about: get in deep, turn quickly, get back on the gas as early as possible. Needless to say, sans Traction Control, this took a few laps to get used to.
And though it may have taken me half the day to truly explore the lengths of the right grip, once I did it became apparent just why Hayes doesn't run TC. There's no need. Seamless on/off throttle response mated with the torque of the crossplane crankshaft engine makes for one of the smoothest and easiest to use power deliveries of any big-hp machine I've thrown a leg over.
Even with TC on some of the other Superbikes I've ridden, the Suzukis specifically, I still found the Yamaha easier to ride. In fact, it may be the easiest Superbike I've ever twisted throttle from stop to stop on.
A typical byproduct of such bottom end torque can be a lack of top-end power and especially over-rev. Not with this Yamaha. It really is a belter engine; grunty low down, savage up top and musical everywhere. Get the blue bomber above 12,000 rpm and she comes to life like an un-caged rabid dog, shiftlights flashing from green to red fast enough to spin your eyes backwards.
How Hayes uses them I'm not sure – they did me little to no good, quickly learning to paw for the next cog on the quick-shifter the split second I saw the first of the green lights. Anything later and I was having a violent affair with the limiter.
Once the grey matter between my ears had digested just how easy it is to exploit the traction and power from this R1 something wonderful happened: The lap times began to drop with – I was easily into the 1:42s, consistently. Next order of business: Explore the immense braking potential of the Brembo monoblocs.
Like his chassis, Hayes prefers his brakes single-minded and uncompromising. No initial squish or progressively building pads here; just 100% braking power – right here, right now – at the slightest touch of the lever. Keep pulling the lever and they bite harder, slamming the rider forward, taking a good bit of one's upper-body strength to not go flying through the screen.
Starting to get the drift here – Hayes likes it STIFF.
No shortage of power and Hayes' preference to not run TC or much wheelie control made this quite easy exiting just about any corner.
The binders also follow in the footsteps of the rest of the bike in regards that you get back exactly what you put in. The harder one pushes and the deeper into the suspension stroke one gets, the more feel and feedback the chassis provides. Due to limited hard-braking areas at SMMP there were only a couple places to really explore the brakes potential, but they are impressive, to say the least.
On the other hand, when easy with them and not at pace, they lack feedback and do little more than make the rider jerky and awkward. Thus, there was no other option – hard on the brakes wherever possible.
The final two sessions of the day cemented things in perspective. For the second-to-last outing I took it easy, concentrating on photos, as I had a few good runs under my belt and the aim was to not bring it home in a box. Problem was, at a leisurely pace the bike once again reminded me how brutal it was – arms pumped back up, hands numb and I was quickly overheating.
Thus, for my final "photo" session it was time to grab it by the scruff and give it everything I had – and then some – dropping my times by over two seconds a lap (best a 1:40.3; 1:39s easily in sight). Doing twice as many laps as the previous session took half the effort – arms loose and no hand numbing here. Everything was spot on. Not to mention, how many opportunities does one get to really push a factory Superbike towards its limit for a full day?
I wasn't about to let a single lap slip away, that's for damn sure. And while I could tell the team was a bit nervous that she would come back in one piece, it reaffirmed what Hayes' Yamaha YZF-R1 is all about: Ten-tenths or no-tenths.
No TC or overly-complicated electronics here – just an astonishing reach of rudimentary ability; the relentless neck-snapping acceleration, the deep and glorious exhaust note and the almost spookily rigid, yet truly communicative chassis. This thing really is a proper Old School Superbike at its finest. And I enjoyed every last adrenaline-filled second of it…  Santa, I want on for Christmas, please!
(Note to Yamaha – Please build a production version of exactly this bike with lights and mirrors! There's no question you'll have a winner. Though you may want to soften the suspension a tad…)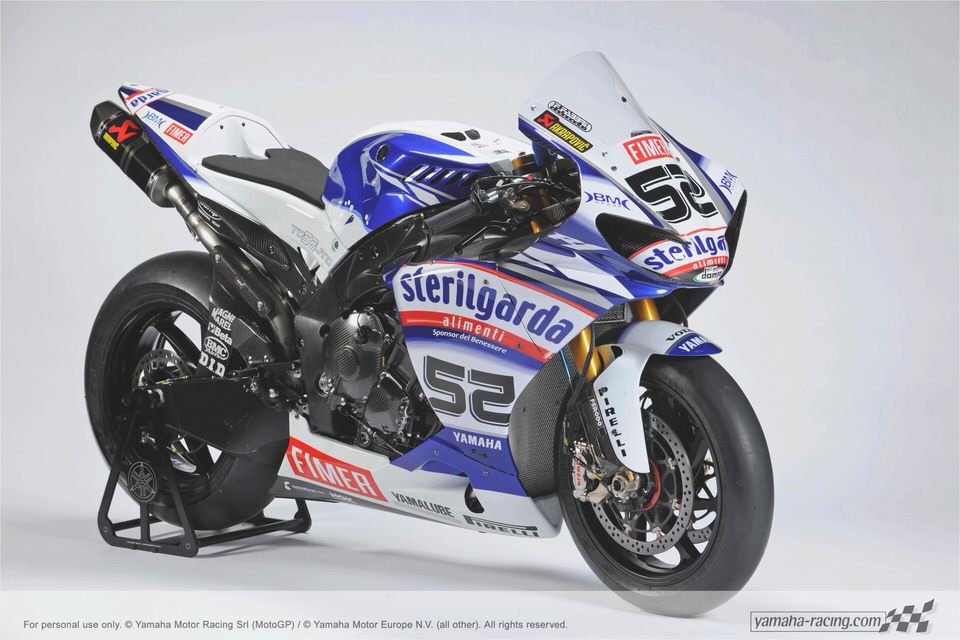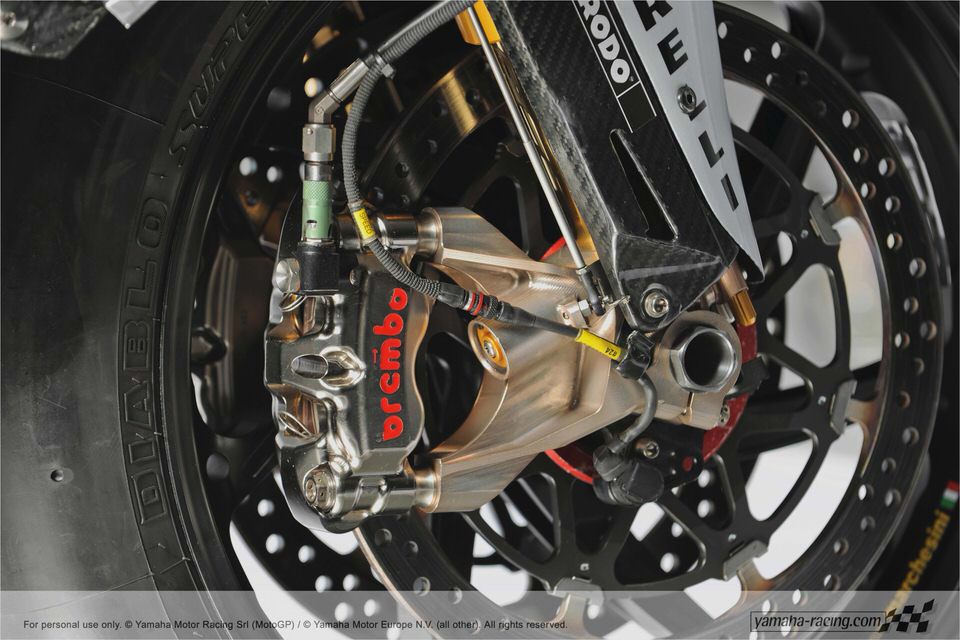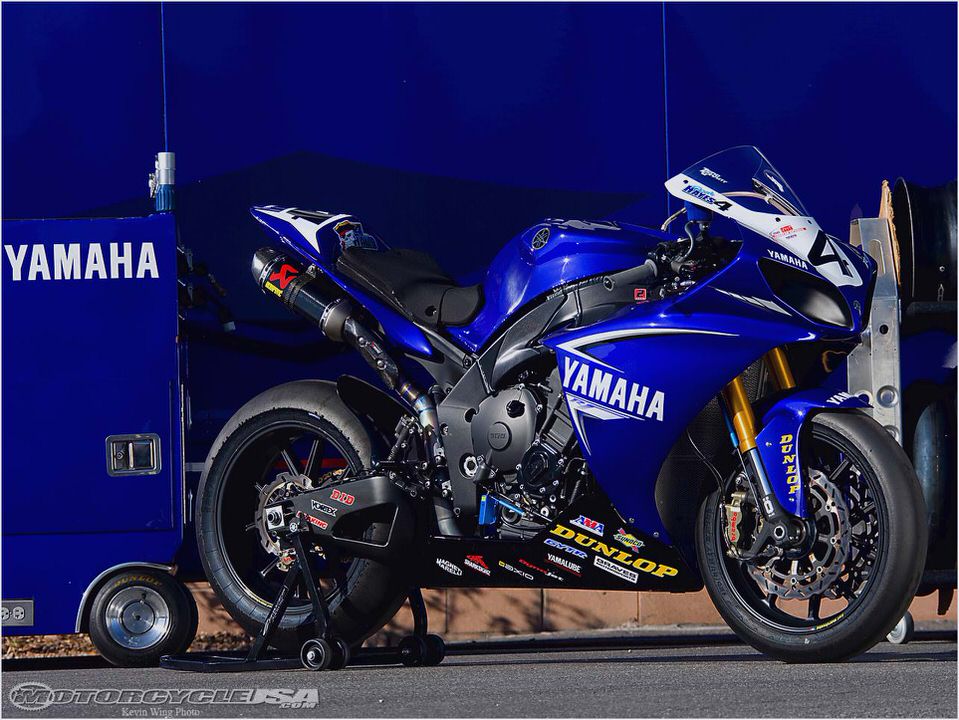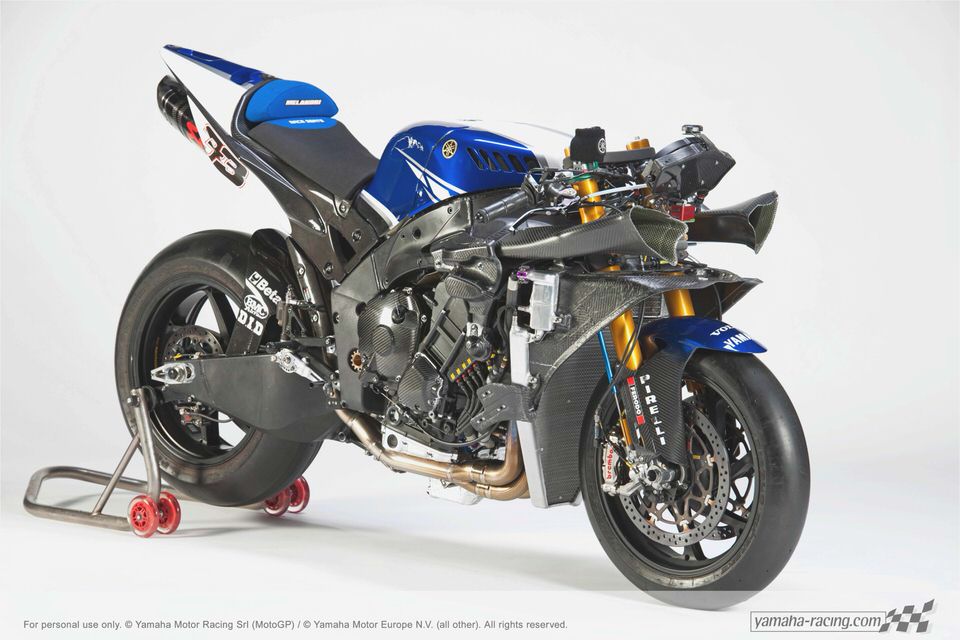 Yamaha V Star 250 Specs eHow
Spies and Sykes put the 2009 WSB Yamaha R1 through its paces in South…
2011 Star Stratoliner Deluxe Rider Test Rider Magazine Road Test
Compare Honda motorcycle NC 700 X vs Yamaha XJ6 Diversion: Diversion is the X
Titled and Beautiful '92 TZR 250 RS Rare SportBikes For Sale