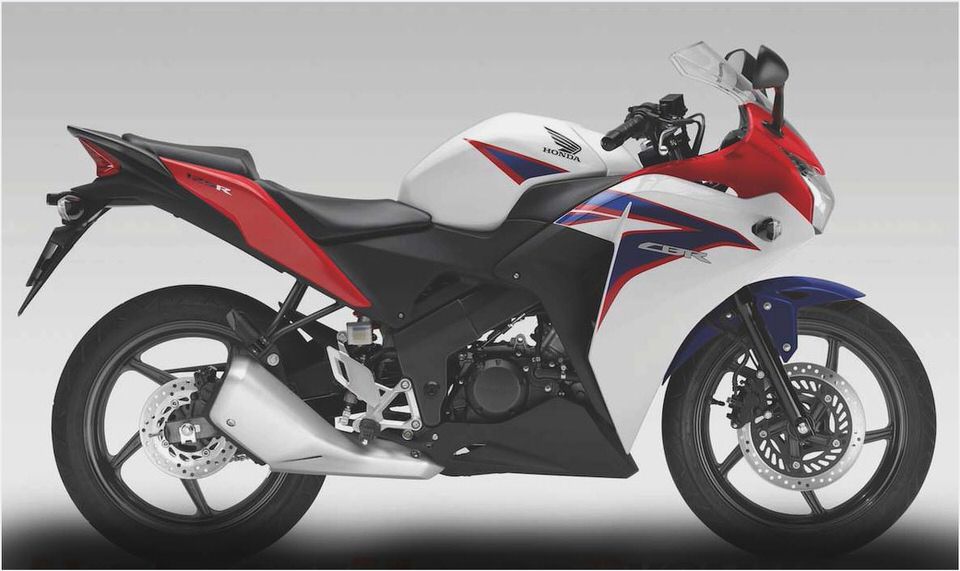 Baby CBR
Overview
Honda India surprised all the media persons and auto enthusiasts by unveiling the CBR150R at the Auto Expo 2012 in New Delhi. The company launched the bike on 15th March, 2012. It looks very promising and many prospective buyers were waiting for this 150cc bike.
It competes head on with Karizma ZMR R15 as Honda India has priced very aggressively. Honda launched the new model of the CBR150R in Thailand last year and the design of new bike seems to be inspired from the Honda's VFR series which gives look of a big engine bike. Honda CBR150R is available in two variants – Standard and Deluxe.
Design and Style
The CBR150R carries most of the looks of its elder sibling . CBR250R. If you are not aware of the different color schemes for both these bikes then you can't differentiate between them on road. At least from front, it's very hard to distinguish.
The small CBR has the same Y shaped crystal clear headlight, visor and rear view mirrors similar to that of CBR250R. The black coloured alloy wheels and smaller front disk brake is also different in this bike. Get to the side of this bike and then you can notice some more changes including different silencer and decals on its fairing. The bike looks well proportionate. It features a sporty full cowling which visually adds bulk to this bike.
However this cowling is much simpler than the one used in R15 and may lack that sporty character. The rear section also resembles to the bigger CBR and looks much simpler than R15. The bike has no split seat and also features black coloured grab rails.
The tail light looks neat and simple and the bike is not as high as R15.
The instrument console of CBR150R features a combined analogue tachometer and digital speedometer . fuel gauge and odometer. The instrument console also has different LED indicators. The speedometer is not as big as we get to see in regular Bajaj and TVS bikes.
The bike features orange back light.
This bike is powered by a single- cylinder, fuel injected 150cc water cooled engine. It's a 4-stroke, DOHC, 4 valve engine which can churn out a maximum power output of 17.58 bhp at 10500 rpm with a maximum torque output of 12.66 Nm available at 8500 rpm . This engine is mated with a six speed manual gearbox with one gear down and five gears up-shift pattern.
As soon as you read the specifications, it's not hard to get that you will have to rev this bike really hard to get the maximum power of this engine. The bike initially may not feel as swift and active as R15 due to three reasons which are its less torque output, DOHC engine and heavy weight. That's why R15 is a second quicker than CBR150R in reaching 0-60km/hr. After this, the game changes as the high end performance of the DOHC engine used in Honda is much better than R15.
Despite being heavier, CBR 150R proves to be more enthusiastic than R15 as it takes just above 12 seconds to reach 0-100km/hour which makes it faster than its rival by one second. Being a DOHC engine, it tends to be refined and that shows when you can see yourself around 9000rpms without any vibrations. This engine feels extremely refined at high rpms and that helps you to achieve a top speed of around 130-132km/hr.
Gear transitions are very smooth and gear ratios also feel well proportionate. Despite its less torque output, the bike still manages to impress you with its performance.
It can give you a mileage of around 32-38km/litre in city conditions while on highways anything above 45km/litre can be expected.
The seating position of CBR150R may not be as sporty as R15 but it's certainly more comfortable than its rival. The seat height (unloaded) in 793mm. The knees stick perfectly with the tank and you can find your feet resting on the foot pegs.
Rider can easily reach to the clips on handle which allows you to get comfortable on this bike. Seat is placed relatively higher and offers you optimum comfort.
The headlight of the bike uses high watt bulbs which offer you the brightest view of road for safety at night. The bike also has adequate amount of space under its seat where one can place gloves, jacket etc.
The suspension system of this bike offers you a very comfortable ride. Telescopic forks are doing duty at its front while mono shock absorber is placed at the back. The suspension of this bike sheds its weight and contributes to its high quality of performance.
Undoubtedly, this bike has better braking system than R15 as it comes loaded with a bigger disc at its front. It features a 276mm disc at its front while there is a smaller 220mm disc at the back. The bike comes with no option of ABS as seen in its elder sibling.
CBR150R feels a bit stronger than R15 in this department. The heavy weight of this bike works in its favour and along with its suspension system; the bike feels more stable and grounded. Yes, its wheelbase of 1305mm is less than R15 and can be felt around sharp corners but its wider front tyre and high ground clearance of 190mm improves its handling.
The bike deals easily with most of the potholes and with its high ground clearance, you need not to worry about the obstructions on road. Even off road, the bike performs really well and gives you a pleasant ride.
Honda CBR150R is available in two variants – Standard and Deluxe. The Deluxe variant features sporty graphics and Standard variant is available in red and black shade only. Technically both the variants are same.
Honda CBR150R Standard is available in two shades . Black with Pearl Sunbeam White and Sports Red with Pearl Sunbeam White. Honda CBR150R Deluxe is also available in two shades: Black with Candy Palm Green and Vibrant Orange with Pearl Sunbeam White colour.
The deluxe and standard variants of CBR150R are priced at INR1.16lakhs and 1.17 lakhs respectively (ex-showroom, Delhi (approx. may vary)). Honda has priced their bike a bit higher than its rival, R15 which can be its only setback. Other than this, CBR150R has everything, what it takes to be number one in its segment.
The bike looks cool and different from others . Performance and handling is also very satisfactory. The bike seems to be a complete package and it's perfect for those who are looking for exclusivity and want to stand out of the crowd. It's definitely an attention seeker and in the upcoming time, it will be interesting to see that how our youth reacts to this baby CBR.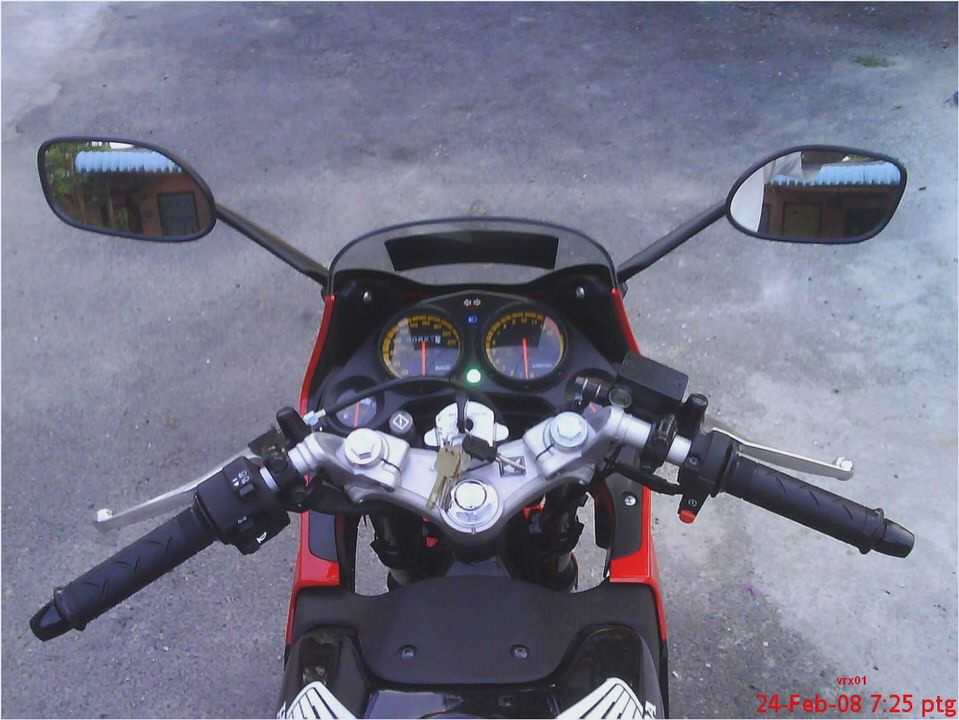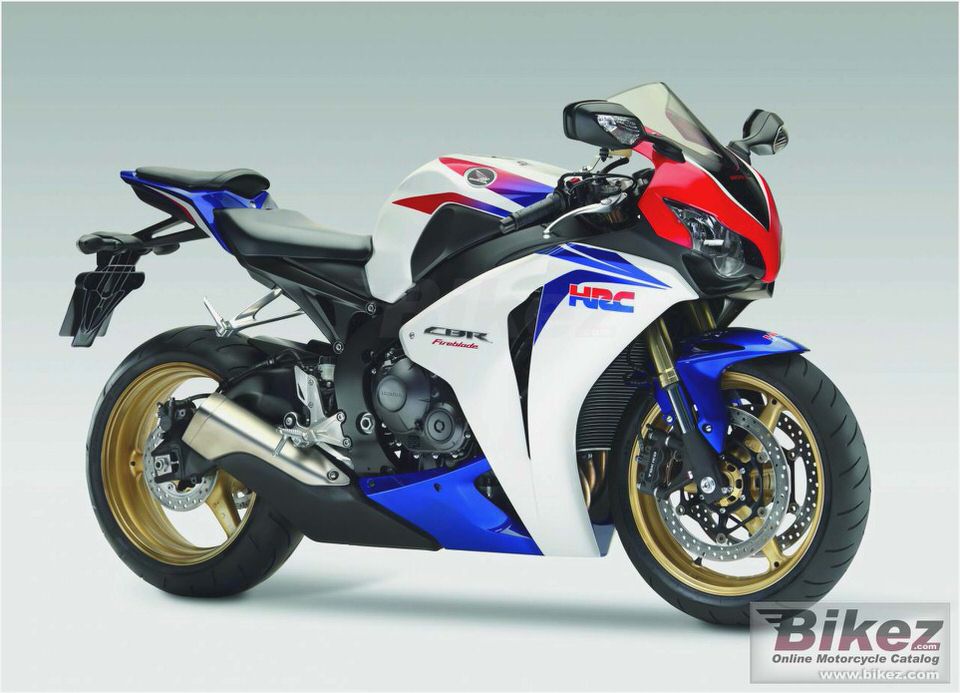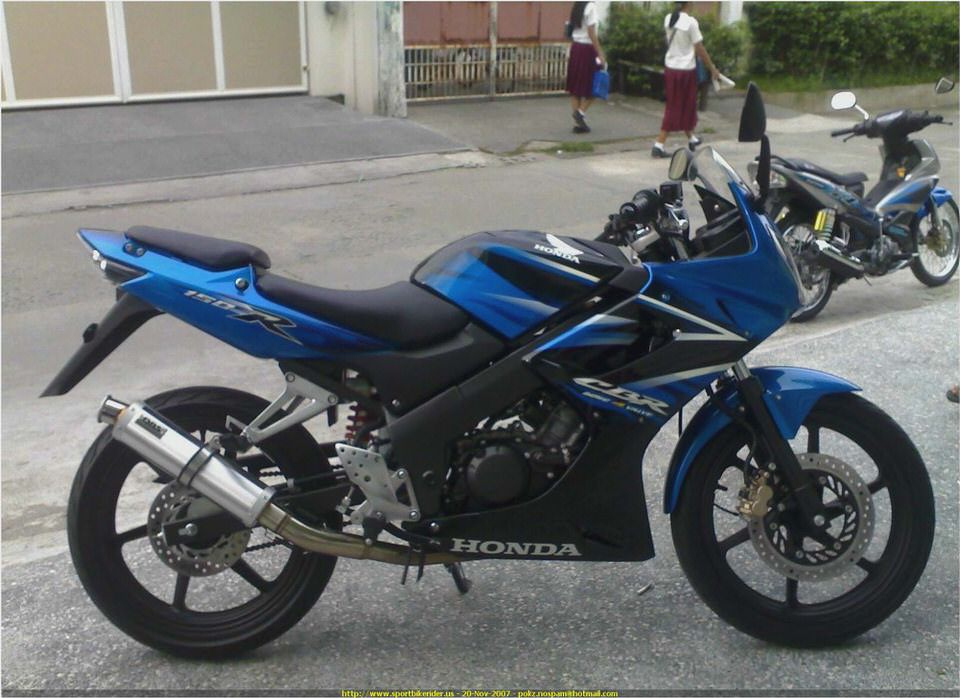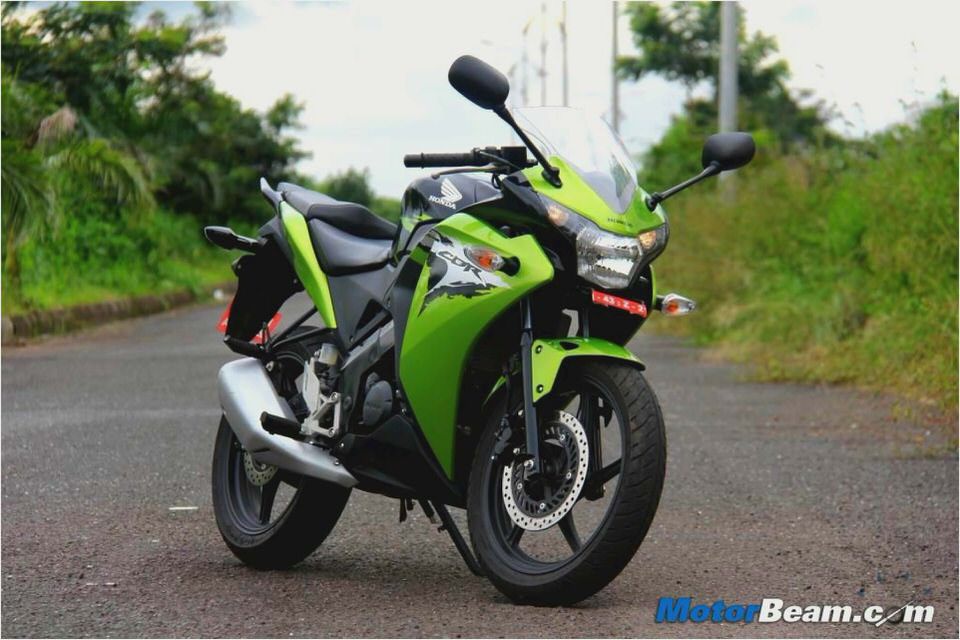 Hero Honda Passion Plus Review
Honda Cbr Leather Jacket Honda Motorbike Jacket Honda Bike Jacket
Hero Honda- Superbrand 2003 – 2005
Honda shows bizarre V4 Concept Model, says it wants to make it
2008 Honda Shadow Spirit 750 C2 – Used 2008 Shadow Spirit 750C2 at Motorcyclist…