F ather, hear my confession; I am way over 40 and still love motorcycles. My squidly ways are (mostly) done and I hate to hurt or be hurt by any bike I ride. Statistically, I'm the perfect sport-touring motorcycle owner. Until recently, the usual suspects offered thin consolation. Even though I own a Harley, the costumed tribes rumbling around on their flamed V-twins seem a tad… cliquish.
Ja, und most Beemers chill my blood, mein Herr. Big Red's Gold Wing? Sorry, no matching pastel jumpsuits in my riding future.
My fantasy touring setup is an ex-Agostini 4 cylinder MV Agusta works racer with lights, MMM Editor Wanchena's Platinum Amex card, and a handful of red bungee cords. Fate has cruelly squashed some discs in my back rendering the race-rep riding position impossible, so I was delighted to test a different breed of sport touring bike. Featuring great ergos and smart engineering, it's stylish, fast, downright sprightly and carries as much stuff as a small condo.
Quietly honed to near-perfection for over a decade, meet the Honda ST 1300.
The Honda and I got off to a rocky start. I dislike black motorcycles and admire silver ones. Black bikes? Invisible at night, too hard to keep clean.
Silver is elegant and has a lower accident rate—look it up in the NHSTA statistics. The TV chopper guys have sucked the historical coolness out of black. Black motorcycles just don't do it for me unless words like Vincent, Norton or Ducati appear on the gas tank.
So what color was MMM's test bike? "Any color you want", the nice Honda man said, "as long as it's black." That's our only color for 2006. Slumping on the black ST's black seat, I peevishly cycled the adjustable windshield up and down for a while, before slinking away with the loaner.
Our adventure test was peachy. My riding partner and stellar OC HazBeens club buddy, Kerry Nicholson mapped out a robust trip, dismissing Nevada in a blink, then nicking Utah on our way to Colorado. There we decamped in a trendy ski town and enjoyed MMM's opulent secret vacation retreat. After a few days bubbling in the hot tub and gorging on $38 expense account steaks, we slithered over snowy 10,000-foot passes along stunning mountain roads.
Maintaining grossly illegal speeds made short work of Northern New Mexico's high plateaus, and then a side trip into Arizona delivered us at the Grand Canyon. We finished with a freeway dash home, dizzy from too much freedom, and hung over from endless partying. (Paris, if you read this, CALL ME!) Eleven days, twenty seven hundred miles and two bikes; one the always crusty black Honda.
The ST 1300 is a liter-and-a-third of spirited V-4 with highly effective linked ABS brakes, unobtrusive shaft drive and a butter-smooth, five-speed gearbox. It's a large, long, fully-faired touring package that weighs half a ton loaded, but thinks it's a sport bike on twisty roads. Kerry I flogged the beast at warp speed all day long and halfway through the night.
Our total maintenance program over 2,700 miles of hard, fast riding was one oil check and adding two pounds of air to the front tire. Period. If you do need something, Honda's legendary dealer network is second to none.
The platform has been around since 1990; first as the ST 1100 with gear-driven cams, then undergoing a major re-design and size bump in 2003 to the ST 1300. Factory specs say 118 bhp/87 ft. lbs. torque, using chain-drive dual overhead cams, pushing 4 valves per cylinder. Purring quietly around town, the exhaust note hardens into an aggressive, resonant snarl as the revs rise to an 8500-rpm redline.
Thanks to twin counterbalancers, power delivery is silky smooth and plentiful.
The ST uses Honda's Programmed Fuel Injection (PGM-FI) system. Four 36mm throttle bodies slurp from a 7.7-gallon two-level tank. If you believe the LCD readout, our ST averaged over 40 mpg.
With a near-300 mile range, my ass consistently went numb long before the bike needed gas. It's a testament to how sophisticated motorcycles have become that we could ride from sea level to over 10,000 feet, trusting onboard systems to keep everything running at peak efficiency. A carbureted bike would surely need re-jetting to cope with so many mountains.
But our shaftie Honda suffered from an apparent combo of lean surge and drivetrain lash in some gears. This turned the throttle into an on/off switch. Clutch feathering and a super-sensitive throttle hand helped, but the problem is one of a very few imperfections in this machine.
Various Internet ST message boards tout revised fuel pressure regulators or ECU software re-mapping to solve the problem, albeit at the expense of voiding your factory warranty.
I vote for ride-by-wire. By ditching the mechanical cable connecting the engine to my glove, our case of the jerks could theoretically be fixed with a few lines of revised ECU code. Cruise control, anti-theft locking and a "valet" setting to keep the engine from over-revving when loaning your bike to friends could be additional benefits.
Power flows through a 5 speed gearbox made as close to perfect as I've ever used. Clutch action is excellent, light and controllable. My personal ST 1300 epiphany was the shaft drive's transparency when pushed hard.
The ST's rear end is a beefy alloy swing arm linked to a monoshock. It's adjustable for spring rebound only via a knob protruding through the lower left fairing. The shaft behaved with admirable neutrality. There was no wiggle, abrupt standup or swapping ends; just controllable traction and good feedback.
The big ST isn't a race bike and doesn't handle like one.
The 1300's chassis recruits the engine as a stressed member, cradling the V-4 powerplant in a box-section frame with a reassuringly thick cast alloy steering head. The 45mm diameter cartridge front forks do incorporate anti-dive technology, but aren't adjustable. The bike's running gear inspired high levels of confidence, despite all my boneheaded attempts to make it burp.
Which brings us to storage; the integrated saddlebags swallow 35 liters per side, and the optional top-box with backrest for pillion riders gulps 45 liters more. The bags have nifty handles and come off or go on in a flash. One key works everything; ignition, fork lock, bags. The gas tank is steel and welcomes magnetic tank bags. The fairing features two molded-in side compartments roughly the size of a compact car glove box.
While the left-hand cover locks, the right doesn't. Be warned; both conduct engine heat and will cook a TV dinner when it's toasty outside.
A large central speedometer and smaller tach dominate the instrument panel. Additional info is displayed on a right-side LCD panel. Engine coolant reads to 222 degrees F, after which it flashes alarmingly.
Howling across the Mojave desert at 104є ambient, the coolant stayed cool, so no worries there. Two trip meters, activated by flip-levers on the handlebars, track distance. The fuel consumption display can be switched to show average mpg.
There is a dial to adjust headlight aim. A nice touch, but Kerry rightly points out it's hard to worry about headlight angle if you can't feel your fingers. Our tester didn't have heated grips; big mistake. We rode for hours in cold rain at altitude, so my hands froze into numb claws.
Soaking my gloves in cognac and igniting them was my first thought, but accessory heated grips- and other neat Hondaline ST items are thankfully available.
My take on the ST's styling is, distinctive, without being over-the-top. There are few straight lines or 90-degree angles; everything is faired, flowed or otherwise smoothed into woo-woo wind-tunnel submission. Very little of the engine is exposed, save for the valve covers. Mirrors are a love/hate thing. The low mounting that makes for great visibility, but they are part of the main fairing and define the width of the bike in an unyielding manner.
They simply look too easy to scratch or knock off, although we did neither during our test.
Twin 310mm discs in front and a single 316mm rear rotor handle stopping. Calipers go triple piston at both ends, while the system uses both linked ABS and anti-dive technology. My freeway brake test was uncomfortably real; near Laughlin, I lost concentration while the car ahead stopped too short.
Fighting off panic, I yanked the front brake lever h-a-r-d, praying for a thin margin of traction. The Honda's systems kicked in and everything came to a rapidly balanced halt. No wavering, no jerking or skids; just 1,000 pounds of bike shook-up rider stopped safely.
The ST is so good I can't "dis" it in any meaningful way. Kerry I were locked in a subtle psychological duel to see who'd ride it on any given day. I played the bad-back card; he upped the ante by reminding me who paid for dinner the night before (invariably it was him.) I whined about needing storage room for more cheap souvenirs. He offered to stop timing my photo stops to the millisecond.
We each got ample seat time, and both of us loved the ST 1300.
Back at home, I was surfing Honda's web site and saw photos of the '07 Honda ST 1300. Oooh, come to Daddy you little… my eyes dilated and wallet hand began to itch. It is painted shimmering, sophisticated silver.
Kerry Nicholson
The '06 Honda ST-1300 is an impeccably engineered sport-touring monster that is capable of eating up big miles each and every day under any riding conditions. When I first saw it at the Honda press center, I found nothing remotely sexy about it, save the windscreen. More on that later.
In fact, at first glance the bike looked staid and boring, sitting upright in basic black.
Wheeling it into the California sun against the other brightly colored, striped and race-ready Hondas, did nothing to change the impression. If not for the knowledge of the 11 days and 2,700 miles yet to come (and those cool saddlebags to hold all my gear) I might have felt a twang of regret at our chosen bike.
Looks (or a lack thereof) can certainly be deceiving! The truth is that there is simply nothing there to detract from the joy of the ride, because the performance of this bike is so smooth, so effortless that the bike does all of the big work for you. It took 15 miles to put to rest all preconceived notions about size, weight and center of gravity. The ride off the lot was a bit of fun as I found out just how tight the drive train backlash was.
My friends got to watch my head jerk back and forth like a teenager learning to drive a stick. Once I got used to that, it was pure fun from there on out. 25 miles down the freeway, cruising ahead of my friends (why are they dawdling?) I looked down to find that I was feeling 70 but traveling 90. The bike is so comfortable that it is easy to get tricked into speeds you didn't intend.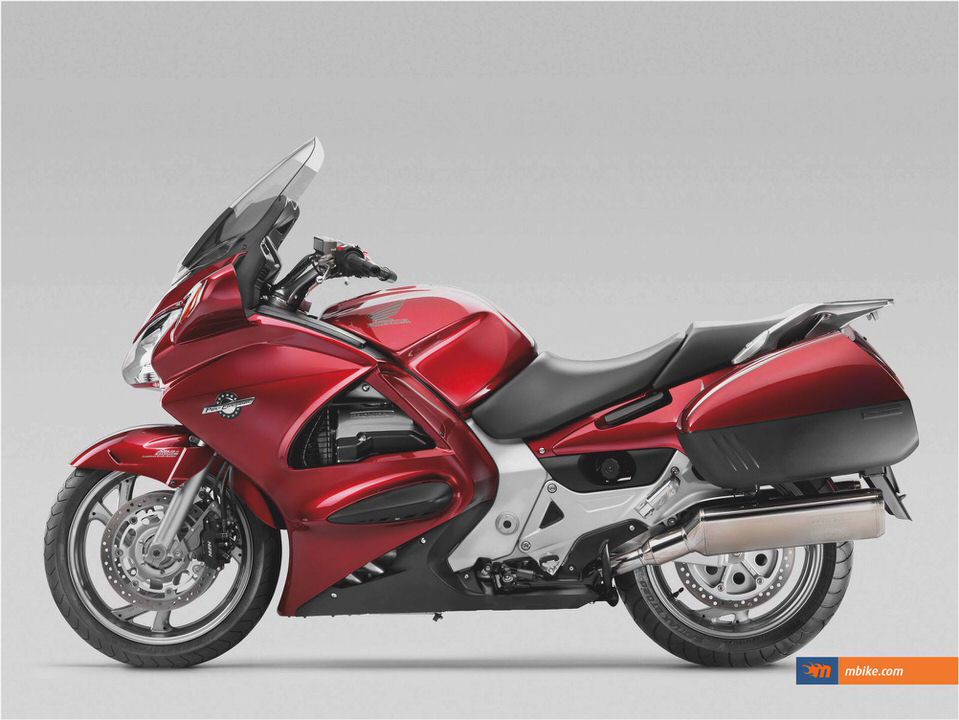 Looks be damned – I was going to have a blast getting to know this bike!
I shared my11-day trek across 6 western states with my good friend, Brian Day from the OC HazBeens. By the 40th mile of day one, the bike and I were fast friends. The first day, we crossed the desert to Las Vegas. We reached temps of 104 degrees and I am happy to report that Honda has done a bang up job of fixing airflow issues from engine heat.
Earlier versions were reported to be somewhere between bake and broil on the legs. The '06 hardly rates mentioning. Even with the windscreen in the fully upright position, the rider sits in a comfortable air pocket.
The ST-1300 seems to have perfected the marriage between the wonderful performance of its big V-four and the ergonomic niceties that make a sport bike into a sport-tourer. The bike sounds otherworldly when you first start it up; kind of a Star Trek-meets-the-Jetsons kind of whirring, but get on and up to speed and that sound is replaced by a throaty growl that puts a steady head of thrust on from about 1,300 rpm to it's 8,500 rpm redline. No dead spots, nothing in the power band to cause a hiccup, just an ever-increasing river of power through the gearbox.
Day 8 found us coming off the mountains, chasing the coming night at unrelentingly high speeds across the high desert mesas of New Mexico. I came over a rise, and with 15 miles of clear road ahead of us I passed Brian (slacker!) as though he were standing still. We cruised along unhindered for another 100 miles or so to our evening destination.
This bike is too heavy, too big to "point and click" through the twisties. It is more of a "point and double-click." When in the mountains, the bike eats up pavement and spits turns out behind it, inspiring rider confidence.
We spent a great deal of time at altitude in the mountains of Utah and Colorado. Whether up the mountains in switchbacks or down the hills through sweeping turns, the only sound I heard was maniacal giggling inside my helmet. Braking feels confident and simple.
The linked braking combined with ABS allows you to grab a hand or footfull of brake and come to a smooth stop, regardless of weather or surface.
I was very impressed with the touring aspects of the bike, especially the spacious saddlebags. These are set about 2" narrower than the front of the bike, so getting the big bike through tight spaces is done with a minimum of worry. I was easily able to pack 5 days worth of clothes and extra weather gear into the two saddlebags and a small tank bag.
The saddlebags were very easy to remove and just as easy to put back on. I was able to go from hotel room to the road in less than 5 minutes. They carry like small suitcases and with the addition of some small bungee cords, I was even able to open them on the road and not lose my gear.
Our trip turned homeward in Aspen, Colorado. We financed the second half of the trip hawking MMM T-shirts to the rich folks in Aspen. $50 a shirt makes for nice dinners on the road. Thank you, Victor!
The adjustable windscreen? May I just say that I love it, love it, love it! With about 10 inches of rise (no snickering here), it allowed me to create whatever riding environment I wanted in any riding conditions.
With the windscreen all the way up I could ride aggressively well into the triple digits with my helmet face shield all the way up. No squinting and no tears, just a nice ride with cool breezes and a chest full of adrenaline. The cockpit instrumentation gives a great deal of information in a compact space.
In direct sunlight, gauges can be difficult to read but this is a minor complaint.
There are a few niggling negatives about this bike. I would really love it if the foot pegs were adjustable so that on long rides my default foot position was not quite so penguin like. I found it odd that on a touring bike that is this well-engineered and at this price tag did not come standard with cruise control. I mean, what is another 50 bucks in cost on a $16,000 bike?
While the windscreen does a great job of protecting the rider, that protection does not extend all the way out to the hands. In cold weather, my mitts got frozen quickly and the wind chill kept them that way.
Lizard Head pass, near Telluride was our fallback ride out of the mountains after being chased into shivering submission by a massive winter storm one afternoon. After holing up in Ridgway overnight, the options were few and grim: 12,000 feet through blowing snow on a road with large areas sans guardrails, or 10,200 feet with snow and ice on the ground but guardrails galore. Um, Bob, I'll take the route with the guardrails please!
While the pain of frozen digits does keep you from falling asleep, it also keeps the grit in the teeth a bit more than I would have liked. Note to Honda: it is fine to have an adjustable headlight, but if your fingers are too frozen to stab at the control, what's the use? Second note to Honda: heated grips!
This would be a very uncomplicated and inexpensive fix that should be a standard feature on a front-line sport tourer.
The Honda ST-1300 performed wonderfully in every situation and every riding condition we put it through and was a ton of fun all the way. I rode in temperatures from 28 to 104 degrees and in everything from dead calm to 50 mph winds at altitudes from sea level to 10,200 feet and the bike just kept giving everything that was asked of it. At 731 pounds dry with 250 pounds of rider and another 40 of gear, the ST averaged 43.8 miles per gallon throughout the trip.
On one section of pretty flat country we saw 50.7 miles per gallon over a full tank of gas. With a fuel capacity of 7.5 gallons, this gives a range of 325 miles! Any concerns about handling 731 pounds of bike ended up to be much ado about nothing. This bike handles every bit as good as most sport bikes in the twisties and is super comfortable with high performance on tamer roads and highways.
Ever since I returned, my own bike has sulked sullenly in the garage as I talk with friends about the absolute blast I had on this trip.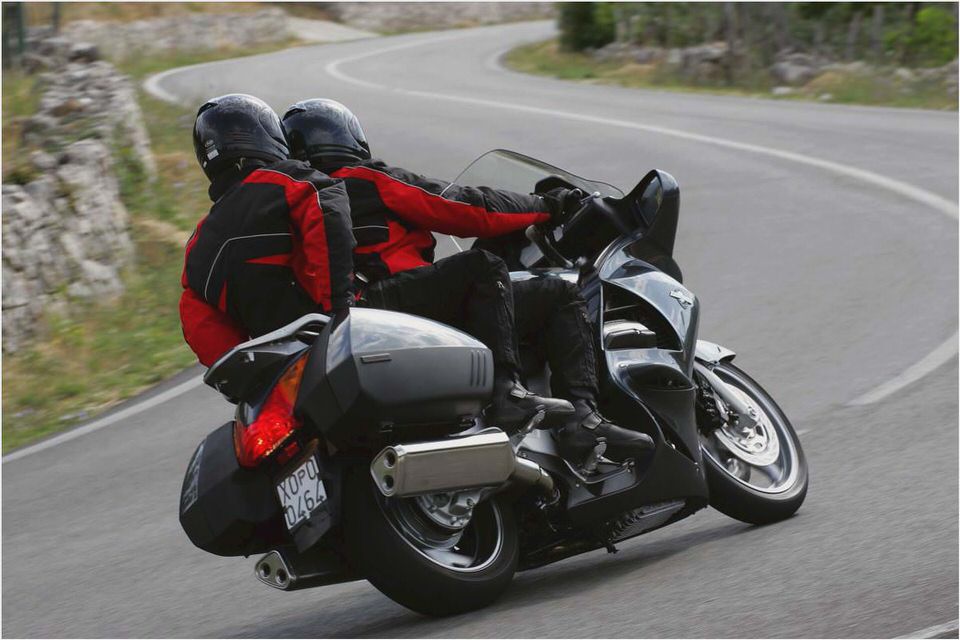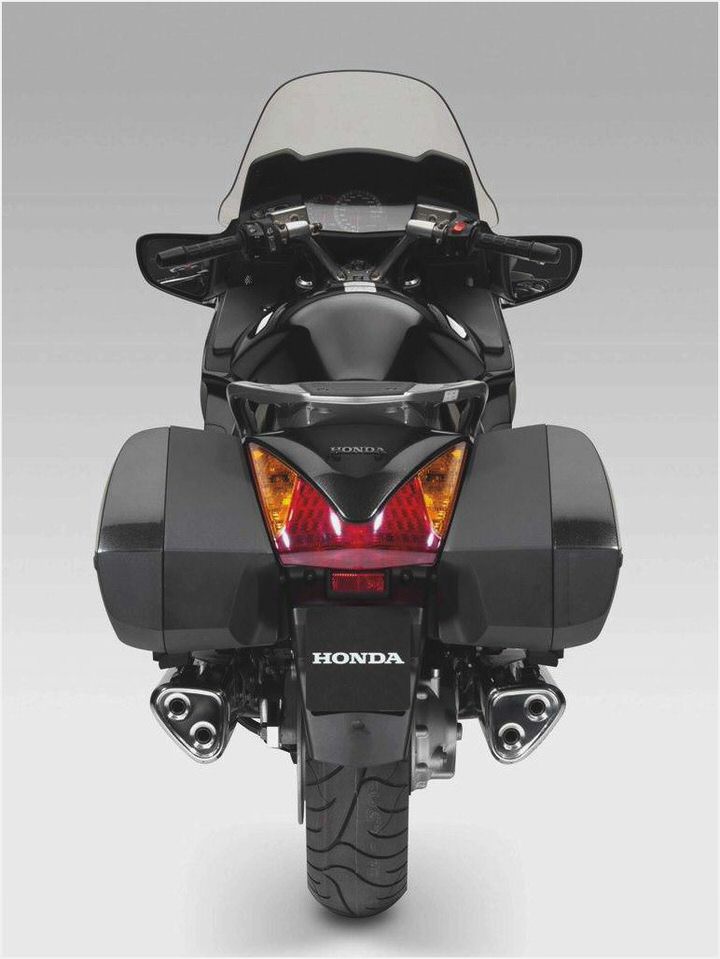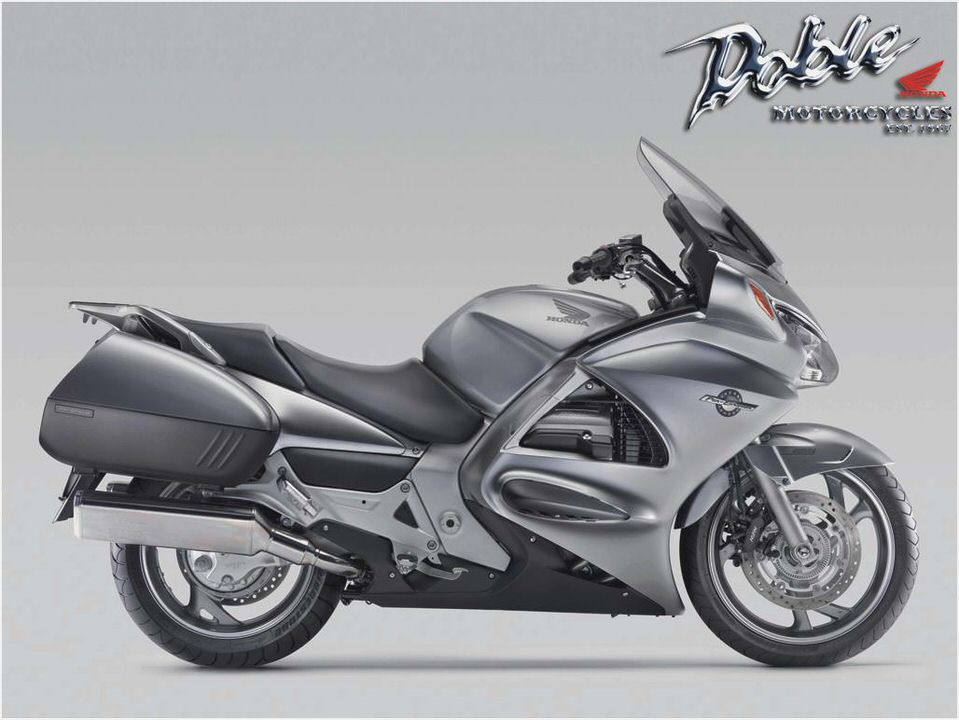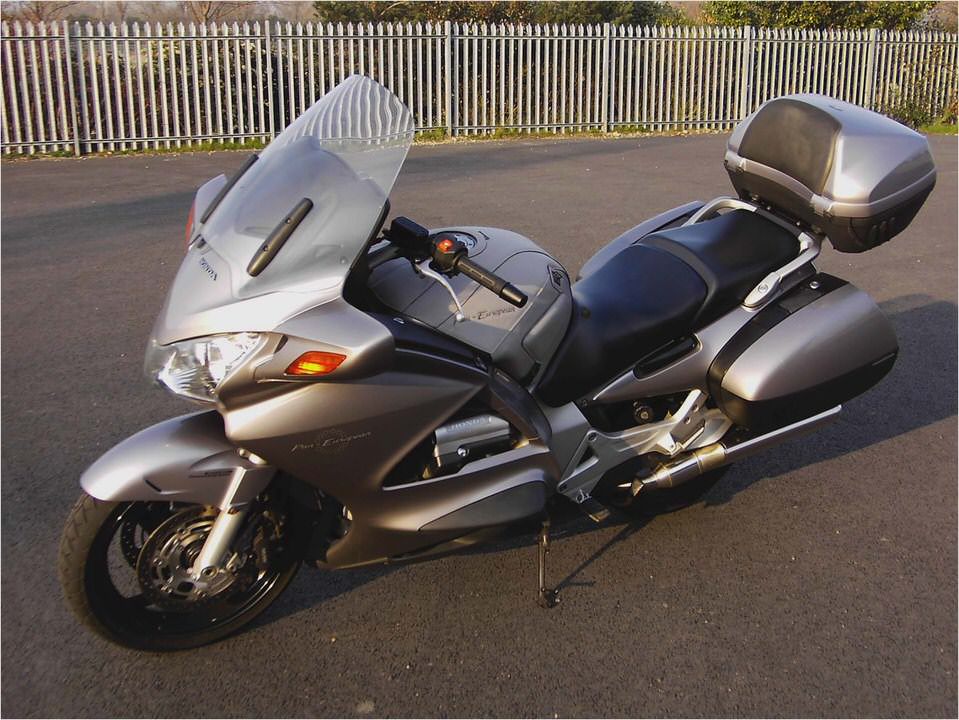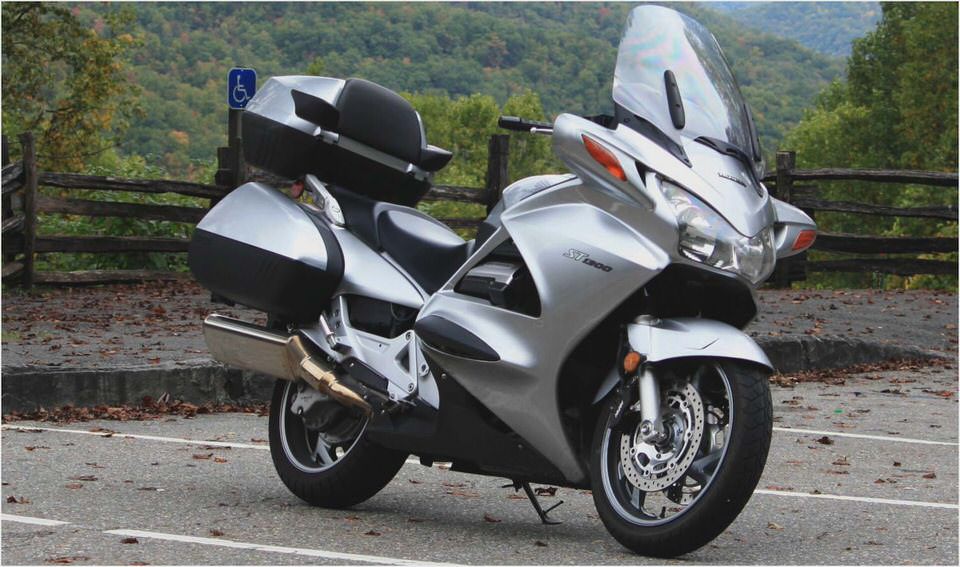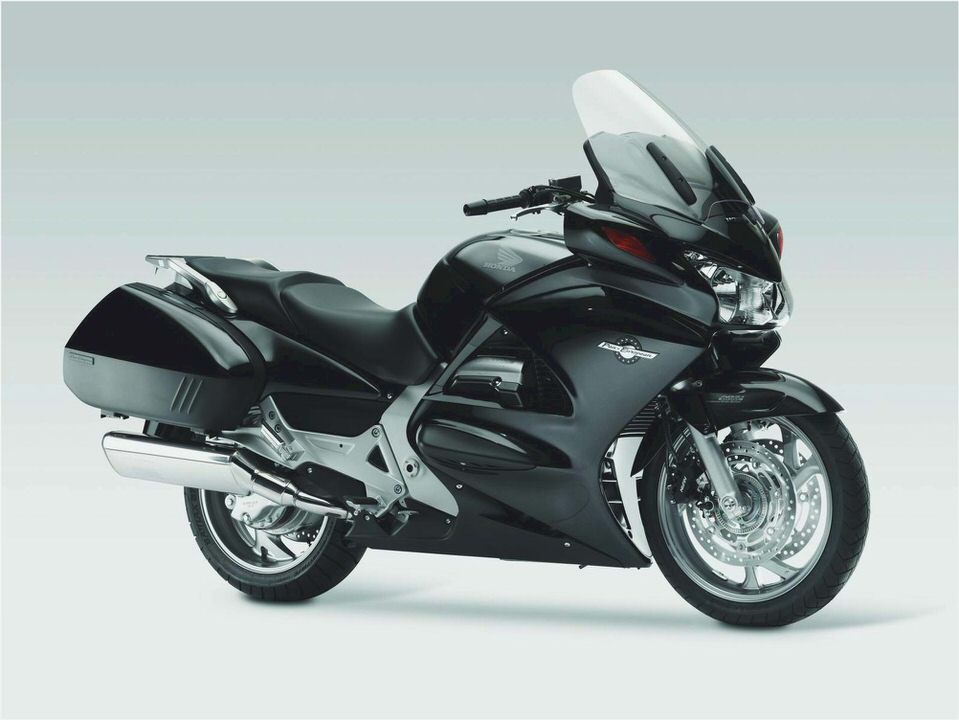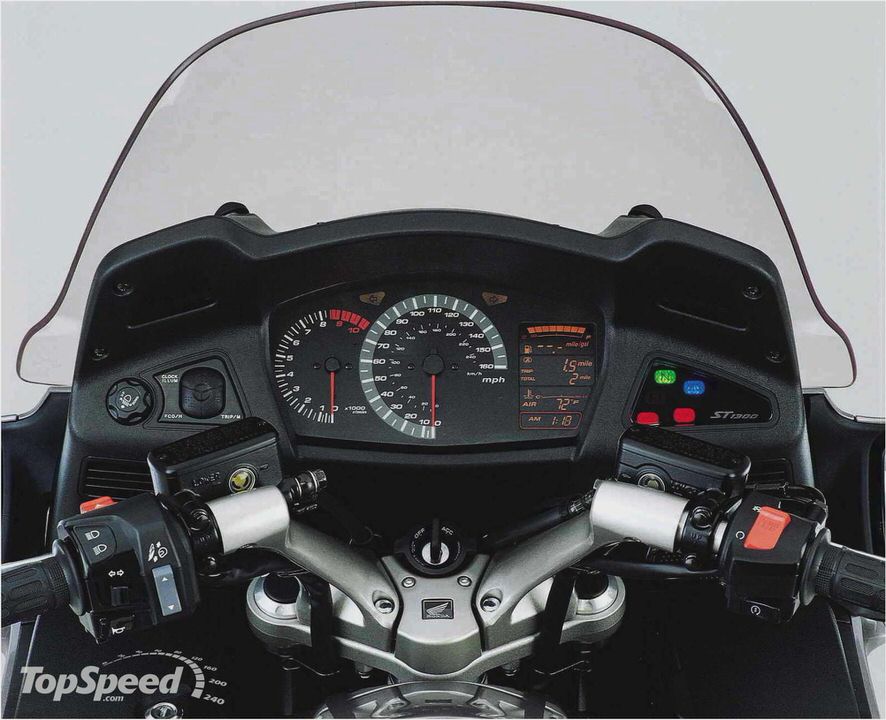 Honda CBF 1000 – Bikes Details Video – Motorcycles
Electric Wheelchair Future TechnologyFuture of Electric wheelchairs, powerchairs…
EVENTS: Honda celebrates 50 years of the S-Series Japanese Nostalgic Car
Honda Vision bike in India with its all the models details, specifications…
Cycle Magazine 1981 Honda CBX Road Test