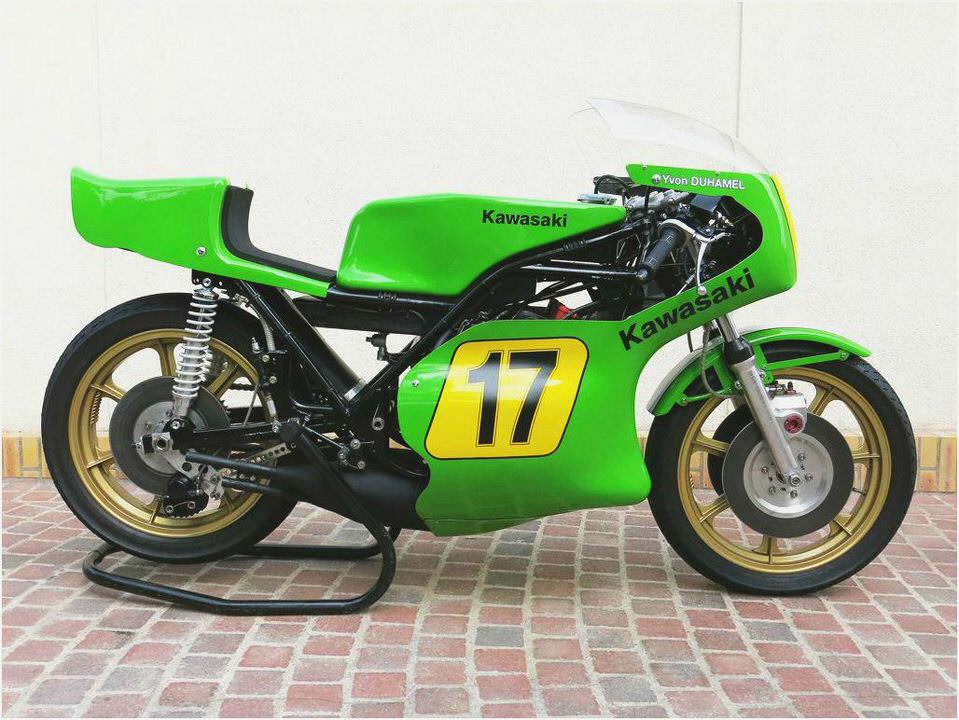 Kawasaki triple
It needs additional references or sources for verification. Tagged since August 2009.
Its tone or style may not follow a formal encyclopedic form. Tagged since August 2009.
It may need to be wikified to meet Wikipedia's quality standards. Tagged since August 2009.
The Kawasaki Triples were a range of 250cc to 750cc motorcycles Kawasaki exported from 1969 to 1980. The engines were air-cooled, three cylinder, two strokes with two exhaust pipes exiting on the right side of the bike, and one on the left.
Model history
The first Kawasaki Triple was the 500cc H1 Mach III, introduced in late 1968. The original H1 was unique for using a CDI ignition which operated through an automotive style distributor. The H1 offered a high power to weight ratio for the time, but had generally poor handling and weak drum brakes front and rear. It was the quickest production motorcycle at the time. When motorcycle journalists expressed some disbelief, Kawasaki suggested they take a new H1 to the drag strip.
Using a regular production model with only 7 miles on it, Tony Nicosia ran the quarter mile in 12.96 seconds at 100.7 mph for the press to witness. The official figure was 12.4 secs by Mike Wenzel – quite believable on a well run in machine. Tony Nicosia set many world records with Kawasaki triples over the following years, including some land speed records at Bonneville Salt Flats.
In 1972, the 750cc Kawasaki H2 Mach IV was introduced and was essentially a scaled-up version of the H1 500. A stock H2 was rated at 12.0 secs for the quarter mile. Updated with more power and better front disc brakes, the H2 became the undisputed king of the streets, even beating legendary muscle cars of the era such as the Dodge Hemi Cuda. It was notoriously dangerous, being prone to up-and-over wheelies and speed wobbles.
The dangerous handling characteristics arising from its mediocre frame design caused it to be nicknamed the Widowmaker by motorcycle enthusiasts of the 1970s.
Modifications
A prototype liquid cooled H2 was created in the late seventies in either Australia or New Zealand.
The ability to cheaply modify the engines for higher performance by porting the cylinders, milling the cylinder heads, and installing expansion chamber exhausts maintained their popularity for some time in drag racing. An H2 holds the record for the first 7-second single engined two stroke of any kind, with a standing quarter-mile of 7.776 secs at 170mph (NOS), ridden by Brian Pretzel of Redline Motorsports, engine built by Garth Glumm of Flow Research, also the engine builders of the fastest normally aspirated at 156.79 mph (IHRA-Bristol Tn.-1991). The quickest reed-valve converted, normally aspirated 750cc motorcycle with a standing quarter-mile of 8.24 secs at 153 mph held by Joe Bird of Fremont Nebraska.
In 1974, the 350cc S2 was expanded to a 400cc S3. In addition, the model range was toned down in performance. The H2 ceased production in 1975, and the model line became the KH series in 1976.
United States production stopped in 1976, while the 250cc KH-250 and 400cc KH-400 continued in Europe and elsewhere until 1980.
The S1 was popular for some time as a budget performance bike in England because of its small size, and the fact that at this point in time it was legal for learners to ride. The entire S series of motorcycles used breaker point ignition, which was more reliable than the early CDI ignition and much cheaper to repair or replace.
Kawasaki Triples were air cooled, and the crankshafts were pressed together. This made it possible to cut an engine apart, press up extra sections of the crankshaft, re-weld different sections of the cases, and make multi-cylindered motorcycles. The ignition system and carburetors had to be redone.
Four-cylinder 1000cc H2s were known to exist, but the most common bikes to be modified were the S series, with 5 to 7 cylinder models being built, and at least one V-6 (two three cylinder banks feeding into a common transmission). There even exists a 48 cylinder bike made up of 250 cc parts. These bikes were more of a machinist's skill exercise than a practical development.
They were impractical because the engine was made much wider and the clutch and gearbox were put under more strain.
The 500cc H1 also benefitted from the marketing genius of Kawasaki. They identified their target customers perfectly. Many US bikers under 30 years of age simply wanted to be the fastest kids on the block. The cost of a production of a two stroke engine was significantly less than that of a four stroke engine, and for many years Kawasaki managed to keep the list price for the H1 under the magical $1,000 barrier.
Competing bikes from Norton and Triumph were over $1,200, and slower. For a while Kawasaki even dropped the CDI and reverted to the cheaper contact breaker ignition in order to keep the price under $1,000.
Brief model summary
1969 H1 500cc white w/blue stripes, distributor CDI ignition, drum front brake, Mach III 500 badge on side cover and electronic ignition decal on oil tank. Early 69 models had bridged port intake design, with windowed carbs. Late 1969 saw the introduction of the Charcoal Grey model, but a common misconception is the charcoal grey model is called a 1969 model, it is NOT a 1969 model and is indeed a 1970 model.
Kawasaki paperwork that came with the bikes, and the sales brochures confirm this. This has been spread by many in order to add value to their bikes by being able to call them a first year model when they are not. The red and white model replaced the peacock grey model due to poor sales.
1970 H1 500cc red w/white stripes on the fuel tank. Peacock grey model introduced at first but is replaced early on in the 70 model sales year to boost sales.
1971 H1A 500cc, style redesign without the Mach III badge, blue with stylized stripes on the fuel tank.
1972 Entire line introduced, intended to be similar in style, with the swooping racing stripes on the tank that distinguished the triples.
S1 250cc, white with green stripes. Also in red
S2 350cc, red, also in white drum front brake
H1B 500cc, orange, disc front brake, CDI dropped for breaker points, and a front disc brake.
H1C was believed to result from the Kawasaki factory using up its leftover parts. It had CDI instead of the points on an H1B, and a front drum brake as opposed to the disc on the earlier H1B. Also a few cosmetic changes.
H2 750cc, Blue or Gold – Gold versions were in the early production run and went to the home market of Japan, Australia / Southern Hemisphere and Europe but not to the U.S.A. front disc brake, CDI ignition with one igniter unit per cylinder.
1973
S1A 250cc Gold or orange
S2A 350cc Orange or Blue.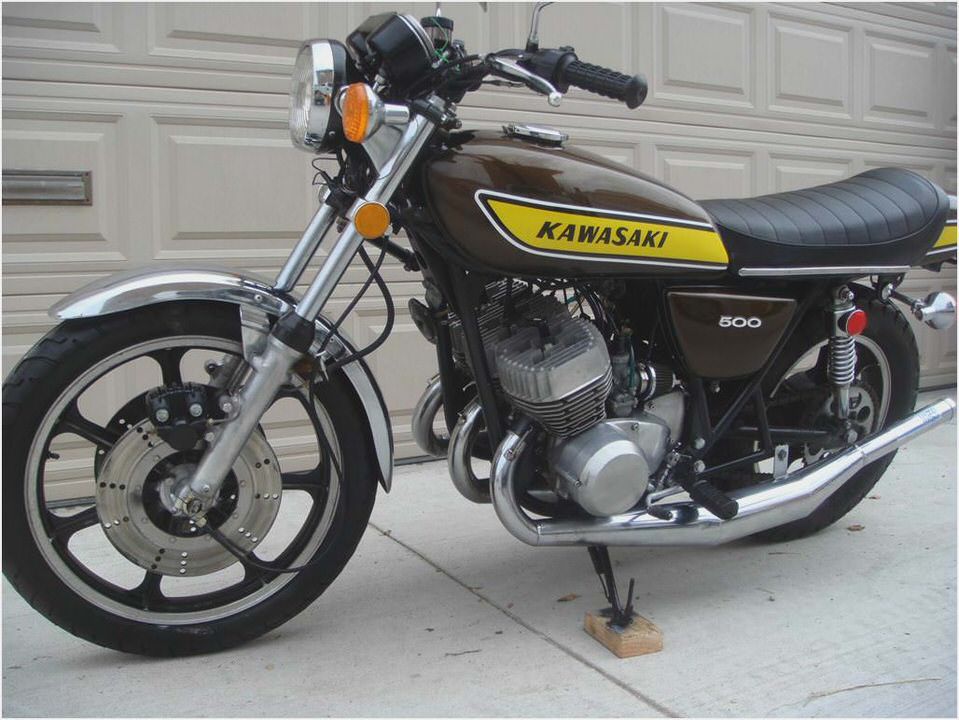 H1D 500cc Adopted H2's CDI ignition and the styling that would be used on the later 1974 models.
H2A 750cc Purple/Gold.
1974 All models restyled with a new cleaner design that resembled the Kawasaki Z-1, with an instrument pod rather than separate instruments. All models revised for more civilized performance at the expense of raw power.
S1B 250cc green, front drum brake.
S3 400cc blue or red, disc front brake, restyled cylinder head design for better cooling.
H1E 500cc green or red.
H2B 750cc brown/green.
1975
S1C 250cc blue.
S3A 400cc Green or Red.
H1F 500cc brown or Blue.
H2C 750cc red/purple.
1976
H2 dropped from line, models renamed KH to match the KZ line of four strokes.
KH-250 250cc.
KH-400 400cc.
KH-500 500cc.
1977-1980 Only surviving models are the KH-250 and KH-400.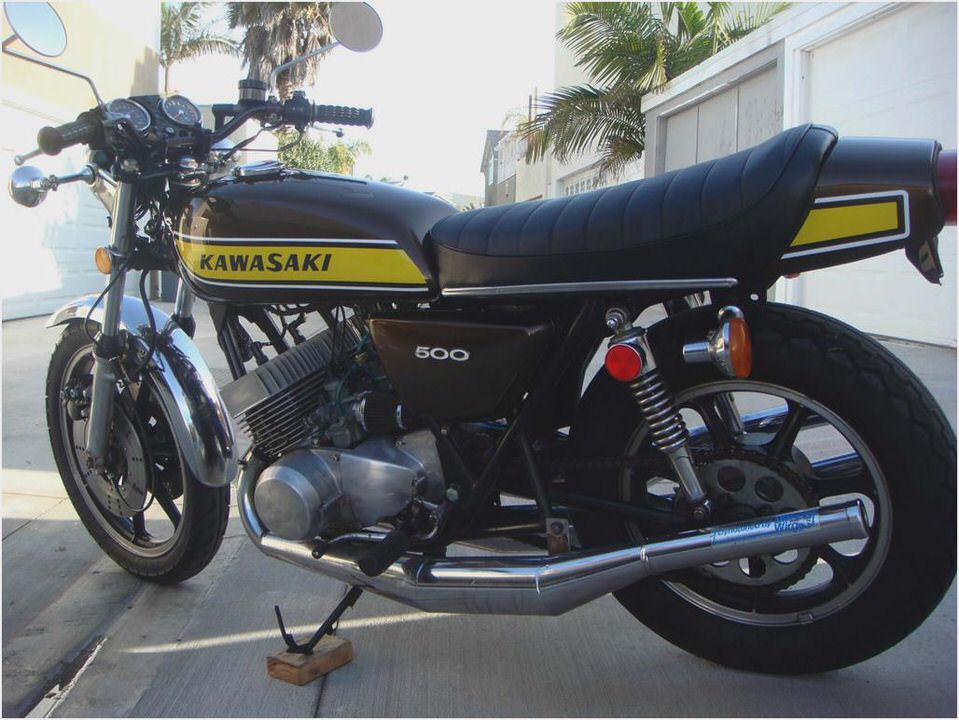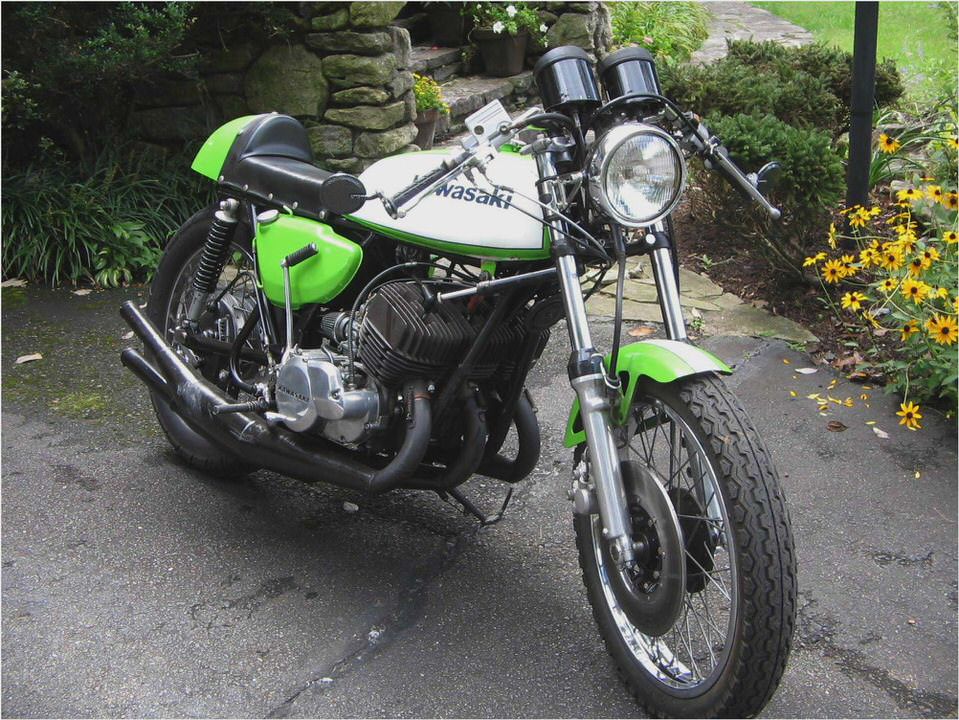 Kawasaki W800 at the NEC 'Motorcycle Live' Show – Classic Biking News…
RideApart Review: 2013 Kawasaki Vulcan 900 Custom RideApart
Kawasaki KLX140 KLX 140 manual, review
Jardine RT-1 Aluminum Bolt-on Race Exhaust for Kawasaki ZR-7 00-03
First Ride: Year 2000 Kawasaki Vulcan 1500 Classic Fi –