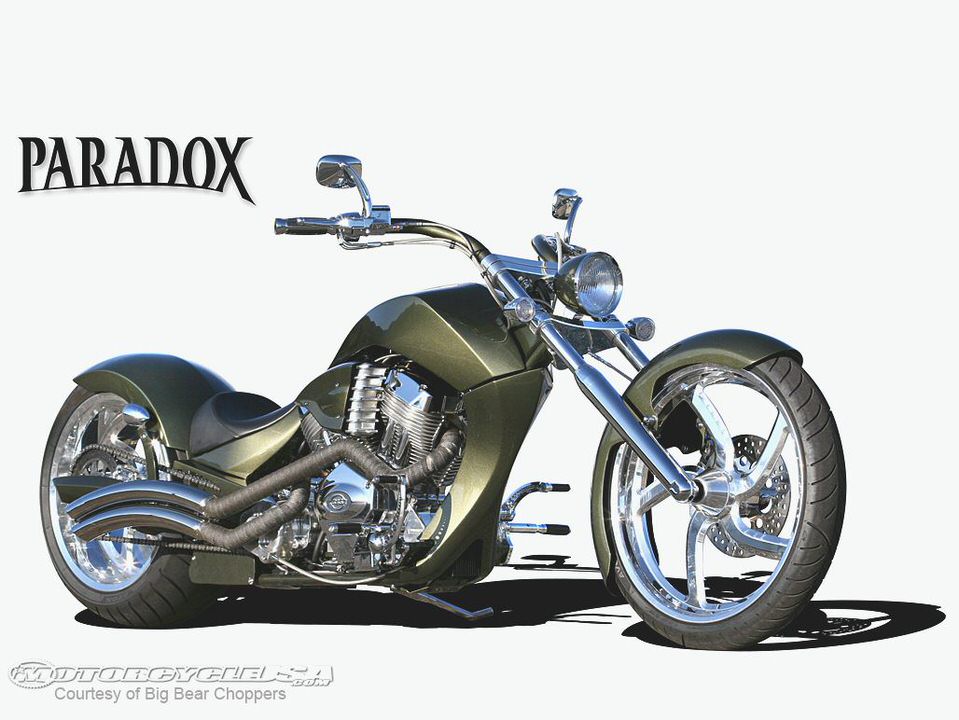 Your message has been sent!
One of my earliest memories is my pop shouting Hold on, Jes over the potato-potato-potato of his chopped '57 Pan as he gave my first H-D ride. Much older I remembered pictures of this classic bike. It was bright orange with at least a 16-over front end (sixteen feet that is).
One of the old skool choppers that we young guys respect so much these days.
This was taken 27 or 28 April, when my Frame came in.
Another early memory was my father telling me, If you want to ride a chopper, you have to build it yourself to understand what it's all about. So from a young age I dreamed of building and riding my own orange chop like my father's. Some 20 years later I have reached my goal, and I have to admit the journey has been as fun as actually riding my finished bike.
My 100 cubic inch RevTech Motor came in today. Woo Hoo. I was so excited to get my motor! It's paint time now.
Coming up I have heard several superstitions about bikes. One that comes to mind is that you shouldn't paint your bike green. It's supposed to be bad luck or something. Another is that your bike has to have her own name.
So, I named my bike Saoirse Bhinn, which comes from the Irish Gaelic term for Sweet Freedom.
This was taken 28 April, 2003 when my sheet metal, tank fenders, bars, etc. came in via UPS dude.
In order to fund this build, I had to sacrifice my Citrus Belle bike. I built her from a CCI Hard Core Kit over the past year and was pretty sad to see her go. It was torture not having a bike to wrench on while I was waiting on my new build.
From December of 2002, it took 12 weeks for parts to start rolling in from Redneck Engineering in Liberty South Carolina. The 10-up five-out Gettin' High frame was the first to arrive in March 2003. Shortly after, the sheet metal came in.
It was like Christmas!
Every few days, a new box of parts was ready to be cracked open. Once the 100 ci RevTech motor, RevTech 6 speed transmission and BDL 3-inch open belt primary came in, I started mocking it up. Before long, she was ready for paint.
Here is a shot of my new forward controls. Pretty sick huh? Still waiting on hand controls but they look the same as the forward controls.
The House of Kolor Tangelo Pearl base was done by Rich's Auto Body in Merced, CA. The House of Kolor Candy apple red graphics were created by Rico's Pin Striping and Graphics, also in Merced. Rico used my flame and clover designs as a base for his artwork.
His talent and skill are evident in the pin striping over the ignition and at the base of the stretched King Sporty tank.
Here's Spunky and Skyler. We are all three sheets to the wind, talkin' crap about my new bike build, chicks and what not.
While the sheet metal was dressed, I sent the same basic flame/clover design along with my seat pan to Gasoline Alley in New York City. Paul Cox worked his magic and turned a simple piece of leather into an instant family heirloom. A photo of the seat is even featured on his section of Indian Larry's web site.
This is just a shot of the misc. parts that have started to roll in. Still nothing like when I got all my parts for the Citrus Belle. Man, I had parts all over the place.
This doesn't seem like anything. Sure no front end yet and brakes etc. but most of the parts are here. Still need the primary drive too.
Avon Venom 250 rear tire. As put the dollar on it just to give you an idea how wide the fukker is. Sick huh. the dollar bill is 6 inches wide so you should see what I mean!
This wrapped around a solid billiet smoothy rear rim is going to look sick as hell!
The Whiskey bars, Six Gun Risers and Grips came from the man, Billy Lane of Choppers Inc. in Melbourne Florida. I added these pieces to the final assembly while the local bike shop, Road Dog Cycles in Denair, CA, mounted my Avon rubber.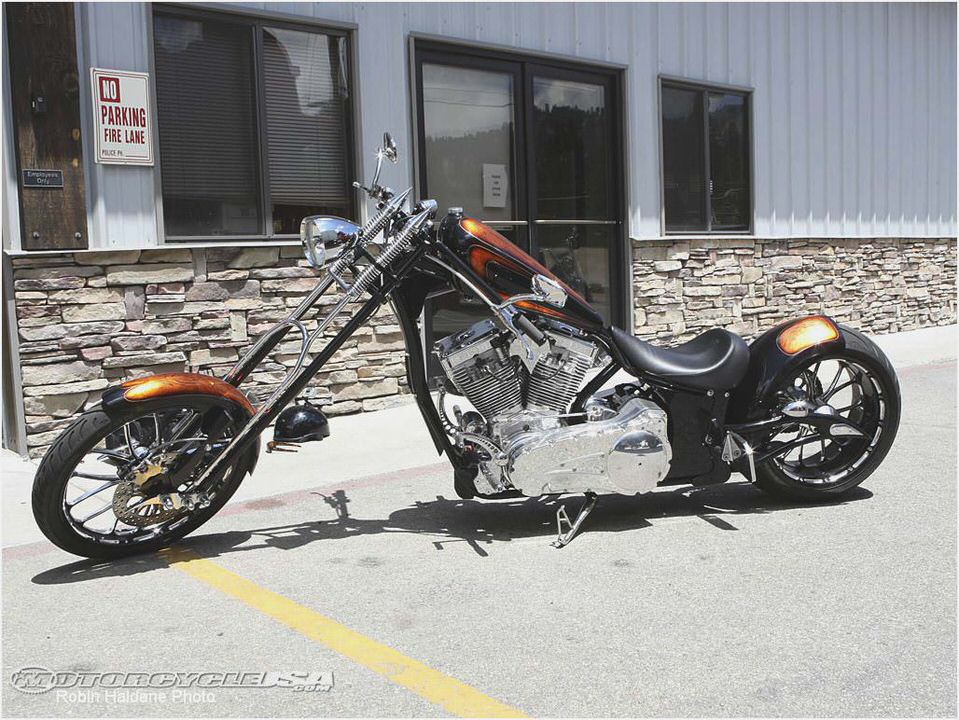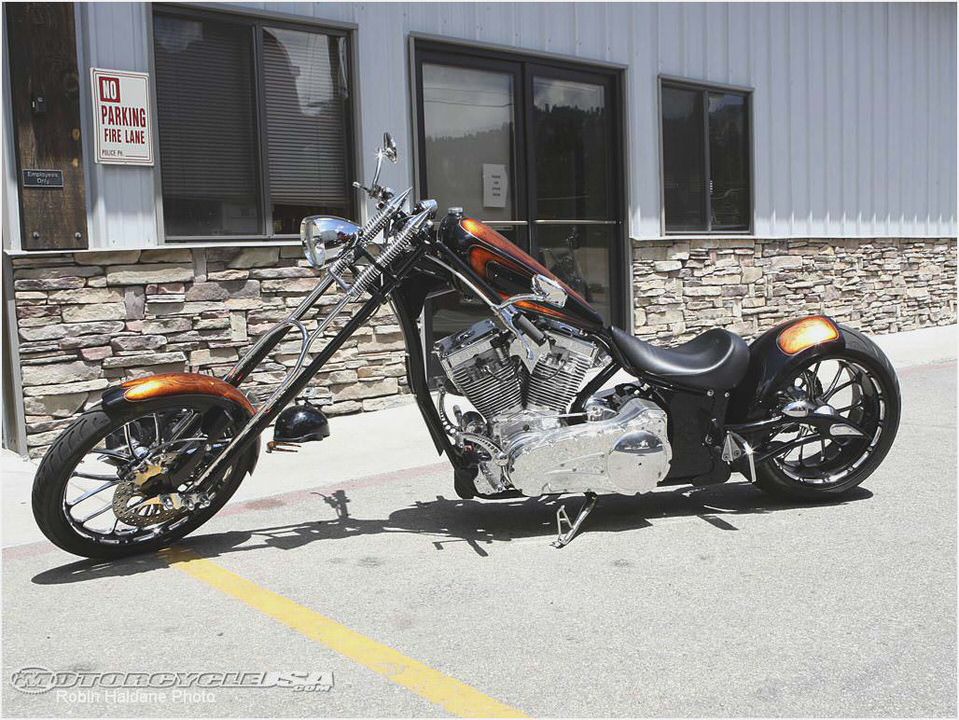 I was getting antsy as hell to feel her slice the asphalt ribbon.
Here's the frame and sheet metal at Rich's Autobody.
Man this is going to look sweet when Mr. Rich's is all finished. I wish I could have been a part of it, but I'd only slow them down! I cannot wait to see the paint on her!
My first ride took place June 30th, 2003 without the seat. It wasn't back from New York, yet, so I wrapped a red shirt around an old sheet and taped it to my frame. At every stop light and corner someone gave me a thumbs-up or a wave.
I was on cloud nine. After 20 years of day dreaming and six months of waiting on parts, paint and everything else, I finally rode my orange chopper. I'm sure my Pops was looking down from that big cantina in the sky, smacking his bros backs while sayin', That's my boy!.
Here is Rico, the graphics painter, and my rear fender. Next time I see the fender it will be flamed out!
19 Apr 03, I got a close look at the sheet metal today also. When the paint is on and everything is finished you will never know this had that big ol' bead in it to stretch it. looks like it was pressed from a million dollar machine, but it was not. Now that's somebody work!
-jes
Jesse Kilgore – cvwebsolutions.com
jkilgore@cvwebsolutions.com
KingJes.com
Here is a paint job that is really close to the paint job I am shooting for. I want to over lap the flames with a drop shadow on them and then add a four leaf clover with flames at the base of the tank in white or the same color as the yellowish pin around the flames. It's not long now folks!
If you want to build a similar Redneck Engineering kit, check Jesse's web site. There's over a 100 shots of the bike coming together with captions. We picked the cream of the crop.
Express Oil Change Bellingham – Northwest Honda
Parts – Motorcycle Parts
Asian Pocket Bikes -pocket bike and mini moto news and parts
Choppers – Part 3
Custom Builder Big Bear Choppers' Kevin Alsop – Motorcycle USA