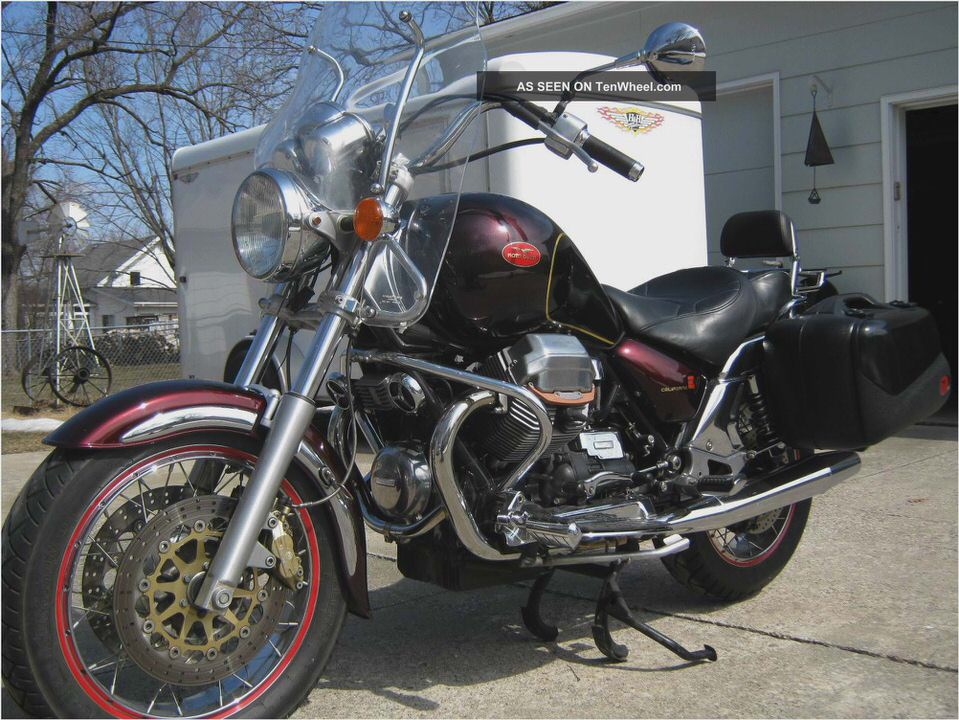 Moto Guzzi California Vintage Touring
If you're a Guzzisti California is one of the absolute epic names in Moto Guzzi history. To celebrate the great California model Moto Guzzi has launched the black and white Vintage. With great attention to detail and finish Moto Guzzi makes the only Italian cruisers.
And it sure is unique.
Words: Tor Sagen /Photography: Milagro
California Vintage sounds better than any other Moto Guzzi in standard livery. Still, the 1064cc horizontal V90 now conforms to Euro 3 with a three-way catalyser. The engine comes directly from Breva 1100, but sound different with a tune for loads of instant torque. The air cooled V-twin thumps out torque generously with just a slight twist of the throttle. California Vintage feels special cruising around in Moto Guzzi country.
I chose one of only six California Vintages available to the press as my first Guzzi of the day. I did not regret it as I thundered through the many tunnels that links the main roads with the many small towns around Lake Como. I found myself in the Brit group of journos and we had stocked up on Moto Guzzi's latest metal including two California Vintages and one California Touring. Since 1971 Moto Guzzi has featured a California in their model range.
California Vintage celebrates that fact in Moto Guzzi's 85 th anniversary.
The handlebars are high and stretched towards me . My knees are bent slightly too much and I can't help but feel that the footboards should have been further forward. That is just not possible on a horizontally mounted V-twin. In front of the new cylinder heads from Breva 1100 is a rubber flap taken from the local bus between Mandello del Lario and Lecco.
The flap is there to shield your knees from knocking into the cylinders when braking hard. Moto Guzzi marketing director Fulvio Parisatto told us that the local Police force had asked for this on their California fleet. Seat height is a low and comfortable 780mm. We are heading up into the mountains for the first time this day to get some photography done.
California Vintage is not the ideal bike to drag through the hair bend corners and not long after the first bends I get a huge slide from powering the Vintage through a bend. It was a left bend and somehow I instinctively kicked my right boot down on the tarmac. At least now I knew how slippery the road was.
Did long and sweeping turns from there and wished that I was on a Griso in stead up these roads.
Cruising back in Mandello town I could not help being infected with a proud feeling of being in the saddle of the most beautiful Moto Guzzi cruiser in its home town. I held my head high and pretended to be Italian. I flicked the switch to turn the two fog lights on and did an o sole mio inside my Italian helmet. I cruise through town and out into the country side again and enjoy the sound of the big Moto Guzzi twin.
The seat is two-tone black and white leather exclusive to the Vintage. It is comfortable and along with the tall windshield I cruise in comfort. When the brakes are needed they are very powerful linked Brembo's. Double 320 mm discs up front with four pot Brembo callipers attached and a 282mm single disc with a two pot calliper at the back. Stamping the brake pedal down the 263 kilos decelerates surprisingly quickly.
It is reassuring, but to be able to stop like this you need good suspension and tyres too. The fork is a 45mm telescopic Marzocchi and at the rear two hydraulic shock absorbers. The shaft drive works in perfect harmony with the rear tyre pumping smooth power and torque in a pleasant manner. California Vintage always feels powerful enough despite it being smooth. The spoked steel rims from Behr looks the part along with the steel mudguards.
The brake light is a special design where the Guzzi designers has stolen all the traffic lights from the local highways agency and mounted at the back of the Vintage.
California Vintage is also a touring bike and is fitted with two panniers that are completely incorporated in the design. They are made of rotational nylon (whatever that is…) and are waterproof. You open them from the top and there's enough space for a short weekend trip with the missus or a longer one riding solo. At the back is a chromed luggage rack as well.
Both the engine and panniers are protected by chromed steel tubes. For the careful owner Moto Guzzi has designed a special Vintage bike cover as well. The only thing missing on this very special cruiser is some white tyre sides to complement the overall black/white colour scheme.
Only then would it be perfect.
Moto Guzzi California Touring
If you are really serious about your touring only California Touring will do. With a 45 litre top box and large panniers fitted as standard California Touring means serious business when talking mileage. Sissy bar features as standard which will make the pillion happy. The larger classic looking fairing and taller windshield speaks touring too.
It does create a fair amount of turbulence at speed, but the California Touring is not built for speed. So just keep the low revving 1064cc air cooled V-twin at half speed and enjoy the world passing slowly by. California Touring is not as classy as the Vintage, but more practical. Technically they are the same, but the Touring features a larger 150 section rear tyre and weighs four kilos less.
The 19 litre fuel tank makes sure you do not have to fill up too often.
Conclusion
If you want something special with unique engine and styling the California Vintage fits the bill. It is truly a work of art and passion to celebrate more than three decades of California's and 85 years of Moto Guzzi. None of the California models have enough leg space for taller people. However you just have to excuse it for that lovely sounding horizontal V-twin.
Vintage for the connoisseurs and Touring for the practical. If you can afford it…
California Vintage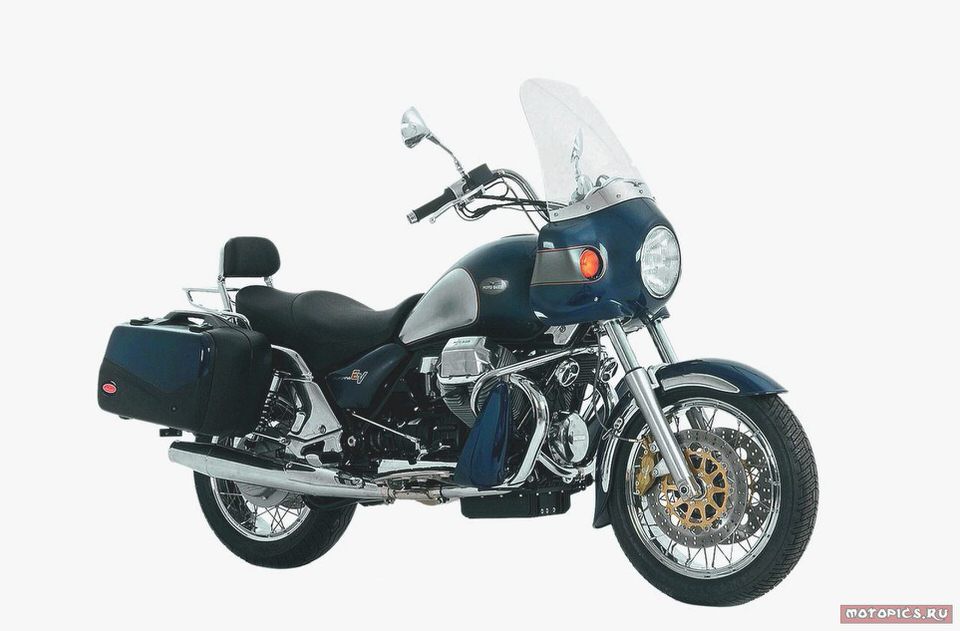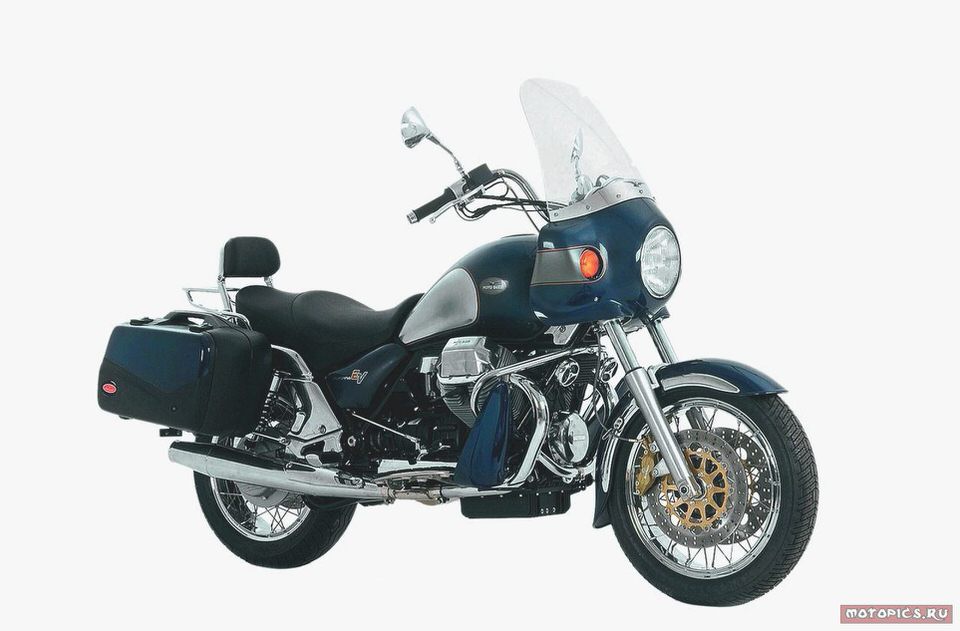 Moto Guzzi Le Mans Performance Portfolio 1976-1989 Consumer Reviews …
2010 Moto Guzzi V7 Café Classic – Classic Italian Motorcycles – Motorcycle…
2007 Moto Guzzi California Vintage
Moto Guzzi V7 Special Ash On Bikes
Moto Guzzi USA Unveils All-New California 1400 Models