18 Re: Moto Guzzi V7 (just couldn't pass on it) on Thu 26 Apr – 8:54
Thanks for all the kudos,guys. Appreciate it.
Ghost who rides wrote: Fire damaged. Don't recall mention
of that before. did you think we would laugh at you. Seriously tho give us the vital stats. – s i mean. please pretty please !
I guess I did think you guys would probably razz me for buying a basket case. Like I mentioned, I had been in new bike research mode for more than 6 months. I first got the bug for a new ride last summer after being pushed to get a new bike by my neighbours.
I was concentrating on finding and buying an ex-police BMW R-bike through govdeals.org but had looked locally for an equivalent BMW at an insurance recovery firm here in Toronto. Around September, this bike showed up on their site but I ignored it because of the damage. After reading about Rafael's gorgeous cafe build this past winter, I decided on a cafe racer instead of ex-police.
I even called up Rafael when his went on the block but it ended up being a non-starter because of the Canadian import restrictions on modified motorcycles from the US. That's when I revisited the site and saw the Guzzi still there 6 months later. I visited the firm, saw the bike, assessed that it wasn't so bad after all and negotiated a deal. These guys are in the business of auctioning off insurance write-offs and moving basket case vehicles out the door as quick as possible.
Since this bike hadn't moved all winter, I got it for an absolute song. I spent another -1000 on parts and chemicals (the lion's share being the fairing at -800) to get the bike back in shape. All said and done, it cost me about -4000 as you see it. That is an affordable price and it all came within my budget.
Paid for it with our tax return to boot which was a total bonus! Best of all is that there was only 2000 km on the clock when it got damaged and it is still under the two year warranty with Piaggio.
Ghost who rides wrote: ps great job, except the gap, head stem to head light. Sorry to be critical. superb job !
pps ride report please pretty please .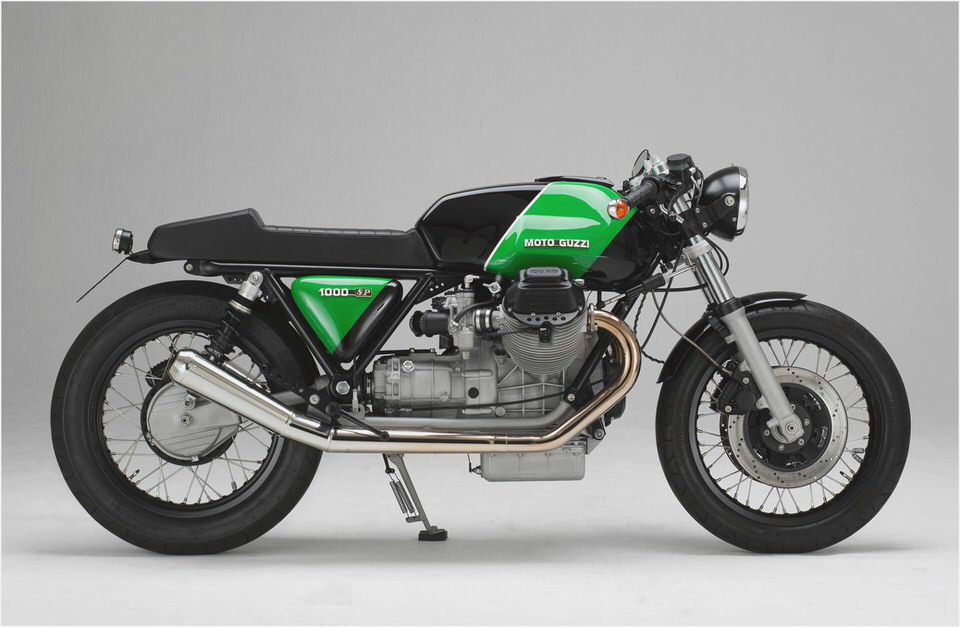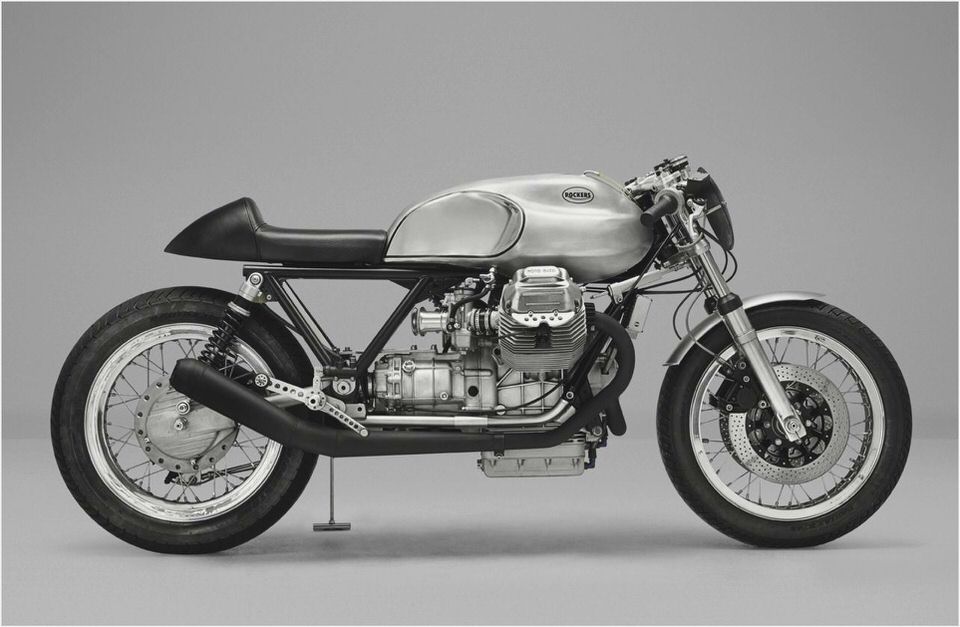 Haven't got any choice there Ghost. Stucchi is the only viable cafe fairing manufacturer for the V7. Read this review and the associated comments for an understanding of why this is the way it is.
In all other respects though, this fairing looks good and works well.
The bike is superb. It is no power house at 48 BHP at the rear wheel but that is offset by the nimbleness of the machine. I can flick that baby through corners like nothing.
There's no vibes through the bars as one might expect from a 2-banger. The exhaust note is something to behold; a deep, throaty rumble where at idle you can almost hear each and every firing stroke of the engine. At higher revs, the sound is just awsome, sounding like a real '60s racer. This is the closest I'll get in a late model bike to the look and feel of a classic R75 or a Slash-5.
On the highway, the fairing gives a smooth airflow, offering a comfortable ride. The BMW is awkward in city traffic. This is going to be my commuter bike, leaving the heavier BMW for longer trips.
Albyalbatross1 wrote: Brilliant. But! NO LUNCH BOX.
This is my luchbox (shoebox, computer bag, etc. etc.).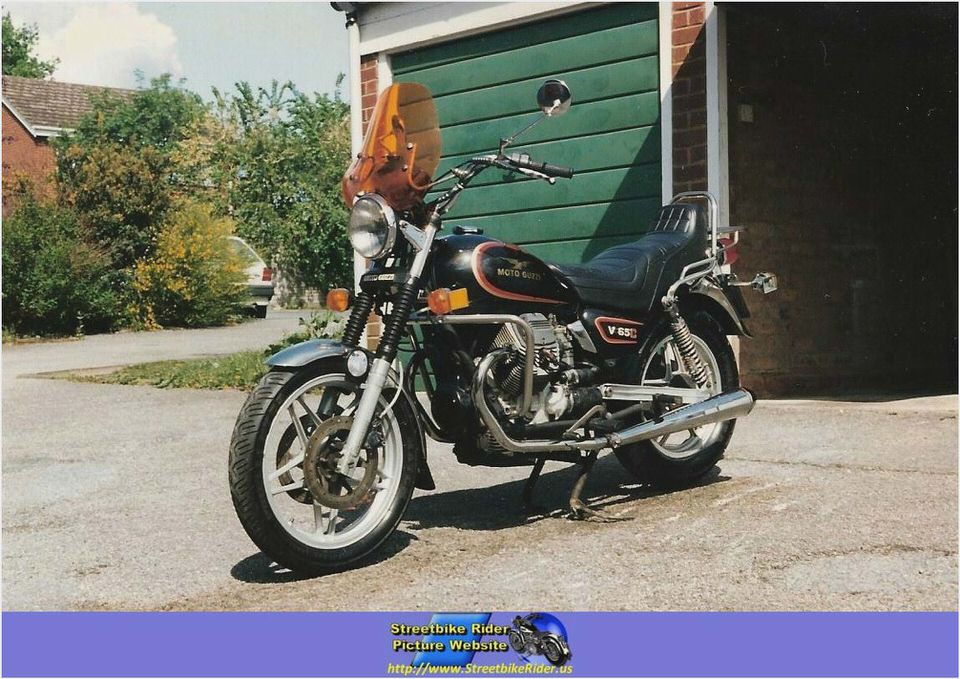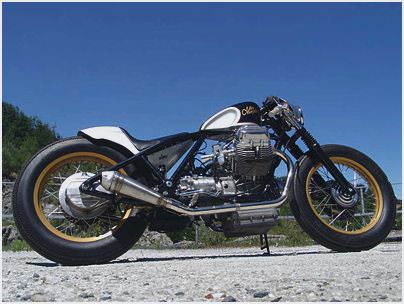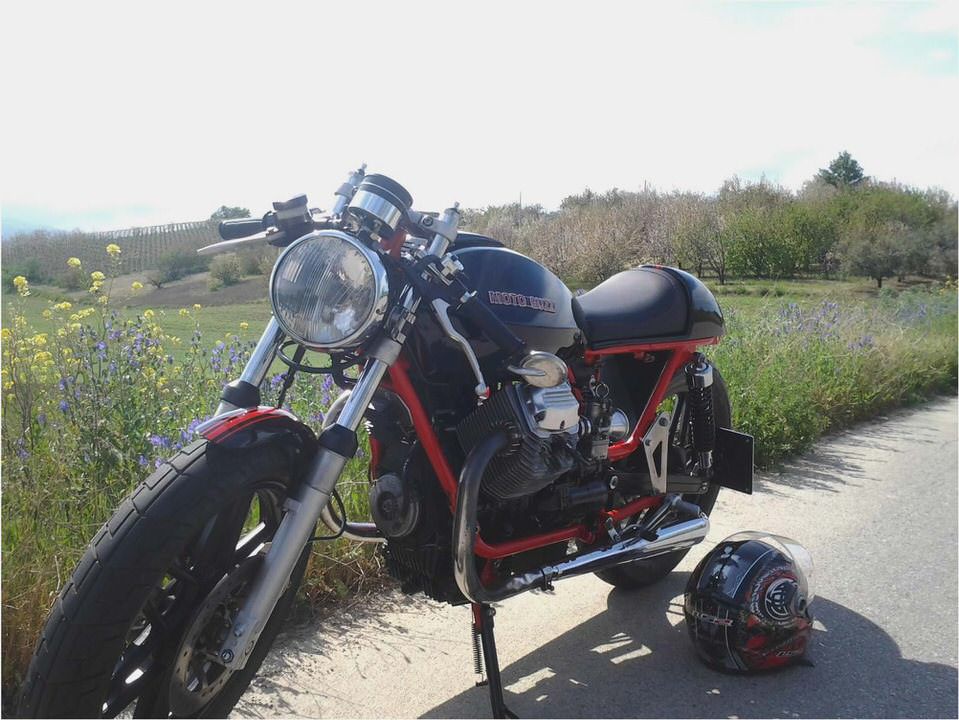 2015 Yamaha FZ-07 Announced for Canada News
Guzzi nevada classic:
2013 Moto Guzzi Griso 8V SE Black Devil- Riding Impression
AIGOR members details, page 10
Moto Guzzi v8