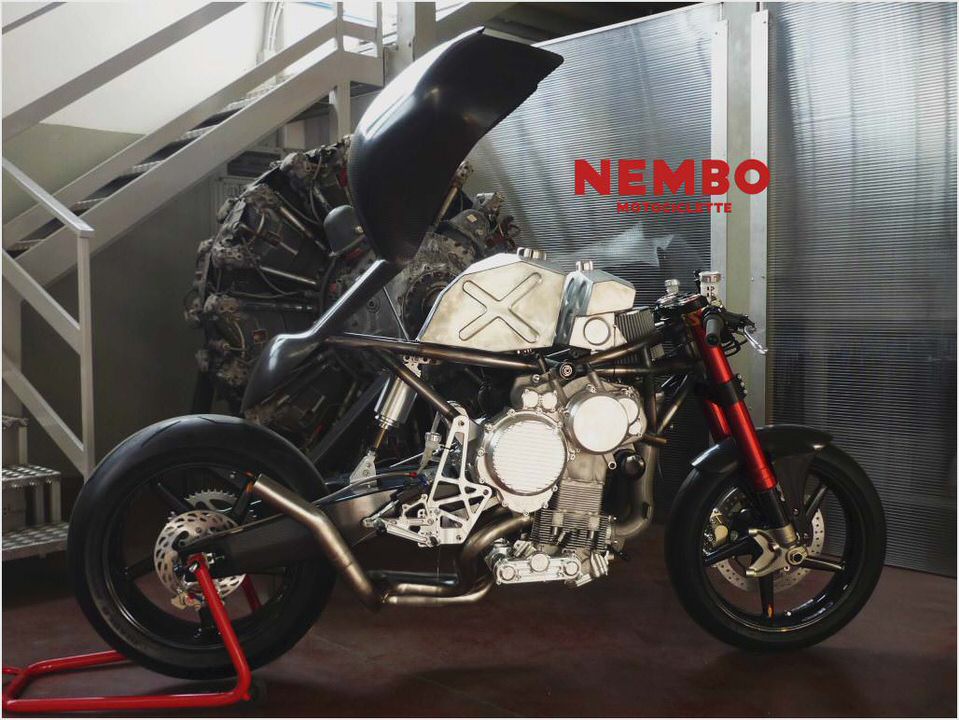 Nembo Motociclette
Nembo Motociclette: a new brand, a new engine for a new bike designed and built in Italy.-
Nembo Motociclette presents his new naked sport bike, the Nembo Super 32", build on request in a small series for road/track use, equipped with the Nembo "Super 32 rovescio" inverted engine.
The engine Super 32 rovescio contains in the name its main features: three-cylinder 2000 cc (122.05 cubic inches) inverted or if we like, upside down .
I've chosen this particular engine architecture for both functional and aesthetic reasons. Loving motorcycles as the highest dynamic expression of the fusion between driver and machine, I have a concept of the bike that sees the engine at the first place.
I like air-cooled motors or also water cooled just if with finned cylinders and heads. However, in the current naked sport bikes, often the engine is too much hidden and totally water-cooled, practically soulless. It pains me to see it humiliated and smothered under frames and plastic components.
So, I've thought that a good way to get a well exposed and updated air-cooled engine in a contemporary naked sport bike was just to invert it!
As you know, the inverted in line engines are not new: they have equipped many famous combat aircraft especially in World War II, the new thing lies in equipping with them a motorcycle to combine form and function in an interesting way. I wanted to build a high performance big-bore motorcycle, looking new but with a classic and timeless beauty, built with very few and high quality metal and carbon-fibre components and so very light. I was not interested to make a bike with an extreme look, I liked to make a bike that looked like a true motorcycle and not like a manga robot.
Inverting the engine allowed me to achieve these results. I've designed and built a motorcycle, the SUPER 32, around the engine, where the engine, by mean of a super compact crankcase, totally placed over the cylinders and the heads, works as a real chassis, while the heads and cylinders do not participate in any way in the structural functions.
So I've built a naturally aspirated inverted motor: the Super 32 Rovescio Euro 3 engines can have displacements ranging from 1850 cc to 2100 cc, a power ranging from 160 bhp to 250 bhp, and torque values between 16.5 and 24.5 kgm, without the use of compressors.
I decided to add a small trellis in the front and an essential saddle frame, not connected to each other (made in steel, because given the dimensions involved, carbon, aluminum or titanium are practically useless), above all for aesthetic and traditional reasons than for real structural needs, because the connection to the steering column and to the saddle can be obtained directly in the crankcase shape. Of course the 680 mm long carbon-fibre swingarm directly pivots in the crankcase.
The peculiar lay-out of the Super 32 Rovescio engine allows an easy access to any part of the engine makes the heads and the cylinders totally exposed to the air and well visible, with the intake manifolds naturally upward in front of the cylinders and the exhaust manifolds downward behind them. The result is that the Super 32 bike has an exciting shape and purity of line, is very light, with a dry weight ranging between 140 kg and 155 Kg depending on the requested outfit, has a profitable weight distribution and can be "short" or "long": in the present configuration has a carbon-fibre swingarm of 670 mm and a 1450 mm wheelbase.
As you see the Nembo Super 32 is a newborn, at its early stages of development. The first two 1814 cc prototypes are scheduled to be working on track tests within February 2011. Then I'll start to produce the "small series" of the Super 32s equipped with the 1925 cc engine.
The bike is handcrafted in Italy by an Italian highly specialized crew and just a 20% (rims, brakes, forks and tires) of its high quality components is not designed and built by Nembo.
The Super 32 design philosophy is: "less is more except for power and torque". It's the only bike in the world equipped with an inverted engine. I've thought such bike architecture to achieve the main goals of ideal mass centralization, chassis elimination, engine total exposition, extreme lightness (considered its big displacement), great handling, great traction and beauty.
I've chosen a so big displacement and a so enormous torque, to allow the rider to drive easy, if he likes, forgetting the six speeds, or to drive in a "racing" style on one of the most performing bike in the world, with the three big bore cylinders wild sound (I know what I say: I've listen it…). Of course not so many guys can reach the top limit of this bike, anyway thanks to its generous engine one can easily choose any driving gradation and keep it effective anyway.
The Nembo website address is nembomotociclette and will be working with text and pics, soon. E-mail to info@nembomotociclette.com
Daniele 'Titus' Sabatini
Owner, project leader, chief designer
Nembo Motociclette
Roma, Italia
Prototype Bikes Specifications:
Frame: engine crankcase + Cr-Mo steel mini-trellis
Swing-arm: double-sided, carbon fiber
Front Wheel: carbon fiber, multi spoke, 17 x 3.5in
Rear Wheel: carbon fiber, multi spoke, 17 x 6.0in
Front Tire: 120/70 ZR 17
Rear Tire: 190/55 ZR 17
Front Suspension: upside down 50 mm forks with dual rate springs and adjustable preload, rebound and compression damping, 120mm travel
Rear Suspension: Silvano Bellapadrona's Double System air suspension with adjustable preload and rebound and compression damping, 130mm rear wheel travel
Front Brakes: 320mm floating Brembo T-drive disc. Discacciati 4 piston 4 pad radial calipers
Rear Brakes: Single 220mm disc, Discacciati 2 piston sliding caliper
Seat Height: 84/86 mm, adjustable
Wheelbase: 1450 mm (with 670 mm swing-arm)
Dry Weight: 150 Kg.
Fuel Tank Capacity: 12 liters
Oil Tank capacity: 6 liters
Body. carbon fiber, tilting shell
Engines specifications:
Dimensions
Maximum width 480 mm
-Maximum height 480 mm
-Maximum length 420 mm
Air/Oil cooled prototype engines:
Type. inverted – 4 stroke – 3 cylinders – Euro 3-
Bore. 100 [mm]-Stroke. 77 [mm]-
Displacement. 1814 [cc] – 110.7 cubic inches-
Compression ratio. 10.5. 1-
Valvetrain. SO(U)HC (single over(under) head camshaft)-
Number of valves. 2 valves per cylinder
-Cooling system. air/oil cooled-Lubricating oil system: dry sump
Clutch: Wet, multi-plate-
Transmission. 6 speed-
Maximum power. 160 [bhp] @ 7000 [rpm]
-Maximum torque. 17 [kgm] @ 5250 [rpm]
-Maximum engine speed. 7500 [rpm]
-Weight. 90 [kg]
Air/Oil cooled production engine.
Type. inverted – 4 stroke – 3 cylinders – Euro 3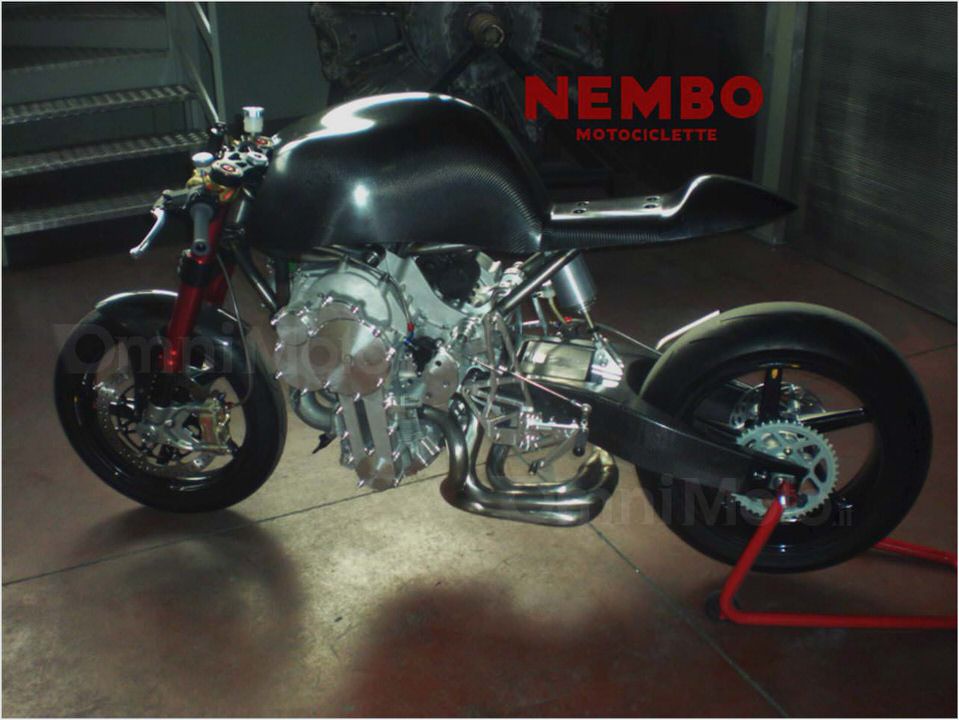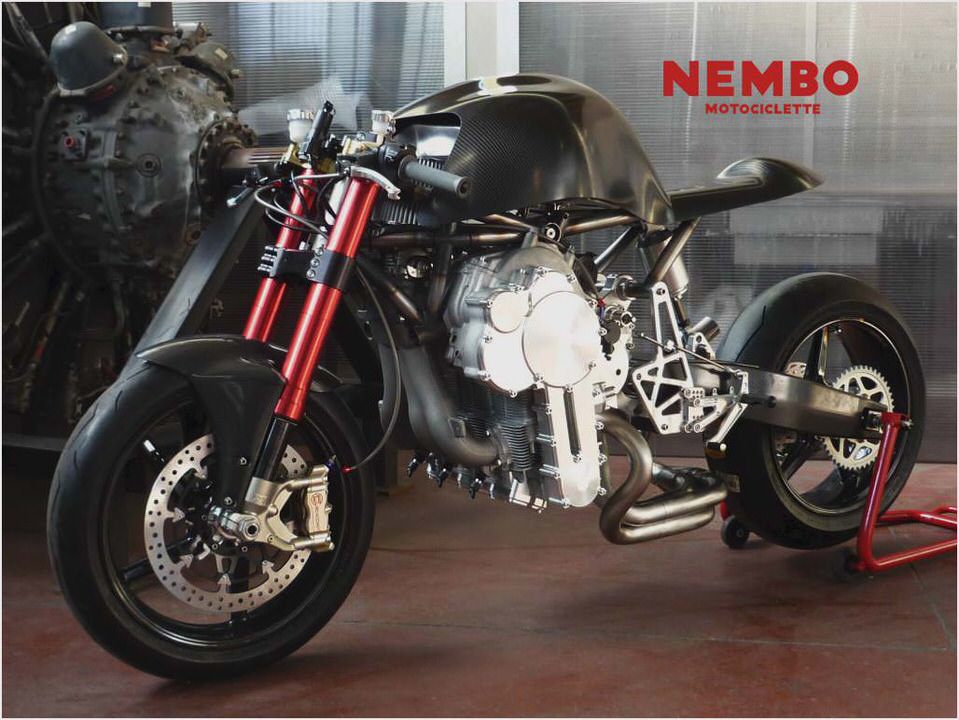 -Bore. 103 [mm]
-Stroke. 77 [mm]-
Displacement. 1925 [cc] -117.47 cubic inches
-Compression ratio. 11.5. 1
-Valvetrain. SO(U)HC (single over(under) head camshaft)
-Number of valves. 2 valves per cylinder
-Cooling system. air/oil cooled-Lubricating oil system: dry sump
Clutch. Wet, multi-plate-
Transmission. 6 speed-
Maximum power. 200 [bhp] @ 7500 [rpm]
-Maximum torque. 19 [kgm] @ 5500 [rpm]-
Maximum engine speed. 8000 [rpm]-
Weight. 85 [kg]
Air/Water cooled production engine:
Type. inverted – 4 stroke – 3 cylinders – Euro 3
-Bore. 107.5 [mm]-
Stroke. 77 [mm]-
Displacement. 2097 [cc] – 127.97 cubic inches
-Compression ratio. 12.5. 1-
Valvetrain. SO(U)HC (single over(under) head camshaft)-
Number of valves. 2 valves per cylinder-
Cooling system. air/water cooled-
Lubricating oil system: dry sump
Clutch. Wet, multi-plate
-Transmission. 6 speed-
Maximum power. 250 [bhp] @ 8000 [rpm]-
Maximum torque. 24.5 [kgm] @ 6500 [rpm]
-Maximum engine speed. 9000 [rpm]
-Weight. 85 [kg]
__________________
If I'd never thrown my leg over a bike, I'd never have lived. – Steve Hislop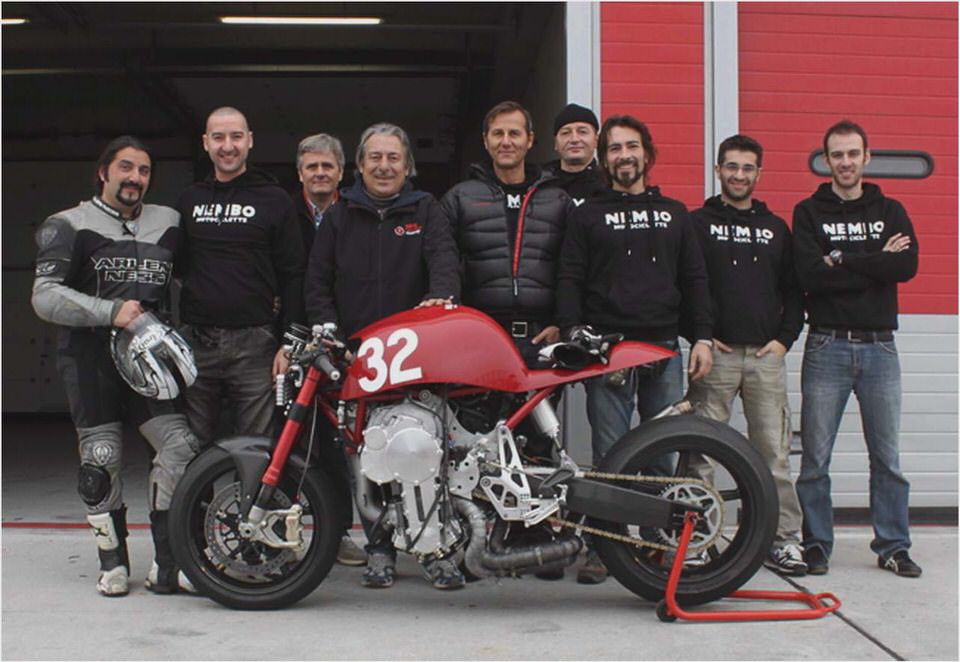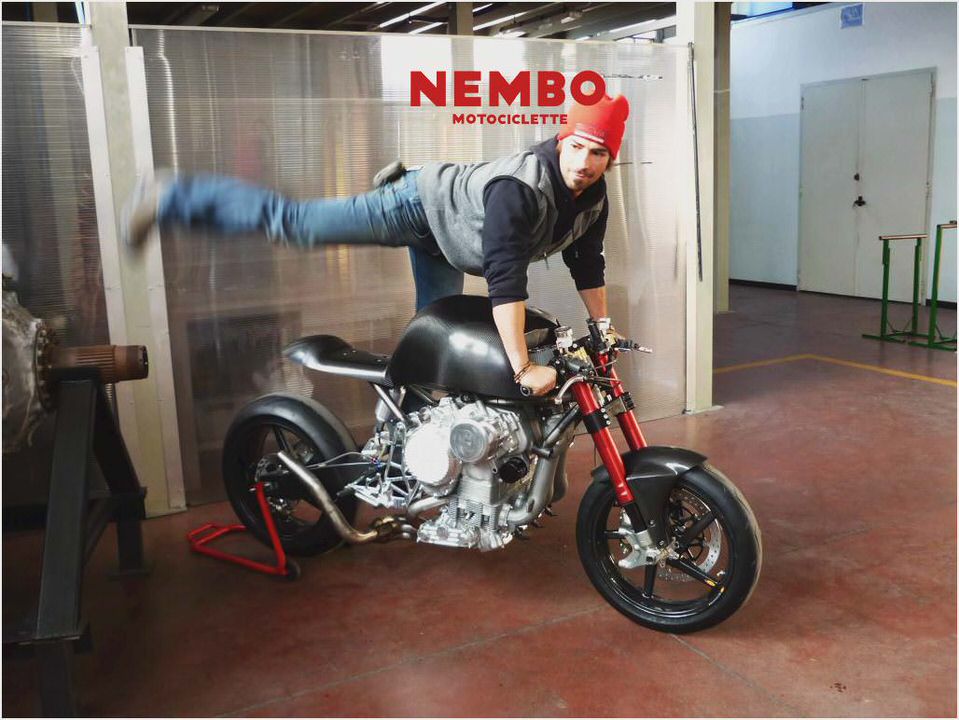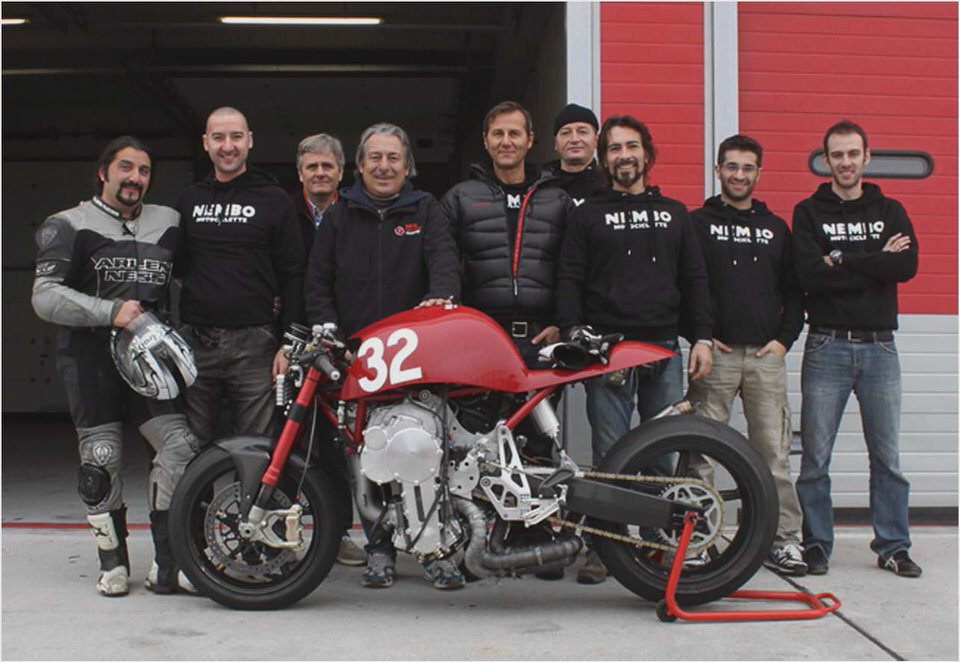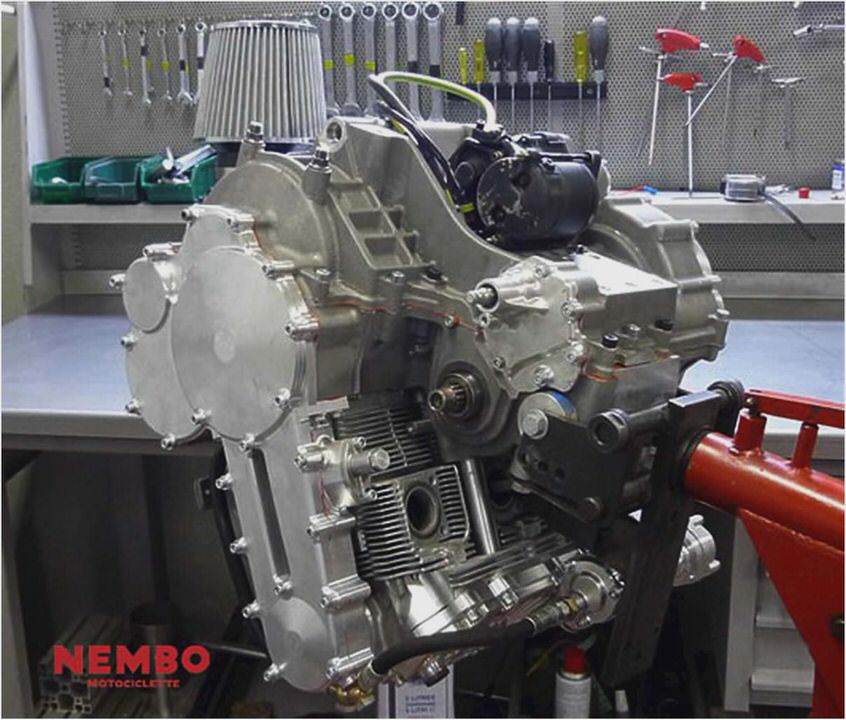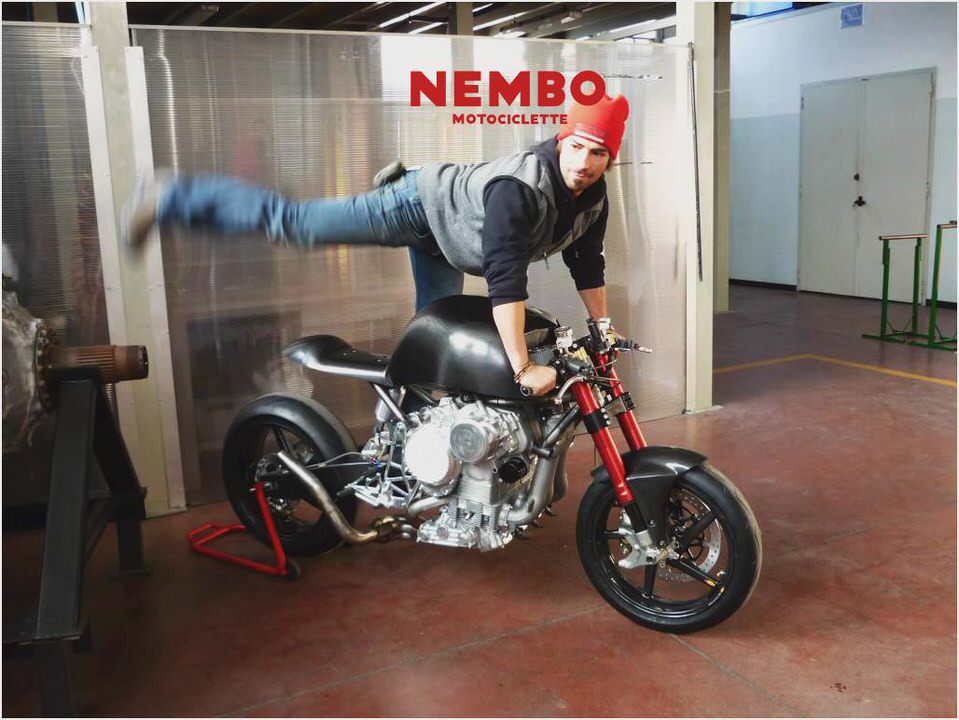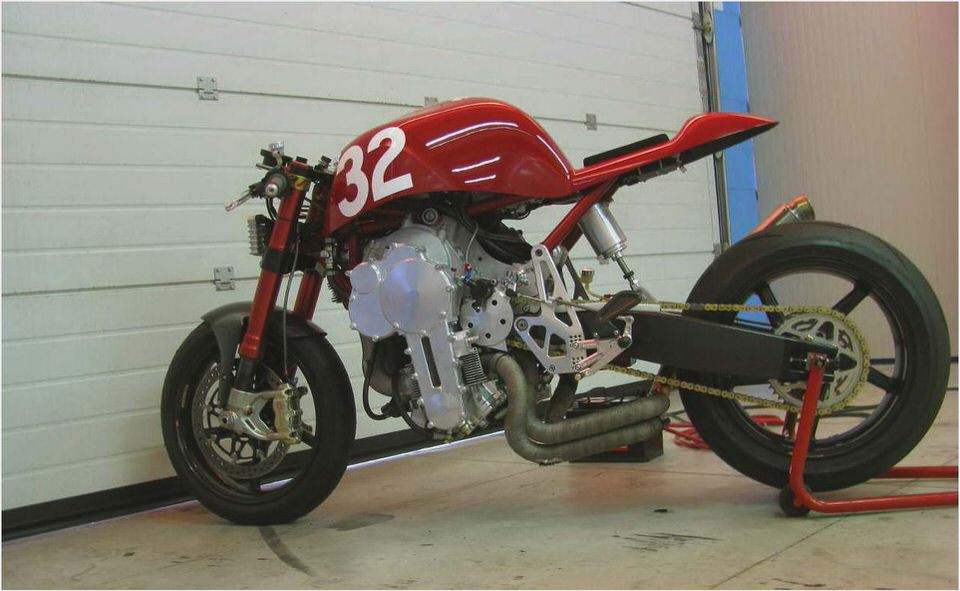 Nembo Super 32 Rovescio Motorcycle
Nembo Super 32 Turns Engine On Its Head Competition Accessories
Classic Sport Bikes For Sale Archive Norton
Classic Vintage Motorcycles: Norton Motorcycles Modification, Motorcycle…
Norton's Moving To Donington, and Dealerships Near YouRoad Rider