Indian Summer Straight from Sturgis, our latest take on the 2014 Indian Chief cruisers and Chieftain bagger.
Photographer. Barry Hathaway and Tom Riles
Much of what one sees at Sturgis Bike Week falls in the "OMG, I wish I hadn't seen that!" category. But it's not just swinging boobs, lumpy bums and sunburned beer bellies that hog up the scene in South Dakota. The show-off bikes rolling around the High Plains can also be unsightly.
Thirty-inch front wheels, anyone? But this year, thank God and America, there was one double take well worth the head turn: the unveiling of the long-awaited Chiefs from Indian Motorcycles.
One Little, Two Little, Three Little Indians…
Everyone knew the Indian Chief was on its way, but the world seemed equal parts shocked and stoked to find there would be three Polaris-borne Indians available straight out of the gate. A truly remarkable accomplishment when you remember how all this came about.
The iconic brand, which became America's first motorcycle company in 1901 and enjoyed a storied 40 years, has seen a bumpy road since it was first sold in 1945. Decades of slumber were followed by misalignments of would-be profiteers, a sad false start in 1999 and, finally, a heartfelt resurrection by Stellican, the folks responsible for breathing some life back into the iconic Chris Craft line of boats. Only trouble was, the Indian redo didn't float.
Known as the Kings Mountain Indians, the iffy builds of this era were overpriced and enthusiasm eventually fizzled. In 2011, nearly 60 years after the last authentic Indian rolled off the line in Springfield, Massachusetts, Polaris Industries was able to rescue the beloved brand. The manufacturing giant, well known for its engineering prowess, heartland values and enthusiast workforce, gently laid to rest the Kings Mountain platform after reinventing one of America's most romanticized marques.
That it took the Indian design and engineering team at Polaris a mere 27 months to create from the ground up these all-new Chiefs—three distinctly different motorcycles—is a mind-blower. And after riding them, it feels like a miracle.
Bob Almond of Rapid City, South Dakota, likes his '09 Kings Mountain Spirit, but was very impressed by the new models. He says he could almost buy two new Indians for the price he paid for his one bike.
"But It's Just A Victory With Different Bodywork"
Hardly. Somehow, no matter how good something is, how perfectly executed and well intended, there will be haters. For the informed, the Victory comparison is tiresome. In fact, after 25 years of testing motorcycles professionally, many of those spent as the editor-in-chief of a cruiser-specific magazine, I can say with authority that these new Indians don't resemble anything else available. But you don't need to be an expert to know that; you just need to take a ride on one.
If I had a dime for every time I heard someone say, "Sold!" as they stepped off a Chief at the demo circuit I'd have treated myself to a nice buffalo steak.
One guy who grew up in Springfield, Massachusetts, had tears in his eyes when he got off a Chieftain. Another said he needed another demo ride to make sure his first ride wasn't a dream. Two dudes with Harley tattoos wouldn't comment at all.
They said they were late for a beer. If you can't find anything bad to say …
One thing you didn't hear from Indian demo riders, or the crowds that gathered at every stop to touch, tap and talk about the Chiefs and Chieftain in person, was that they in any way looked like, sounded like or rode like Victory motorcycles. That doesn't mean to say the two brands don't share critical things, they do. Specifically, quality and intelligent design.
The Chieftain in red was a showstopper. The only thing we missed were the Dunlop American Elite whitewalls found on the Classic and Vintage. Indian says the Chieftain's higher GVWR precluded use of the whitewalls.
World's Most Functional Indians
The favorite Indian among demo riders and looky-loos alike was the Chieftain with its beautifully-styled hard bags and 1950's-flavor fairing, modeled after the streamliner trains from the era. As its name implies, it is the leader of the tribe, not just for its bold presence as the first faired hard bagger ever to wear the Indian badge, but also for its top-of-the-line positioning and price.
Performance-wise, what separates the Chieftain from the Chiefs is its steering geometry and air-adjustable monoshock, which completely change the ride feel. All of the new Indians are a snap to ride, but the Chieftain is the model that riders report feels most "effortless" and "light," even though it's slightly heavier than the others.
And it's true. The Chieftain's steeper rake (25 degrees), shorter wheelbase (65.7 in.) and lower bar height make it the most nimble-feeling of the bunch at low speeds and also during aggressive cornering, where it requires extremely low effort.
Not surprisingly, you can feel the weight of the amenity-laden fairing on the fork in the form of a slight wallow in fast sweepers, and major corrections that involve braking during cornering—say, when some a-hole rider coming the other way cuts into your lane—can cause a hinging effect high on the pucker-factor scale. Fortunately, the Chieftain's cornering clearance is excellent, allowing you to dive even deeper instead of slowing down.
The Classic and Vintage use a more traditional rake (29 degrees), which along with positive-offset triple-clamps (the Chieftains are negative offset), results in a 68.1-inch wheelbase. The single shock features mechanical preload adjustment. Both of these Indians feel more like cruisers; steering is a little heavier but very predictable, with rock-solid tracking no matter your speed.
The only difference between the two Chiefs is the addition of fringed leather saddlebags and a windshield for the Vintage, which does appeal to the nostalgic set. Hard bags, for the record, are not intended to go on the Classic or Vintage, says Indian, because of chassis geometry concerns, load ratings and potential stability issues.
Again, the cornering clearance on all of the new Indians is stellar and the cast aluminum frame and modern suspension eat up every type of road surface. The gear-primary and six-speed transmission uses an oversize clutch and is thunky but faultless, while the brakes, with standard ABS, are more than adequate.
Despite all of the lavish chrome, supple leather and creamy paint, the Thunder Stroke 111 remains the new Indians' most beautiful element.
One demo rider from Nebraska couldn't quite keep quiet after he pulled in following a ride on a Classic. "Oh, wow. The engine … you really have to hold on to this thing!" And how. The Thunder Stroke 111 . the first new Indian powerplant in seven decades, is the best thing to happen to the cruiser world in a long, long time. "We knew we had to start with the engine," said Eric Fox, Senior Engineer for the Thunder Stroke powertrain. "Typically, when you're designing a clean-sheet engine, you start from the inside out. This was a little different, because this engine also needed to be designed from the outside in, so that when you look at it, it's uniquely Indian."
Folks are impressed when they learn the Thunder Stroke doesn't share a single proprietary part with any Polaris engine, or any engine ever built. And not only is this a beautiful, modern interpretation of a classic Indian powerplant, with a claimed peak torque of 119.2 foot-pounds at 3000 rpm, it's also wonderfully managed by the closed-loop, throttle-by-wire EFI system. Except for the occasional off-idle hiccup on abrupt departures, response is seamless and smooth.
And the sound. "I tried to record it with my phone, but it doesn't do it justice," said Red, from Spokane, Washington, who was trying to decide between the Vintage Chief and Chieftain. "My wife has all these meditation tapes she listens to to relax: chimes and crickets and stuff. I just want to listen to this bike." Much effort went into creating the universally praised exhaust note of the Chiefs, as well as the bikes' mechanical interaction with the rider. "We wanted to make any unpleasant mechanical noise as quiet as possible so we could bring out a pure exhaust note to the customer," said Fox. "The transmission and all of the gear pairs were designed from the get-go to give off very low mechanical noise."
"We also wanted to keep the engine vibrations low," Fox added, "but not eliminate them. You still want to know that you're on a motorcycle—you just don't want it to be numb fingers that remind you!" The result is a motorcycle that doesn't vibrate at all through the handlebar, though at idle, you can feel a pleasant engine pulse rise up into your hands and seat. At 2600 rpm (70 mph in sixth gear), there is a less-pleasant surge of high-frequency vibration felt through the floorboards and seat, but it's specific, and easily avoided with a slight change of throttle.
Lastly, there is, of course, the matter of heat flooding off such a huge mill, and Indian engineers worked hard to manage it. "Power is heat," explained Product Director Gary Gray. "Liquid cooling helps a little bit, but by no means is it the answer to everything." Ceramic-coated headers, heat shields and the engine's massive fin area work together to direct heat from the rider's legs, but there's no way to forget your knees are hugging a 905cc can of fire, at least not during a South Dakota summer.
Everybody admired the styling of the new Indians, especially the deeply valanced fenders.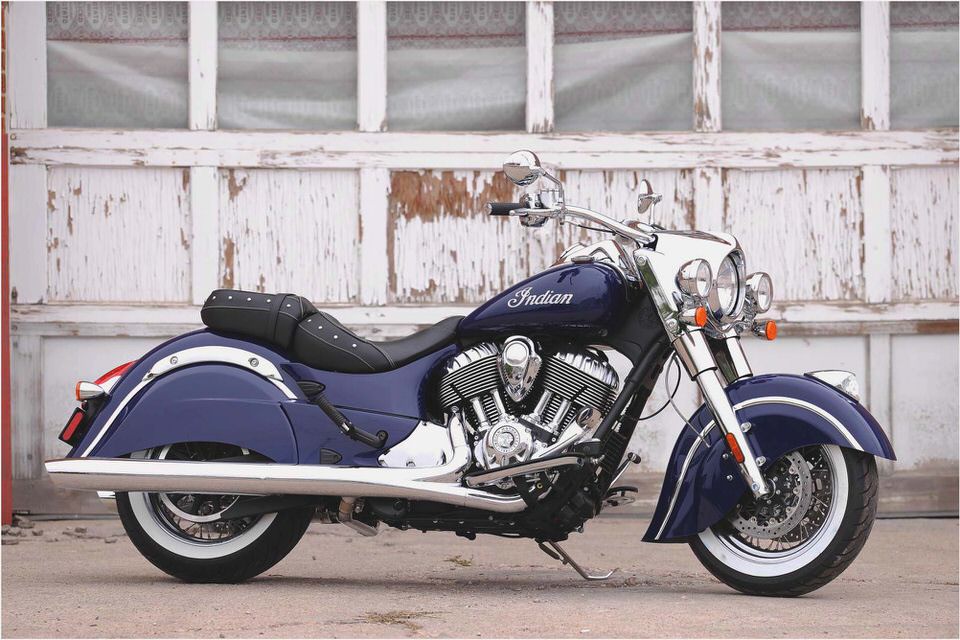 Hail To The Chiefs
"As we started on these bikes we had one goal in mind: to build the premium American motorcycle. No questions. We want to put Indian back on top," said Gray at the initial press conference. "Polaris is a $3.5 billion powersports company," he continued. "We go up against giants every day. And win."
Polaris Vice President of Motorcycles, Steve Menneto, is a little more practical when describing Indian's charge. "To take an axe to a Giant Sequoia might seem insurmountable, even impossible," he told us later over cocktails. "It could take five years. It may take 20 years. Or 50. But as long as you keep swinging, you've got a chance."
What's more, the new V-Twin-powered Chiefs and Chieftain are just the beginning of this brand's revival. "It's the Golden Age of Indian for all of us working on the brand at Polaris," said Greg Brew, Director of Industrial Design. "It's amazing what's going on right now in my department, and what's being invested by Polaris. You see some of the fruits right now, but we're going to blow your minds even more in the future."
The broad design history of the Indian brand gives the team at Polaris huge latitude. The possibilities are copious. Will we see a renaissance of the Four? A Scout? An Ace? Racing bikes? Probably. "I can't say exactly what we're doing going forward," said Brew. "I think it's safe to say you'll see us make bikes that will appeal to many different types of customers in the future."
America's other premium, iconic motorcycle manufacturer might want to circle the wagons. Not only are these new Indians right on target, Harley's core crowd is certain to accept this likewise legendary brand into its fold. "I was always wanting a Victory," one Street Glide owner told us, "I like the lines." He also said his club mates wouldn't have him if he did. "But this is different. This is an Indian."
Bob Almond, a Rapid City local, longtime biker and owner of a 2009 Kings Mountain Spirit, agreed. He says his Indian has not only been accepted by the Harley crowd, it's revered. "I want to own one of the new ones, though. I'm only upset that I could have two for what I paid for this one."
This 1949 Chief is at home on the road with its 2014 namesake. Owners of original Indians we interviewed unanimously applauded the design and engineering team at Polaris.
The Price Is Right
And to that end, there's nothing to keep the Indian brand from success. Someone looking at a Heritage Softail—the same buyer the Chief Vintage is vying for—might see a price tag swinging from the H-D that's $3500 less, but to make the bikes comparable, he'd have to pony up for the Twin Cam 110 ($5000), ABS ($1200) and chrome for the fork, hand and foot controls ($1259). Plus, the Harley's seat will be vinyl instead of leather, and internal handlebar wiring, cruise control and keyless ignition aren't even optional.
The Indian team is also quick to compare the Chieftain to Harley's Street Glide, the fared, hard-bagger that is The Motor Company's number one seller. Again, the internal wiring, the tire-pressure monitoring system and cool power windshield that come standard on the Chieftain aren't even available options on the Harley. To make the bikes as similar as possible, you'd need to upgrade from the Twin Cam 103 to the 110, add ABS, cruise control and a splash of chrome.
In the end, Indian marketers say, you'll spend almost $5000 more for the Harley.
"Show Us Your New Models"
Aside from the requisite boob shows and beer-fueled burnouts, Sturgis felt different this year. Everyone was talking about the Indians. Staring, pointing, speculating. Heads would swivel as you rode by.
Mouths turned to O's. It was the beginning of something good.
Indian's marketing team calls it "Choice." The rest of us will enjoy it as competition. There's certainly room on this stage for another iconic American motorcycle brand, especially for one that gets it right. Next week, Harley-Davidson will release its own 2014 lineup, and rumor has it Milwaukee is bringing big news.
Since when is too much of good thing bad? Thank you, America.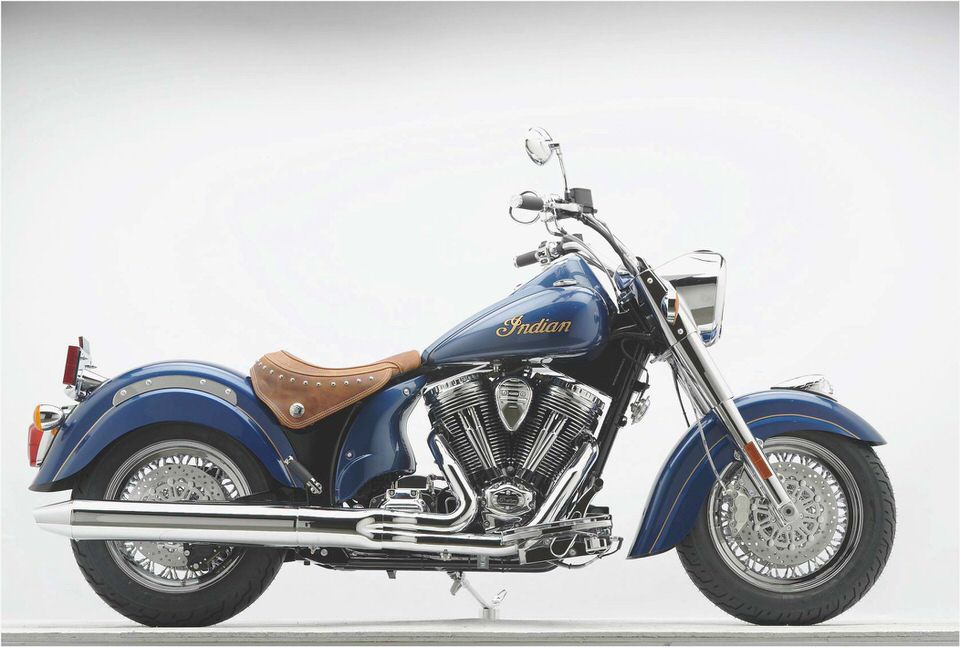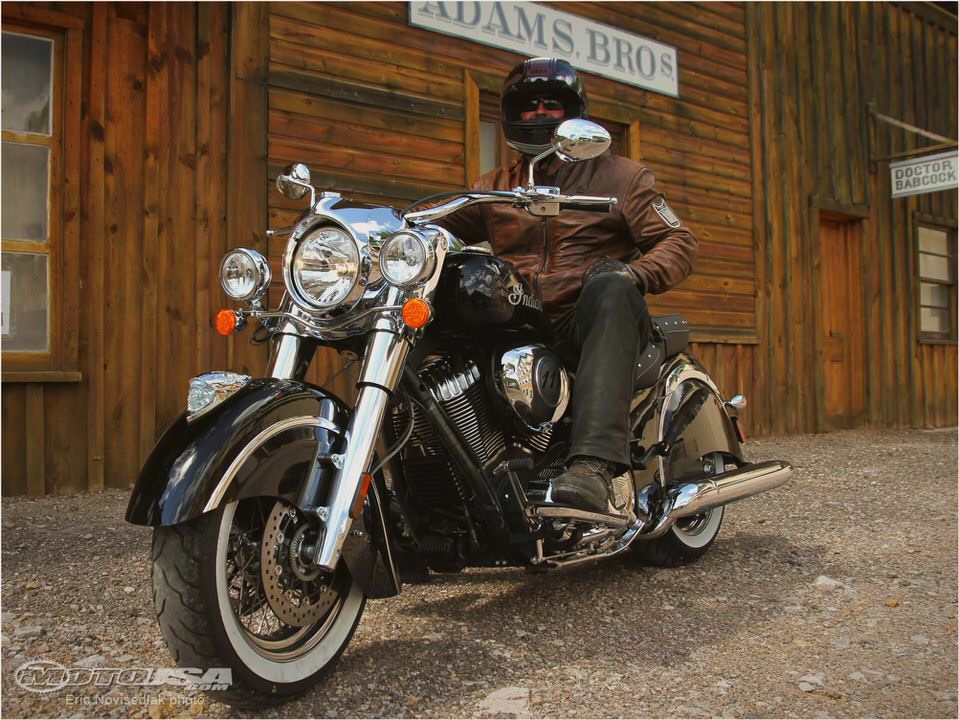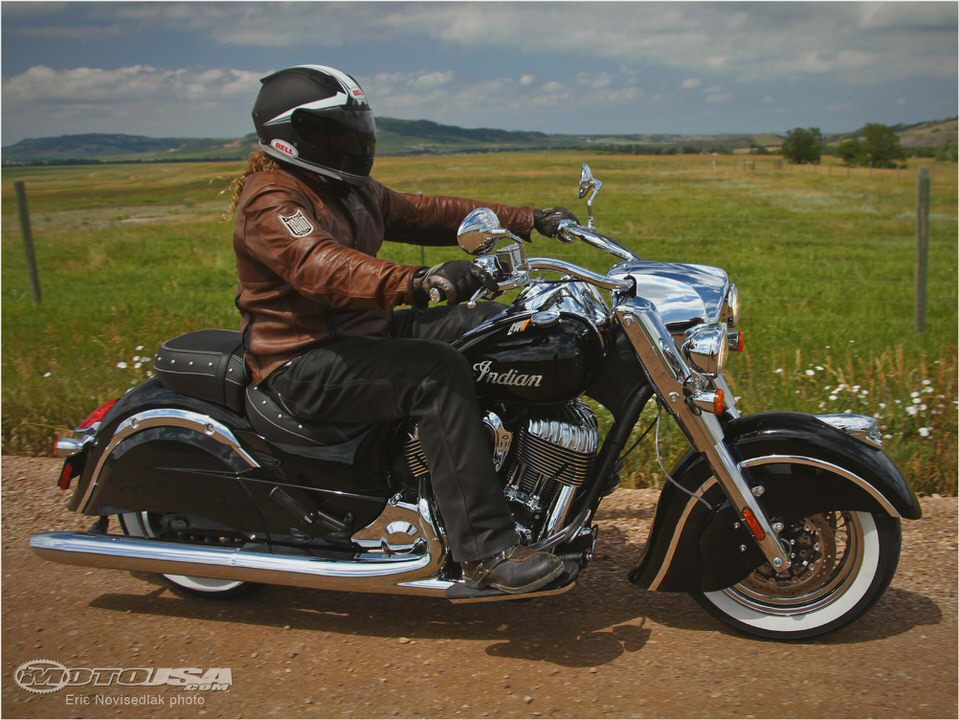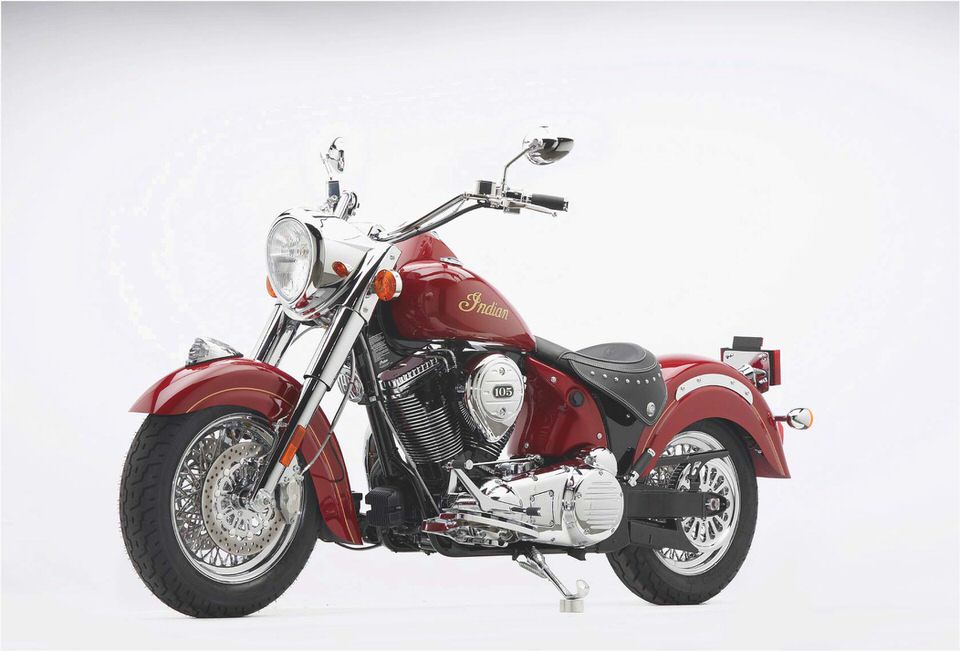 INDIAN Chief Standard (2009) wallpapers
2014 Indian Chiefs — First Ride Rider Magazine
Kiwi Indian Chief Takes 1st Place in SOCAL Baggers
Indian Motorcycle Unveils the 2013 Indian Chief Vintage Final Edition (PII)
Steve McQueen's Indian Big Chief (restored by Von Dutch) — Silodrome