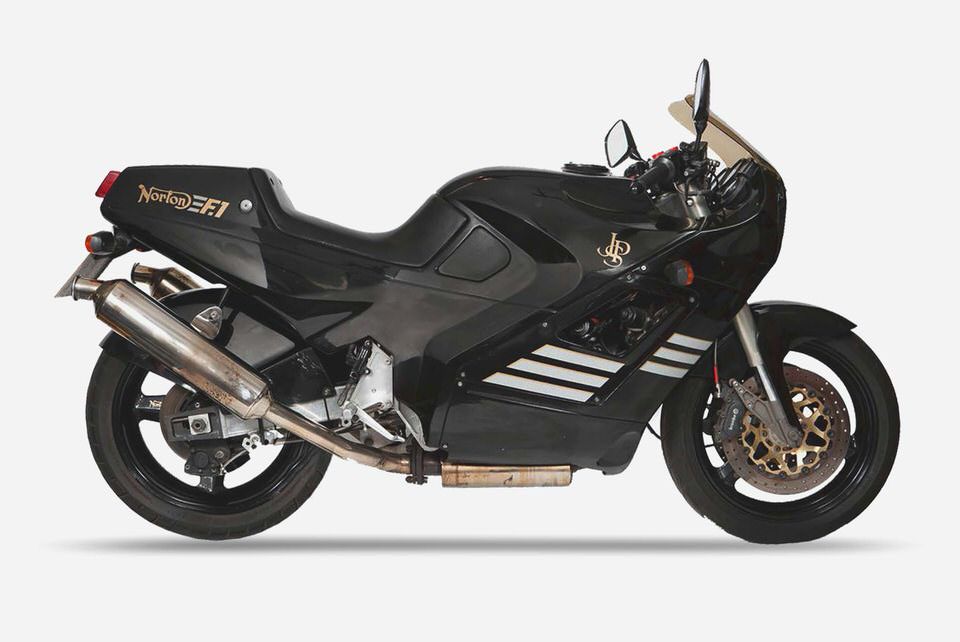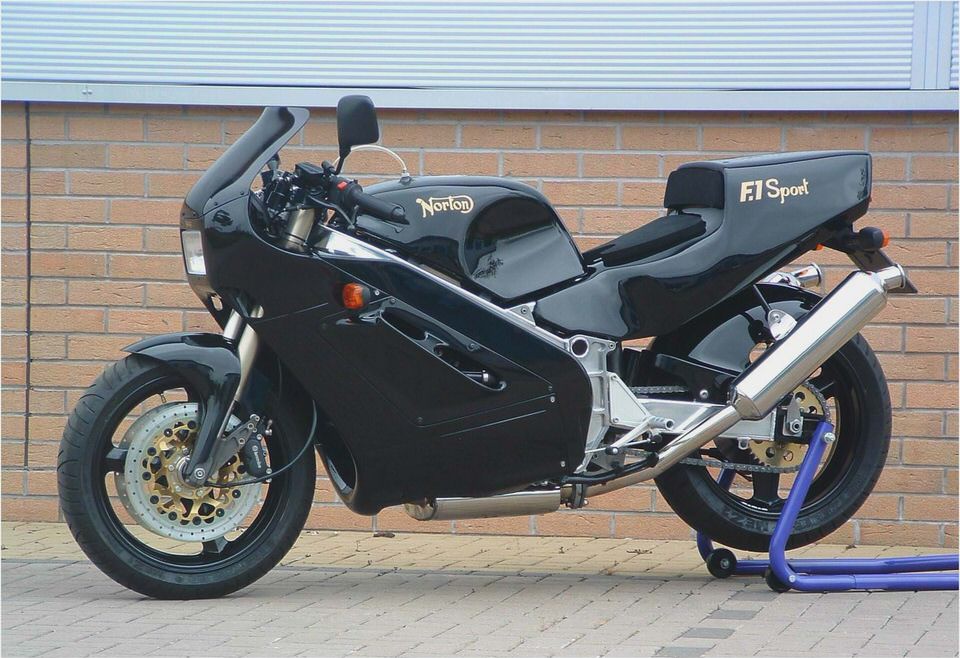 View Full Version: Norton F1 Sport
Title: Norton F1 Sport
Description: Very rare bike.
pbm67 – September 10, 2006 07:35 PM (GMT)
I took my gv650 up to Devils bridge in the north west of england the other day, a favorite spot for bikers. and what should turn up but a Norton F1 Sport. Only 66 of these bikes were ade for Homologation reasons to allow the bike to race.
obxbiker – September 10, 2006 09:53 PM (GMT)
Norton F1 Sport
Shed not your tears for the Norton rotary project: there's no fat ladies singing just yet. Norton Motors has re-surfaced, and they've a very special F1 Sport for sale.
So less than a year ago we got all snuffly and sad about the closure and sale of Norton Rotary Engineering, the last outpost of the 'old' British bike industry. The rotary venture started way, way back under the auspices of BSA's various development projects, and it culminated in the championship-winning JPS and Abus sponsored F1 racebikes. You know the ones – the bikes which weren't burned to a cinder at the National Motorcycle Museum and which RealMart chased around Mallory Park this summer.
We couldn't help but notice at the final auction (more here and here) of the NRE goods and chattels that several Prominent Persons in the rotary field were merrily bidding on all sorts of stuff. Things Were Afoot. And indeed, it was soon announced that Norton Motors Limited had acquired the total stock of genuine Norton spare parts, technical drawings, and the intellectual property from NRE.
Hang on – who are these Norton Motors people, then? It's complicated, so sit back and get comfy. Norton Motors (1978) Ltd established a daughter company, Norton Motors Germany, as a joint venture with the then German importer Joe Seifert back in 1988, and Seifert in turn registered Norton Motors Ltd in England in 1996, together with Richard Negus.
Richard is one of the original industry's stalwarts, who started his working life at BSA, became a draughtsman at Norton Villiers, then went to Yamaha Europe as a project engineer on a joint project with Norton, and then moved back to Norton Motors (1978) Ltd at Shenstone.
He left in 1994 after a disagreement with the then Canadian owners of the marque, went to Mid-West Engines where he supervised the (ex-Norton) aero engine development, and finally arrived back at the Norton camp with the acquisition of the Norton Rotary motorcycle business in November 2003.
Simple, really.
So Norton Motors Ltd have set up shop not far from the old base at Shenstone, to offer spare parts, servicing, and technical advice to owners of rotary Nortons. The business is backed up by staff with a combined total of 73 years hands-on experience in this field (that's even more than FW can claim, although editor years might be something like cat years. ). Both Richard and Joe have ridden and raced Nortons their entire lives, and aim to revitalise the rotary industry. 'We hope to improve on the past decade' they say, 'ploughing a good proportion of our profits back into the parts stores and gradually building up the availability of parts to a decent level'. And for their first trick they've reconditioned this rather smart F1 Sport, just to prove what they can do.
What you're looking at is a genuinely hand-built British race-replica, a Norton F1 Sport. It's one of just 70 bikes originally constructed in the early 1990s when the rotary-engined 588cc racebikes were winning hands down at the Isle of Man TT races (and everywhere else, until the rules were changed to exclude them. Huff).
Originally registered in Germany, where the rotary Nortons won a big following, this particular bike was cannibalised for spares to keep a racing machine on the track.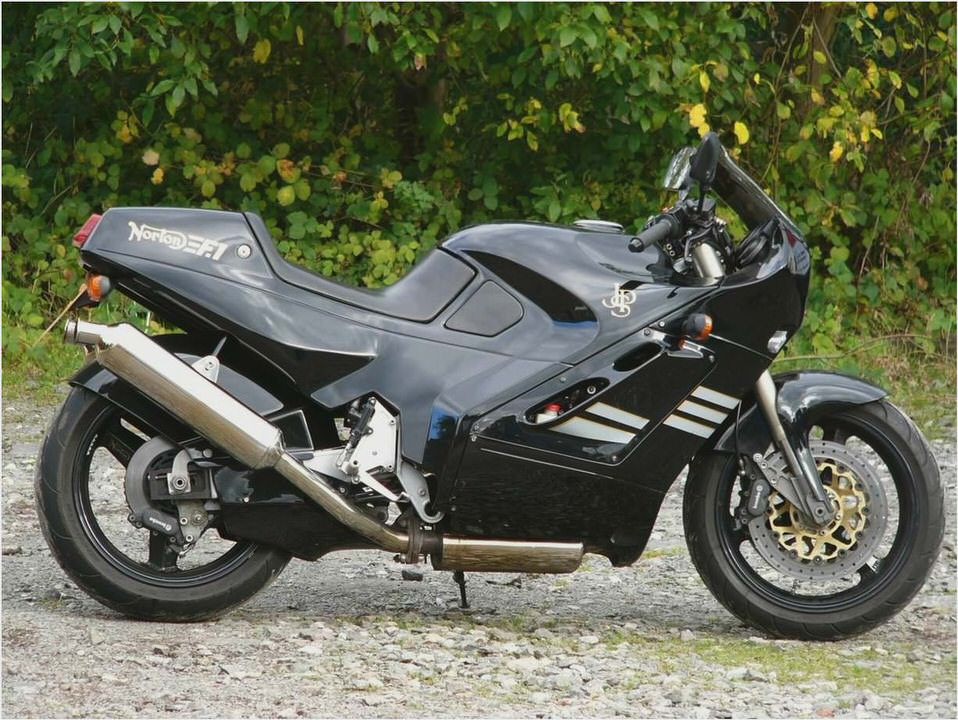 Then last year it fell into the clutches of the newly invigorated Norton Motors Ltd who set to work on it, looking to rebuild it to top-notch spec, suitable for today's sports rider. So the power unit has been totally rebuilt, with new bearings and seals throughout. Norton's engineers gave the engine a little more attention than it originally received, working on the porting and the flywheel and balance weight which were lightened before the rotating assembly was dynamically balanced.
This has made the bike's acceleration a little crisper without damaging the rotary's super-smooth delivery – ride it all day on an Autobahn at comfortable 120mph and you'll step off without a hint of finger-tingle. This particular F1 Sport will whisk you straight up to 145mph, making the most of its well-matched 95-plus horsepower and 185kg dry weight.
And it looks the business, too, don't you think. The frame and swinging arm have been polished and re-assembled with new bearings and seals. The wheels have been re-enamelled, front discs renewed, new chain, new brake pads, fork seals replaced and the majority of minor brackets, bolts, nuts, washers, controls, lamps, instrument console, fuel filler cap, screen – you name it – have all been replaced with new items.
Dream Machine finished the job in fine style with their best deep-gloss black paint.
In short, it's probably the best road-going Norton F1 Sport ever built, and the person who meets the Ј15,000 price tag will own a truly unique motorcycle.
Hello?
Were you just overcome by fiscal vertigo? Well, yes, Ј15k does sound like quite a lot of cash, even when you say it quickly. But before you splutter into your soup, bear in mind that a V-Rod will set you back Ј14,000.
And you could easily pay the same for a homologation special Ducati 749, or even a scary Ј17,350 for an Agostini-tribute MV F4. And not one of them is handbuilt in Britain.
Can't resist and have cash burning a hole in your pockets? Visit www.nortonmotors.co.uk or call 01889 586557.
NML will, of course, be equally pleased to hear from you if you'd just like your IP2, Classic, Commander or F1 serviced-
Norton F1 Sport
Norton Rose Fulbright Becomes Corporate Partners With The McLaren Mercedes…
Norton F2
Norton
1939 AJS 500 V4 Racer – Classic British Motorcycles – Motorcycle Classics