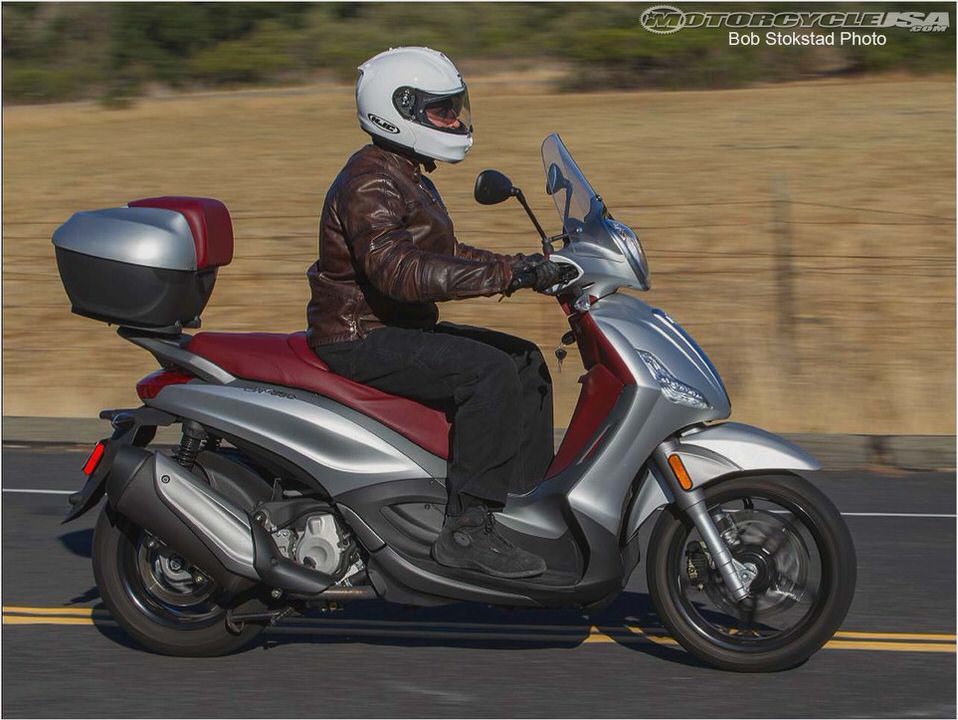 PIAGGIO BV 200 / 250 / 300 / 500 – OWNER REVIEWS
2003 PIAGGIO BV 200
Milage: 1000 – 5000 Miles
Likes: Love the bike rides good, like your sailing through the wind
Dislikes: The digital display – it should have a choice of Km or mile
Review: "Nice to ride good in handling I give a 99%."
2003 PIAGGIO BV 200
Milage: 10,000 – 20,000 Miles
Likes: Reliability, economy, enough speed for occasional freeway travel at 60-70 mph.
Dislikes: No tie points for bungee cords if you want to lash something onto the scooter.
Review: " Have owned since I bought new used at 1,100 miles. This scooter has been rock-solid for 10,000 miles of city errands, commuting, and fun riding. Starts, stops, runs great; I still have tread on the original tires. Typical mileage is 50-55 in town; longer rides at higher speeds increase that to about 60.
Simple maintenance; I've never had to spend much more than $125 for occasional oil change/plug swap/CVT adjustment.
A terrific little bike, dependable and simple, with adequate storage; with a tall after-market windshield, it offers very good weather protection. Too bad Piaggio decided to go with American lust for power; the 200-250 cc size is really perfect for a city runabout, with enough power for short highway use. This is a great little bike, if you find one that's not been abused."
2006 PIAGGIO BV500
Milage: 5000 – 10,000 Miles
Likes: Top speed, glove box, sveltness (no maxi-scooter bulk)
Dislikes: Wind deflection could be better
Review: "The large wheeled look isn't for everybody, but it has its advantages (traveling between lanes at freeway speeds is a much smoother ride). The drawback is slightly less storage capacity in under seat storage capacity. I really like the lack of bulk on this scooter. It helps when splitting traffic (traveling between lanes when traffic is moving at less than 30 mph in CA).
The downside is the lack of wind protection on ones legs when moving in the plus 50mph range.
My gas mileage has been in the 60 – 65 mpg range. Very impressive given the speeds this machine is capable of. I routinely hit 85mph plus with no fuss from the engine whatsoever.
Build quality is top notch. Everything has remained tight and sturdy as the miles roll on by. I have enjoyed this scooter far more than I do my Helix or Elite 250 (due mainly to its higher speed capabilities).
My only complaint is that of wind deflection to my lower body parts at freeway speeds. Everything else is simply superb."
2006 PIAGGIO BV500 (BEVERLY TOURING)
Milage: 1000 – 5000 Miles
Likes: Great highway performance, Brembo brakes, Decent mileage
Dislikes: No self cancelling turn signals, No real provision for MP3 player
Review: "I really love this scooter. Mine came with the optional saddlebags and trunk. It's great on the freeway, and can do 99 mph.
The bigger wheels make for a more stable ride. It's not a Burgman or Silverwing, so you ride more upright. I bought a mid-sized GIVI windscreen, and it does a good job diverting the air and slightly improved my fuel mileage.
If you are looking for a bargain in a large size scooter, these can be found for around $4000 used.
When shopping for a scooter, be able to describe how you will use it. If you just want something for around town, this scooter might be too large. If you plan on being on any road/expressway/freeway where the speed is above 55, I would buy this. If you are new to riding, and just got your license, a smaller unit might suit you better."
2012 PIAGGIO BV 300
Milage: 0 – 1000 Miles
Likes: Everything. Great power, Good handling and great on the highway.
Dislikes: No parking brake, MPG so far is not as high as advertised.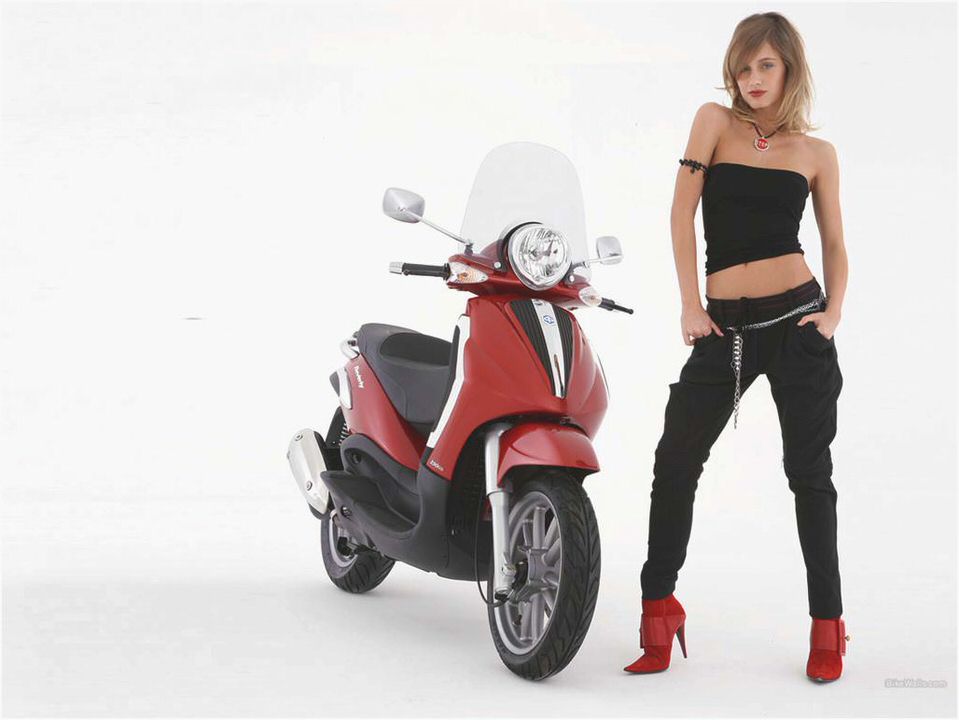 Review: " I just sold an 08 Suzuki Burgman 650 because it was too large for NYC. I bought the 2012 BV 300 hoping that it would be easier to ride and park around the city and so far it has been great.
I wanted another scooter small enough but big to be able to go on the highway and the 300 does that. Having 16 inch wheels really helps and it has more than enough power. I could have bought a smaller scooter for the city but they don't have 16 inch tires so that was one of the reasons for buying the BV and the other reason was engine size.
You need good power to go on the highway and the 300 does not disappoint. Overall a great scooter – very attractive, reliable and efficient."
2013 PIAGGIO BV 350
Milage: 0 – 1000 Miles
Likes: Power, handling, comfort, storage, styling.
Dislikes: Seat could be more comfortable. Step in the middle locks the rider in one place, but the step is removable. Haven't tried that yet.
Review: " I've only put about 300 mile on it, but I love it! I ride a big Kawasaki Vulcan Nomad on long trips. I love it, too. But it's too big for those short trips to the store or the post office or just to go for a ride on a brilliant day. I wanted something like the CB 350 Honda I had when I was young: light, agile, fun.
I've got it now in the BV 350. Light, powerful, maneuverable, fun. I'm a really big man, and it hauls me around in relative comfort and it really hauls!
Best MPG so far–59, and it's not even broken in. The most fun you can have and remain dressed!"
2013 PIAGGIO BV 350
Milage: 0 – 1000 Miles
Likes: Wonderful acceleration, smooth ride, good suspension, even for a big guy, motorcycle like handing, it's the bomb!
Dislikes: Seat could be more comfortable (I'm considering removing the little hump in the middle of it), more foot room.
Review: " I ride a big motorcycle much of the time. And I love it. But I was missing the joy and excitement of two-wheeled riding that I experienced in my younger days, with great bikes that were light, relatively powerful and fun to ride. I thought of a Triumph Bonneville, and some other smaller bikes. But then I tried some scooters–a Vespa GTV 300–fun, nice, a little small for me, and with the small wheels, quite nervous at higher speeds.
So I tried a BV 350. Wow! Faster than the Vespa, rides like a motorcycle, nice and stable, a really smooth CVT transmission and engine. Endlessly entertaining, and I could see myself, with a top box, heading across country on it.
The biggest drawback is seat comfort. This scooter has brought back the thrills of my 2-wheeled youth. I love it! And so far I've gotten a high of 59 mpg. "
Return to the Piaggio BV Series main page.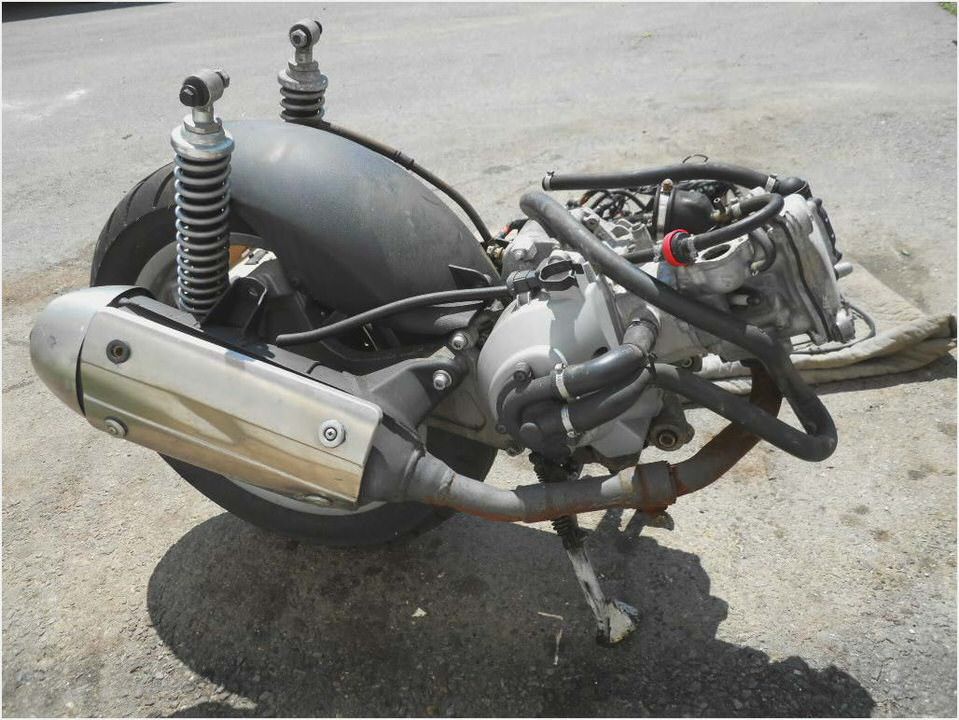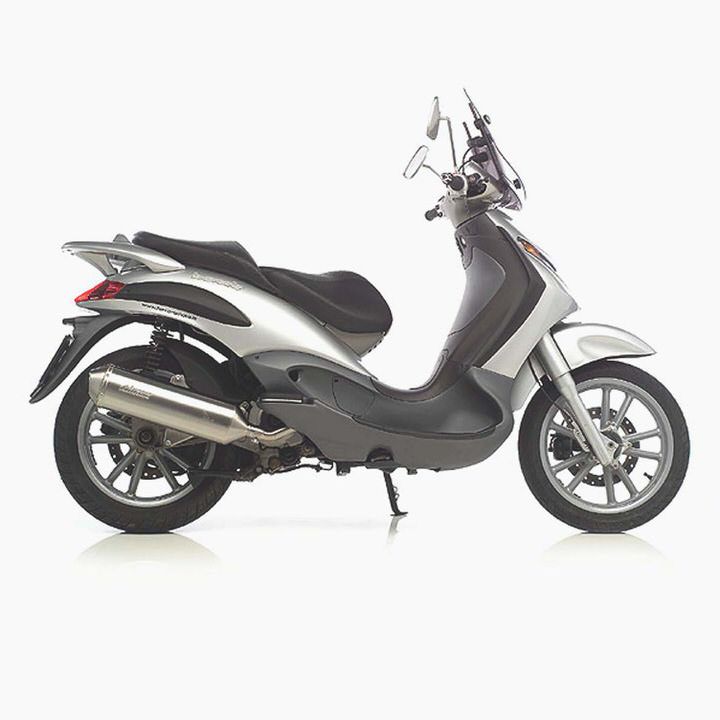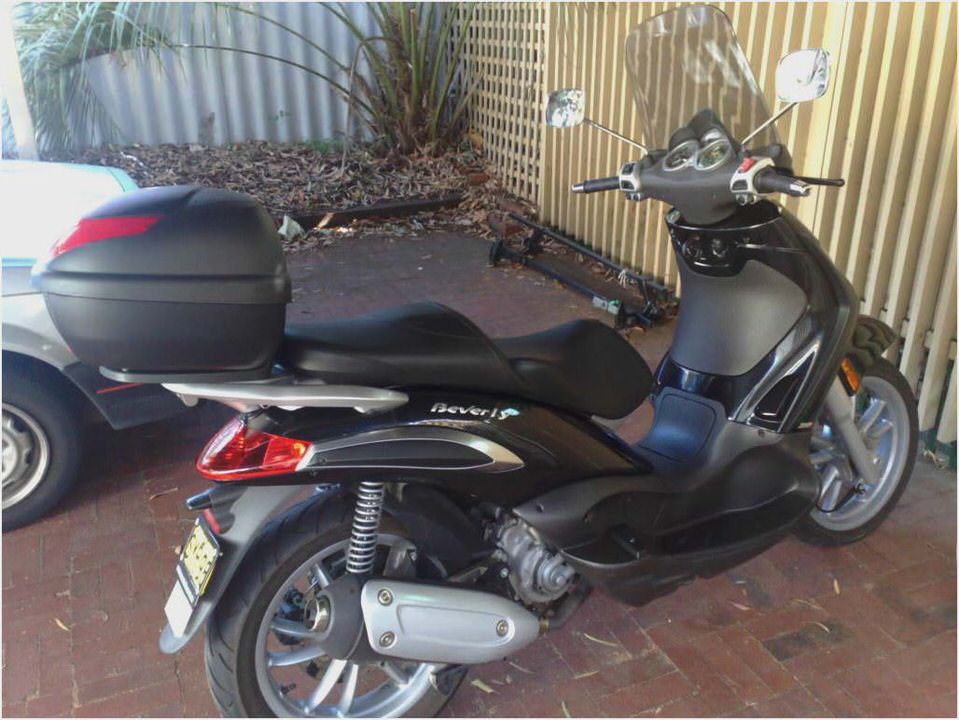 2012 Piaggio MP3 Touring Unveiled News
Specs for a Piaggio 50cc Engine eHow
Piaggio MP3 Yourban LT hands-on – Pocket-lint
2006 Piaggio Fly 150 – Motorcycle USA
PiaggioFly150