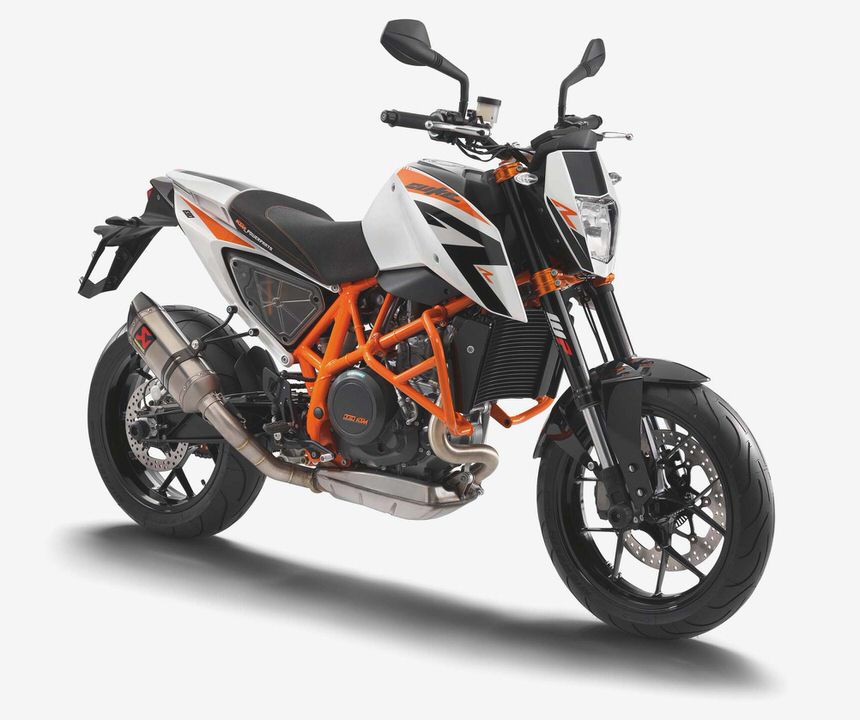 Ridden in SA: KTM 1290 Super Duke R
By Dave Abrahams
Time was when a naked bike was last year's sports flagship, shorn of its expensive plastic body panels, its engine slightly detuned, with budget brakes and suspension. Then came the supermotard – best described as an off-roader with street tyres and an attitude – and the 'urban warrior' concept began to change.
Now Austrian off-road specialist KTM has turned the wheel full circle with the 1290 Super Duke R, a motorcycle designed from the outset as a hooligan tool, built around the biggest and baddest version yet seen of Matighofen's proven LC8 V-twin.
Note that there is no base model, only the R179 999 full-tilt boogie flagship 'R' we rode at the South African launch in and around Cape Town this week, complete with a suite of electronics that would do justice to a superbike, Grand Prix-level brakes and suspension, and enough power to corrupt a saint.
HOW'D THEY DO THAT?
First they bored out the 1190cc V-twin from the KTM RC8 superbike from 105 to 108mm, added 2mm to the stroke (up to 71mm) for a genuine 1301cc, with shorter con-rods and lighter 'slipper' forged pistons so that it would rev like a cobra striking.
Then they rewrote the mapping to deliver 132kW at 8870rpm and a monumental 144Nm at six-five – a 40 percent improvement on the previous 990 Super Duke streetbike.
This thing actually makes more torque at 2500rpm than the 990 had at peak, and launches off the line so hard that 0-100km/h times are more a function of the rider's expertise than the bike's capability. The factory does, however, say its test riders can get the 1290 Super Duke R from a standstill to 200km/h in 7.2 seconds, which may be a better measure of the monster.
HAIR-TRIGGER RESPONSE
The prototype (respectfully nicknamed 'The Beast') also had a hair-trigger throttle response that made it a handful in traffic and lethal in the wet, so the production version has three drive modes – Street (instant, accurate response with a minimum of snatch), Rain (detuned, very smooth, linear power delivery) and Sport (totally mental, for Sunday mornings and track days only).
Also standard is antilock braking, once again with three settings: On . which does exactly what it says on the tin, Off (for the brave and very, very skilled) and Supermoto . which will prevent the front wheel from locking up but not the rear, so that you can back it into a turn like former MotoGP nutcase Jeremy McWilliams – who was seconded to Matighofen as chief test rider for the 1290 project.
But the gizmotronic cherry on the top is what KTM claims is the first motorcycle traction control system with a lean angle sensor, also with three levels of protection; On will back off the power if the front end gets light in a corner or the back wheel steps out, Sport will allow you a lot of leeway before it intervenes and Off is for hoonigans only.
But it's not idiot-proof.
Even on the highest setting, slamming the quick-action twist-grip open at about 120km/h in fourth will reduce the relationship between front tyre and tarmac to a nodding acquaintanceship at best, accompanied by a nasty headshake. But it does prevent you from flipping this sledgehammer of a streetbike on its back, which is apparently a very real possibility.
All these settings are modulated via a dedicated liquid-crystal display to the left of the analog rev-counter and a four-way set of arrow keys in the left switchgear that looks like it was borrowed from a TV remote and works just the same, except that only the drive mode can be adjusted 'on the fly'; for the others you have to be standing still, which is just about the only sensible feature on the bike.
The cycle parts are the very best money can buy: the 48mm WP upside-downies modulate front-wheel frottage by using one side for compression damping and the other for rebound, while a monoshock with the same badge that's adjustable for everything except the colour of your girlfriend's knickers regulates the single-sided swing-arm.
Brembo M50 monobloc brake callipers on 320mm front discs give you a level of initial bite that's difficult to believe at first – and a level of control that's addictive, even without Nanny Bosch telling you to 'Play nicely, now".
The Super Duke R is a big bike, but most of the weight (179kg with all fluids bar fuel, according to KTM) is fairly low down, and wide, flat 'bars give you all the leverage you need to throw it around like mid-sized single, while, even in Street mode, a handful of throttle in second gear will get you to the other side of the national speed limit in one long "Wooo-hooo!"
The seating position is natural and relaxed – you sit in the bike rather than on it, between a tall pillion pad and a hump-backed 18-litre fuel tank – while the precision of steering and brakes, plus the civilised input of the electronic safety aids, inspires confidence.
As soon as you get used to the light, slightly grabby clutch and longish gear-lever throw, you're ready to take on the streets – and the mountain passes, which is where this bike really comes into its own.
The second half of our launch ride was on Cape Town's Killarney circuit, where nearly 30 laps of full-tilt boogie – all but the first four in Sport mode – exposed some of the bike's limitations. Very human limitations, in fact.
The only protection it affords the rider from the elements is the instrument pod, which is smaller than a Kindle; the headlight cluster is halfway down the front suspension in the deplorable modern idiom.
The deeply dished saddle prevents you from sliding back to wrap yourself around the fuel tank, and you wind up hanging on to the 'bars for dear life as you accelerate hard out of fast corners – which exacerbates the bike's tendency to lift the front wheel under throttle.
The Super Duke R is immensely controllable even at insane speeds; unless you're an experienced racer you'll probably turn better lap times on it than you would on a litre-class sports bike. But, as a track bike it is hard work to ride hard, and it's just too insanely fast to ride it on the streets the way it should be ridden.
So, if you plan on taming the Beast, plan on significant gym time as well.
FIT AND FINISH
I grew up in an era of understated café racers and sleek sports bikes; I find the 1290's insectoid styling vaguely repellent, although I will concede that once you step aboard that's irrelevant in view of the bike's excellent ergonomics.
She Who Has The Casting Vote, however, learned to ride in 1990, when supermotards were hot news, and she thinks it's absolutely stunning – which merely goes to show that taste is a matter of conditioning.
As with the RC8 superbike, you're always conscious that this is a road bike built by an off-road company; rather than the jewel-like finesse of, say, a Bimota or an MV Agusta, the Super Duke R is not shy to wear its engineering on the outside, flaunting a robust "I'm tough, I can take it" look that sits well with both its styling and its performance persona.
The 1290 Super Duke R isn't really the beast that KTM's publicity material depicts; it is indeed brutally powerful but, thanks to top-drawer cycle parts and superb electronics, it's also a precision tool.
Its R179 999 price-tag is steep for a streetbike but it really is the complete package; think of it as a very sophisticated sledgehammer.
SPECIFICATIONS
Engine: 1301cc liquid-cooled 75-degree V-twin.
Bore x stroke: 108 x 71mm.
Compression ratio: 13.2:1.
Valvegear: DOHC with four overhead valves per cylinder.
Power: 132kW at 8870rpm.
Torque: 144Nm at 6500rpm.
Induction: Digital electronic fuel-injection with two 56mm Keihin throttle bodies.
Ignition: Electronic ignition system with digital timing adjustment and dual spark plugs per cylinder.
Starting: Electric.
Clutch: Hydraulically actuated multiplate wet slipper clutch.
Transmission: Six-speed constant-mesh gearbox with final drive by chain.
Front Suspension: 48mm WP inverted cartridge forks adjustable for preload, compression and rebound damping.
Rear Suspension: WP gas-charged remote reservoir monoshock adjustable for preload, low and high-speed compression and rebound damping.
Front brakes: Dual 320mm discs with Brfembo M50 four-piston radial-mount monobloc callipers and ABS.
Rear brake: 240mm disc with Brembo twin-pot opposed-piston calliper and ABS.
Front tyre: 120/70 – 17 tubeless.
Rear tyre: 190/55 – 17 tubeless.
Wheelbase: 1482mm.
Seat height: 835mm.
Kerb weight: 189kg with all fluids bar fuel.
Fuel tank: 18 litres.
Price: R179 999.
KTM 50cc Mini Dirt Bike
KTM 1190 RC8 R Review 2013
KTM Duke 200 Ownership Review by Aditya
BlakeBlog: First Impressions: 2008 KTM 690 Enduro
Ride Report: 2013 KTM Duke 690 Ktm DERESTRICTED