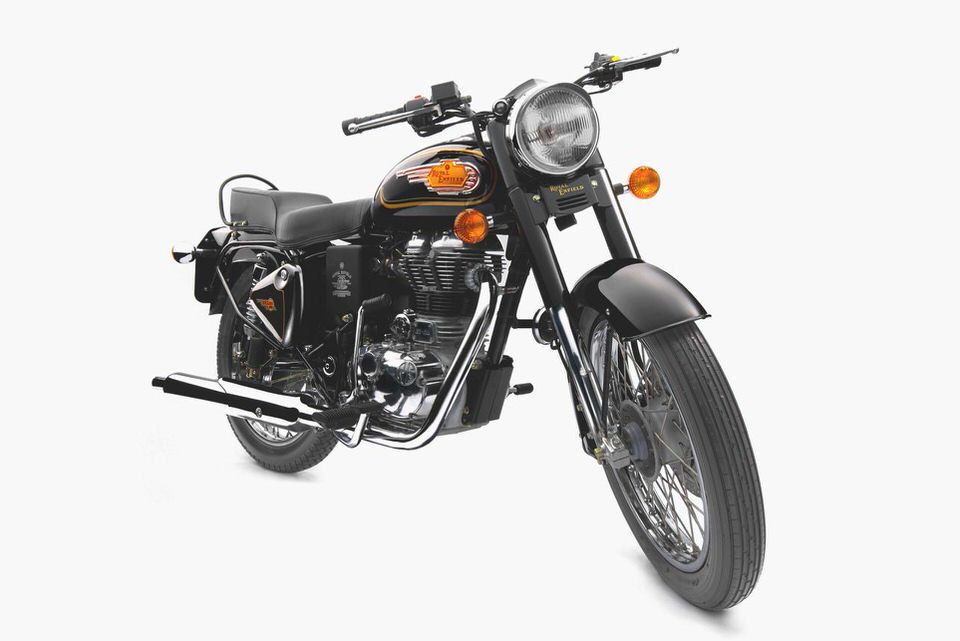 Royal Enfield Classic 500 – a bike made like a gun
The Royal Enfield Classic 500 isn't just a motorcycle. It's a time machine. It transports you back – to the 1930s, when airplanes were being first riveted together from aluminums; to the 40's when scientists had just unleashed the secrets of atomic power; and to the 50's, when we struggled for independence.
The company's longest-running "Bullet" model, first introduced in 1931, has its name derived from the company's link to the Royal Small Arms Factory in Enfield, London. Today we look at the Classic. The frame of this bike is sturdy enough to tackle anything thrown at it or survive the occasional fall, as long as it's not seen as a modern performance bike.
It has a classic styling with modern appearance, a single cylinder, 4 stroke, twin-spark engine, big headlamp, single saddle seat with spring, aesthetically designed silencer (though our test version had an aftermarket trumpet welded on), vintage tail lamps and finely-crafted fuel tank with thigh pads. It doesn't look old but instead, timeless.
The engine is a 500cc unit construction engine (UCE). For the uninitiated, the UCE engine was Royal Enfield's big step into the future. It signified the end of the cast iron engine with its separate gearbox.
It uses a gearbox that is integrated into the engine as a single unit with the conventional left side gearshifter.
It might look simple but try waking the beast within and you are in for a surprise. Ii is a surprisingly agile, tough and versatile machine.
During my three days' fling with Royal Enfield's 2013 Classic, I can't count how many times I was asked, "What year is that?" Indeed, the bike has ageless styling. But how would it fare on the open road and twisties? To answer this question, I took a trip to Cameron Highland in search of the cold weather and fresh succulent strawberries.
The minute I planted my butt on the beautiful Battle Green model and squeezed the handle gently, the first thought that went through my mind was, "Whoa, this is a lot of metal!" The bike is not too heavy but neither is it too light, and yet it exudes a solid, and hefty aura. Yes, you can feel the steel in this one compared to all the plastic that you see on the modern machines.
Upon pushing the starter button, the Keihin electronic fuel injection fires the massive cylinder up with a nice "thump-thump-thump" idling note that is a characteristic of a big, slow-revving single; even with the louder accessory exhaust our test bike is wearing.
The injection mapping isn't all that great; there's a dead spot off idle that requires a few revs to bypass when leaving from a stop (sometimes it flames out anyway), but once rolling, there's good torque down around 2,000 to 3,000 rpm, enough so that second gear feels almost as strong as first.
Yes, it sends out strong vibrations but for most of the time it's a pleasant, soothing feeling and not annoying. Just remember that you are working with authentic 1950s horsepower (27.2hp @ 5250 rpm) so don't even try to challenge any modern bike even with the same cubic capacity. However, 1950s horsepower is more than enough to stay ahead of most traffic from stoplights around town.
Plus, people stop and stare.
Strangely, moving from a red light will require revs above 1,500rpm before the clutch can be released. The big piston needs momentum; and usable power is not immediately apparent slightly above idle. I have been caught in this spot twice.
A light clutch pull and a smooth shifting five-speed transmission make it a very rider-friendly bike. One reason Royal Enfield switched to UCE was to reduce friction between the gearbox and clutch, lowering transmission losses as a result. It only takes a bit of effort on the shift lever to kick it into gear and engagement was reliable.
Gearing is surprisingly wide and i frequently wound out second gear for everything it's worth.
Without the stock seat, the individual sprung seats got me to adopt a slightly more cruiser stance (butt backwards, arms slightly stretched) which actually was not too bad. The standard seat should provide a neutral, straight up riding position suitable for most riders.
Aided by telescopic front suspension and twin gas charged shock absorbers with 5-step adjustable preload in the rear, the Classic 500 gets around the city roads with ease and takes up the bumps and holes smoothly. Even while, tipping the scales at 190kg (wet weight), this big boy is a leisurely performer – fast enough to keep up with city traffic and very pleasant on the freeway.
Some trademark Royal Enfield heavy vibration comes through the handlebar and rubber-covered foot pegs between 80kmh – 90kmh. Now if only some of the vibes that set into the bars and foot pegs at that speed could be remedied.
In the city the bike performed well as I expected, its low height and relaxed seating make it an adequate town companion, but not all that great for city jams where sharp turns are needed on the spot. It is surprisingly agile though, making passing in between vehicles an easy task.
While riding on the highway, I managed to hit 130km/h for 10 seconds before headshake from the handlebars became a handful. However, you wouldn't want to be cruising at that speed for long as the chassis, suspension, steering and tyres might be far from adequate for that purpose. To make make the most of this bike, get to know the engine's sweet spot which is somewhere around 3,500-4,000 rpm where the engine simply purrs like a contented tiger.
Personally, 100km/h is the more decent speed and comfortable.
This handsome fella does not come with a fuel gauge and the only indication that it is time to top off the tank is a small icon that begins to flash on the spartan instrument panel. I can live with that since the bike is able to give generous mileage.
All the indicator lights (neutral, turn signals, hi-beams) are located in the speedo and are quite difficult to see under bright sunlight. And surprise, surprise – the tyres are not tubeless. Keeping true to tradition, tube tyres are employed but they display notable wallowing around hard corners and sometimes certain uneven straights.
Most modern owners would most likely swap out stock tyres for modern tubeless ones; some riding buddies commented that they would consider slightly wider touring tyres with a modern thread pattern for added safety, but I admit this loses the authenticity a bit. So if you're planning on a road trip around Malaysia, please bring an extra set of spare tubes. Bummer!
The gas-filled rear shock absorbers (which look a lot like copies of a well-known Italian make) felt harsh until I adjusted them down onto the next to softest setting. Now, the rear suspension felt settled. The front forks don't dive under heavy braking but they do let the rider feel every uneven road surface.
Again, perhaps a bit too stiff for a bike like this, but it boils down to personal preference!
Meanwhile, the suspension provides a firm ride on the back side in particular thanks to dual shocks on the swing arm and dual springs under the seat. I wouldn't mind a bit more damping on the front fork which took hits hard at times even with 130mm of travel.
When it came time to stop, relied on the solid, grippy two-piston caliper of the 280mm disc of the front brakes because the rear drum is mush and you really have to push down hard on the pedal to get it to bite. And while you can achieve decent lean angles on the bike, the arm of the rear brake pedal runs below the foot peg and grinds on sharp right hand turns. Watch out for that!
The electrical system built on this machine is modern; alternator/12V complemented with a simple fuse system and a 60/55W headlight that is bright all time. All the handlebar switches are solid and robust; they operate easily and are as good as the stuff on present bikes.
The amazing thing about these bikes is you can park next to anything from a Maserati to a Harley and the Classic 500 still attracts all the attention. It's not a badass and neither is it a powerhouse, but simple, dependable Joe without any extra bullshit.
The Royal Enfield Classic 500 retails from RM 37,888.00 and there is also a smaller rascal at 350cc that starts from RM28,888.00. The only official dealer in Malaysia is The Big Bike Shop in Puchong, Selangor.
THE HARD FACTS
Royal Enfield Classic 500
Tested: 500cc, Single Cylinder, four-stroke, five-speed gearbox
Price: RM 37,888.00 onwards (depending on colour)
Power/torque: 27.2 bhp @ 5,250 rpm / 41.3 Nm @ 4,000 rpm
Top speed: 135 km/h (estimated)
Range: 13.5 litres @ 300km (estimated)
2012 Royal Enfield C5 Bullet Classic Chrome For Sale – Austin, Tx 78745…
Royal Enfield Machismo 350 price Royal Enfield Machismo 350, Royal Enfield…
Royal Enfield – CycleChaos
Club News
'39 Royal Enfield Bullet 350 Vintage Motorcycles