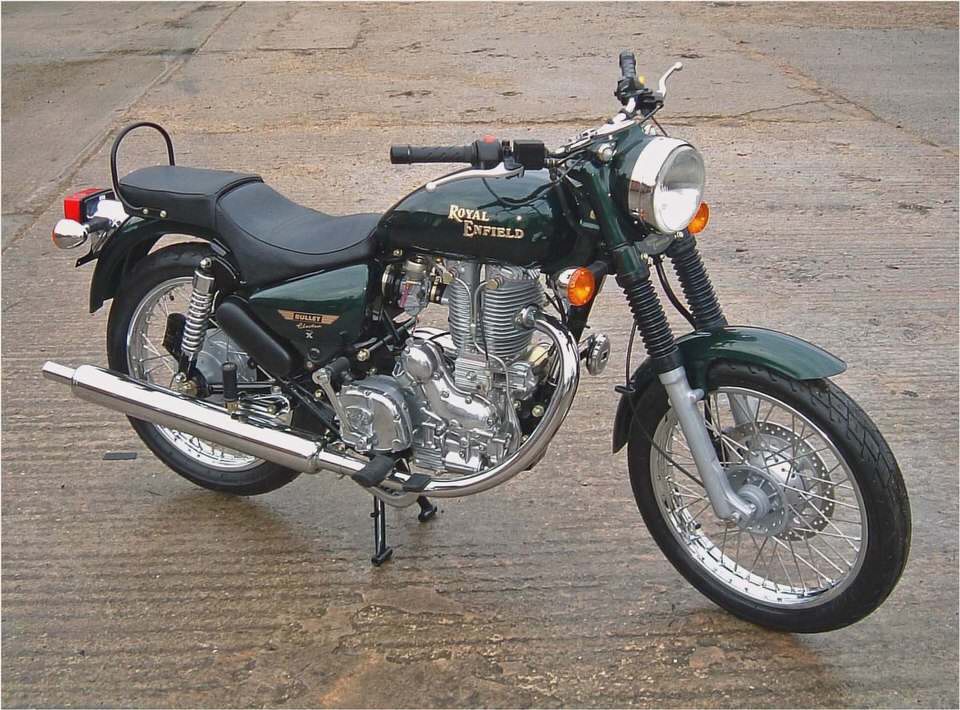 Thursday, September 25, 2008
What's ahead for Royal Enfield in the U.S. Kevin Mahoney has the answers
Royal Enfield has a better Bullet coming to America but it is not the Electra X on sale now in Europe (shown above). The man with the answers is Kevin Mahoney of Classic Motorworks. the U.S. importer. I asked him if the Electra X with unit-constructed engine ( UCE ) tested in Britain by Motorcycle News recently is the Bullet we have coming.
It's not. The engine is coming, but it is coming in a better motorcycle. Here is what Mahoney had to say:
(That) Bullet Electra X is a stop-gap bike being sold in Europe. They went to Euro 3 last year and the Lean-Burn engine didn 't cut the mustard emissions wise. That left those guys with nothing to sell. Some… bought a year's worth of AVL Electras (in advance of the standards).
The rest of the countries took Electras with the UCE stuffed into it.
This was good for us as the engine gets wrung out even better than it had been. To date the only issues have been to slightly refine the EFI mapping in very cold conditions. When it is quite cold it had a slight flat spot, but I am told that Keihin (makers of the electronic fuel injection system) worked that out easily.
The downside is the confusion it has created. The article you reference is a good example.
What isn 't apparent and is only known to a few is that the new bike (that is coming) is about as new as it can be. For example the body work is being made by a new and more expensive vendor. The engines are being machined by a new company that makes Japanese engines so that they are better than current ones, which aren 't too bad in and of themselves. The entire frame is new and was designed by the people in Italy that make Ducati frames.
The new bike really is a new bike. There are a few things that are the same, but not many. At a quick glance it will look like a more retro-model of what we have now, but a closer examination will reveal that it is a way different bike.
It is unlikely the Electra UCE will see the light of day here in the U.S. If it does it will be not (with) the new frame, etc. It really is just a stop-gap measure for the Europeans.
What we will see here is the new bike (code name C-5). It will be introduced on Oct. 7 at the INTERMOT in Cologne, Germany. We expect to see the bikes sometime in 2009. It may take us a bit longer to get them here because they have focused on Europe first.
We now have a bike at an EPA testing lab to get an EPA certificate. This will be no problem as the bike runs extremely clean. With the EFI and a three-stage catalytic converter it is really a Green bike.
The claimed mileage of 87 mpg is also probably quite realistic.
The new C-5 will be more expensive than the current Bullets, but you will also get a lot more for your money. At this moment it looks as if we will have the current Lean-Burn line for 2009 as well as the more expensive C-5, which will give the consumers a better choice of technology and price point. Pricing is not set but they will NOT be as expensive in the U.S. as you see ( UCE Electras ) in Europe now (which is about $7,500 in England, according to Motorcycle News).
The new engine should be a great thing to tinker with. It is designed so that it can be pumped up to 40 hp with no sacrifice to reliability. It will be brought to the market in a very tightly controlled form that will meet all emissions standards and should be in the neighborhood of 25-27 hp.
I am told that you can put a sport exhaust on it and the horsepower goes way up, but then of course you have eliminated the catalytic converter, which is illegal.
We do expect a line of 'race track only' parts to become available though. I have ridden one and it is really strong with a lot of torque. They spent a lot of time and money on getting the "thump" right, which is totally critical to sales in India.
I expect to know a lot more when I get back from Germany next month.
Mahoney (everybody calls him just Kevin) shared more about new products coming from Classic Motorworks. More on that next time.
Royal Enfield Bullet Electra Deluxe price in India as on Mar 12, 2014…
Royal Enfield Machismo 500 – Motion blur
My new Royal Enfield Classic 500 EFi !! – Page 95 – BCMTouring
Royal Enfield Bullet 500 specs Archives : Latest Mobiles, Cars, Laptops…
Royal enfield review,users opinion,mileage,prize,comparison with otherbikes