User Rating: Excellent
Reliability:
Comfort:
Handling And Control:
Quality and Craftsmanship:
Pros: Agile, swift, steady. and just as such with a passenger.
Cons: The engine is a little cranky waking up on cold start-ups, and not so smooth.
The Bottom Line: I have a 2006 model. It is a good starter bike, yet it has power at 800 cc's. It is of exquisite design, mostly Chrome metal, not plastic!
Gas prices, sheesh!
Okay. I am a whimpy guy. 140 lbs, thin rail frame, 5′ 6 tall. Without much muscle, at 45 years old — I'm not the kind of guy you'd think would be on a 443 pound Suzuki S-50 motorcycle.
Frankly, I have allergy panic attacks while sitting in my car, stopped at a light, am dependent on sleep-inducing Benadryl to control asthma, and am afraid of motorcycles, let alone riding one drowsily, in a daze, in traffic.
But gas prices are so high! When will the madness end.
So. before I learned even to ride a motorcycle, or to effectively control my hay fever through immuno-therapy.
I buy a Suzuki S-50 at my local dealer after comparing the Suzuki Boulevard with other makes such as Kawasaki and Harley Davidson's, taking the weight, size, and power into consideration of each unit.
I then take the M otorcycle S afety F oundation's Basic Rider's Course, received a 100% on the written test, and spent ten hours of grueling motorcycle practice on a hot, high school tarmack, the end of a means to which I finally obtain my motorcycle license.
But for safe riding, you cannot include alcohol or any drugs that might make you drowsy so.
I had to go to an allergist so that I may embark on another, safer path of allergy treatment, immuno-therapy. I was weened off Benadryl (for testing purposes) and coughed so hard that I threw my back out! Ten hours of training while inhaling motorcycle exhaust along with natural airborne allergens can be very hard on you if you have asthma. Especially when you decide to get allgery-tested afterward . and are taken off of your life-saving medication for testing purposes. can I say Duh? .
Anyway, I have managed to put 50 miles on the Suzuki Boulevard S-50, with a sore back, and. I take Benadryl at night, for now, so that I can function more easily without drowsiness . during the day.
Slowly, my confidence in riding has increased, yet I still only take the bike out for a ride early in the morning, or, late in the evening when traffic is light.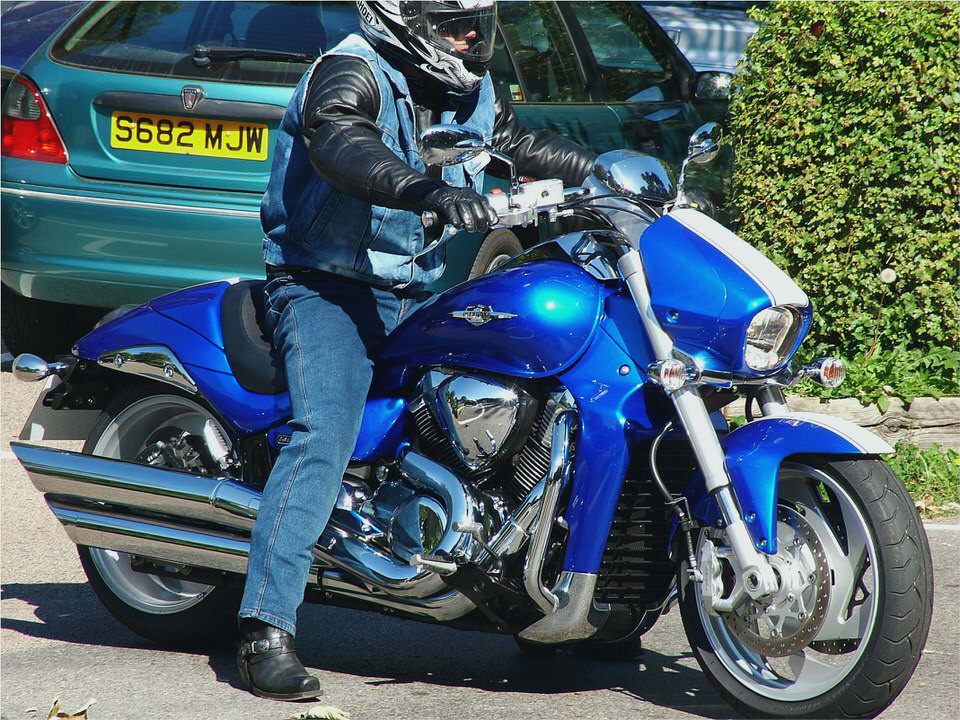 The S-50 handles nicely and is very easy to navigate. Being equipped with 800 cc's, it is very powerful and can lurch if your not experienced. If you have never ridden before, point the bike out toward the garage exit before you try starting 'er up.
Else, you may end up busting through your living room wall like I almost did, out the other side, and into the lake.
The bikes that our MSF Rider Course provide are around 300 cc's or so. Transitioning over to the S-50 800cc bike is easy from the bikes you actually learn to ride on. The S-50 swerves easily, to avoid obstacles, and then brakes well, bringing you and the bike to a definite halt. (The front disc-brake does squeak a little . at times, even though it is not applied.) To me, it's a good thing knowing the shoes are sitting that close to the disc, ready to stop me if they need to.
I have already included a passenger in my riding, a 200 pound 6'3 man. The bike handled well with this passenger, stopped when I wanted it to, sure and steady, and had plenty of pick-up in the git-up 'n go. These bikes ride very smooth and are remarkably stable with a passenger.
Who'd of thought? I did buy and install the rear, Sissy Bar accessory . $160, for passenger confidence and security. This simple accessory addition requires the removal of the motorcycle seat, the side panels, and complete removal of the rear turn signals and their wiring –it is quite an involved ordeal.
Be sure to have the dealer install this Sissy bar for you unless you thrive on tedious mechanical work with a socket wrench, and you love to do electrical work.
Anyway, to sum up.
I no longer get that choked-up, scared-of-it feeling when I look at the bike. It is no longer a monster, but is now a friend that listens to my commands, however frail a body that they come from. My head no longer wobbles from the weight of the helmet,lol, and I am steadfast and strong while riding and beside my motorcycle friend.
Perhaps you will be, too, and look so smart next to your Chrome-plated metallic Suzuki Boulevard, S-50 motorcycle.
Recommend this product? Yes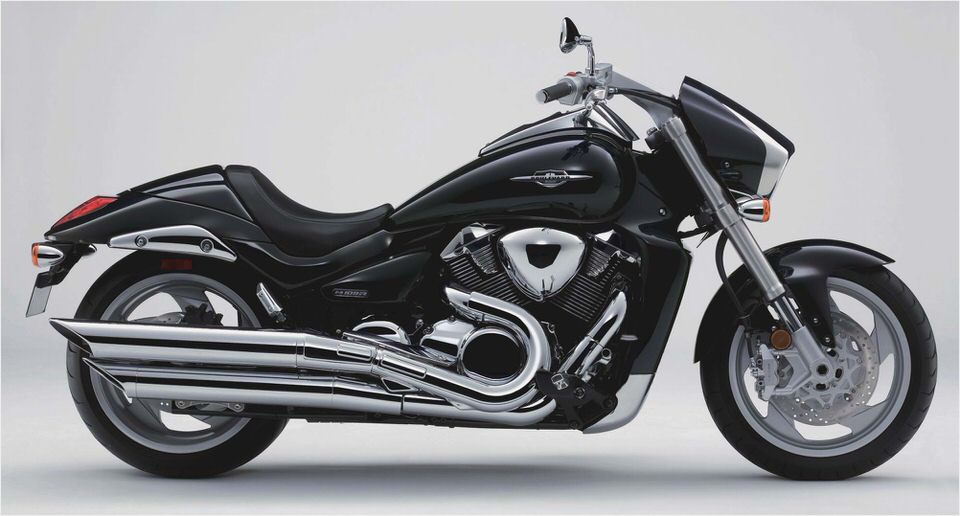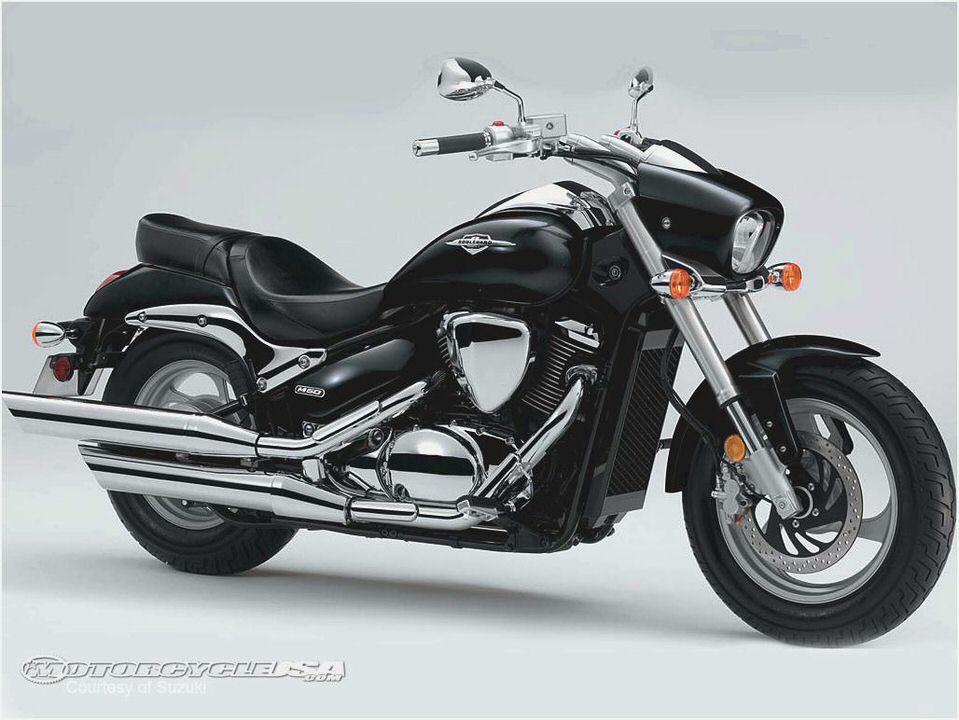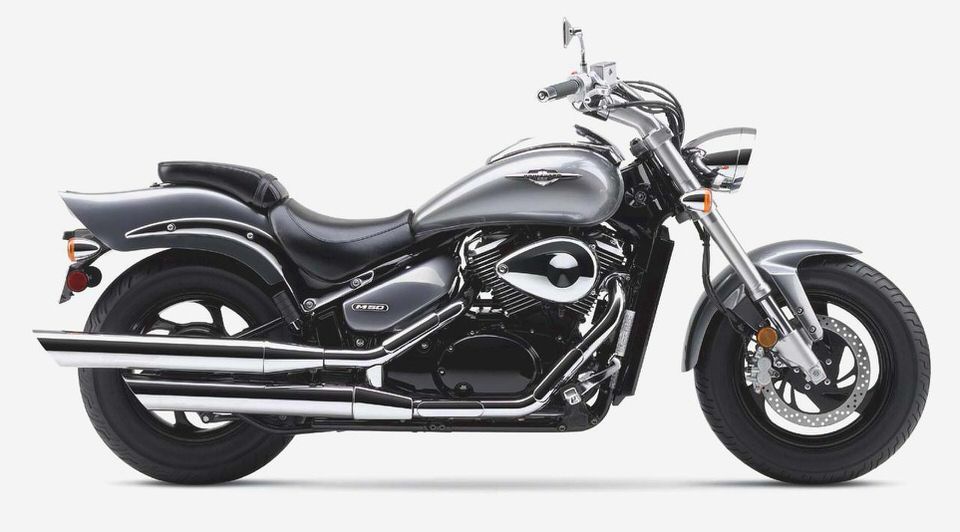 2009 Suzuki KingQuad 400 AS
Tokyo: Suzuki brings slew of car and bike concepts to Tokyo Just Car…
2003 Suzuki VL 800 AFT Customs – Motorcycle Cruiser Magazine
Brno GP: Suzuki Race report Daily motorsport news
'82 Suzuki Katana Vintage Motorcycles