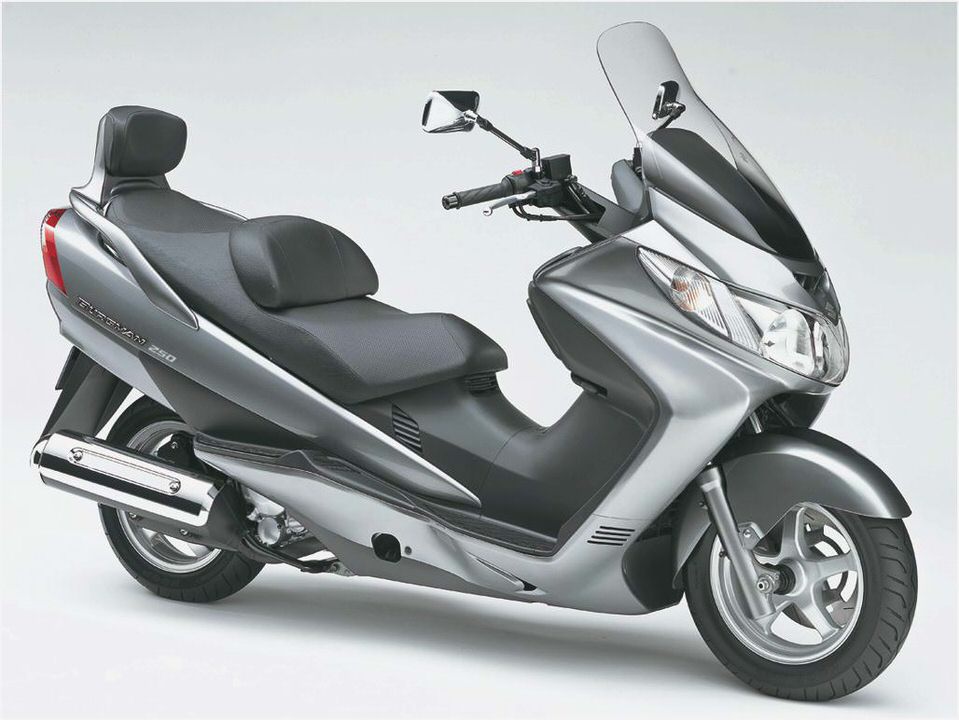 SUZUKI BURGMAN 400 (AN400) – OWNER REVIEWS
2004 SUZUKI BURGMAN AN400
Milage: +30,000 Miles
Likes: Reliability, ease of maintenance, Comfort. 85mpg. IMP.
Dislikes: Small wheels, High oil consumption
Review: " I have owned this scoot from new and have now clocked just over 154,000kms. It has cost me over 8 years, $6500 in maintenance costs, mostly spent on tyres. My 4th drive belt has now done 36,000kms – nearly twice that recommended by the OEM but shows very little signs of wear It can be an expensive bike to maintain, but if you can do the basics like belt, valve checks, oil changes etc. then the running cost can be no different to that of a similar sized bike.
In the 8 years of ownership it has broken down 3 times, through all of my own doing. Variator nut working loose, destroying both housing and drive cone, 2 times and the ignition switch burning out due to using bigger wattage head light bulbs than recommended.
Yes, the windscreen is too small but by adding a 120mm hi laminar lip, and side handle grip deflectors, problem solved. Right from the day I purchased the bike, it consumed oil. Doesn't burn it, just expels it through the PAR valve. Many K3-K6 bikes have been lost due to loss of oil, seizures, but if one checks the oil before any long trip and not let it drop below the indicator, no problem.
1 cup of oil every 400kms is lost . The K7+ model doesn't have this problem, but they have noisy clutches.
I have replaced both clutch and brake pads at 96,000kms, not because of noise. Can't complain. As far as comfort goes, I have ridden 760 kms in one day, suffering mild rear end numbness and a sore wrist.
I have made a permanent seat pad of 3 inch foam which has solved the problem, but without the foam the standard seat is not up to it.
I have had numerous real bikes, in the past, with their odd quirks and thrills, but at my age I'm quite content to cruise at 5400rpm. If you want the bike to last don't hammer it, get a bigger bike. That's the secret to their longevity.
For reliability, no other scoot can beat them. Words I will vouch for. – JD
2007 SUZUKI BURGMAN 400 AN
Milage: 10,000 – 20,000 Miles
Likes: Reliability, Quickness, Comfort
Dislikes: Windscreen, Seat
Review: "Having moved from the city to the country and effectively doubled my commute, I knew I was going to need something bigger than my little 125cc scoot. While the Burgman 400 was not my first choice, I have not been disappointed in it.
She is more of a cruising scooter than anything else. The Burgman seems to run best at highway speeds. Open her up and let her go – it's easy to creep up to 80 mph and not hear any whine in the engine. My average mpg is in the low 60's even at those speeds.
It's also a comfortable bike, in that you're sitting in a very relaxed position. With a comfortable seat you can put 100+ miles on the bike without thinking about it.
Storage is ample, with enough room for my full face helmet, gloves, sweater and armored jacket when I am at work. Basic maintenance (oil changes for example) is simple and easy to do.
Now the bad news: The Burgman's stock windshield is crap. At 6 feet tall, the air blows right over it and into your face. Not that much of an issue but it will create a weird buffeting effect and create a lot of wind noise.
Best to get a Clearview or Givi windscreen and replace it. The seat is not the most comfortable thing in the world, but it's easily fixed with some sort of additional padding."
2008 SUZUKI BURGMAN 400
Milage: 1000 – 5000 Miles
Likes: Styling, Engineering, Ergonomics
Dislikes: Saddle, Dashboard appearance
Review: "I love my Burgman. It's my second one. It's extremely well thought out and the ergonomics are simply perfect. As a single cylinder it could be considered noisy, but it's far from being an annoyance.
It's got plenty of pick up and is very well balanced. So well that you can balance it with the throttle if you lean too much.
Saddle is tiring over long distances and with sunglasses, you can't see the speedo. It should have white dials! I've installed a GIVI which is a bit taller and I have no wind whatsoever on my face.
I recommend that.
I love the styling. People always comment on that. I can put 5 plastic grocery bags under my saddle. I've effortlessly run it at 95mph on the highway. But Shhhhh."
2008 SUZUKI BURGMAN 400
Milage: 1000 – 5000 Miles
Likes: Not one issue with this baby. Fast great ride, Lots of leg room, MPG is great, Lots of storage under seat
Dislikes: Hard to see gauges with sunglasses is my only complaint
Review: "I had 9 bikes since spring of 2012. Two 750 Shadows, Two Honda Reflex, One Honda Helix, an Aspencad 1200, a 250 Q Link, a 2004 Aprilia Atlantic 500, 2004 Silver Wing and finally a keeper: my 2008 Burgman 400 S model. I wish I had rode one 9 bikes ago. The Givi Windscreen is ok but not in windy condition.
I will not change the Burgman windscreen.
I ride with SOS ( Seniors on Scooters) in Richmond, In. Most members have a Silver Wings and Helix's, which are all great bikes but my choice is my Burg 400. I am 6'4" and it has great leg room, I did add a top box which looks like the high dollar Givi box but costs a lot less money.
It holds two helmets, rain suit and more things. The under seat storage is huge too. So this is my keeper for sure. Honda makes excellent bikes too. -)"
2011 SUZUKI BURGMAN 400
Milage: 0 – 1000 Miles
Likes: Ergonomics, Handling, Performance, Braking, Fun
Dislikes: None yet, but could be an inch or two more legroom for taller riders. It fits me well at 5'10"
Review: "OK, I just got it yesterday and have 50 miles on it so far, but I am an experienced MC rider and LOVE the feel and handling. My last bike was a 2000 BMW R1100RT, which I loved riding too. I always considered scooters small until I test drove the Burgman's this weekend. The 650 was very impressive for ride, features and performance, but the 400 had much of the same with a more practical side and still plenty of performance for my needs.
It honks down the freeway at 75 or 80 with passenger and feels good. I would not want to do a 1000 miles with a passenger, but the Burgman would not complain except on a very steep hill perhaps."
2011 SUZUKI BURGMAN 400
Milage: 0 – 1000 Miles
Likes: Stable, quick, practical, economical, copious storage, fun
Dislikes: Seat could be more comfortable for long rides, and the windshield could provide more protection
Review: "I own a 2004 Honda Helix; though I like and enjoy the machine, I have longed for something faster, heavier, and more stable when subject to winds or cross drafts, like when an 18 wheeler passes you. I considered the Kymco Downtown 300i, the Yamaha Majesty, and the Suzuki Burgman 400. When I saw a brand new, leftover 2011 Burgman 400 ABS for $6,500, I HAD to get it!
My Burgman has about 750 miles on the clock, which means I just did the first oil change. Though I haven't had a lot of miles on the machine yet, I've had enough to form a good, initial impression. Here's what I think so far.
The mileage for a machine of this size and power was a pleasant surprise! I've seen 50 mpg when riding mostly in the city, while I can pull high 50s to low 60s on a trip. Considering that my Helix gets high 60s to low 70s on a similar ride (i.e. on a trip), that's great!
Having the extra power and speed is nice to have; it means that freeway riding is now a VIABLE option for me. Though back roads are more fun, sometimes freeway use is necessary. Though the Helix and other 250cc scooters are freeway legal, they're not freeway viable, in my opinion; in other words, if one uses a Helix on the freeway, it should only be for short distances, like from one exit to the next. Conversely, the Burgman 400 will handle freeways with aplomb.
For the added power, stability and speed that the Burgman 400 offers, the 10 mpg reduction was well worth it.
The stability of the machine is a welcome surprise also. The Helix, though a fun, little machine, is also a light machine. Though its light weight make it ideally suited for operating on city streets, its light weight make it scary when operating on windy days or around 18 wheelers.
While you feel wind gusts on the Burgman, you just feel them enough to know that they're there; you don't get the crap scared out of you when you hit a nasty gust of wind. The Burgman 400 will go where you want to, and will continue to go there until you change direction.
Because the Burgman 400 is bigger and heavier, it simply isn't as quick and nimble in the city as a 250cc scooter like my Helix. One cannot expect the Burgman 400 to be as agile in the city though. One, it has bigger wheels (14 front with a 13 rear vs. a 12 front and a 10 rear for the Helix), which generate more gyroscopic force, which means it's harder to initiate a turn. Secondly, the Burgman 400 outweighs the Helix by some 150 pounds.
That said, the Burgman 400, with its low center of gravity, is fairly easy to maneuver in the city.
How are speed and acceleration? In a word, both are excellent. Unless going against a high performance bike or car, you will handily pull away when the light turns green. Top speed is good too.
Whereas my Helix will barely hit 70-72 mph, the Burgman 400 will do that all day long and have something left over. Top speed so far was 93, which I hit for a few seconds a couple of weeks after I got it. Once the engine loosens up, I expect the top speed to be in the neighborhood of 95-100 mph-more than fast enough on two wheels these days!
Finally, the the Burgman is PRACTICAL. It has a huge storage compartment beneath the seat! I dare say you could easily put 2-4 bags of groceries in it, depending on what's in the bags. Did I mention that the underseat storage compartment is lit?
It is! That's a nice, thoughtful touch. The glove box is a good size, and it has a 12V outlet so you can charge your mobile device. In the dash, there are two openings, one on either side of the handle bars; these compartments are big enough to hold your garage door opener, change or money for tolls, and other incidentals.
You push a button, the doors pop up, and you swing them to the side.
However, with all that the Burgman 400 has going for it, it's not a perfect bike; it has issues, like any two wheeler does. My main gripes with the Burgman 400 are the seat and the windshield.
My main gripe with the bike is the seat; it's just a tad too firm for long rides. I was out on an all day ride this past Sunday, and I was feeling it when I got home. Consider getting a seat pad from Aerostitch, or getting a Corbin seat if one is available.
My second gripe with the Burgman 400 is that the stock wind screen simply does NOT provide the protection I would like. Though it protects my upper body from wind blast, it directs the slipstream directly at my helmet; ear plugs are a MUST on this machine! I've read about this shortcoming elsewhere, so this was no surprise.
I am definitely going to change the wind screen in the near future though. The stock one simply is not up to scratch.
Overall, I am very pleased with my purchase; the Burgman 400 ABS is everything I thought it would be. It's quick, stable, practical, economical, and fun. It's a machine that's big enough to some touring, yet it's light enough for in town use too. It's not too big, not too small; it's not too fast, not too slow; it's not too heavy, not too light.
To put it another way, it's like Goldilocks; it's just right! I do wish that the stock seat and wind screen were better though. The big question is this: would I buy this bike again? Absolutely!
If you're looking for a bike that is practical and can do a lot of things well, you cannot go wrong purchasing the Burgman 400. My only regret is that I didn't get one sooner. )"
2012 SUZUKI BURGMAN AN400
Milage: 1000 – 5000 Miles
Likes: Color (Gray)
Dislikes: Most everything
Review: "This is my third Burgman 400. Previously I had 2003 2005 models and both were excellent machines. The 2012.eehh not so much. The clutch tends to be more chattery, the engine a little more raspy (industrial sounding) the ride a little more choppy.
Also, the engine surges (more so when cold).
Three times I've had it back to the dealer and they keep telling me it's normal. I don't think Suzuki improved it much and I'm really disappointed with it. Thank God they gave me zero percent financing on it. If as my dealer says this is normal, I'll be looking to get rid of it."
2012 SUZUKI BURGMAN AN400
Milage: 1000 – 5000 Miles
Likes: Build Quality, Design, Features(instruments), ABS and full discs, Low stand over (27in), Comfort, Highway use, MPG
Dislikes: Standard size windscreen, Lack of standard passenger backrest.
Review: " I searched for several scooters in this power range, and bigger, but the Burgman 400 always came out ahead of the competition. It seemed more well thought out than the others, not too big or too small (just right)for a variety of driving conditions. The features and quality seems to have most people and dealers sold on this scooter compared to the others, and I have not been disappointed in the least with my choice "
Return to the Suzuki Burgman 400 main page.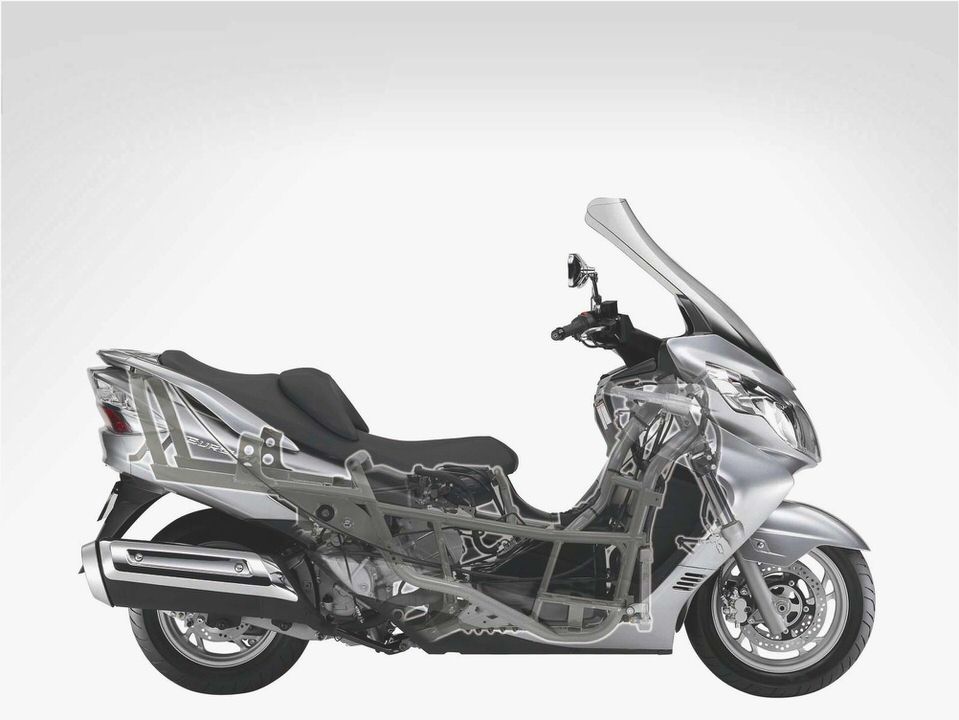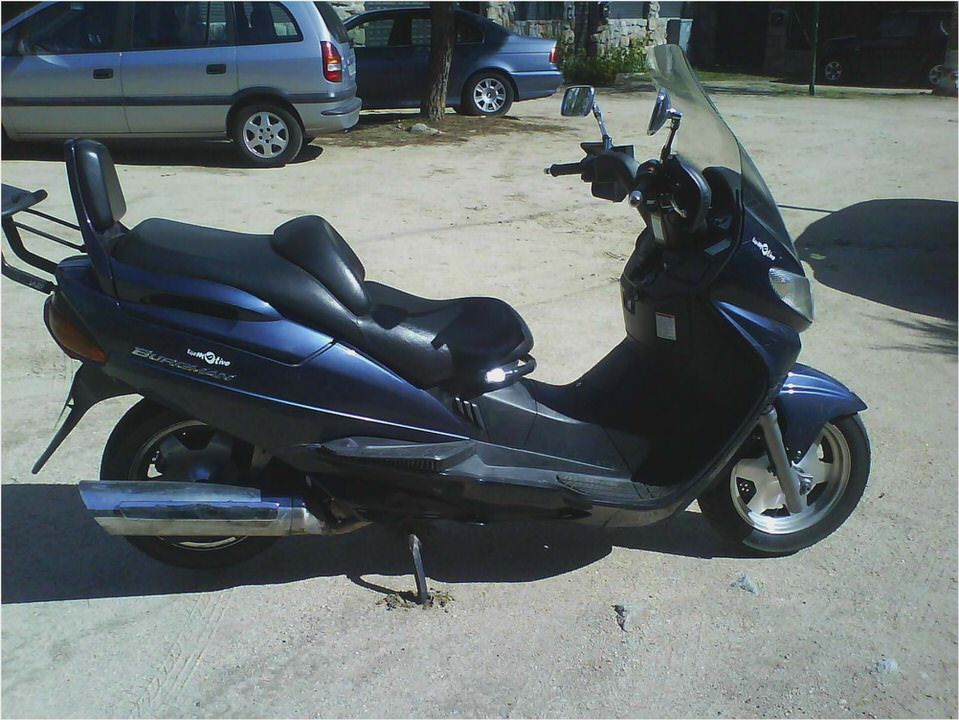 2014 Suzuki GSX-R 750 Review Unchanged & Razor Sharp
2008 Suzuki B-King – Motorcycle Review How To Save Money And Do It Yourself!
2008 Suzuki SX4 – Kelley Blue Book
Bike Review – Suzuki 650 Gladius
Suzuki VX800 Reviews, Page 3 of 3 – MotorcycleSurvey.com