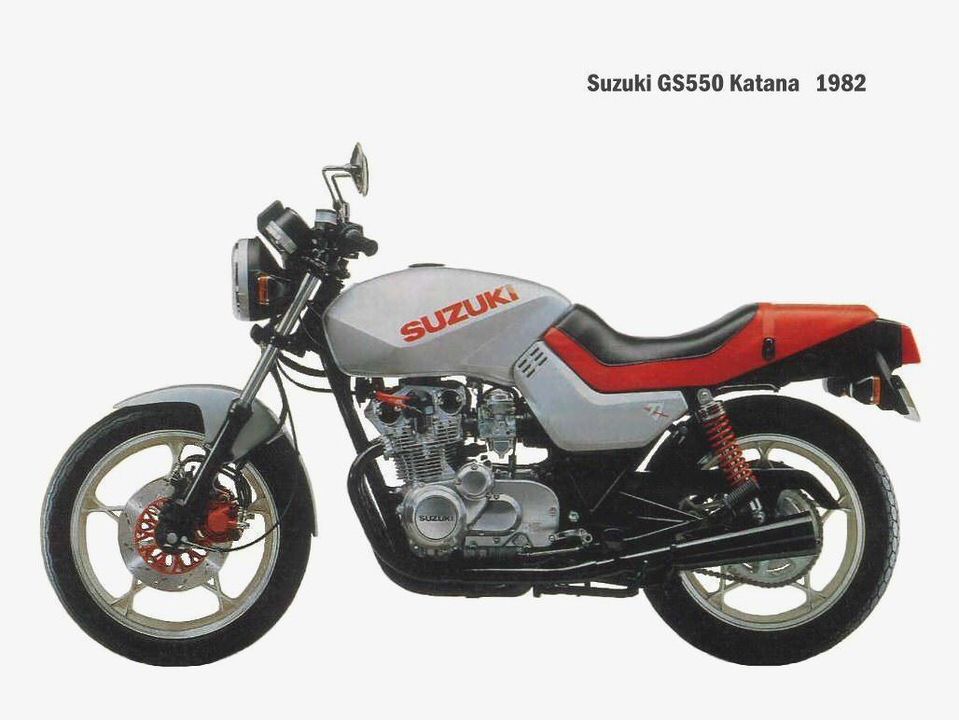 Its about time I done a report on this thing.
Here's the story, back in 1983 Kevin's father in laws brother bought this.
He rode it for a year then I think it was a heart attack that made him stop so it sat for years. In the mid 90's it was discovered in the garage so was dragged out by his son, no CBT etc etc and he got banned so it went away again.
Around 2000 Kevin saw it in the garage and asked about it. A deal was struck then Kevin set about getting it fixed. He then got it mot'd. However he then decided to strip it down to paint it.
So the wheels were sent off for powder coating (Ј120. ), new tyres fitted and everything painted, then it sat never being put back together.
I have known Kevin a few years and until a few months back I never even knew he had this bike!
He asked me if I would put it back together for him and get it running. I said of course.
It was stored with no wheels on, carb stripped and off it and so on. This also meant a lot of bolts and spacers etc went missing.
So over the last couple of months we have been getting the bits together and making it back up.
First thing was the wheels, no bearings in them and spacers long gone. So went to a bike breakers and got them and bought new bearings. Ј45! mental!
Next was a new battery (Ј25), then I rebuilt the carb, I have pics of this will sort them later. After this added fuel and it fired up.
Only issue was the idle was about 4krpm and was difficult to rev. The main issue was the carb was knackered, it was heavily corroded so the clearances were massive after it had been cleaned up. So another carb was obtained that was taken from a running bike, this sorted that issue, you could also now rev it cleanly from idle to red line.
So back together it was taken out for a spin about, the issues were noted and were to be rectified.
Issues were;
Rear brake pulsed when applied
front brake light switch didn't work
horn didn't work despite being new all be it 10 years ago when it was laid up
various bolts needed split pins fitting
And that was it. So yesterday we finally finished the jobs off.
We went down to the scrappy so I could get a battery for the white chamade, whilst there we saw a laguna 2 with no front end and exposed horns. So I whipped em off and got them for free. Not bad.
This came with 2 horns, one low one high tone. The hi tone went on this bike and the low tone will go on the VFR400R.
Here is the horn fitted, a Suzuki with a Renault bit
Its suitably loud and impressive.
The next issue was the rear brake pulsing, this was due to the drum inside the wheel having corrosion on it. Wheel off and sandpaper to smooth the rust off, all in all took about 30 seconds now its fine. No pictures but you have imaginations.
The brake light switch, a simple switch but was silly money, so I had a ponder and was sure I could sort something out from Maplins. So I went in on Friday with Soneji and had a look about for a push to break round switch. I found one for Ј1.29.
So next day back at base off with the brake lever etc then set about making it fit. I had to grind the hole out a bit then cut a bit off so it would sit in properly. The wires were soldered on and jobs a good un
Anyway some pictures of the beast
In with some of the other bikes I have about, moved them all so I could cut the grass
Its a good wee bike though, compared to the 6 year old Chituma it feels solid as a rock, a lot safer by a mile. Brakes are pretty good as well. Only issue is acceleration but when your used to sports bike with 10 times the power I suppose it would seem slow!
Suzuki Dealers Kawasaki Dealers Victory Dealers Peugeot Dealers…
Suzuki DR650 Seat Page
2001 Suzuki Bandit 1200S
Suzuki Motorcycle Ghost Brackets
2013 Suzuki King Quad 400 Review, Specification, and Features