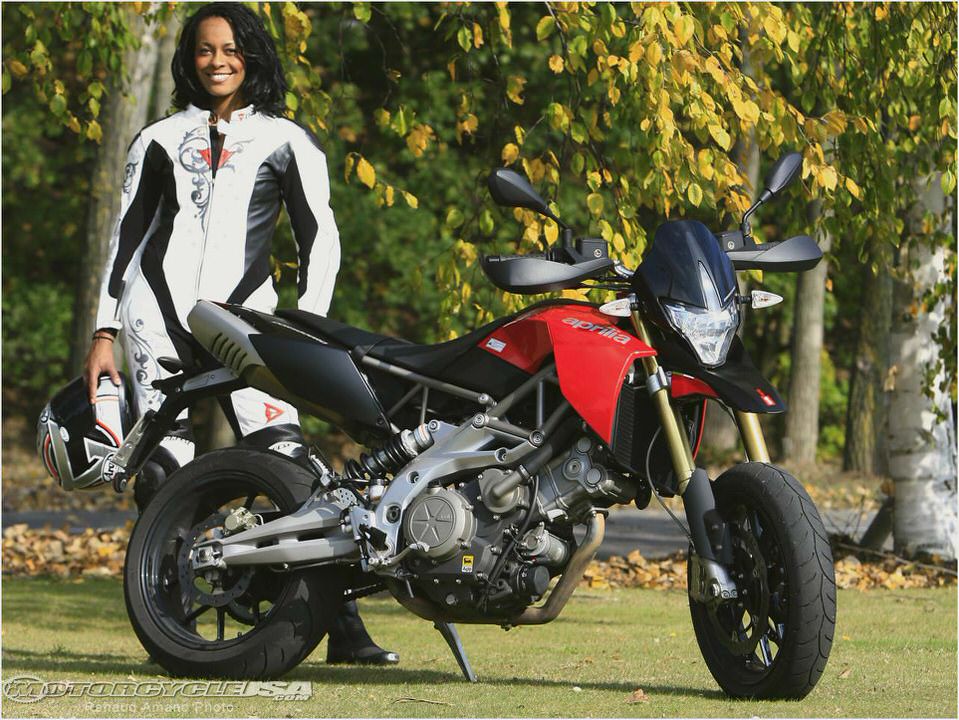 The Aprilia SMV 750 Dorsoduro Supermoto
Introduction
No compromise is the motto of this motard, created for pure riding pleasure. this elite, super-lightweight, high performance, twin cylinder machine is aimed at only the most demanding riders in search of a truly thrilling motorcycling experience.
Install a high power, high torque engine in a lightweight, agile frame. Add a streamlined design, wide handlebars and prestige components. This is the explosive cocktail just created by Aprilia's RD department.
The Aprilia SMV 750 Dorsoduro is an extreme motorcycle for the extreme rider, the rider who refuses all compromise in his quest for the best.
Once again Aprilia has amazed the motorcycling world with another highly innovative design, destined to dominate the maxi motard segment. The Aprilia SMV 750 Dorsoduro is not just another twin cylinder motard, but a motorcycle that embodies all of Aprilia's vast experience in competitive supermotard racing, a speciality in which Aprilia has so often dominated the competition.
The Aprilia SMV 750 Dorsoduro is the ultimate mix of incredible agility, sports performance, essential styling and quality build, and combines features taken from the worlds of supersport and supermotard motorcycles (including top competition machines). This concentration of performance and technology is build for absolute riding satisfaction and fun. A special bike indeed, extreme and elite, the SMV 750 Dorsoduro elevates its rider to the class of a true professional.
A riding position carefully calculated to deliver total control, a mighty 95 horsepower engine and an amazingly agile chassis are the distinctive features of the Aprilia SMV 750 Dorsoduro.
No bland machine for the masses, but a true thoroughbred that only expert riders can really appreciate, the SMV 750 Dorsoduro carries you into a world of high performance and even higher emotions that very few other motorcycles can enter. Graced with the agile handling of all motards, the SMV 750 Dorsoduro adds a level of power normally only found on road-going supersports.
An advanced engine and an exceptional chassis (typical of all Aprilia motorcycles) are the trump cards of the SMV 750 Dorsoduro, which also boasts sporting looks and a level of agility never before experienced on a twin.
Lightweight, agile, and powerful, the SMV 750 Dorsoduro benefits from a new generation of engine and some of the most advanced technical solutions found on any motard. Thanks to advanced electronics, its compact 90 V twin engine delivers power that rivals or exceeds that of many larger twins. And as Aprilia traditions demand, the chassis is simply unrivalled.
Developed to deadly effect on the super-specialist SXV, this mixed steel trellis and aluminium frame has become the hallmark of Aprilia motards. With technical specifications far in advance of the competition, this frame sets new standards for rigidity and agility.
But 'essential' certainly does not mean 'basic' on the Aprilia SMV 750 Dorsoduro. Components and performance are prestigious and the level of finish is worthy of a true flagship model. Radial calipers, hydraulic clutch, ride-by-wire engine control, wave discs, and matrix instrumentation with on board computer all combine to make the SMV 750 Dorsoduro unique.
With a power to weight ratio of a pure sports bike, the Aprilia SMV 750 Dorsoduro can thrill even the most performance-hungry rider.
Let's look at the features of the Aprilia SMV 750 Dorsoduro in greater detail:
90 V twin engine with four-valve heads, double overhead cam and liquid cooling
Ride-by-wire controls
Electronic fuel injection with the latest generation of injectors
Mixed gear and chain timing drive
Three way catalytic converter with Lambda probe
Compound steel trellis and aluminium alloy frame for extremely light weight and high torsional rigidity
Aluminium alloy swingarm with offset monoshock
Fully adjustable 43 mm upside down fork
Racing brakes with radial front calipers
Design: Conceived to Thrill
On essential machines like the Aprilia SMV 750 Dorsoduro, the minimalist and aggressive bodywork is nothing more than a frame for motorcycling technology, with engine and chassis becoming central to the overall design. The SMV 750 Dorsoduro is a radical, acrobatic, sports motorcycle with no space for frills or parts that are not essential to delivering maximum riding pleasure. That is why body panels are reduced to a minimum.
Just like a real racing machine, the SMV 750 Dorsoduro eliminates everything the rider does not actually need, including passenger footrests (available as an optional accessory). And no frills means a clear view of the bike's amazing technical components.
The Aprilia SMV 750 Dorsoduro is a concentration of pure technology, as you can clearly see from its mean, sporting lines. And aggression is expressed not only through masses of power and torque, but through extreme agility too. Though every part on the SMV 750 Dorsoduro is designed to be as light as possible, finish and quality are nevertheless superb.
The Aprilia SMV 750 Dorsoduro is built to satisfy its rider in every sense of the word.
The centre of the bike is impressively compact to facilitate movement under sports riding conditions. The rider really does become an integral part of the machine, shifting weight effortlessly to control power output under all riding conditions, even on circuits where classic motard wheelies and power slides are the order of the day.
The Aprilia SMV 750 Dorsoduro is incredibly slim and agile, with a riding position that puts you in total control. It only takes a few metres on a SMV 750 Dorsoduro to learn how to control the bike exactly as you want, and to develop a perfect symbiosis between man and machine.
The knife-sharp tail houses a twinned exhaust, a solution that not only gives the bike a mean, aggressive look but also achieves perfect symmetry and ideal weight distribution.
The V90 Engine: State Of The Art Technology
Aprilia's generous and ultra-modern V90 engine has already established itself as a leader in performance and technology.
On the SMV 750 Dorsoduro various aspects of the engine have been modified to adapt power delivery to suit the acrobatic nature of the bike. Endless hours of bench and road testing have led to the definition of an ideal mapping, allowing this twin cylinder power plant to set new records for its size and to surpass many engines of far greater displacement too.
A quick glance is all that is required to reveal the engine's main features:
90 V twin layout
Ride-by-wire control technology
Very over-square bore to stroke ratio
Four valves per cylinder
Double overhead cam with mixed gear and chain timing drive
Electronic fuel injection with two throttle bodies
Stick-coils integrated in the spark plug caps
Three way catalytic converter and Lambda probe
Hydraulically operated clutch
The latest generation injection system uses micro-spray injectors. Combined with optimised fluid dynamics, this solution ensures optimal combustion for maximum power and an extremely clean burn.
Sophisticated electronic engine management establishes the Aprilia SMV 750 Dorsoduro as the supermotard the others have to beat when it comes to performance.
Aprilia was the first manufacturer to use ride-by-wire technology on a motorcycle. This sophisticated technical solution is not intended to replace rider input but to assist the rider in getting the very best possible performance from his motorcycle. The Aprilia SMV 750 Dorsoduro is equipped with the second generation of electronic throttle control.
More precise and sophisticated mapping also contributes to improved engine management. Ride-by-wire control optimises throttle opening on the basis of a number of parameters, including engine speed, the gear selected, air flow, twist grip position, and temperature. The engine is therefore always able to deliver its best performance in acceleration by adjusting its torque curve to give a more satisfying and thrilling ride.
The advanced electronic technology on the SMV 750 Dorsoduro also delivers smoother and fuller power at low to medium engine speeds, optimising the functioning of the engine at low loads, when the throttle is only partly open.
Thanks to its high-tech systems, Aprilia's V90 engine delivers an amazing 95 hp at 9,000 rpm with 8.25 Kgm of torque at 7,000 rpm, record values for a 750 cc twin. This level of engine performance places the Aprilia SMV 750 Dorsoduro in direct competition with many bikes powered by far bigger engines.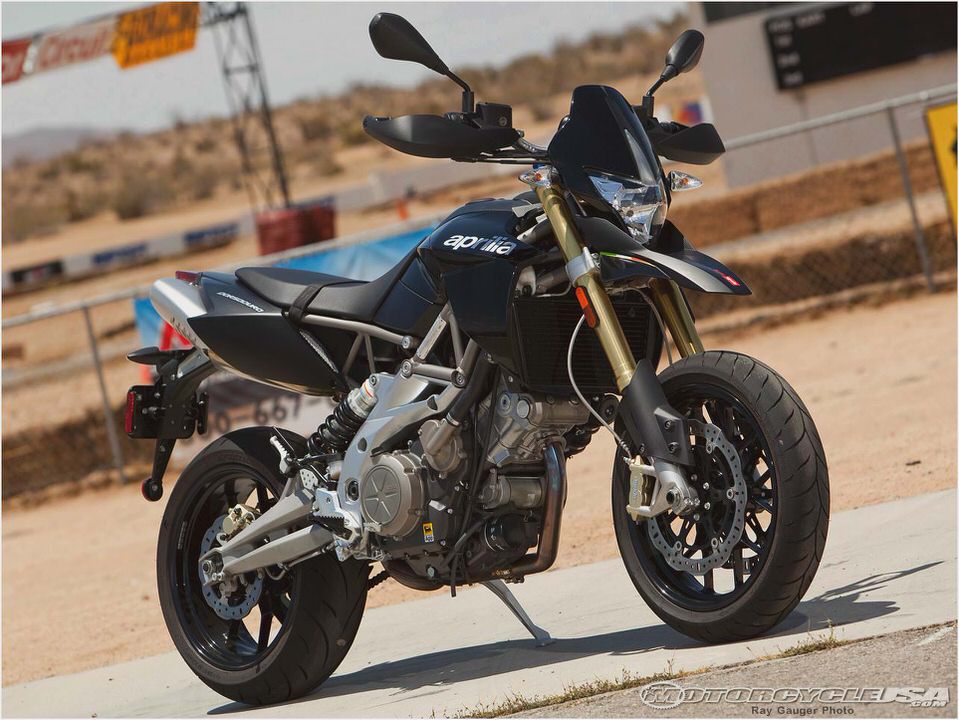 A latest generation ECU manages all engine parameters, with a CAN network carrying all signals to an instrument cluster that incorporates a self-diagnostic terminal. The CAN line uses only two wires to handle all data, dramatically simplifying the electrical system and reducing the overall weight of the motorcycle.
The exhaust is made entirely from stainless steel. The collector pipes meet in a single silencer under the seat before splitting again into two tail pipes. The large volume of the exhaust system also aids engine breathing and boosts efficiency.
Frame: Perfect Balance
The expert press has always praised the qualities of Aprilia motorcycle frames, and the SMV 750 Dorsoduro is not going to disappoint them. The SMV 750 Dorsoduro is once again destined to prove itself as the fastest and most balanced big motard on the market. Though its chassis is designed primarily to deliver unrivalled riding thrills, the SMV 750 Dorsoduro nevertheless amazes for its exceptional dynamic balance, a characteristic that makes it easy and intuitive to ride and that translates into perfect handling.
The frame embodies all of Aprilia's experience in world championship competition, especially that acquired with the mixed steel trellis and aluminium frames used on the SXV 450 and 550 Supermotard World Championship machines. The top section of the frame is formed by a tubular steel trellis. This is fixed to robust aluminium side members by special high strength bolts.
The complete assembly forms an extremely rigid yet lightweight structure and provides the perfect solution for taming the generous horsepower of the Aprilia V90 while still achieving typical Italian lightness, technicality and style.
A constant exchange of information between the engine and frame design teams has led to the overall refinement of technology and performance, and permitted perfect integration between engine and frame. The secret of a high performance, fun machine like the Aprilia SMV 750 Dorsoduro lies precisely in the parallel development of each individual component.
Of course, it's no coincidence that the design choices behind the V90 engine have also contributed to this impressively rational and effective frame. The longitudinal compactness Aprilia's V90 engine was, in fact, a fundamental factor in the creation of such an agile responsive motorcycle.
The laterally offset position and the acute angle of the rear monoshock is the result of precise technical choices, taken after careful consideration of a large number of alternative configurations. By locating the monoshock in this position, precious extra space has been made available to the exhaust collector pipes. The resulting exhaust system is optimally shaped and neither adds unnecessary length to the motorcycle nor transmits thermal stress to the monoshock, which is an essential component for the handling of the motorcycle.
The aluminium alloy swingarm is specially shaped and dimensioned to support the asymmetric stress imparted to it by the laterally offset monoshock, and boasts standard-setting rigidity for the motard sector.
Suspension: Effective On All Surfaces
Perfect suspension is one of the main objectives of all Aprilia design and development projects. Top quality suspension is particularly important on a motorcycle for which fun and excitement is a primary purpose.
The upside down fork boasts 43 mm stanchions and shell-cast bottom sections to hold the radial calipers. The fork is adjustable in spring preload and in rebound damping. This ultra-sophisticated design offers a superb sliding action and a long wheel travel of 167 mm, in line with supermotard philosophy.
Both the yokes are forged, and the top yoke is anodised for a prestige finish.
The laterally offset monoshock pivots directly on the swingarm in a cantilever configuration, and is also adjustable in spring preload and rebound damping. Rear wheel travel is 150 mm, again in keeping the requirements of a top level supermotard, on which effective, controlled long stroke suspension is a must.
Brakes: Racing Technology
The Aprilia SMV 750 Dorsoduro is equipped with the best braking technology available. The front brakes feature radial calipers with 4 pistons, the state of the art for the motard market. 320 mm floating wave discs emphasise the bike's aggressive supermotard character and give cutting edge braking performance.
The rear brakes incorporate another wave disc, 240 mm in diameter this time, plus a single piston caliper.
Both the front and the rear brakes are fitted with aeronautical type metal braided brake lines to eliminate the sponginess inevitably associated with conventional rubber hoses and to enable this truly top class braking system to deliver maximum braking precision.
Components
Motards are by definition essential, and even Spartan in design. This, however, does not mean that you have to do without top quality components or the sort of attention to detail you would expect on a premium model. Aprilia sets itself apart from the competition when it comes to choosing components too, as even a quick glance at the SMV 750 Dorsoduro will show.
Matrix instrumentation. The mixed analog/digital instrument cluster receives data over a CAN line and incorporates a memory that forms an integral part of the diagnostics system. The ultra-compact instruments feature a modern design and are extremely light in weight.
All functions can be accessed and controlled from the handlebars. The LED backlighting is white in the analog area and red in the digital area, and can be adjusted to three levels of brightness.
Dual taper anodised aluminium handlebars exactly like those fitted to Aprilia's racing supermotards. This super-lightweight component is specially designed for optimum dynamic control.
Hydraulically operated clutch for a consistently precise action and exceptional smoothness. The clutch is also self-adjusting and completely maintenance free.
Technical Specifications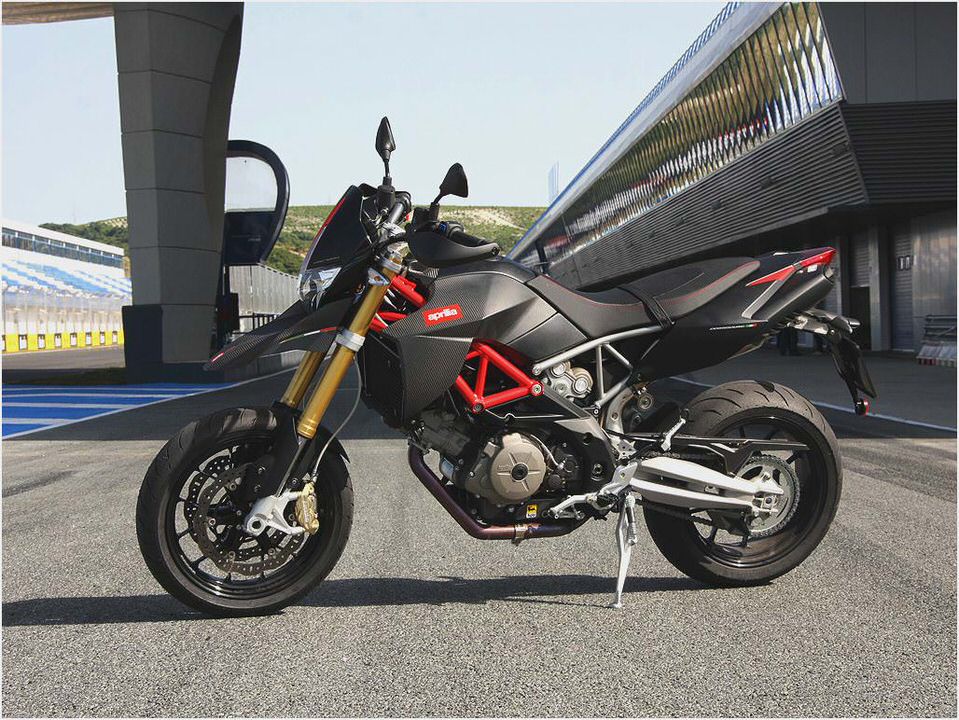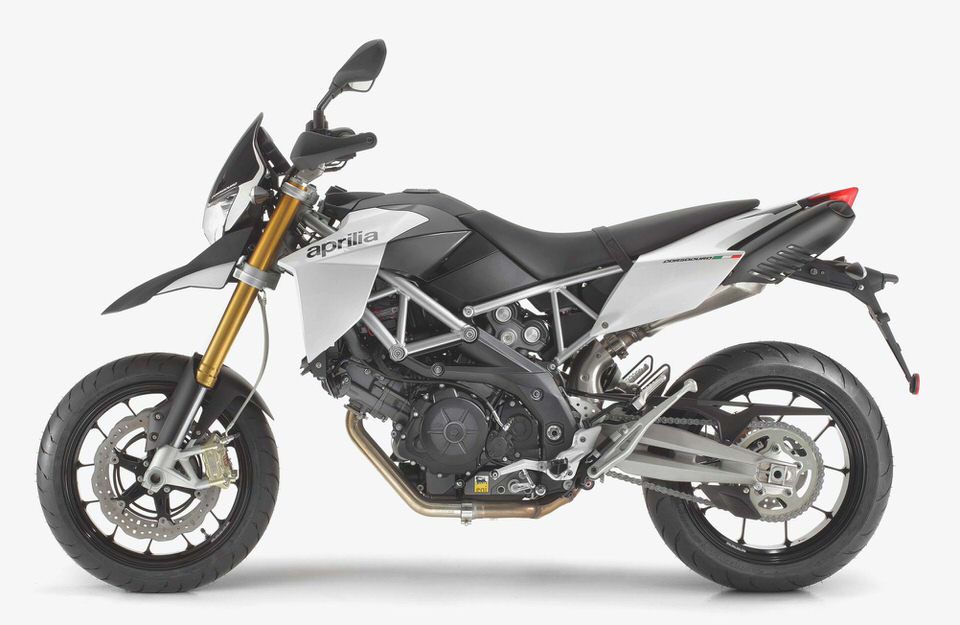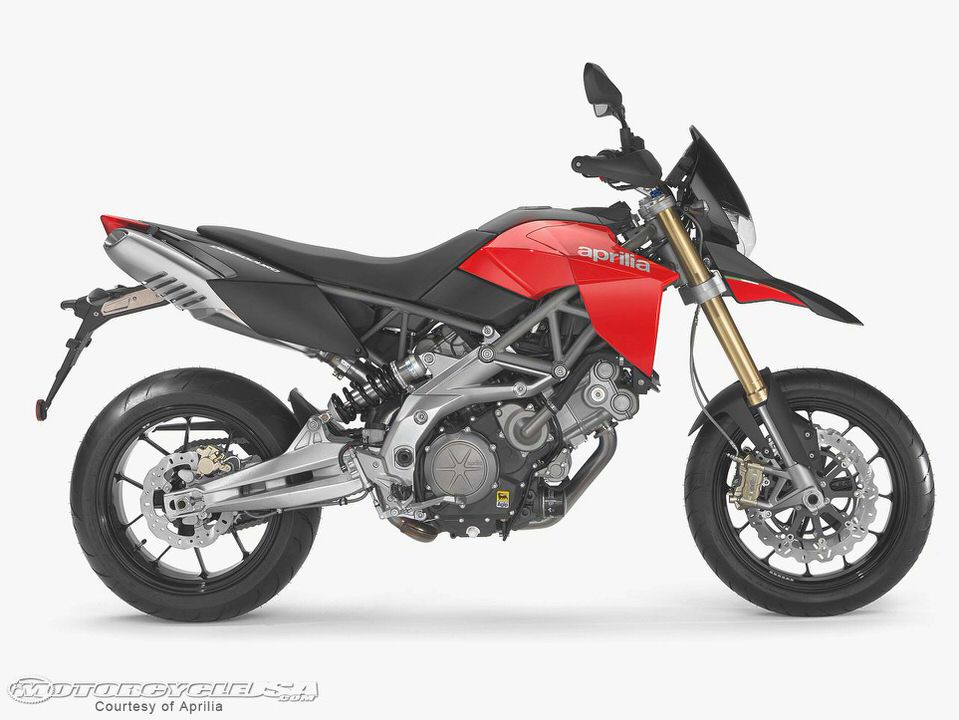 APRILIA SHIVER 750 GT – BROCHURE 2009 BROCHURE Pdf Download.
2012 Aprilia Tuono V4 R Review –
Aprilia SXV450 – CycleChaos
2009 Aprilia Scarabeo 200 – Hot Deal! Moto International
2009 Aprilia RSV4 Debuts at Intermot – Motorcycle USA