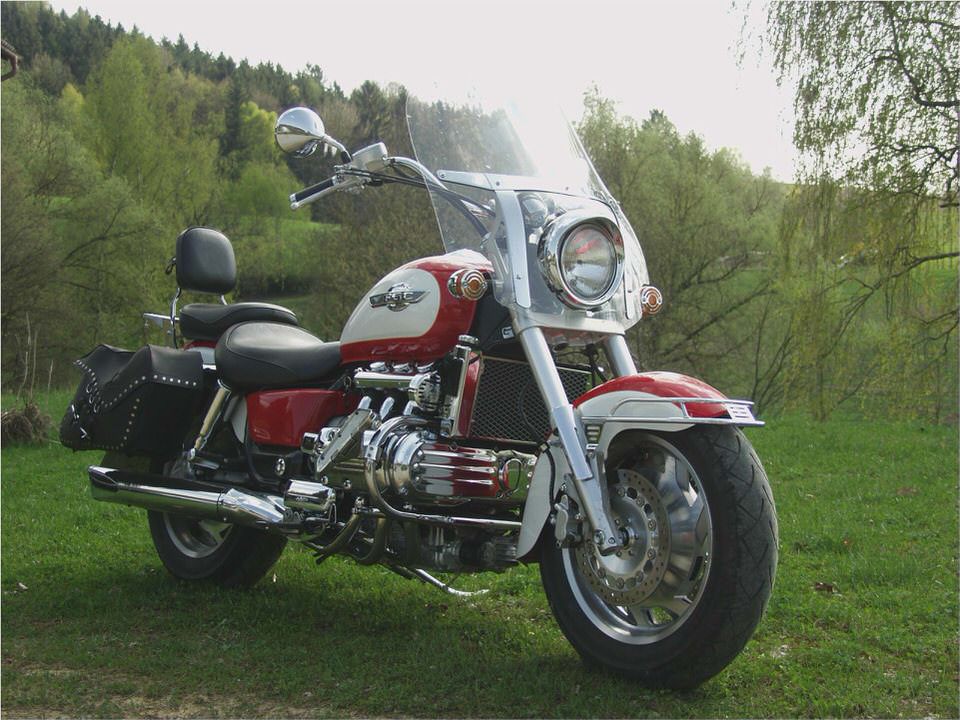 BeastRider's Honda Valkyrie
February 2006 Update: I had to sell my beautiful silver and blue Interstate when I moved to Singapore.   Sure missed that bike.   But, I have found a Valkyrie in Singapore.
  They are very rare here… only about 10 on the streets.   And with the vast majority of bikes in Singapore being 125 cc's this bike is really a conversation piece.   If you don't like to talk to people this really is not a good bike to own… everyone wants to stop and talk about it.
  Sometimes I will park it where I can see it while I am eating.   It is amazing the number of people that stop to look at this bike… it is so highly unusual.
I took this picture right after I bought it.   Since then I've put the windshield back on and purchased a Givi trunk box for it.   You can click the smaller photos to see what it looks like.   I've even built a rack to carry my golf clubs.
  I just remove the right bag and attach the rack.   Very handy since this scooter is my primary (read only) transportation in Singapore .
The Honda Valkyrie has got to be one of the most amazing motorcycles ever built. On this web page, you'll find pictures of my own Valkyrie(s), plus various tips and suggestions for maintenance, additions, and trailering. Write me at wayne@herberts.org if you have further questions.
The history: While I was at school at Rice University in late 1996, I saw my first Valkyrie while riding a Honda Shadow VLX 600. At every stoplight, the woman riding it would just zoom away when the light turned green. I was intrigued.
A few weeks later, I had an opportunity to test drive one. Big mistake! I finally broke down, and in April 1999, I bought my first Valkyrie. It was a 1998 Tourer. Maroon and Creme.
Talk about falling in love! I put more than 12,000 miles on that bike in less than a year. I put $3,000 worth of chrome and accessories on it, including glass pack mufflers, highway pegs, and a backrest. Then the unthinkable happened.
My Valk was totaled in a wreck. Fortunately, with the blessings of my wife and a decent insurance payoff, I was able to purchase a 2000 model Valkyrie Interstate.
Here are a few specs on the Honda Valkyrie Interstate I own and ride.
95 HP at the rear wheel. 98 lbs ft. of torque at the rear wheel 865 lbs wet weight quarter mile times of 12.5 to 13 seconds 6 cylinder, 1520 cc, 6 carburetors Electronic ignition Twin floating caliper, dual pistons brakes front, single dual piston, rear. 5 speed transmission, shaft drive. See the Honda Sales Brochure for more specifications
Overall, any sport bike, aka crotch rocket, with more than 600 cc's can outrun this machine. On the other hand, it eats Harleys unless they have a Stage 3 kit in them. Then, they can keep up, but while the Harley gets rebuilt at 40,000 miles, 100,000 miles and more is typical for a Valk. What is most fun is to race Mustangs and fast Camaros.
They know they can beat a Harley. they learn real quick that they can't beat a Valk. The best thing about this bike is the combination of power, smoothness, and size.
As a side note, my brother had been riding various motorcycles for decades. After I bought my Valk, I told him about it, but warned him not to test ride one. Well, he ignored me and test rode one.
Three weeks later he too, owned a Valkyrie, a Standard.
Shazaam! A New Valkyrie – And In My School Colors, Yet!
Valkyrie Related Links
2013 Honda PCX 150
Honda DN-01 Review Scooter News and Reviews Scootersales
MXA PRODUCT TEST: LSP T2 MX LAP TIMER News Motocross Action Magazine
2001 Honda CBR 929RR – Motorcycle USA
2008 Honda CBR1000rr Racebike Build