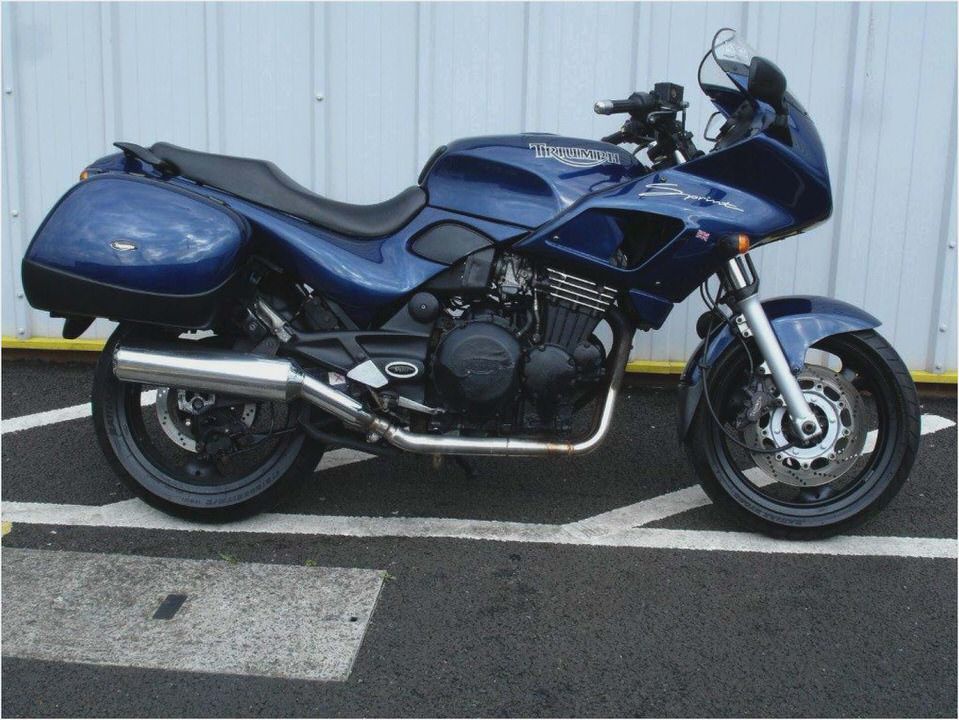 Editor review
1 of 1 people found the following review helpful
NB – this is not a review of the current 1050cc Sprint but of the older 900cc.
Okay, I bought my Triumph Sprint Executive in April 2008, 10 years after it's 1st date of registration (it's on an 'R' plate) and with 18,000 miles on the clock and it was a classic off the cuff purchase.
At the time I was suffering from Harley Davison blues having spent 18 months or so knocking around on a chopped up Night Train. Man, did that bike look bad ass; apes, all black and chrome, Fat Boy back end, no front mud guard and pipes you could hear in the Southern Hemisphere. Problem was, it was an absolute pig to ride and required serious, I mean serious, devotion to masochism to cover anything over 100 miles in a single outing.
And Lord forbid if it rained, with no front guard it was more Coney Island log flume than Route 66.
Anyway, I'd walked into the local dealers for a browse when I spotted what looked to be a brand new tourer with retro styling. It sat there with a top box, a couple of huge panniers, a half fairing, leather tank cover and a Triumph badge, what the hell could it be? It was, and is, the old 900 (actually 885cc) Triumph Sprint Executive and the condition of the bike was such a credit to the previous owner, even on close up nose touching inspection I could find not a scratch or a scape.
And then I caught sight of the price tag £2,100.
Ten minutes later I was the proud owner with a bank balance £1,800 lighter – and it came with full service history, all past MOT's and even hand written notes from the original owner detailing what he'd done and when he'd done it. A great deal, if I say so myself.
Well, it's one year on and what's the verdict? First off, I have to say, this bike has brought the smile back to my face which the pig of a Harley had turned into a snarl. I've thoroughly enjoyed the past year.
The naff 'Executive' tag was given to Sprints made during the years 97 and 98. What set them apart from normal Sprints was that they came fully kitted out with colour coded top box and two huge, hard side panniers all nicely set off with a half Rickman style fairing.
Throw a leg over and the ride position is that midway point between a sports bike and a tourer – not fully upright but not belly flopping over the tank either. In use I've been impressed with the overall comfort levels but after about 200 miles on the standard seat it's time for a little arse rearranging and leg stretching – I'm 6ft 2in and 16st 6lb, so there's a fair weight on the backside and longish legs to contend with. I'm currently looking into fitting an after market seat for a bit more long distance comfort.
Sticking with comfort, I found the standard screen pretty useless and changed to a 4in higher model purchased from Sprint Engineering at a cost of £49. It's made a big difference but still not great, though a shorter rider would be fine. All the pillions I've had along have been hugely impressed with the comfort out back.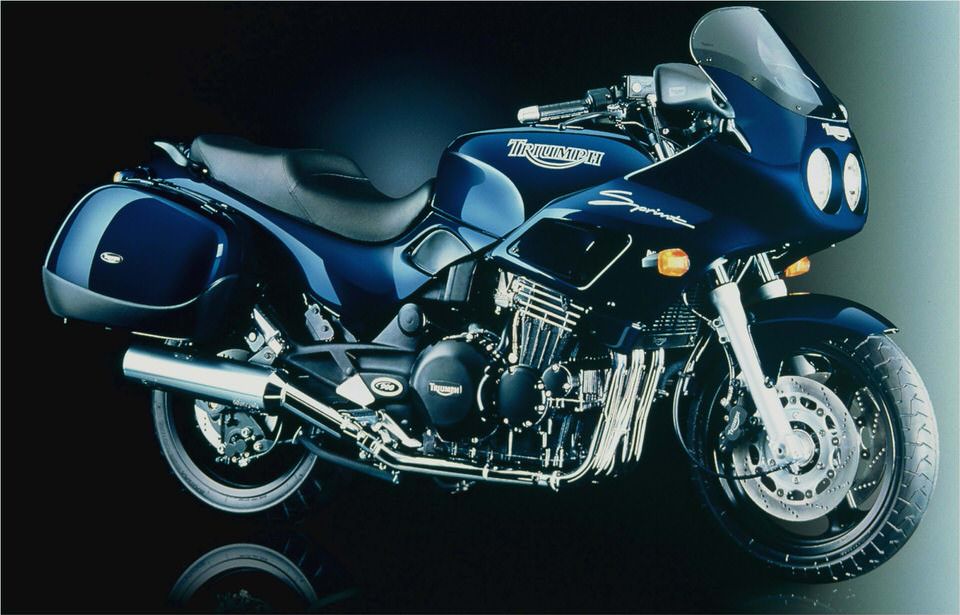 The engine, oh the engine; the triple cylinder 885 starts off a choke, and it's fired up first time every time, mind you it also sounds more like a clanking diesel when at idle, so much so it can be a little disconcerting at first. But then give it some air and the word smooth is an understatement, it's super silk, and the sound is mighty. The spec is as follows; DOHC, 12v motor with three 36mm, flat-slide Keihin carbs.
The smoothness of this engine is what's impressed me the most with the Sprint. It'll pull like a train from just below 2k on the rev counter without a hiccup. And this bike is no slouch either, kicking out 92BHP with a top speed of 140MPH should you need it. But it's the grunt and smooth power delivery from the black chunk of metal known as the Triumph Triple that'll have that smile growing wider and wider.
Fully loaded and with a pillion on board, you'll hardly notice any difference either, think about overtaking the car in front and it's done, without hesitation.
Motorway cruising at 100mph is stress free apart from some wind blast, though as already pointed out a shorter rider would be far better protected behind the taller after market screen. Despite it's top heavy styling I've not been able to fault the handling and have had more man and machine in harmony moments on twisty A roads than I've had on some bikes that have been hailed for their handling performance. All in all it's a fine combination of comfort and performance.
Despite this being a fast, heavy bike I reckon I'm averaging around 45MPG, and getting 240 miles out of a full tank, and I'm happy with that. The size of the twin panniers and top box mean that there's plenty of room for all your touring gear. And I have to say, the quality of the Triumph box and panniers is excellent, far better than most I've come across.
I still see the occasional Triumph Sprint Executive 900 up for sale and the prices are very competitive. If you can find a well maintained machine, then you'll have found yourself a reliable, rock solid, sports tourer that'll keep up the pack no problems. And have I mentioned the engine.
Review Information Motorcycles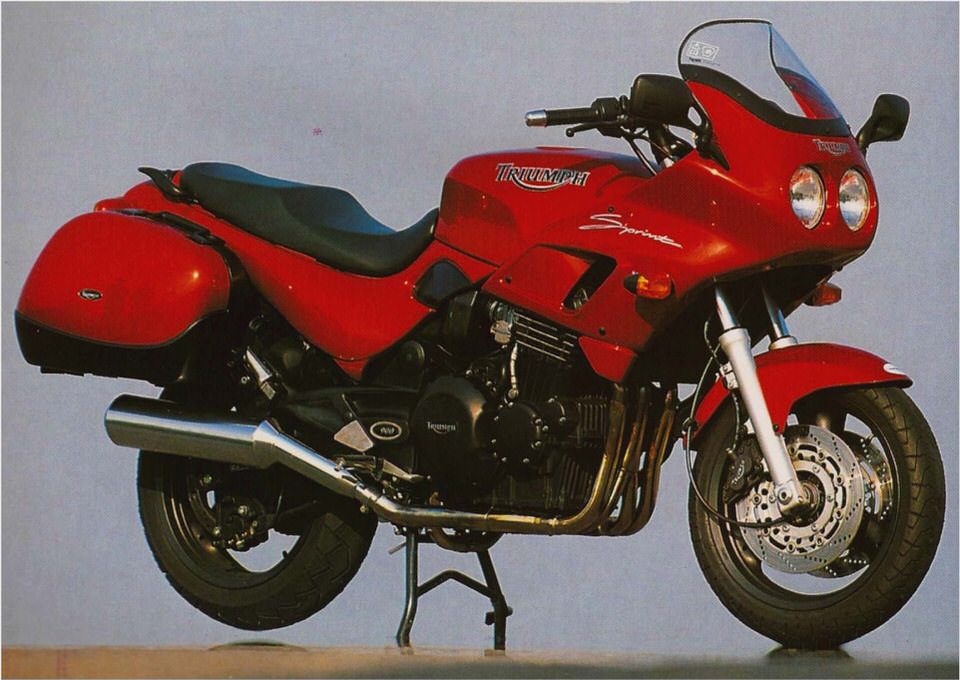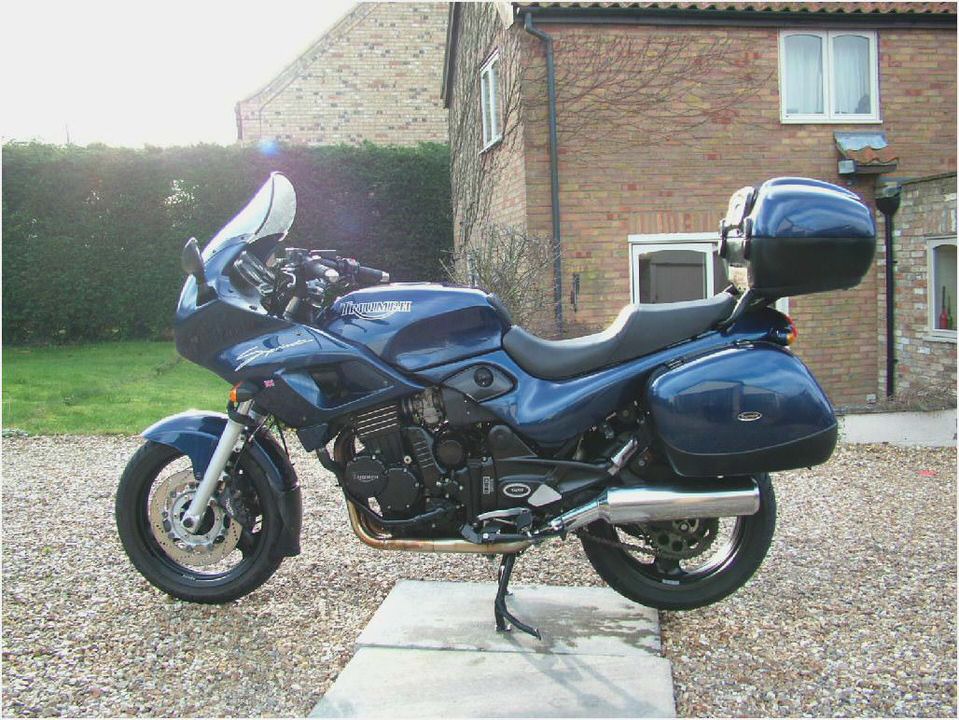 2005 Triumph Rocket III First Ride – Motorcycle USA
1973 John Player Norton Monocoque – Classic British Motorcycles – Motorcycle…
1999 Triumph Sprint ST –
Motorcycle Specs
Triumph Trophy – What to expect from an older Triumph Sprint Executive?