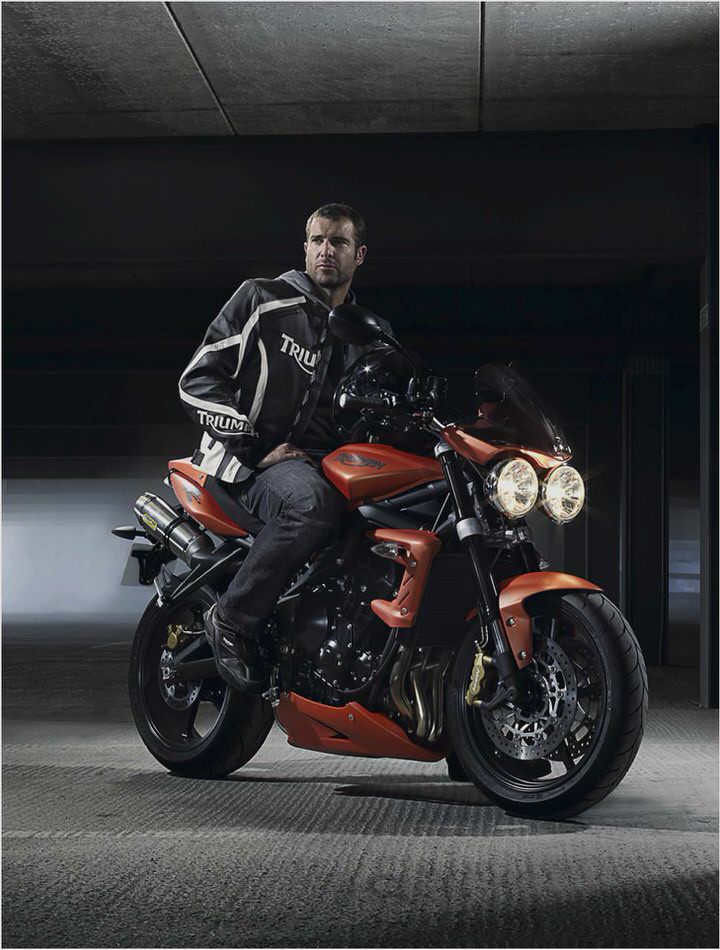 This is our repository of real info on the brand-new Street Triple 675 . which Hinckley has done an admirable job of keeping top-secret for well over a year now. As of 25 May 07 the bike is official as (we think) a 2007-1/2 model, to be released in the UK in July and in the US by October. Triumph expects it to be extremely popular, and we would have to concur.
Working backwards, then.
Press Release 25 May 2007
TRIUMPH LAUNCHES THE STREET TRIPLE
After much media speculation, we are pleased to confirm that rumours of the brand new Street Triple are true! This exciting new motorcycle will be available from October 2007.
Deriving its genes from the iconic Speed Triple streetfighter and the award-winning Triumph Daytona 675 supersport, the Street Triple is 675cc of pure naked aggression: lightweight, agile, and fantastic fun to ride.
With an MSRP of $7,999, the Street Triple will be the most affordable of all Triumph sportsbikes.
The bike will be unveiled exclusively to Triumph customers attending the Triumph Tridays event in Neukirchen, Austria on Saturday June 30th (www.tridays.com). Its first US appearance will be at the Red Bull U.S. Grand Prix at the LGUNA Seca Raceway, July 20-22. Make sure you visit Triumph Online on June 29th for more detailed information on the bike.
The official Street Triple microsite, www.triumphstreettriple.com, will provide customers with more information on the bike and is scheduled to go live in late June. The official press launch will be held in early July.
From the release and pic, we can derive some basic information:
significantly lower price tag vs the Daytona ($1000 lower in the US / reportedly £ 1200 lower in the UK, at a rrp of £5995)
no radial brakes
Dunlop OEM tires, not Pirelli Supercorsa's
probably less adjustable suspension vs the Daytona. BiKE's July issue confirms this
no steering damper; but it'll probably have a standard-ish rake angle/geometry anyway (?)
Of course the big remaining questions now are, did they dumb down the motor. what's the dry weight, how well does it handle, how comfortable, etc.
Photo released 25 May 2007
Just the one promo pic so far. but oh it's a dandy. Loads of resolution, from which we can derive a number of details, while some will remain a mystery a little while longer.
— Click for the full ultra high-rez 4992 x 3311 pixels. Display it on your 7-foot HDTV if you want. -)
— Click for a very large high-rez 2300 x 2150 pixels version. Plenty of detail here.
— Click for a wallpaper-size 1280 x 1011 pixels. Open, then Right-click it to make it your Desktop image.
Pre-release spy photos and a fairly accurate drawing seen May 2007
Pre-release spy photos seen earlier
This pic is of Paul Young (PYR96 on forum) in earlier testing.
Triumph675.Net, the Triumph Daytona 675 and Street Triple 675 online owners community and Discussion Forum
for the Triumph 675 Daytona Triple, Street Triple 675 and any future 675 models
2013 Triumph Street Triple R Naked Motorcycle Price & Details
2012 Triumph Sprint GT Review, Specification, and Features
Triumph Thunderbird Sport Cafe Racer How To Make & Do Everything!
2008 Triumph Rocket 3 Classic (Rocket III Classic)
2013 Triumph Daytona 675- Daytona 675R – First Look Review