Triumph Thunderbird Storm – Comprehensive Road Test!
Triumph Thunderbird Storm is a sizably big motorcycle from the famous British Marque and one swing over the saddle will tell you that it weighs quite a bit too, all 339 kgs of it! It's bad-ass, all-black and minimalist chrome looks add to the feel of being astride a powerful cruiser and this is further complemented by the wide handle bar, forward set foot pegs and a large fuel tank.
Attracting eyeballs, turning heads and stopping traffic every time during our test ride, this motorcycle grabbed my attention and the world's just as easily. It plastered that evil smile on my face, which soon broke out into a wicked laughter as I whacked throttle wide open and let all of its attitude wrestle with the tarmac as it hurriedly put me in forward motion.
Now that I have your attention, let me tell you a bit about the roots of this motorcycle. 'Thunderbird' is a familiar name in motorcycling in our part of the world, mostly due to the Enfield Thunderbird but this motorcycle here is the real deal! Although, India does not get the 'Triumph Thunderbird' at the moment but only the 'Thunderbird Storm' variant is sold here.
Digging a little into its history reveals that the current-gen 'Thunderbird' was relaunched in 2009 based on a previous 885cc Triumph of the same name whereas the 'Thunderbird Storm' with its slightly larger capacity motor and different styling was only launched in 2011. However, the nomenclature lineage itself is as old as 65 years already, just as its popularity.
Design, Quality and Ergonomics:
All-black and de-chromed the Thunderbird Storm is enticing and gets noticed easily. The twin headlamps are recognizably Triumph inspired by the Rocket III but on the Storm they look distinctive. The wide drag-like handle bar, mirrors, twin exhaust pipes and foot controls are some of the things that are in chrome, mostly everything else including fork lowers, 5-spoke alloy wheels, fuel tank, triple clamp and engine is matte-black.
Triumph logo sits proudly on either side of the fuel tank and the word 'Storm' is carved along with the 'paper dart logo' on the chromed side cover of the gearbox housing. This is another noticeable element of the overall radical styling on the Storm. There are more details such as the elegantly designed exhaust pipes and huge fuel tank tapering down towards the seat along with the handle bar on a pullback rise and a tank mounted console are some of the attributes that can give you the impression that this may be a custom built motorcycle.
The riding position is comfortable and ergonomic as the seat is set at a height of 27.5 Inches from the ground which will suit many riders. Your legs are stretched forward in typical cruiser fashion but just the right amount as you are able to get a firm grip on the tank. The wide handlebars are slightly higher set and this allows for easy maneuverability while ensuring that your shoulders and arms don't tire-out quickly from the forward stretch.
At full-lock during U-turns, the outer arm isn't over-stretched or beyond the comfort zone. Coming back to the seat, the wide and deep touring seat is decently comfortable and keeps you firmly in place under hard accelerations. The pillion seat is perched slightly higher and it isn't the most comfortable place to be on this motorcycle but for shorter rides it will do the job.
Optional accessories includes comfier options along with windscreen amongst other things.
The quality is noticeably good, the switch gears look and feel premium while functioning smoothly. The overall finish along with the minimal chrome, and all of the cycle parts is of very good quality and in-line with what you can expect from a premium motorcycle. The instrument console is tank mounted and includes an Analogue speedometer (with Mph and Kph readings) with integrated tachometer (it revs counter-clockwise), a clock, two trip meters and a fuel gauge.
Our test bike trip meters and fuel gauge (with distance to empty) reading in Miles. All this is controlled via a (i) toggle switch on the right switchgear housing. Customer bikes sold in India will get a firmware upgrade that will allow the LCD to read in kilometers.
I managed to ride a bit in the night and put the headlights to the test. They have sufficient spread in low and high beam and the visibility is very good. The speedo console looks beautiful in the night although in the day it can be a little hard to read sometimes.
Engine and Gearbox:
When you thumb the starter button and fire up the Storm you are welcomed by a deep rumble that flows from the twin exhausts of the 1699cc Triumph. The parallel twin, DOHC engine has a 270 degree firing interval which gives this motorcycle a crisp and throaty note akin to a V-twin. Fact is, it's character and sound is similar to a V-twin engine but without equivalent vibes.
You hear a bit of mechanical noise from the chain driven double overhead camshafts but once you get moving you will revel in the growl of the powerful engine between your legs.
You are tempted to go wide-open every time you see an open road, such is the addiction to its meaty, low end torque. Going throttle wide-open in lower gears is an experience in itself as you feel all of its 96 Bhp (at 5200 rpm) of power and 156 Nm (at 2950 rpm) of torque being transferred almost instantly to the rear wheel via toothed belt final drive. You shift up instinctively and are well into triple digits speeds before you even realize it!
This motorcycle dismisses the 120 kmph mark easily and proves that it packs a solid punch through the low and mid-range. It's engine character is unique, the powerband is plenty generous and its power delivery is quite progressive as you climb up through the revs.
The hit from the acceleration is immediate as you open the throttle in lower gears. The acceleration begins to taper off as you cross the 150-160 kmph mark and that's ample speed anyway but the Storm has more to offer. The clutch is slightly heavy, which can tire you if you are stuck in heavy traffic. The throttle response is on the sharper side but the fueling is smooth, precise and rolling on and off the throttle at low speeds in higher gears won't lug the engine very easily.
With maximum torque being delivered at just 2950 rpm it is able to pull even in the 6th gear comfortably from just 60 kmph. The gearbox shifts positively and there is a positive clunk as you put it in first gear from neutral. The helical cut gears ensure affirmative up-shifts and downshifts through 2nd to 6th gear.
I did not encounter any false neutrals while shifting and finding neutral while standing still was a positive experience.
Peak hour traffic jam caught up with me on the morning of the second day as I left home to return the bike but the liquid cooled engine with cooling fins on the cylinders kept the engine heat to a minimum. On the morning of a winter day it's hard to tell if your legs would get toasty during summers in a similar situation, chances are it will! But when you are moving the engine stays cool and you will enjoy the ride.
The vibes aren't bad although it does get a little vibey on the handle bar grips and pegs but not so much that it would bother you. It's more massaging than overly annoying on this cruiser and that's a major saving grace right there and a plus point for this motorcycle.
Fuel Efficiency:
The most common question faced by anyone and everyone on a big motorcycle in India is the fuel efficiency of such a motorcycle! I was asked a few dozen times myself! Our objective wasn't to test the fuel efficiency and I couldn't get to emptying its large 22 liter fuel tank despite giving it my best shot.
The large capacity tank gives you an effective range of atleast 320 kms depending on your riding style. I managed to put in a decent 155 kms of riding and from my observation the overall fuel efficiency hovered around the 15 kmpl mark atleast! Cruiser fans and tourers rejoice, this bike will take you a fair distance before the tank goes dry as the 6th gear does its duty well as an overdrive in addition to its superior roll-on performance.
Ride, Suspension and Handling:
One of the most important and convincing aspects of this motorcycle is its confidence inspiring handling dynamics. The weight is forward biased but the center-of-gravity (COG) is on the lower side which makes it easy to maneuver at low speeds despite its size and weight. It feels planted at the bars owing to its low COG without the typical instability or wobble seen in similar sized cruisers going hard into a corner.
Although tighter curves need to be thought of prior to entry but you can gun it out of the corners on this one.
The steering geometry is well sorted and this is proof in the way it handles with the weight showing mostly when you try to flick it from side to side. I was also able to do U-turns at full lock with ease and without putting my foot down to balance the motorcycle. The long wheelbase is spot-on as it ensures stability when the speeds go up.
The wide handle bar also provides excellent leverage to put this motorcycle through its paces on the twisty sections.
We must give credit to Triumph for getting it right with the chassis. It is well engineered and rigid with 47mm Showa front forks set up at a 32 degree rake angle which allows quick turn-ins while retaining excellent highway stability. The rear Showa shocks are 5-way pre-load adjustable but they come set at a stiffer setting from factory which causes the ride to get a little bumpy and may cause some discomfort in your lower back over longer distances when you are riding at triple digit speeds.
A slightly softer pre-load setting on the rear shocks will rectify this, considerably improving the ride quality in the process. The front does however suffer from a fair bit of dive under hard braking but it is not unsettling by any means and in fact the front and rear suspension worked in sync when leaned over in a curve.
Metzeller Marathon tyres provide excellent road grip and even a generous dose of acceleration coming out a corner wont get the wheel out easily. The front tyre is a wide 140/75-R19 section while the rear is a massive 200/50-R17 tyre and they manage to stick to the tarmac just as a leech would stick to your skin. On tarmac the weight helps put the power down just as well. My only gripe is with the footpeg feeler bolts that ground easily when leaned over.
The chassis is so much more capable but the lean is limited by the pegs. That said, it has ample ground clearance to easily go through potholed roads and sharply built speedbreakers without scraping anything underneath. We even managed to take the bike on a short dirt road as we scouted for locations to shoot and the bike felt planted on the sandy stretches at low speeds.
Braking Performance:
The front brake has phenomenal stopping power thanks to the twin 310 mm floating discs with Nissin 4-pot fixed callipers which does a great job slowing this mammoth down from triple digit speeds. There is ample feel at the lever as you get excellent feedback from the front when slowing it down. A tight squeeze of the lever in panic braking situations can technically lead to locking the front wheel but the ABS will take care of it.
However, our test motorcycle wasn't equipped with ABS but Triumph in India is currently selling the Thunderbird Storm with ABS as standard equipment. That said the sufficient bite from the front discs and action at the lever is plenty to slow you down carefully and swiftly from high speeds. This is commendable and will be reassuring to the newer riders.
The rear brake has decent feel and bite although the feedback can be better. It provides satisfactory amounts of braking force when you want to slow down quickly. Cruisers can generally take more rear braking and the Storm brings a powerful 310 mm single disc with the Brembo 2-piston floating calliper that applies pressure evenly and on dry roads it won't lock up the rear easily.
The brakes are well setup on this humongous motorcycle as it is capable of shedding speeds quickly. With respect to safety, especially that of newer riders, ABS is very welcome on this motorcycle given the riding conditions prevalent in our country.
Areas for Improvement?
Before I can reveal the VFM factor and verdict let me share a few nitpicks with you. There is a no dedicated hazard lamp switch to switch-on all four indicators. Not sure why this was excluded on such a premium motorcycle as this. The fuel filler cap has no lock and that is appalling! If I may ask, why Triumph?
In our country where big bikes are messed with too often it poses a threat if anyone can open the cap at their will and fill-in any hazardous material! Safety cannot be guaranteed even in secured parking lots these days. The need of a separate key for the handle lock!
Apart from these, Triumph ownership and service costs in the long run are unknown territory and lastly at the time of writing this post Triumph has just begun delivering motorcycles although many of their proposed dealerships aren't open just yet and the waiting list is growing steadily. Moving on…
Price Value for Money:
Triumph Thunderbird Storm has been priced at ₹13 Lakhs ex-showroom New Delhi and for that much moolah it brings reasonably good amount of kit despite a few things lacking. However, in the overall scheme of things it is actually very well priced for a high performance cruiser that is comfortable with good ergonomics, exciting road presence, quality workmanship, comfort and ride dynamics.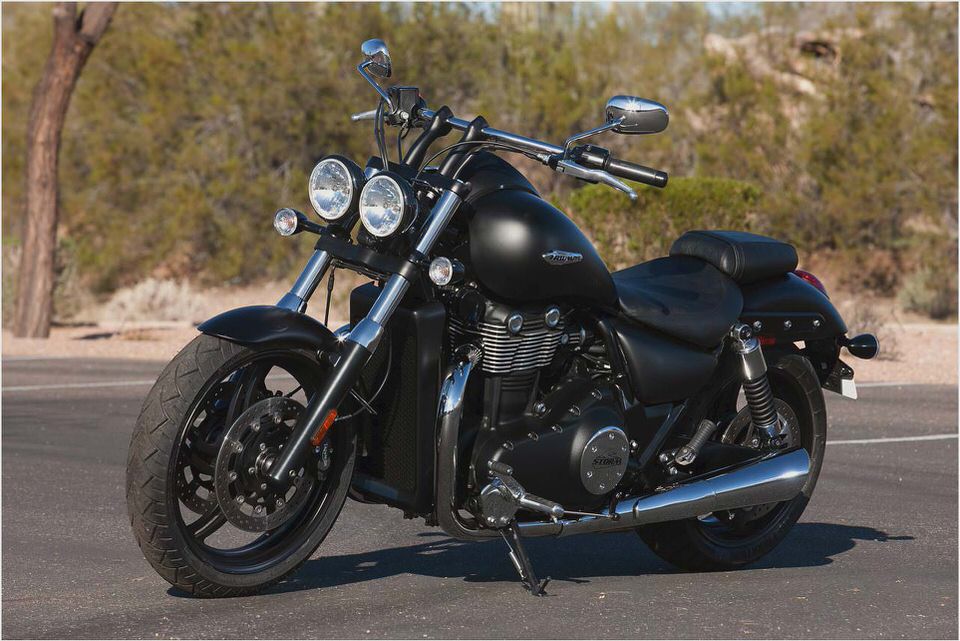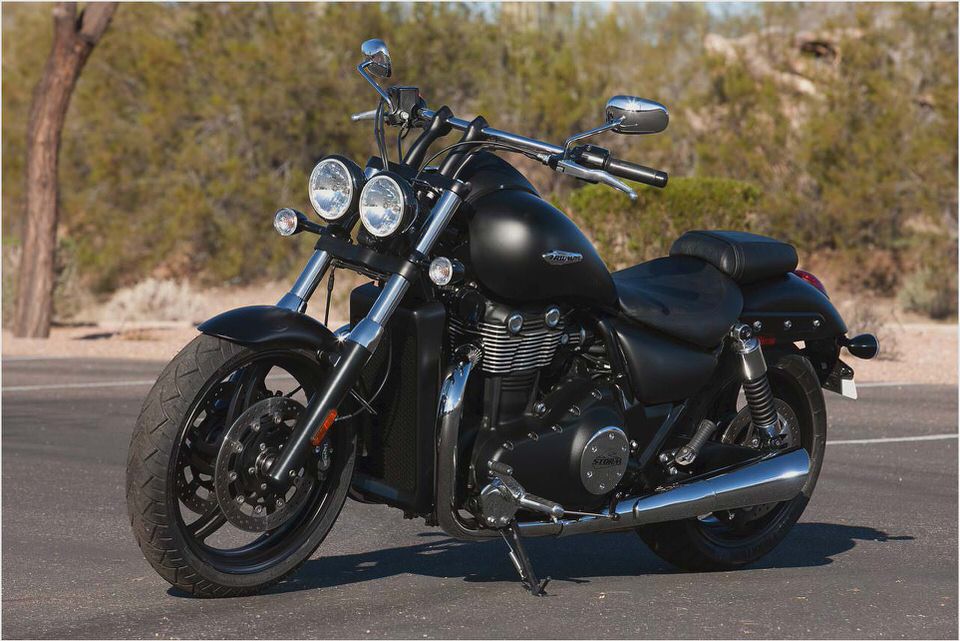 Not even a handful of heavy cruisers in the market can think of doing all this with the finesse of the Thunderbird Storm. It is better priced than its nearest competitors which by default makes it a better purchase as you can load up the bike with some official optional equipment for the price difference. Triumph is a highly reputed brand globally and hence we can expect high standards and service quality from the British Motorcycle Marque.
It also brings a 2 year unlimited kilometer warranty as well and there weren't any loose bolts when I returned the bike after a gutsy test ride. Need I say anymore?
Verdict:
Triumph Thunderbird Storm is a massive motorcycle, epitomizing all the characteristics and traits of a true cruiser while bringing modernity and legacy in a package that will appeal to most who wish to enjoy a laid back or fast paced ride on a well engineered, high performance cruiser motorcycle with free a grin plastered across their face. It has managed to garner respect globally because of its ability to go fast on the straights but also for inspiring confidence when the roads get twisty. It's blacked-out looks are classy yet not off-putting, the design remains iconic, seductive engine and character aplenty with a sticker price of ₹13 Lakhs it is a pretty good deal that's hard to pass for something else.
Final Notes
The need to get out on a powerful motorcycle and go cruising on the open highways is forever etched on my mind everytime I am home after a ride on a motorcycle and the Triumph Thunderbird Storm fits perfectly in this picture in my mind.
We were done shooting and it was time to head home…It was the end of the day with the sun setting quickly on the horizon. That is when I secretly wished for flashes of lightning and thunder as I 'Stormed' down the highway with the cold wind blowing in my direction. In that moment of exhilaration, riding the Thunderbird Storm, I felt nothing short of the Ghost Rider, well…minus the flames, the chain whip and immortality!
Triumph Thunderbird Storm Technical Specifications : 
Stroke Lenght: 94.3mm
Final Drive: Toothed Belt
Clutch: Wet, multi-plate
Gearbox: 6-speed constant mesh, helical type 2nd – 6th
Engine Oil Capacity: 4.2L
Chassis: Tubular Steel, twin spine
Swingarm: Twin-sided, steel
Front Wheels: Cast aluminium alloy 5-spoke 19 x 3.5 in
Rear Wheels: Cast aluminium alloy 5-spoke 17 x 6 in
Front Tyres: Metzeller Marathon 120/70 R19
Rear Tyres: Metzeller Marathon 200/50 R17
Front Suspension: Showa 47mm forks. 120mm travel
Rear Suspension: Showa twin shocks, 5-way adjustable preload and 95mm rear wheel travel
Instrument: Analogue speedo with integrated rev counter, scroll button on handlebars, LCD trip computer, fuel gauge and clock
Length: 2340mm
Width Handlebars: 880mm
Height Without Mirror: 1120mm
2007 Triumph Rocket III Classic Tourer – Used 2007 Rocket 3 Classic Tourer…
Triumph Sprint ST brought to you by MadaboutMotorcycles
Triumph New Daytona 675 cool
Trident 900 –
2011 Triumph 1050 Sprint GT road test review – Road Tests: First Rides…