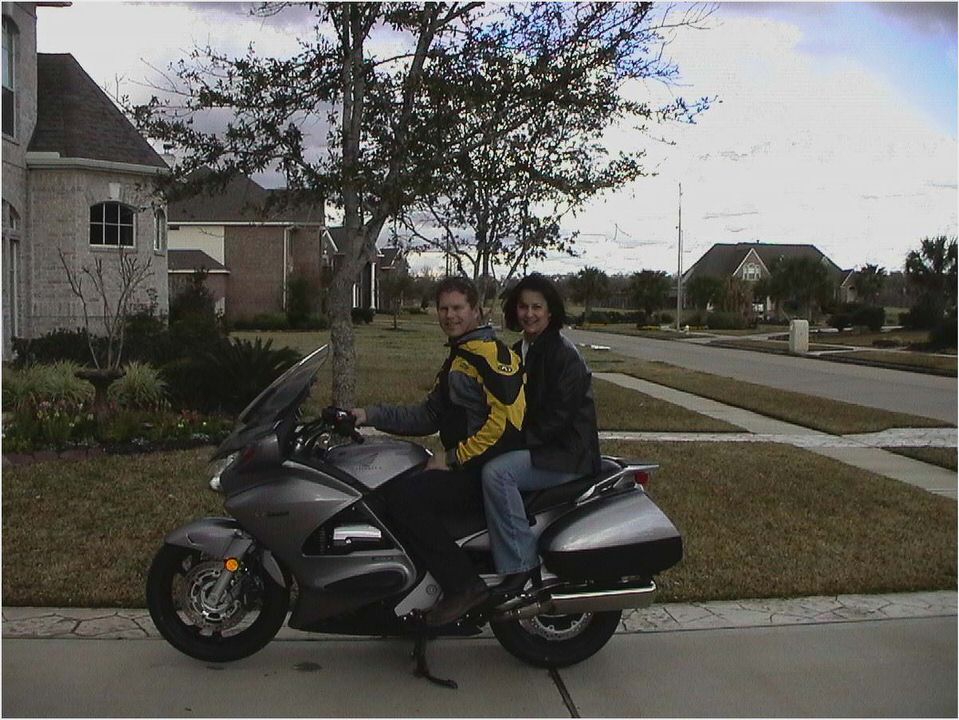 2012 Honda ST 1300
2012 Honda ST1300 ABS
The 2012 Honda ST1300 represents the eleventh model year of the sport-touring motorcycle from Japanese manufacturer Honda. Designed as equally suitable for driving on paved and unpaved roads, the 2012 ST1300 was produced as a lone model. Honda set its manufacturer's suggested retail price at $18,230.
Each 2012 Honda ST1300 is powered by a fuel-injected four-stroke liquid-cooled longitudinal V-4 engine, which displaces at 1,261 cubic centimeters (rounded up to 1,300, hence the bike's name). The engine generates 125 horsepower at 8,000 revolutions per minute (RPM) and 85 pound-feet of torque at 6,000 RPM. Four intake valves go on each cylinder; thus it has a total of 16 valves. The engine has a bore and stroke of 3.07 x 2.6 inches (78 x 66 millimeters) and a compression ratio of 10.8 to 1.
The engine on the 2012 Honda ST1300 is paired with a five-speed manual transmission. With its powertrain, the bike can provide a fuel economy of 35 miles per gallon. The gas tank on the 2012 ST1300 can hold up to 7.7 gallons (29.1 liters), with a 2.2-gallon (8.3-liter) reserve.
The 2012 Honda ST1300 has an advanced and elaborate braking system. It has a 12.2-inch (310-mm) dual hydraulic disc at the front; and a slightly larger, 12.4-inch (316-mm) single hydraulic disc at the back. With this layout, the ST1300 has greater stopping power than bikes with all-wheel drum brakes or front-disc and rear-drum brakes. Accompanying the disc brakes is an anti-lock braking system for preventing wheel lock-up when braking.
This explains why it is officially known as the 2012 Honda ST1300 ABS. For its suspension, the ST1300 relies on a thick 1.8-inch (45-mm) telescopic fork and a light twin-sided aluminum swing arm with rear shock.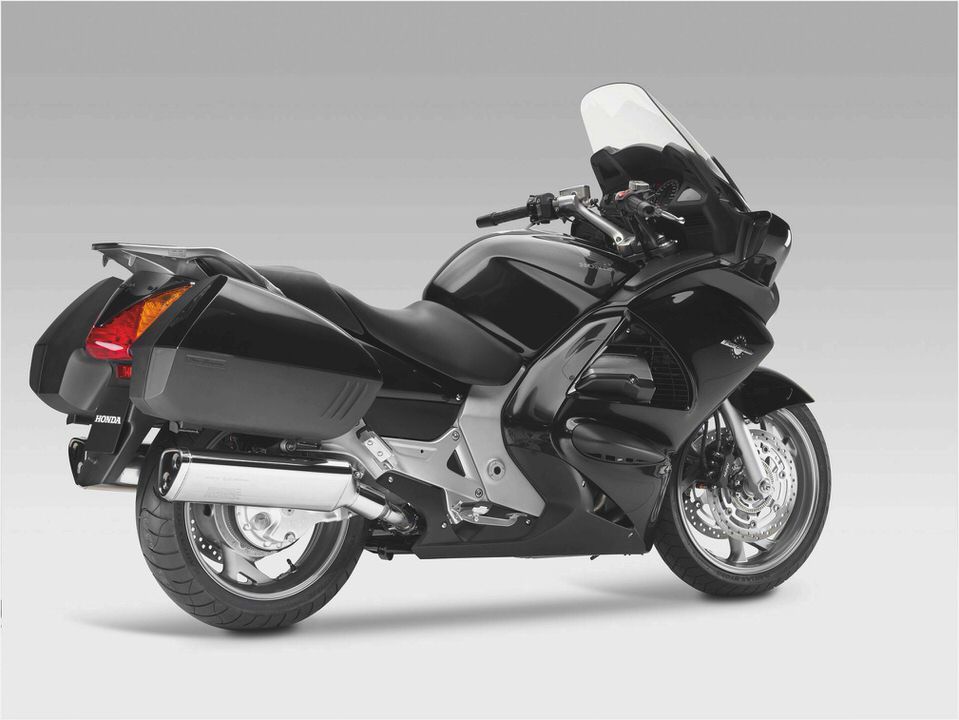 The 2013 Honda ST1300 was designed as a full-fairing bike, with a plastic shell placed over its lightweight yet solid aluminum frame. A rear spoiler promotes the bike's aerodynamic feel and performance, and a center kick stand serves as its parking device. The digital dashboard is loaded with instrumentation that consists of a clock, tachometer, trip odometer, trip computer, speedometer, and temperature and fuel level warning gauge.
The 2012 Honda ST1300 also has lots of storage space. It includes a glove box, a place to hang a helmet, under-seat, and lockable compartments, and two vinyl side cases with a 15.9-gallon (70-liter) peak capacity. Also included are a tinted windshield for keeping off the wind and a halogen headlight for enhanced visibility.
Each 2012 Honda ST1300, when wet, weighs about 730 lbs. (331 kilograms). The wheelbase and seat height of the bike are measured at 58.7 inches (1,491 mm) and 31.1 inches (789.9 mm), respectively. The aluminum wheels on the ST1300 measure 18 inches at the front and 17 inches at the back.
Some customers might balk at the relatively average fuel economy of the 2012 Honda ST1300. Then again, the nameplate was never designed to be miserly on fuel. Rather, it has always been designed with the most ardent of performance enthusiasts in mind. For an extremely powerful and superbly handling ride that can brave any type of terrain it encounters, few can match the 2012 Honda ST1300
250Cc Flat In 6th
SCVNews.com SCV-based Honda Motorsports Unveils Solar Demo Project [Video]…
Honda Aero 125 Motor Scooter Guide
Griffon's our best bird: 424 boss The Belleville Intelligencer
Honda SH 300 – The Scooter Review