VOR 530SME Super Motard NZ 2003 Review
VOR 530SME Super Motard NZ 2003
Firstly, I must admit the Motard thing is all new to me, although riding road-legal dirtbikes on the tarmac isn't, but man these things are a barrel of monkeys. Since I last played hooky on the Italian dirt-thumper specialist's V-Cross 450 Enduro machine (January issue), the VOR Company has been taken over by stunning Italian road bike maker Mondial, and has created Mondial Offroad.
This instantly boosts the resource available to develop tenfold, and I'm picking we'll see substantial growth from the group collective. Rumour has it this also means we may see one of those spunky Mondial Piega's on our shores fairly soon (pick me, pick me!) – let's wait and see.
The bike as supplied is not just out of the crate, it has already chalked some 8000km, although still looks pretty much unmarked, and runs great. The only knocker was the flat battery, which wouldn't get even close to turning the crank through a full stroke. I thought this was a bit off at first and worthy of a moan, but the forward prodding right-hand kicker is so easy to lunge her into life that it became second nature, and no hassle at all.
In fact, it's hard case the amount of curious stares you get while starting her with a forward rather than downward kick.
Physically, the VOR is still quite tall as far as road bikes go, and has the luxury comfort and width of a standard MX seat, although with a seemingly softer foam. Hey, it doesn't matter, this bike is all about fanging around. On the road she handles like a commuter on steroids – light and agile, a lane-splitters dream, and with a heap more get up and go.
There is a reasonable amount of vibes through the grips, but no more than you'd expect from a high performance thumper, and at comfortable highway pace, say 110km, it's minimal. Talking of highway cruising, the long geared box is really happy at that, with heaps left to draw from for overtaking or just for playing, because you can.
On my usual Titirangi Tour of Tight Roads, which always culminates in a carve up the Scenic Drive, and out to Piha and back, the VOR is simply superb. Normally with a sizeable road bike this run ends in a wee rest at the Arataki lookout to catch a breather. Not so on the Motard – it's effortless, even at a pace that would scare most sports machinery, it's oh so refreshing, and definitely does a job of recharging the adrenaline valve.
So far I haven't done any really big Motard slides, although I did get the rear skittering about several times when in contact with some of the greener bits of the before mentioned Scenic Drive, and never does it feel out of control. She hangs on even at some pretty acute angles, a credit to the Michelin Hi-Sport (120/70-17) up front and fairly worn Metzeler MEZ1 (150/60-17) rear, which both wrap attractive and highly polished spoked rims on billet hubs.
Braking is by way of Brembo's, grabbing beefy scalloped discs, both of which are located on the left-hand side of the spokes (chain is on the right). While we are on the subject, the front unit is the business, but the front-end drive under heavy braking may surprise the odd road-rider, although it is not unsettling to those used to longer suspension. If stoppies are you, so is this bike.
The 46mm forks are a creation of a joint venture between Paioli and Kayaba and are of course up-side-downies, while the rear runs a Paioli unit, and all is fully adjustable, as it should be.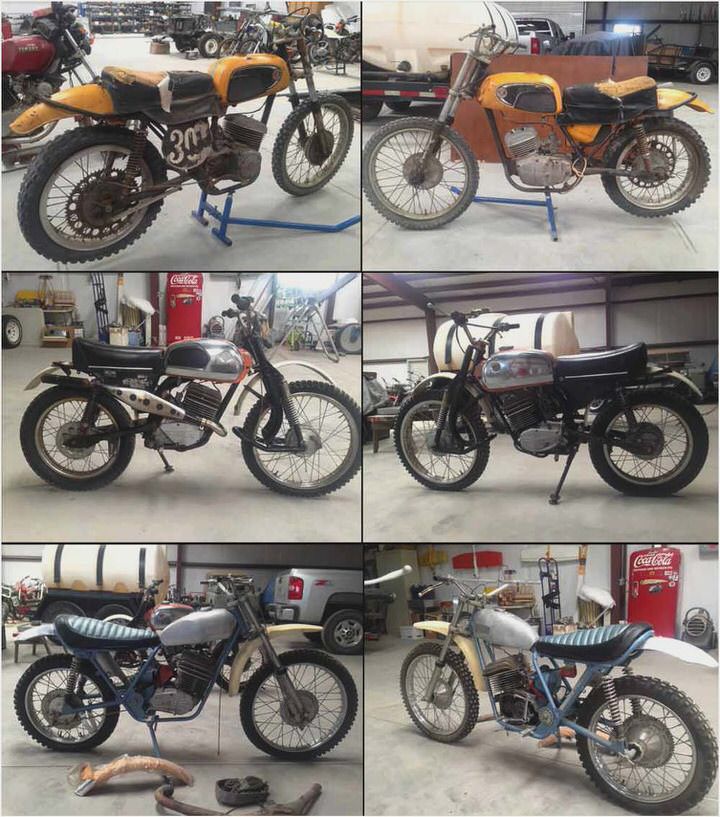 There is a slim electronic enduro style digital speedo to tell you how much over the mark you are, as well as giving you the time, trip dist, average speed for the trip, odometer and max speed, with an inbuilt light. Winter commuting means dull trip in – dark trip out, and about the only moan I can find with the motard is the minimal effect headlight. It does work, but stay off the non-lighted streets after dark.
Also attached to the factory fitted tapered bars is the Magura hydraulic brake servo, and a set of black Acerbis handguards (not standard equip).
I've left the best to last, the motor. I loved the macho feel of the last VOR I rode, and this one is no different. The liquid cooled, 4-valve, Dellorto carbed, gear-driven, single overhead cammed 530cc engine, quite simply, feels strong and pulls hard enough to keep a grin on. There is a vibration, or better still, a rumble that is apparent through bars and butt right through the rev range, and it just feels great.
She loves and laps up the high revs, too, and is primo off the mark powering through the five widely spread gears.
Speaking of gears, the box is positive and shifts quietly, and finding neutral is easy as. Keep in mind the birth parents of this motor are the respected performance designers the Vertimati brothers, and from there VOR Motori has built a high-performance banger that feels like a high-performance banger should. Through the twin header feeder for the cavernous Giannelli silencer, she sounds as good as she feels when launching or cruising, and even expels a rewarding pop or two when engine-brake decelerating.
There are only two things on this bike I didn't find a need for. The axle-end mounted skateboard wheels, there to protect things in the event of a lie down, and the passenger pegs – like putting a tow bar on a Testarossa, in my opinion. Trust me, keeping the front end on the tarmac would be a battle royal with even minimum rear ballast.
Summary – if you want a bike to comfortably tour around with the lady, don't by this bike, but if you want some arm-stretching, adrenal-popping, lane-splitting fun around the town and surrounds, or even the track, this may be your invitation to the party.
Big 650 South to BIG SUR Motorcycles
French motorcycle manufacturer, Voxan, returns! Bike Social
Test Voxan V1000 Scrambler Motors TV
Test Voxan Prototype : "Scrambler S" Motors TV
2006 Triumph Bonneville Scrambler – News & Updates – Motorcyclist Online