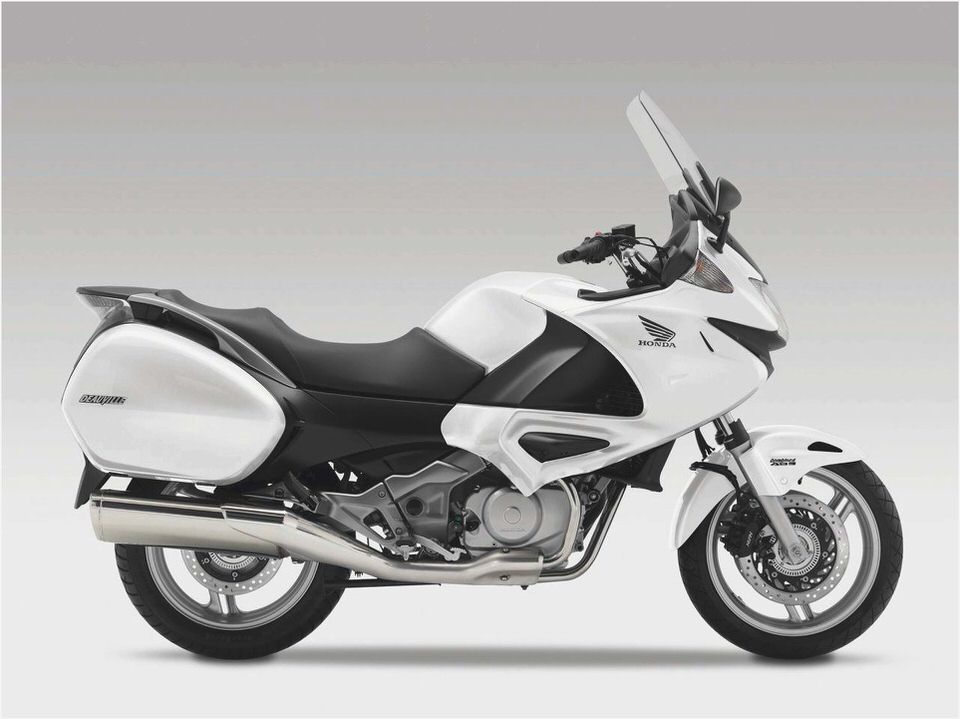 We test: Honda NC 700 X C-ABS – appropriate concept (PHOTO, VIDEO)
Posted by admin on Jul 6, 2012 in Tests
The modern appearance, low fuel consumption, long maintenance intervals and competitive price. Is that all the benefits of Honda NC 700 X? Certainly not!
Photo by Charles Biela
One of Hondas motorcycle novelty for 2012 is 700 X NC (NC stands for New Concept – stands for a new concept, idea), which was founded as one of the three models, including jointly sharing rame, engine, and wheels.
Nakedow fans should be interested in the NC 700 S, and for practically minded customers – according to Hondas Polish branch – was founded Integra maxi-scooter. In fact, its not a scooter, but a new kind of motorcycle with a scooter – quoting from the website description importer.
For those who like a little more podroze also prepared NC 700 X decided to see how doing this 700-ka in everyday life and on long weekend trips.
Modern look, creative solutions
Visually Honda NC 700 X presents itself really well. Characteristic short beak at the front reflector Croosrunnera refers to a bigger or Crosstourera.
In addition, adjustable in two positions glass and high position of rider you are sure the benefits of this design.
I think the most interesting solution is to place the 21 liter waterproof and closing the clipboard at the fuel tank . Sam went bak, in turn, like the scooter under the couch. In this useful in everyday life can easily hide locker integral helmet, and more inventive users upchna a few things.
To get to the clipboard or fuel tank – located under the passenger seat – you have to turn the key to the left (opens glove compartment) or the right (the seat is raised).
Digital LCD display provide basic information, such as speed, engine RPM, two runs and glowny day, hour, and fuel level.
Above the display are controls such as color Check engine light, direction indicators, the ABS, coolant, idle or immobilizer HISS (Honda Ignition Security System).
See also: Honda CB 600F Hornet C-ABS – bare and merry (VIDEO)
In addition to transparent enough tachometer, all data are legible for the driver, you can not forgive pointer Gear Considering that the cost of a new NC 700 X with C-ABS system is only 26 900 zlotys. For the money can not be too much wybrzydzac.
You also can not fault the quality of the plastic, paint and coatings – despite the low price motorcycle standards hold fast to what Honda has accustomed its customers.
Engine: very frugal twin
Liquid-cooled two-cylinder design with a capacity of 670 cc generates 48 hp and is already at 6 250 rev. / Min. And torque to 60 Nm comes at 4,750 rev / min.
So much raw data. Already after activating the 700-ki and driving a few kilometers characteristics – as well as at times the engine sound – reminiscent of V-Twin, and yet in a steel frame, Hondas petrol engine is running! Such targeted treatment they reached the Honda engineers putting the rod shaft pivots 270 degrees and simultaneously modifying the ignition points.
When driving in the city you can not complain about a lack of capacity or poor flexibility, because at low and medium revs especially NC 700 shows its advantages. Accelerates smoothly without whining like a real pyrkajac V-ka.
When we go out of town for long stretches it turns out that … the scale of the tachometer is too short. A couple of times it happened that when overtaking There were cutaways ignition, but surely such a characterization is the low speed engine. You have to to simply get used.
One of the main assumptions in the construction design of the drive unit NC 700 was reducing fuel consumption.
Two-cylinder inline engine with a single overhead camshafts has been optimized to reduce friction. We also try to reduce the number of moving elements, which is an example of an oil pump. It is not driven shaft of an auxiliary, but through the balance shaft.
The result is burning, which the manufacturer specifies to 3.6 liters per 100 kilometers. During our test medium fuel consumption was only 3.54 liters . The more it is a result worthy of recognition, because the test bike was treated rather harshly.
If we add to this Inspection at 12 000 kilometers, and the necessity of exchange of iridium candles after 48 thousand. Okarze out that the Honda NC 700 X is a very frugal in the use and service of the vehicle.
Comfortable position, neutral running
Honda NC 700 X is a motorcycle with wide possibilities. In the city and on the road rider will appreciate the high position, which facilitates the observation of the situation on the road.
Faster winkle or highway flights are not for 700-ki a greater challenge. Neutral tuned suspension gives the opportunity to the deeper drafts, and at maximum speeds (licznikowo little over 160 km / h) motorcycle behaves stably not searching for their own path.
See also: Honda CBR 1000F – big maybe more
Highly placed mirrors make it easy to move with crowded urban areas, a lower center of gravity (the fuel tank under the seat, cylinders tilted forward by 62 degrees) helps you to maneuver with minimal speeds and the car park.
In addition, the saddle positioned wyskoksci only 830 mm from the ground, and 218 kg of ready-to-ride motorcycle (with ABS) also should not scare away anyone.
If someone likes to detour from the main routes, the problem also will not lower quality asphalt, because the version of the X has a pretty wide range of work suspensions (153.5 mm front travel, rear 150 mm).
Brakes with C-ABS
To slow down the test machine serves a single wave-type disc with a diameter of 320 mm, which works with trzytloczkowym terminal. With so many used discs with a diameter of 240 mm with single piston caliper.
Test sample was equipped with boost C-ABS, the ABS skiatlon. By pressing the brake lever handle – albeit without the possibility of adjustment, but youll have on the price of the equipment – external trigger are two pistons in the front caliper. Football lever activates the rear brake piston front and center terminal.
When driving this solution works quite well. And although the layout of the dry conditions sounded only in the event of emergency braking on a slippery ground already appreciate the presence of the C-ABS.
Prices and Competition
Quite new NC 700 X costs 25 000 gold evenly. A test version of the C-ABS system is more expensive for 1 900 gold, but its worth it to pay extra for. For fans of technological innovations is still the model for 31 100 zl DCT dual-clutch transmission and arrangement of the C-ABS.
See also: Suzuki V-Strom 650A – destined for success? (PHOTO, VIDEO)
Looking at the tested Honda come to mind associations with the Kawasaki Versys, the BMW G 650 GS. Compact size, light off-road styling, upright seating position and steering wheel – its common elements for these vehicles. If it comes to the price situation is no longer so clear.
Kawasaki Versys 650 with a 2-cylinder inline engine with 64 hp costs 32 500 € (version with ABS 34 900 PLN).
The BMW G 650 GS without ABS-u driven by single, but the power and torque identical to the NC 700 X (48 hp at 6 500 rev. / Min. 60 Nm at 5 000 rev. / Min.) Was priced at 29 850 zl.
– Modern styling,
– frugal engine
– attractive price
– functional storage,
– characteristics jesnostki drives requires habits,
1979 Ferrari 312 T4 – Images, Specifications and Information
Honda Sport new motorcycles
Honda Oree Electric Motorcycle Concept – Motorcycle USA
The new Honda Jazz (Jazz Hybrid) Auto News
2013 Honda CB 500 Trio has arrived to Malaysia – CBR500R RM28,588, CB500F…