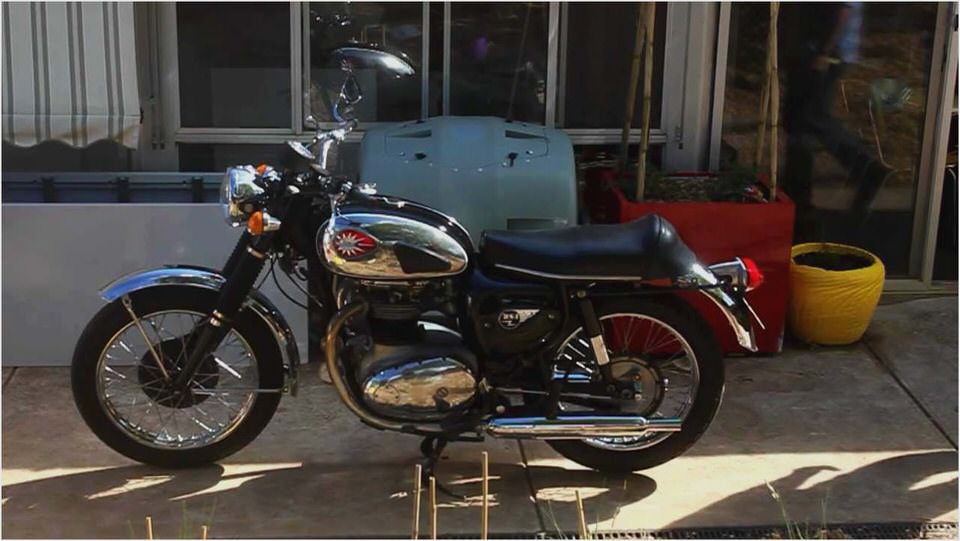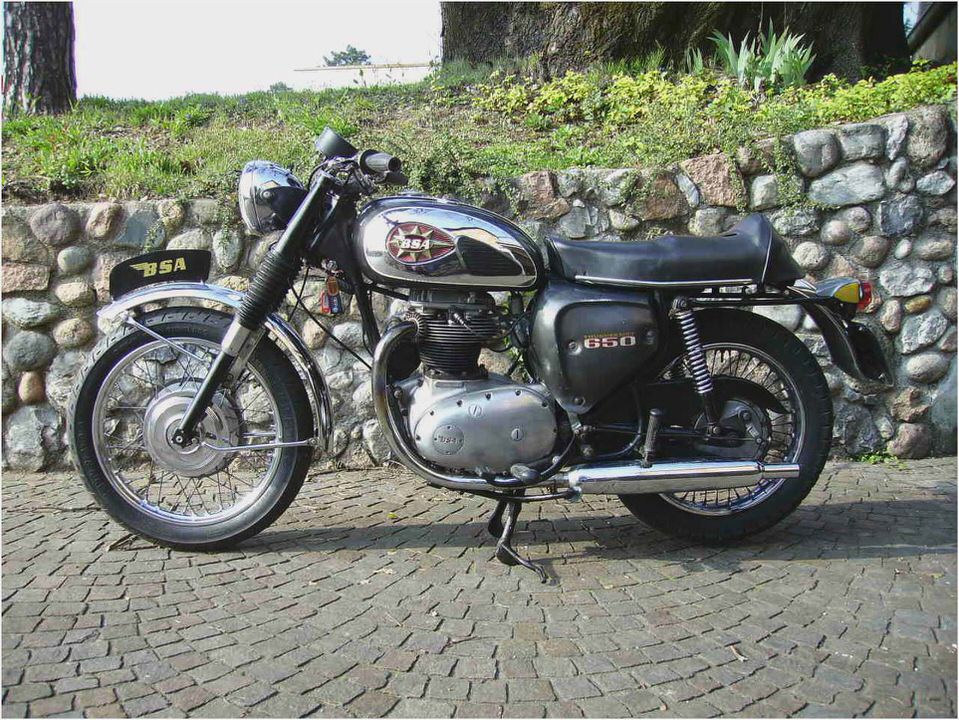 1968 BSA A65 Thunderbolt
42 years after it rolled off the production line, owner Tony Clements reckons that it's possible to keep an 650 Thunderbolt in better-than-new condition (and he's got the prizes to prove it).
BSA introduced their unit-construction 650 parallel twin in 1962. The 654cc machine started life as the A65 Star basic model, with various offshoots developing through the decade. The Lightning versions sported twin carbs, as did the highly-strung Spitfire which was intended for competition use.
The single-carb Thunderbolt fulfilled more of an everyday, touring role, and by 1968 it sported 12-Volt electrics, a Concentric carb, two-way fork damping and a three-spring clutch to go with its four-speed gearbox.
1968 BSA A65 Thunderbolt, from the left
The 75mm by 64mm motor typically ran 9:1 compression to produce 42bhp at 6800rpm. Fully fuelled with four gallons of gas the bike weighed nearly 400lb, so its top speed was slightly less than the 100mph mark, with a standing quarter taking 15.5 seconds or so. In 1968, the Thunderbolt would go from zero to 60mph in 7.4 seconds.
The twin-carb Lightning of the same year was only marginally quicker – 15.29 seconds to cover a standing quarter mile and with a 102mph top velocity – for all that it claimed to house an extra half dozen horses.
1968 BSA A65 Thunderbolt, from the right
The BSA range underwent a major (and not universally appreciated) revamp for 1971, so the final years of the previous decade are considered by many to be the easiest to live with and most desirable unit construction machines. Although not the most glamorous of the BSA 650 models, the A65T is a popular choice for modern classic bike fans.
Roy Bacon reckons that; 'for riding, a well-sorted Thunderbolt from the late 1960s could give the best combination of virtues.' Similarly 'Cycle' magazine said that the 1968 bike was 'one of the best-designed motorcycles that we have had the pleasure of testing'.
1968 BSA A65 Thunderbolt, from the back
Owner Tony Clements feels much the same about his own 1968 Thunderbolt which has just won the Best Bike award at the 2010 Walsall Classic Show. Tony bought the bike back in 1997 and cut his classic teeth on it. 'This was my first venture into British iron classics' he says, 'and it taught me a lot of skills which I'd since put to good use!'
The road testers of the era were aware that all was not wonderful back at Small Heath when the A65 left the factory. 'Unfortunately, what is obviously an outstanding engineering exercise has been negated by a lack of attention down on the assembly lines. Blessed with beautifully proportioned lines and as clean an engine-transmission assembly as there has been on the market, the Thunderbolt has been flawed by indifferent workmanship' said Cycle magazine. However, those kind of issues are straightforward to resolve with modern materials – so long as the owner has the dedication and application to do the job right.
1968 BSA A65 Thunderbolt, from above
BSA 650s on eBay Right Now.
Tony's Beezer cost Ј950 to buy and around another Ј4000 to bring up to scratch – and that's just the cost of the parts. Tony did the majority of the work himself; 'paintwork, polishing, rebuilding and even manufacturing parts where possible'. The A65 was complete but 'it had been severely butchered by several previous owners' so it was given a top-to-bottom, nut and bolt restoration.
It's no great surprise that this bike regularly wins awards when Tony rides it to shows, because he has paid enormous attention to detail during the rebuild. For instance; 'every visible fastener has been re-made in stainless steel.' Likewise, going 'the extra mile' on the Candy Red paintwork was definitely worth it, says Tony. 'The overall effect is great!'
Tony used and is happy to recommend SRM for his engine re-grind, and Traditional Plating for the chrome work; Central Wheels for the spokes and rims; RS Paints who matched that special colour, and Lightning Spares for general BSA bits.
Tony incorporated a couple of modern modifications into his restoration. He's pleased with performance of the taper roller head bearings: 'fit and forget: great!', and a Boyer electronic ignition system which 'is a must, and cost under Ј100'. The SRM clutch conversion 'expands with engine temperature but has very good thrust bearing.'
1968 BSA A65 Thunderbolt, engine detail
After suffering a couple of teething problems during its shakedown period (the original coils failed: 'I should have replaced them to start with' says Tony), the A65 is now 'very reliable. It starts well, ticks over well, and runs great.'
Tony has considered fitting a Mikuni carb because 'British Amals are hit and miss, to say the least' but feels that the Japanese carb would spoil the A65's appearance, so he's stayed with the original set up. He reckons that A65s are 'very under-rated. Spares are freely available and they run very well and reliably…'
So if you're considering a purchase, Tony says: 'go for it!'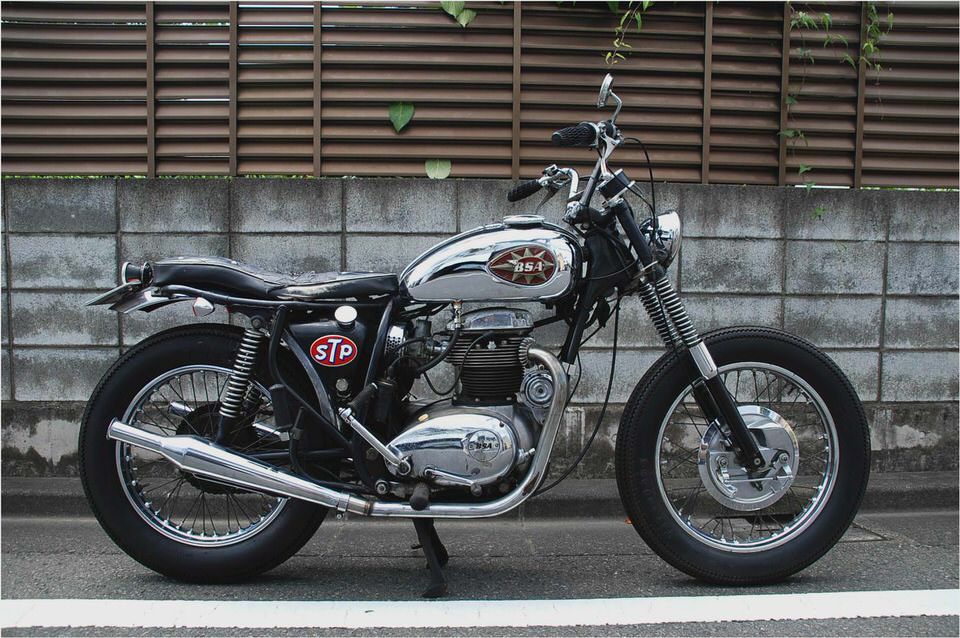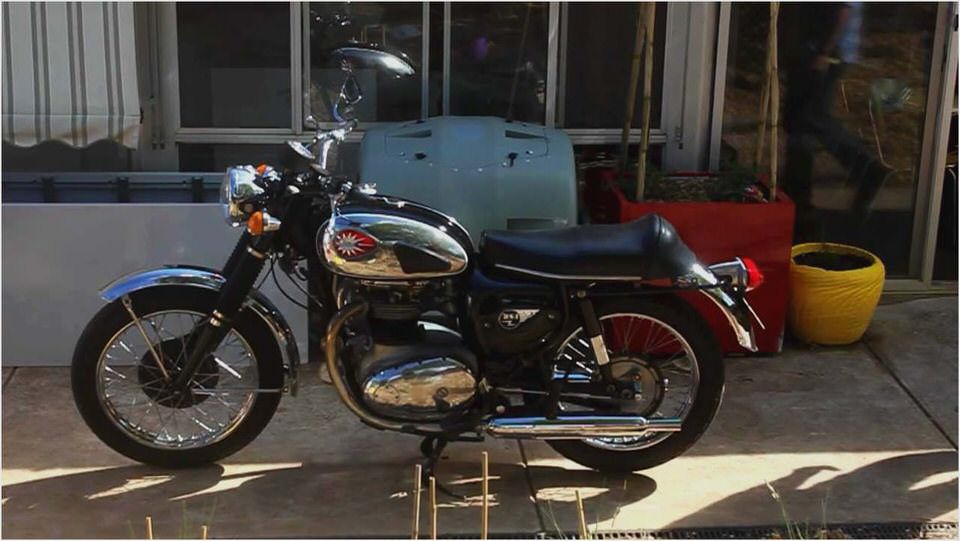 Show Off Yourself!
All kinds of classics are very welcome at the events we sponsor and almost any old bike might go home with an award. Thanks to all who entered their bikes into displays during the summer but weren't chosen this time around; we do enjoy looking at your bikes even if the judging can be very difficult indeed.
We sponsor several more shows during the autumn and all RC readers are very welcome to attend, with the family or riding solo, possibly as part of an organised ride-in with the rest of your club branch or just on your tod. You can enter whatever type of classic bike has snagged your fancy, of any origin and in any condition, be it a barn-fresh discovery or a recently restored replica. If you've upgraded your classic to make it practical for modern riding then our judges will be fascinated to see what you've done: we don't turn up our noses at non-standard spec although we do, of course, appreciate the patina of ages on an unrestored machine…
There will be a selection of concours awards up for grabs at each event with different categories and classes, and the arrangements for entering differ between organisers and venues. The common thread for show-goers is that if you can prebook and enter your bike for the displays in advance then you will be given discounted – and sometimes FREE – admission to the Show. All you need to do is turn up in time to put your bike on display and then you (and very often a chum too) can enjoy the rest of the day without splashing too much cash (unless the bargains in the jumble lead you astray, of course).
Contact the appropriate organiser and get yourself signed in for an RC event this autumn, and give our judges an even harder time making up their minds…
Sunday September 19th 2010
The STINKWHEEL CLASSIC MOTORCYCLE SHOW return to Beaumanor Hall near Loughborough, a splendid setting for one of the final outdoor events of the riding season. Classes for all ages of British, Japanese and American classic plus the special Italiana event which means all Italian machines are extra welcome. Two FREE tickets for those who display a bike and prebook before 11th September 2010. Forms from 01743 891889
Sunday October 24th 2010
The SOUTH OF ENGLAND CLASSIC BIKE SHOW returns to the South of England Showground at Ardingly near Gatwick from 10am to 4pm. Enter your classic early because places for show bikes are limited, although there's plenty of parking if you just want to ride in on the day. FREE entry for prebooked classic bikes.
See www.elk-promotions.co.uk or call 01797 344277.
Sunday October 31st 2010
The MALVERN REALCLASSIC BIKE SHOW opens 10am to 4pm at the Three Counties Showground at Malvern (J7/8 off the M5 or J1 off M50). Big range of prizes from veteran through to 1990s iconic motorcycles, including competition, European, American and classes for major British marques. Discounted admission for those displaying a bike. Entries via 01484 667776 or www.classicshows.org .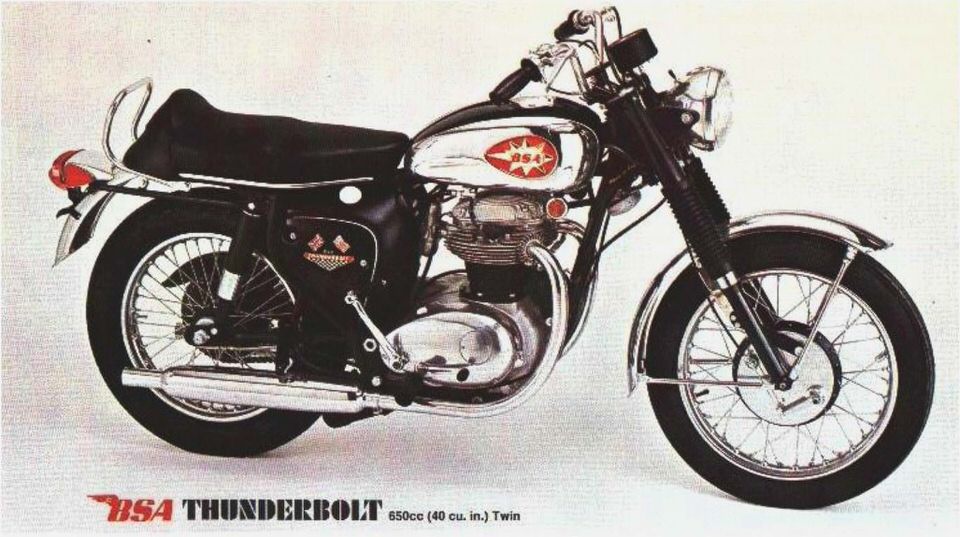 BSA 441 Engine Specs eHow
Vintage British Bikes Vintage Motorcycle Parts
The Panther Page – Technical Tips
Momslink and Clyc in the Money at the First BSA Demo Day – Silicon Allee News
BSA B50 Birmingham Small Arms Company Mead & Tomkinson racing Clews Competitio