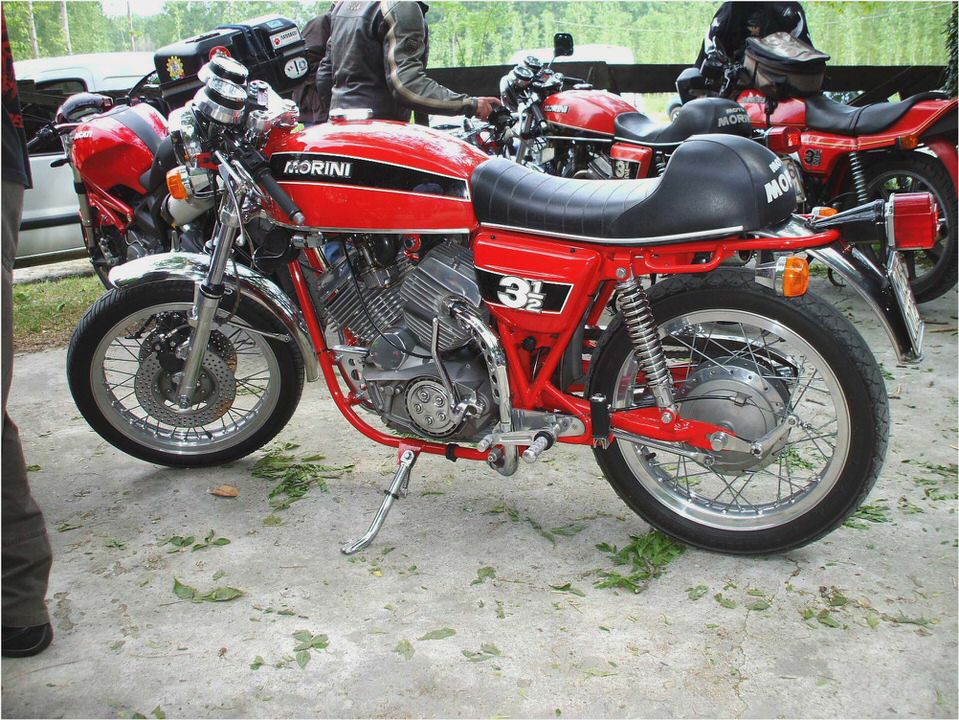 double disc front brake
1981 Moto Morini 3 1/2 Sport 400cc, L5 Cam, Big Valve Heads
A very reluctant sale of my 400 Sport which I have owned for some 24 years. This is a genuine Sport with an S stamped on the right hand side under the front cylinder, not a conversion and was bought by me in July 1989 from Pietro Di Marino at Rotadale, South London (now Motori Di Marino of West Chillington, West Sussex). The bike is an honest machine in good all round condition; not concourse but very tidy.
It could easily be buffed and polished more on the cases but it is sound and without any major issues that I am aware of. The bike was fully rebuilt by Benjy Straw and Phil Smith of WeeVee when they were at the New Stores, Croydon, now sadly gone. For those who are unaware, Benjy Straw and Phil Smith were London Morini specialists and built a reputation for their excellent work and quick bikes.
The list of work carried out on this bike was endless as were the modifications.
The current specification of the bike is as follows:
Motor
· A GENUINE Sport motor with an 'S' stamped on the right hand crankcase under the cylinder.
· Original frame and motor.
· Lightened primary drive gears allowing the motor to spin more quickly.
· Gilardoni Gilnasil 400cc barrels; near impossible to obtain these days.
· Genuine and highly desirable L5 Camshaft.
· Big Valve Heads (flowed by the now deceased George Mez of Mez Porting). These were ex-racing heads from a Benjy Straw WeeVee race bike.
· Dry clutch fitted with the nylon thrust washer mod to cure the snatchy clutch.
· 'Swan neck' kick start.
· Dellorto 26mm 500 spec round-slide carbs jetted to suit the Valentini pipe, replacing the standard VHB 25mm carbs.
· Exceptionally rare Valentini 2-1 exhaust (from a batch of only 10 brought to the UK), aluminium sprayed for longevity.
· Being a later '81 'K' Sport (the last of the genuine Sports before the K2 appeared) it has the benefit of better gearbox components and stronger crankcase webbing than earlier bikes.
· Replacement rev counter angle-drive fitted as the old one had died. Very expensive now.
· Many practical other mods carried out to the engine during the rebuild.
Electrical System
· Upgraded Japanese regulator for reliability.
· Completely rewired.
· Alternator repaired.
· Electric start 'K' type flywheel replaced by earlier non-electric start type.
· Electric start 'K' type alternator side cover replaced by earlier 'period' cover for improved aesthetics and lighter weight.
· Electric start dumped which significantly reduces weight (a Heath Robinson system if I ever saw one).
· 3 rd generation grey transducers (with bulge) producing a fat, healthy spark.
· Later series black pick-up matching the transducers.
· New Fiamm YB 18L-A battery.
· NGK plug caps and new leads.
· Serviced with new cam belt (old one available as evidence of replacement)
Braking
· Upgrade to twin disc front brake set up for improved stopping.
· Stainless braided hoses.
Chassis
Frame powder coated. Additional frame bracing for increased frame stiffness just under the steering head on the front down tubes and above the 'kink' by frame builder Nigel Hill of Saxon racing (famous for the Motodd Saxon Laverdas and the SaxTrack front end which BMW copied for their later fork designs and called 'Telelever'). Barely noticeable from standard.
Frame gusseting around the steering head re-profiled and 'blended' by Nigel Hill to reduce stress in this area. Again barely noticeable from standard. Phosphor bronze swing arm bushes; frame and swing arm spindle tapped for grease nipples. Period Artesiani rearsets (repaired on several occasions, those were the days), with left hand flipping up to enable kick starting. Marzocchi remote reservoir piggy-back shocks.
Other minor mods and improvements such as welding a new spigot on the centre stand relocating the spring to allow for the 2-1. Stainless front mudguard (painted original available as a spare).
Documents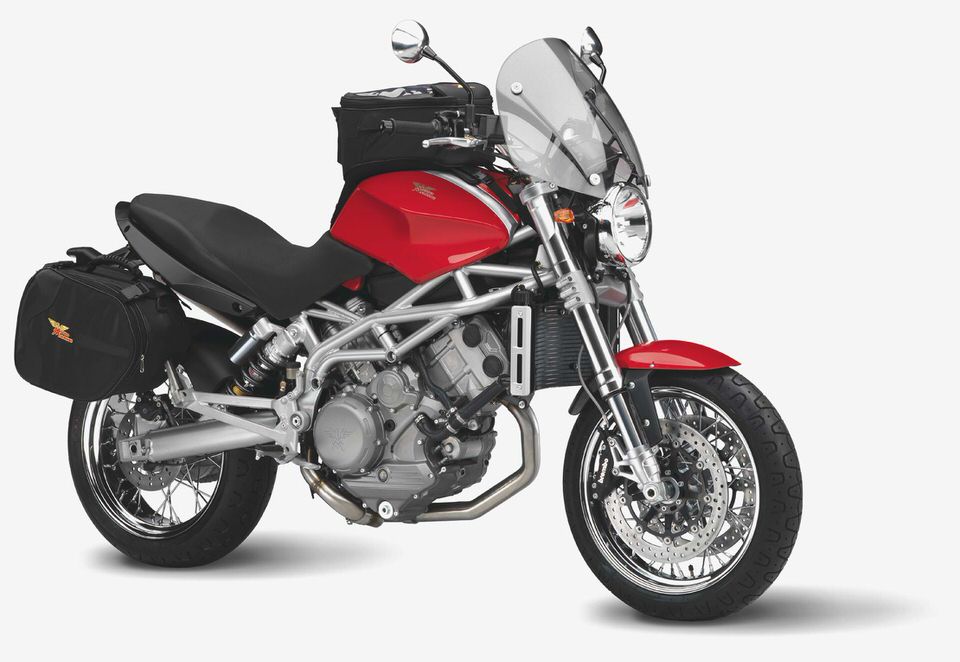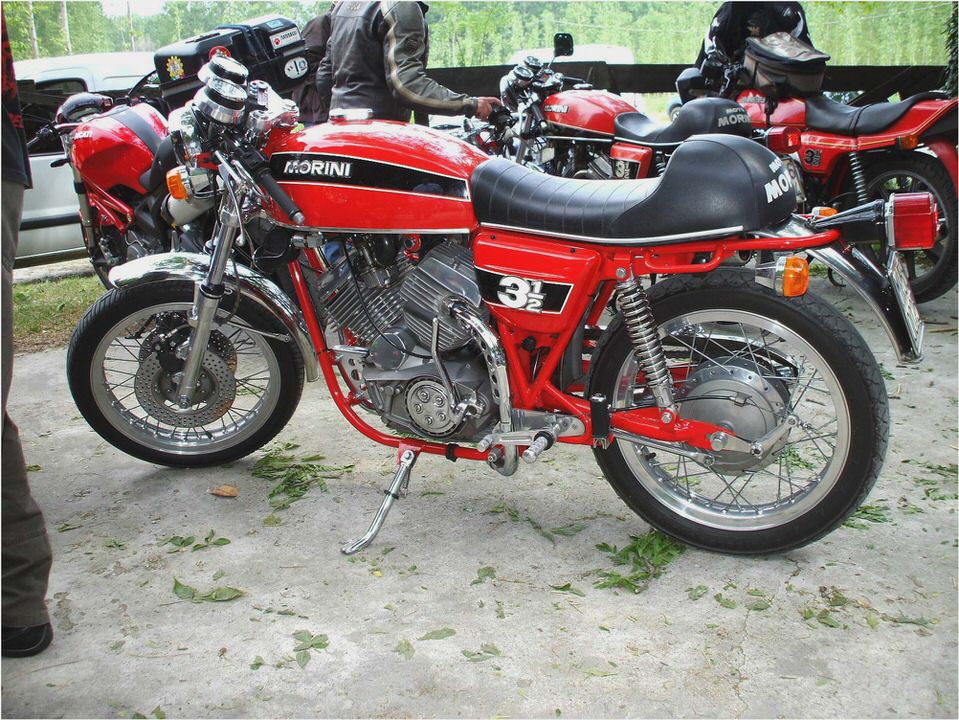 Taxed for 12 months MOT for 12 months Some history available and old MOTs etc New style log book and old one. New one has incorrectly described the bike as a Moto Guzzi! This can easily be sorted out when the new keeper details are amended.
Spare keys for ignition and petrol cap.
Background
In 1990, as a 350 the bike travelled throughout Spain, Italy and France without as much as replacing a clutch cable proving this bike to be a good one! In 1992 it was converted to 400cc using a Gilardoni Ginasil cylinder and piston kit and a genuine L5 cam fitted. The engine was also treated to a full rebuild costing me some £778 at the time which is around £1500 today, quite apart from this it was regularly serviced (and repaired) coming with most of the history as evidence.
When Benjy closed WeeVee, Phil Smith continued working on Morinis, relocating to the adjoining unit to Corsa Italia (rear of the old Spares GB premises in Walpole Road, Tooting) and the bike continued to be regularly serviced there by Phil. However, when Phil sadly passed away, the bike was laid up and has been mothballed in various garages until now. Over the recent winter, I stripped and freshened it up in order to return it to this condition.
Initially I was intending to complete the bike and keep it however I simply have too many other competing priorities and with a heavy heart have decided to sell. The work carried out in re-commissioning the bike included powder coating the frame and its ancillaries, repairing and re-coating the extremely rare Valentini 2-1 exhaust of which only a batch of 10 were imported to the UK by WeeVee, completely re-wiring the loom, replacing the alternator which had died in storage, fitting a higher specification (and more reliable) Japanese regulator along with new cables where required, battery and a myriad of stainless steel fixings and other minor parts.
Riding
So what is it like to ride? The engine is nice and quiet going well and it reaches 100mph quickly. Under power it has a fantastic snarl from the Valentini.
It has hugely improved mid-range power over a stock 350 because of those big pistons and probably does 105mph plus when given enough space to get fully unleashed. The bigger bores have an enormous transforming effect on the mid-range performance which is where most riding takes place after all. Hence the bike 'drives' well out of turns under acceleration and it will definitely give many of the 501s around a run for their money.
The work done to the primaries help the motor to spin and this bike is consequently able to rev. It is also fantastic posing bike and always turns heads either on the road or when parked up. The brakes are good enough to bring it back down to more sedate speeds quickly and i ts handling is typical Morini; excellent.
T he bike has just been fully serviced as part of the MOT preparation which it passed with no advisories and parts such as cables being replaced or lubed, the oil changed, tappets and carbs adjusted, timing checked and a new 'B' cambelt fitted.
Bad Stuff
Minor issues include a leak of brake fluid from a failed caliper seal to the left fork stanchion lifting some paint at the bottom of the left hand fork. Really annoying but now fixed. A pair of non-matching K N style air filters are fitted (does not seem to affect performance whatsoever).
The seat would benefit from being recovered having become discoloured during its time in storage, however this really is being picky as it is perfectly alright as it is. I t is wearing a 'temporary' speedo borrowed from a friend as the original went missing in storage and unfortunately I consider it now lost. This will be replaced before the sale completes so the speedo reading is obviously not entirely accurate.
Other issues revolve around the rare and hard to find stuff like badges, clocks etc. which have tarnished or worn through use. Please remember that this bike is 32 years old and as such it will still, despite the restoration, not be entirely immaculate.
This is an exceptionally rare opportunity to buy a small slice of Moto Morini history and is a fantastic bike that would cost thousands more to recreate today. However it has been in storage for far too long and now it really deserves to be thrashed out on the road. Consequently it is for sale with a reasonable starting price and a sensible reserve.
It will be advertised elsewhere and as usual, I reserve the right to end the auction at any time. I intend to let it run to the end of the auction
Shipping
The buyer is responsible for pickup or shipping; if you are an international buyer and require it to be shipped, please contact me to discuss this. I would prefer all contact regarding the bike to be via eBay and I am aware that there are those that like to scam or kick tyres so the usual applies – no chancers and tyre kickers thank you.
I will demonstrate the bike to the purchaser, no test rides unless cash is in my hand, you bid to buy. Payment will be in the form of a £200 deposit made via PAYPAL within a day of the auction end with the remaining balance being paid in cash on collection or by bank transfer in advance of collecting the bike. The bike will only be released on all funds being received and payment being fully cleared prior to collection.
If you have a feedback score of less than 10, please contact me prior to bidding.
Moto Morini Kanguro and Dart – Classic Motorcycle Roadtest – RealClassic.co.uk
2014 Moto Morini Rebello 1200- First Look Review- Photos
Qwika – Moto Morini
1975 Moto Morini 3-1/2 Sport – Classic Italian Motorcycles – Motorcycle Classics
Retro Ride Moto Morini 500 Twin