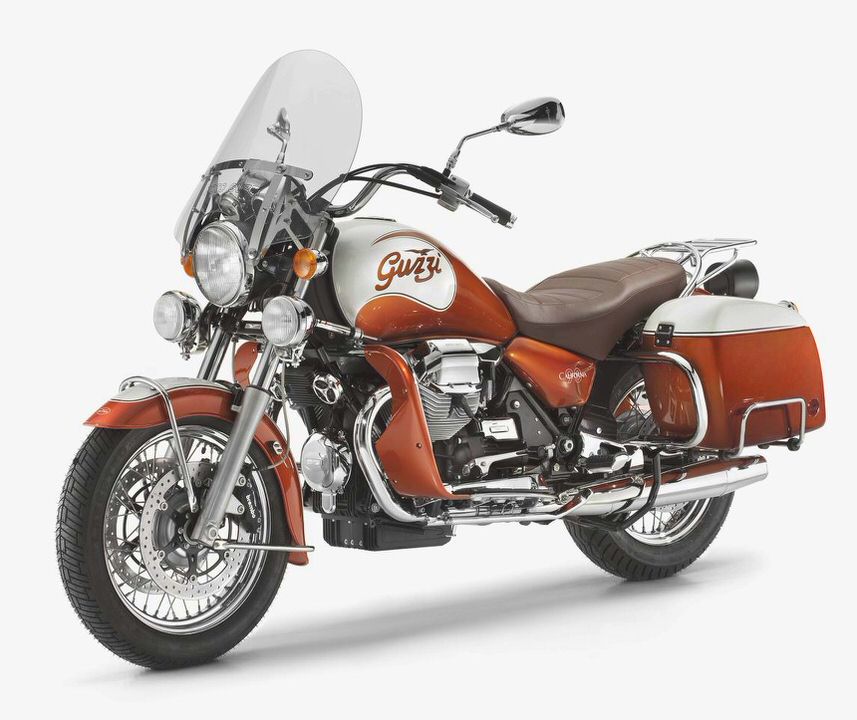 Moto Guzzi California III
lg+1997_moto_guzzi_california_iii+side_view.jpg
Though not as well known in America as that other Italian motorcycle maker, Ducati, Moto Guzzi has been a small but solid fixture in this market for about three decades, and has been making motorcycles for 76 years. Though the numbers have always been small, its distinctive V-twins–which are placed across the frames with the air-cooled cylinders jutting out into the wind stream on either side of the bike–have become familiar sights simply because they are so durable. The 90-degree V-twin design, which has always been paired with shaft final drive—a natural because it plugs right in using this engine configuration with no extra gear pairs to change directions as on a tandem V-twin—and has been applied to various applications including police bikes, tourers, the LeMans and Sport sportbikes, and, of course, the California-series Cruisers.
Guzzis are sometimes called Italian BMWs because of their similar layout (think of a Guzzi engine as an older pushrod BMW with its cylinders folded up to a 90-degree V) and concern for practical virtues like dependability, comfort and ease of maintenance. While other Italian motorcycles are sometimes thought of as fun but flighty, Guzzis have a reputation as fun and functional.
This character has remained even as motorcycling has trended toward greater specialization and despite ownership changes at Moto Guzzi. Though the machines have evolved and grown–Moto Guzzi twins displace 1064cc these days—the qualities that distinguished them as survived.
We arranged to borrow a California III from the U.S. distributor's North Carolina headquarters (Moto America, 613 W. Lillington St. Angier, NC 27501, 919/639-3180 or 800/USA-MOTO) to ride to the Honda Hoot at the other end of the state. Our test unit was decked out in 75th-anniversary livery, but is otherwise a standard California, which now means that it has Weber fuel injection instead of carburetors.
There is a fast-idle (choke) lever next to the left handlebar grip, but we couldn't tell you if it does anything. The Guzzi always started promptly (providing you retracted the sidestand, which prevents the starter button from doing anything) and settled immediately into a smooth idle. The only difference between a cold engine and a warm one was that when cold it bogged slightly the first time you applied any load, requiring a bit more throttle to compensate.
The exhaust has a crisp, deep, distinctly Italian note and cadence. The California has the typical large flywheels of Guzzis, which means that a clumsy clutch hand or sloppy job of matching engine and transmission speed gets you a lurch. We normally dislike heavy flywheels for this reason, but the Guzzi's smooth clutch and response to throttle made it easy to adapt quickly and within an hour we forgot all about the heft of the flywheels.
Because of the crankshaft orientation, torque reaction cants the machine slightly to the side when you rev the engine. This has no effect on handling, but it's another quirk in the character of the bike. The engine layout also means that longer-legged riders might bump the cylinder heads, particularly the left one, which is set slightly farther back than the right.
One thing that shouldn't require any adjustment from the rider is the engine power characteristics. Clean carburetion from idle, and seamless power delivery from under 2000 rpm to the 8000-rpm redline assures immediate response any time you grab the throttle. It builds rev with no spurts or pauses in power, just a steady increase.
Getting away from a stop requires a bit of clutch slipping because first gear is fairly tall, but once moving, the ratio are close together, allowing a choice of two or three gears in most situations.
Our only engine-related complaint was vibration, which seemed high for a 90-degree V-twin. A high-magnitude vibration shook the bars of our test bike in the 55-to-75 mph range in fifth gear. By 80 mph, it smoothed out tremendously, and it wasn't obtrusive below that range.
We are told by owners and Guzzi itself that this subsides after the bike breaks in completely–between 5000 and 10,000 miles–but our machine hadn't reached that point when we returned it. For us, the solution was as simple as a downshift; in fourth gear at 55 to 70 mph, the bike was quite smooth. The only possible downside was increased fuel consumption. Left in fourth gear on the highway, mileage dropped to about 40 mpg, from its normal 43- to 48-mpg range.
Even 40 mpg translates to almost 200 miles in the tank (which has a capacity of approximately 18.5 liters or 4.9 gallons), and 150 miles before the low-fuel light begins to blink.
Our other gripe concerns the floorboard/foot-control arrangement fitted to the California. As with many other floorboarded bikes, you must lift your foot to shift or reach the brake pedal. This presents little problem on the left side, where the heel-toe shifter stirs hefty-feeling gears precisely and finds neutral easily.
The problem arises in braking. Guzzi provides a small footpeg to support your foot while using the brake pedal, but it is uncomfortable and slightly awkward in extended use, such as city traffic. If your foot is on the floorboard, reaction time getting on the brake pedal is slow. Adding to the problem is the Guzzi's integrated brakes, whereby the rear brake pedal operates both front and rear brakes, while the handlebar lever only operates the front brake.
Integrated braking is a Guzzi tradition dating back long before the Japanese ever thought about it. We aren't particular fans of it, though the Guzzi system, other than the awkward pedal location, works pretty well. The brakes are powerful yet easy to modulate, whether wet or dry.
The good Metzeler tires undoubtedly contribute here.
Guzzi obviously built the California for serious riders. The suspension outclasses any other cruiser. You get not only thoroughly controlled handling but also a ride that smoothes small bumps and greatly reduces the impact of large ones.
Not only are the basic rates well selected—a rarity among cruisers—the California offers spring-preload and rebound-damping adjustments at both ends, which is completely unique. The bike steers neutrally and tracks through corners with stability and precision. Despite the shaft drive, we noted little rise and squat with changes in throttle setting.
The frame is the same structure used on the sport models, so its rigidity isn't unexpected.
Vibration aside, our California was quite comfortable. However, it had been fitted with a Corbin saddle. Moto Guzzi's reps had a straightforward reason: We wouldn't want to ride that far on the stock seat.
With that saddle, a comfortable riding position created by natural floorboard location and a moderate bend in the handlebar, a compliant ride through the suspension and vibration quelled with a downshift, we had no trouble putting away two 160-mile tankfuls back to back and still arrived feeling reasonably fresh, even without a windshield.
North Carolina's back roads are a great place to sample a bike like the California, with lightly traveled roads undulating through hills and forests. On the famed Blue Ridge Parkway, where a relaxed pace is enforced with the 45-mph speed limit, the bike was ideal, but it was just as good when making time on the interstate or rushing a really squirmy road. The tall first gear is its only liability in town.
At the Hoot, the bike constantly drew attention, in part because of its novelty, but also because of its looks and reputation. I'll bet that's a great bike to ride in these mountains, opined one Valkyrie rider.
Though you can't fault the finish of the bike, it lacks the clean detailing of a cruiser that puts styling first. Components are placed where they will work most efficiently and provide ready access for maintenance. It lacks the minimalist feel of a Ducati, instead offering a machine that is build to stand up to whatever you can dish out, mile after mile, year after year, and for many to come. Parts, even for 1970s-vintage models are easier to get than many for many bikes sold in larger numbers.
Moto Guzzi's parts department claims a 90 percent fill rate of parts orders on the first pass and stocks many parts no longer available from the factory, having gone directly to the original supplier.
The details also reveal a bike intended to be used. Standard equipment includes centerstand, hydraulic steering damper, a small passenger backrest, chrome luggage rack, engine guard, and tachometer. The switch layout will be familiar to most riders, with a push-to-cancel turn-signal system. The ignition switch is up atop the fork crown.
It's set into the clamp plate that also displays the serial number assigned to each of the 75th anniversary bikes, of which there will be 750. The test unit was number 749. If you buy an anniversary model, we suggest separating the ignition key from any others, since keys bouncing in the clamp plate's face will mar it.
A separate key operates the fork lock. Our bike was also equipped with Moto Guzzi's excellent detachable 32-quart-capacity hard bags, a $428 option, and very useful—watertight, capacious, easy to pack, not as bulky as some other quick-detach hard bags, lockable and quickly removable or locked to the bike. A 42-quart size is also available. They add a third key.
Though, like other aspects of the bike, the bags are not mainstream cruiser, they are extremely useful to someone who rides frequently and far.
After riding the California, it's easy to understand the fierce loyalty of Moto Guzzi owners. Not a bike for someone who follows the herd, the California nonetheless offers something special for a capable rider looking for cruiser ergonomics and profile with chassis performance far ahead of the average cruiser and a unique look and feel.
HIGH POINTS: Smooth, responsive fuel injection; Suspension control and compliance; Broad powerband
LOW POINTS: Vibration: Awkward foot controls
FIRST CHANGES: Corbin saddle
SPECIFICATIONS
Designation: California 1100i
Suggested base price: $10,990 ($11,390 75th Anniversary Edition)
Standard colors: navy blue/beige, red/black, red/red or green/black; red/silver on Anniversary Edition
Standard warranty: 12 mos. unlimited miles
Recommended service interval: 3000 miles
Engine type: air-cooled, longitudinal-crankshaft, 90-degree V-twin
Valve arrangement: OHV, 1 intake, 1 exhaust valve, operated by pushrods, rockers, screw-type adjusters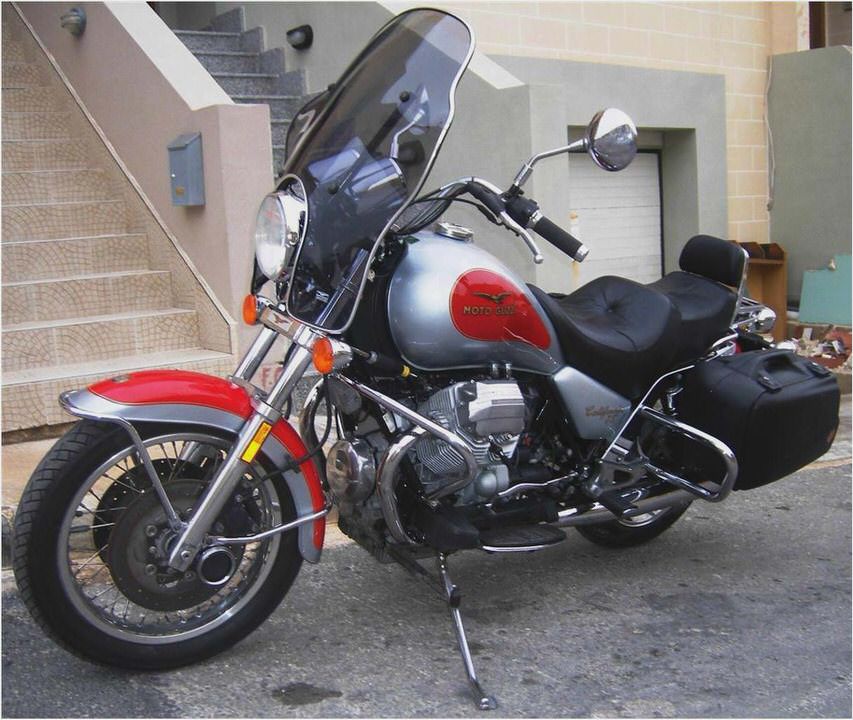 Displacement, bore x stroke: 1064cc, 92 x 80mm
Compression ratio: 9.5:1
Carburetion: Weber fuel injection with 2 40mm throttle bodies
Lubrication: wet sump, 3.2 qt.
Minimum fuel grade: 91 octane
Transmission: Dry multiplate clutch; 5 speeds
Final drive: shaft, 4.125:1
Wheels: Wire-spoke, 18×2.5 front, 17×3.5 rear
Front tire: 110/90-18 Metzeler ME33, tube-type
Rear tire: 140/90-17 Metzeler ME55, tube-type
Front brake: 2, double-action calipers, 11.8-in. discs
Rear brake: single-action caliper, 10.6-in. disc
Front suspension: 40mm stanchion diameter, 5.5 in. travel, adjustable for spring preload, rebound damping
Rear suspension: dual dampers, 3.8 in. travel, adjustable for spring preload, rebound damping
Fuel capacity: 4.9 gal
Handlebar width: 31.3 in.
Charging output: 350 watts
Battery: 12v, 30AH
Forward lighting: 55/60-watt 7.5-in. headlight, position lights
Taillight: 2 bulbs
Instruments: Speedometer, tachometer, odometer, tripmeter; warning lights for neutral, high beam, left turn signal, right turn signal, low fuel, oil pressure, lights-on, engine-management troubleshooting
Fuel mileage: 34 to 48 mpg, 41.9 mpg average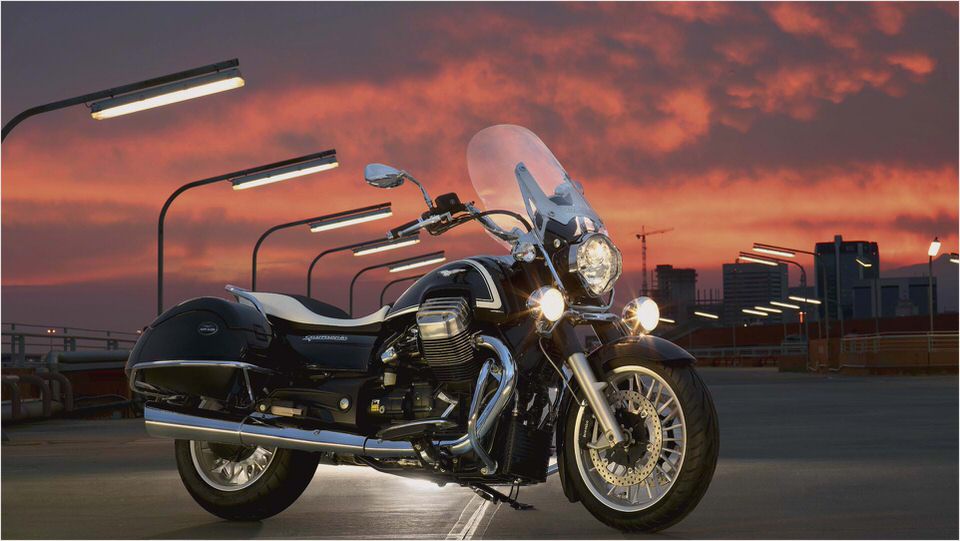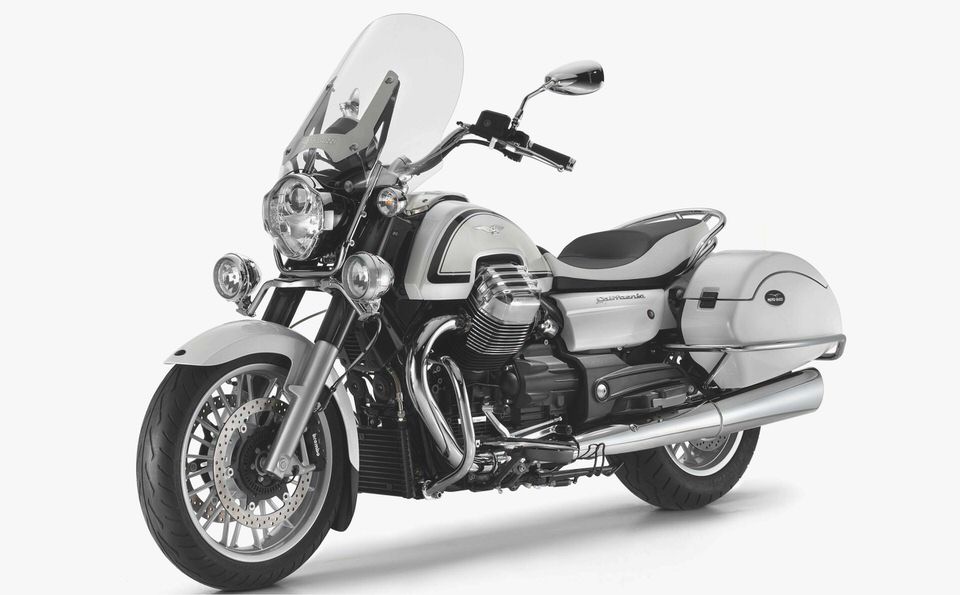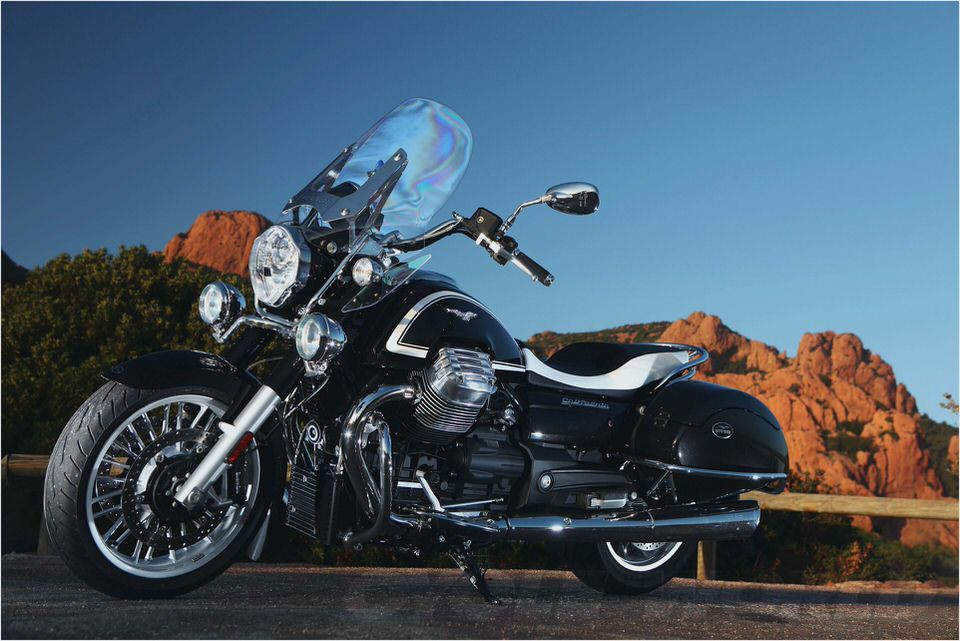 2012 Moto Guzzi V7 Stone, V7 Special and V7 Racer News
Talk:Moto Guzzi – Wikipedia, the free encyclopedia
Moto Guzzi Breva V1100 Accessories & Finance deal
Moto Guzzi Owners: please chime in – Page 4 – Ducati.ms – The Ultimate…
AT&T Wireless: $35 x 3 ($105) statement credit PLUS 6 months free text…