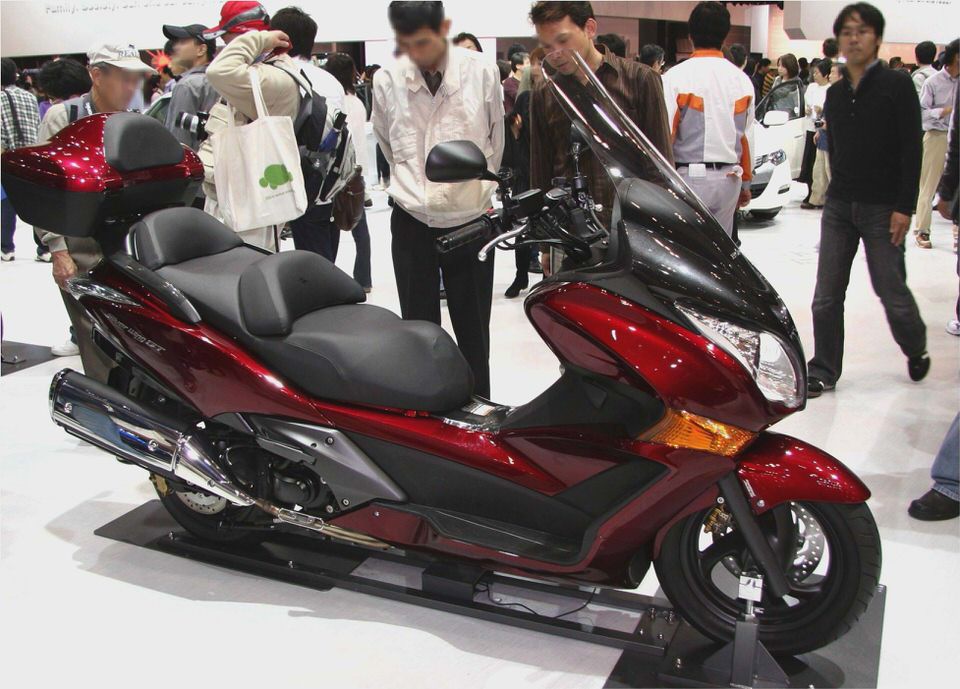 2002 Honda Silver Wing: MD Ride Review – Scooter or Motorcycle? Who Cares!
Look, our first conversation with Honda about the Silver Wing didn't go exactly like this (okay, it didn't go anything like this), but it could have. Honda press guy says: "Hey Dirck, we want you to test our new Silver Wing." "You mean that scooter?" "Well, yeah." "We don't do scooters here at MotorcycleDaily — that's why we call it MotorcycleDaily, rather than ScooterDaily." "Well, we think you'd really enjoy riding the Silver Wing — the engine is a 600 twin, you know. " "Oh, yeah?" ". and it will do an indicated 110 miles per hour!" "Really?" "Heck, it's got two wheels and disc brakes, and it's faster and more comfortable than plenty of motorcycles." "When can I pick one up?"
Okay, so the bright line between "scooter" and "motorcycle" is now rapidly blurring. Scooters used to be those cute little things with eight horsepower, ten inch wheels and drum brakes. They were designed for negotiating European traffic jams (traffic nightmares?) — not American city streets, freeways and highways.
Well, those scooters still exist, but, just like in the motorcycle world, high-performance scooters are popping up all over the place (well, all over Europe, anyway).
In Europe, several new models fit in the mega-scooter category (such as Suzuki's 650 Bergman, Yamaha's 500 T-Max and the subject of this review, Honda's Silver Wing), while Piaggio (Europe's largest scooter manufacturer) is rumored to be introducing an 850 cc V-twin powered scooter. Yeah, these things haul ass, and they have brakes and suspension to match. Are these still "scooters"?
As we said at the top of this article, who cares!
The Silver Wing is a big machine. With a claimed dry weight of 476 pounds, a 120/80/14 front tire and a 150/70/13 rear tire, and a huge, comfortable dual seat, the 582 cc parallel twin-powered Silver Wing can do many things as well as a motorcycle, and some things better (such as carry your stuff — see discussion below regarding the huge trunk). In the process, the Silver Wing provides a surprising level of performance and a not-so-surprising level of fun, as well.
Let's talk about the technical stuff. The Silver Wing engine is a double-overhead cam, parallel-twin displacing 582 cc, and producing 48 horsepower at 7500 rpm, with 37 pound/feet of torque at 6,000 rpm "for effortless acceleration and freeway cruising", according to Honda. That power gets to the Silver Wing's rear wheel via Honda's "V-Matic" automatic belt-drive system.
According to Honda, this system consists of three stages, including one for around-town cruising, one for moderate acceleration, and one that provides maximum power for full acceleration and top speed. Whatever — when you ride the Silver Wing, you don't notice any of this stage stuff — you just twist the throttle and it goes.
Indeed, the Honda Silver Wing has plenty of technical sophistication that seems to melt into a seamlessly simple transportation tool. That engine has fuel injection (just like some of Honda's motorcycles) an auto-enriching system that eliminates the need for a manual choke, two primary balancing shafts (cancelling vibration in both the vertical and longitudinal axes), and even lightweight slipper pistons for quick throttle response and reduced friction (just like those pistons found in your latest-and-greatest sportbike).
Although a dyed-in-the-wool motorcycle guy, I have to admit I had an absolute blast riding the Silver Wing. You think Hondas lack character? The Silver Wing has enough character to make you forget your best friend.
Hell, after two weeks, the Silver Wing was my best friend.
I said the Silver Wing performed seamlessly, but not in a boring way. When you ride the Silver Wing, you are very aware of its mechanical processes — it makes not unpleasant noises as it works though its three stage automatic transmission, and the engine itself, both through its airbox and its exhaust, is awfully throaty sounding for a "scooter" (there's that word, again).
The handling has character too. The Silver Wing handles very well, but feels different enough from a motorcycle to be uniquely entertaining. Although the Silver Wing has good stability (except, when pushed like a modern sportbike), those smaller wheels and tires make it feel quick and nimble (particularly, around town).
The powerful motor and surprising acceleration lets you "slice and dice" the automobile traffic on the boulevard as well as most motorcycles — better than many. The totally upright seating position contributes to this — giving you a comfortable, and confident, view of those nasty automobiles you have to avoid (and pass).
One of the most interesting sensations while riding the Silver Wing is using its excellent linked, disc brakes. Having no clutch, and huge floorboards (instead of footpegs), the Silver Wing has both brakes operated with hand-controlled levers. Once you remember that the left lever is not a clutch (it took me about three blocks), you begin to learn the fine art of bringing the Silver Wing to a rapid and controlled stop.
Applying the rear brake with your left hand is a much more precise and tactile process than it is when you use your right foot. While your feet relax in one of several possible positions on the huge floor boards, your hands do all of the work (controlling rear brake on the left, front brake on the right and throttle with the traditional twist grip). For a while (surprisingly short), it is kind of strange after riding motorcycles for so many years, but highly rewarding and fun.
Remember when Mick Doohan started controlling his rear brake with his hand following an injury to his right leg early in his career? He won several 500 GP championships with this set-up. maybe this was an advantage rather than a disadvantage. Do surgeons work with their hands or their feet? You get the point.
You need to try this for yourself.
Perhaps, the most surprising thing about the Silver Wing's performance is found on Southern California freeways. Negotiating freeway traffic in Southern California is an art, believe me. If you ride motorcycles around here very much, you get pretty good at it, and you can appreciate a bike that does it well.
The Silver Wing does it exceedingly well for a couple of reasons.
First of all, the Silver Wing is very fast, and accelerates very well at freeway speeds (where the tachometer finds itself in the meat of the Silver Wing's power band). It will reach an indicated 110 miles per hour, and will blow by automobiles about as well as most motorcycles. Impressive.
The other reason the Silver Wing excels on the freeway is its handling. Those quick, almost darty, moves on city streets calm themselves considerably at freeway speeds where the Silver Wing displays remarkable high-speed stability. As stated earlier, you can create some instability on the Silver Wing by over-riding it, but you have to try pretty hard.
If you muscle the Silver Wing too hard at higher speeds (trying to get it to change directions too quickly, for example), you can get a bit of a shimmy from the front end that transfers through the frame. Nothing too scary, and nothing that happens with any frequency (unless, you purposely try to make it happen), but, nevertheless, a reminder that the Silver Wing doesn't have the chassis rigidity or suspension of a modern sportbike.
Speaking of suspension, the Silver Wing has close to five inches of travel both front and rear. Similar to modern street motorcycle suspension travel. The rear suspension has five-position preload adjustability (that we never played with).
Overall, the Silver Wing's suspension works well, and keeps the bike planted (contributing to the handling abilities discussed earlier), but higher speeds on rough pavement (another California freeway phenomenon) can make the rear suspension feel a bit harsh.
The Silver Wing offers practicality, as well. A huge, 55 liter trunk underneath the seat swallowed, simultaneously, a large Shoei helmet and a large Arai helmet. This storage is complimented by two glove boxes (one is lockable, and quite large).
The seating is comfortable for both rider (the rider backrest is adjustable) and passenger (although, the passenger pegs extend at a slightly unusual angle), and wind protection for the rider is outstanding (you can keep your legs and feet entirely out of the wind). A 12-volt outlet is included for your electrical accessories.
Instrumentation is more thorough, and more legible, than most motorcycles. With analog speedometer and tach, you also get digital displays for odometer, twin tripmeters, fuel, clock and coolant temperature. A gaggle of indicator/warning lights (a total of eight) are also included.
The 4.2 gallon fuel tank will get you about 130 miles of hard riding before you need to refuel.
Around town, it is hard to beat the Silver Wing for fun and practicality. At the same time it is a very capable commuter and long-distance tourer. If you need it, the 60-plus liter of standard storage can be augmented with a top box attached to the luggage rack.
Head to Yosemite for a week!
At a U.S. MSRP of $7,499, the Silver Wing competes, price-wise, with many motorcycles. Nevertheless, for the right buyer, the Silver Wing offers a lot of value. For further information, visit Honda's web site for details .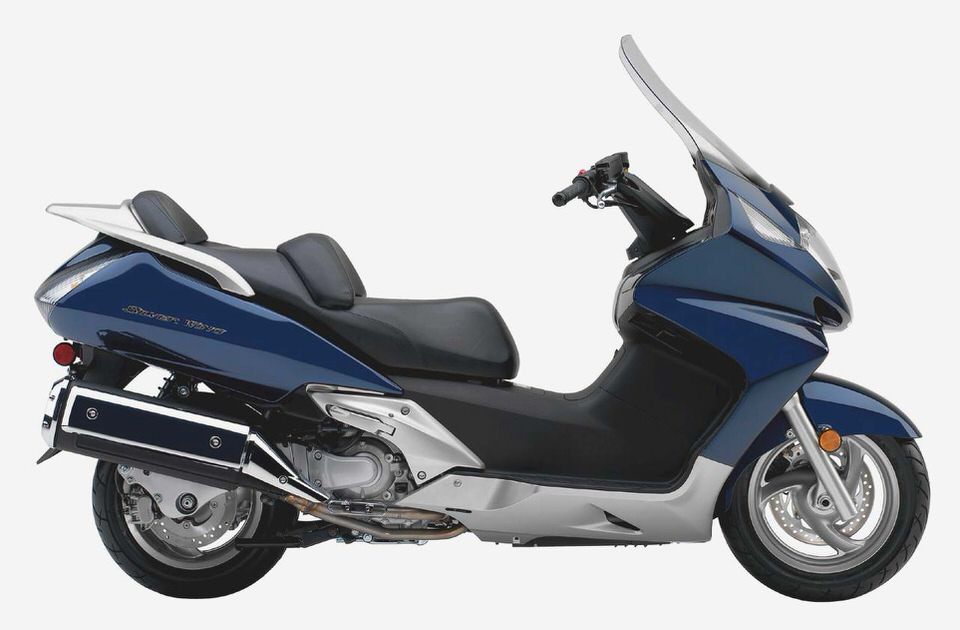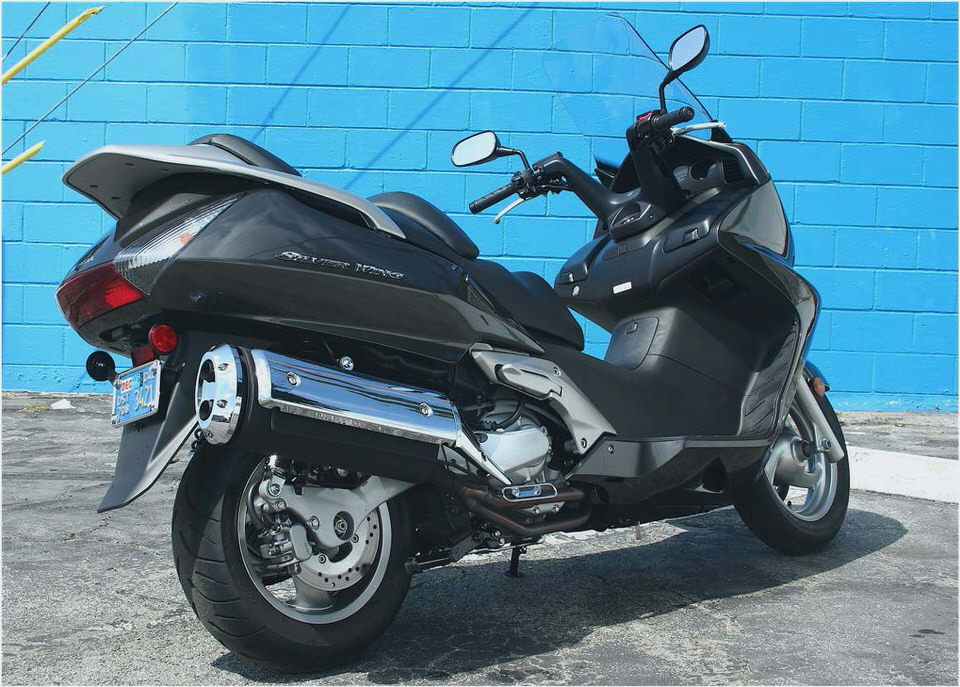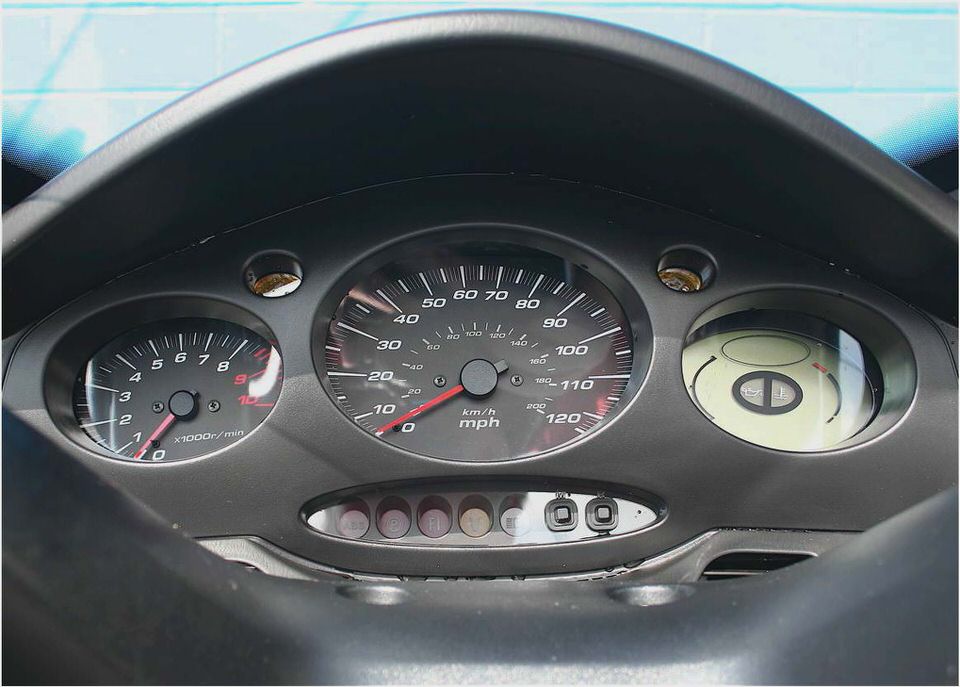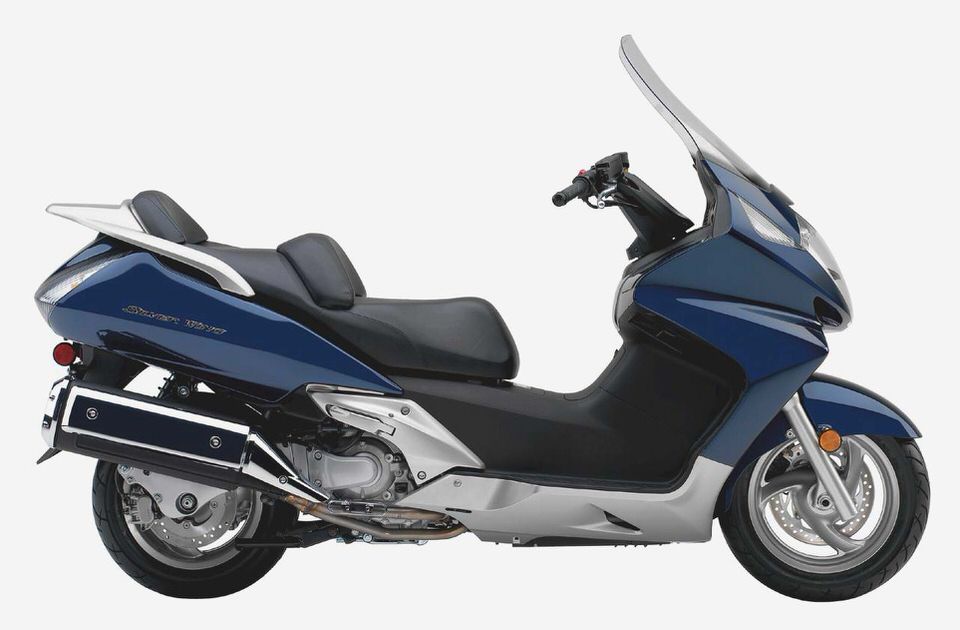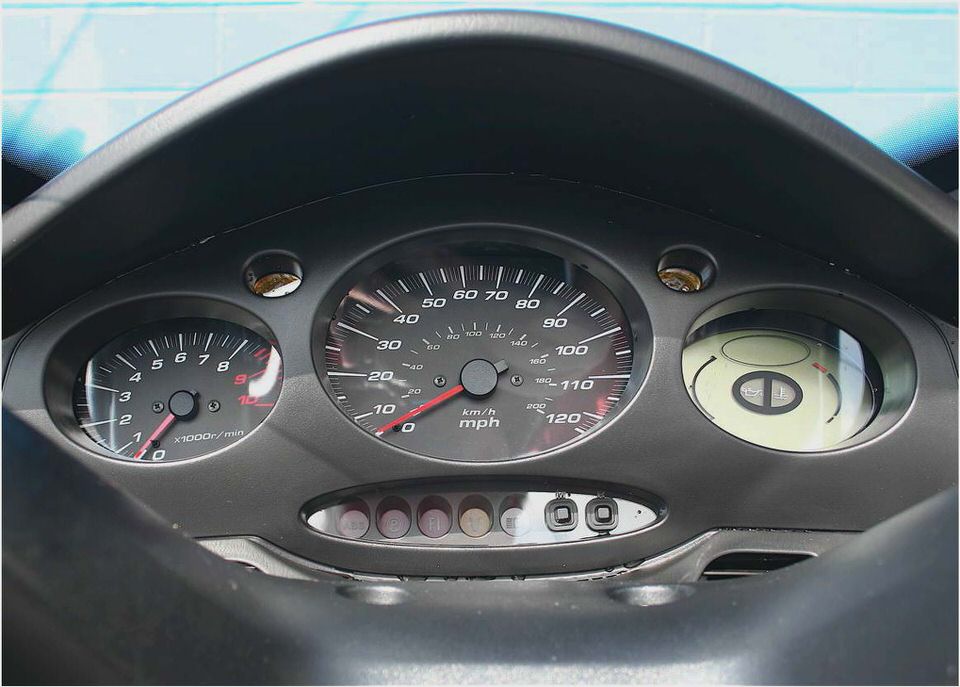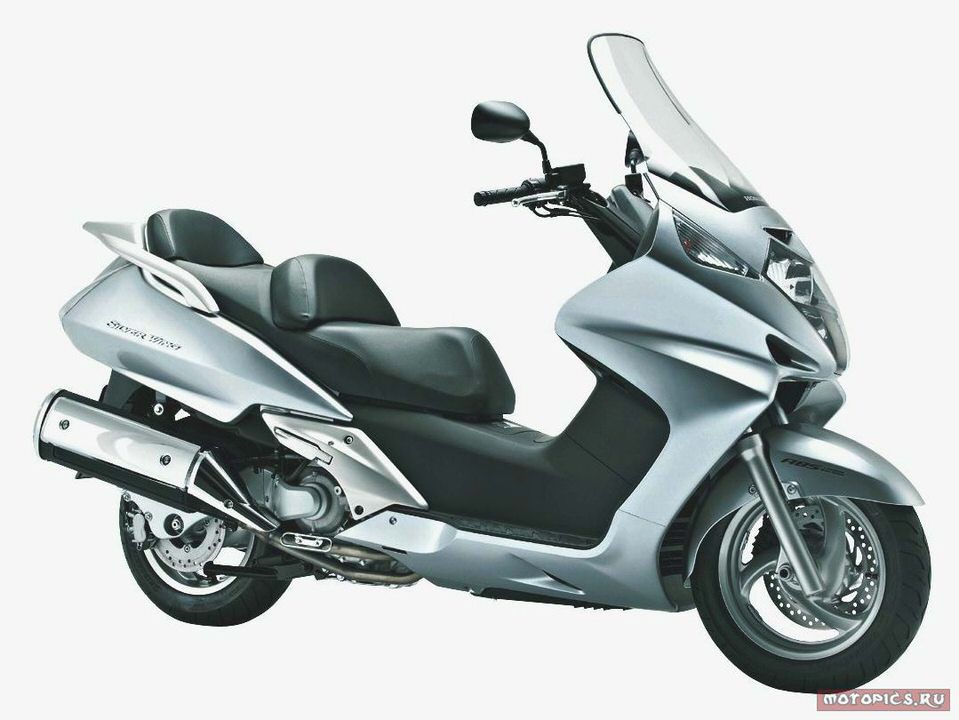 Honda Vision 110 – Details and specifications.
Kawasaki Vulcan VS Honda Valkyrie Rune Cars And Motorcycles
2009 Honda Ruckus – Honda Tuning Magazine
A Hybrid GoldWing? Stuart's Blog
Honda CBR 150R – Review – Specfications – Comparison with CBR 250R