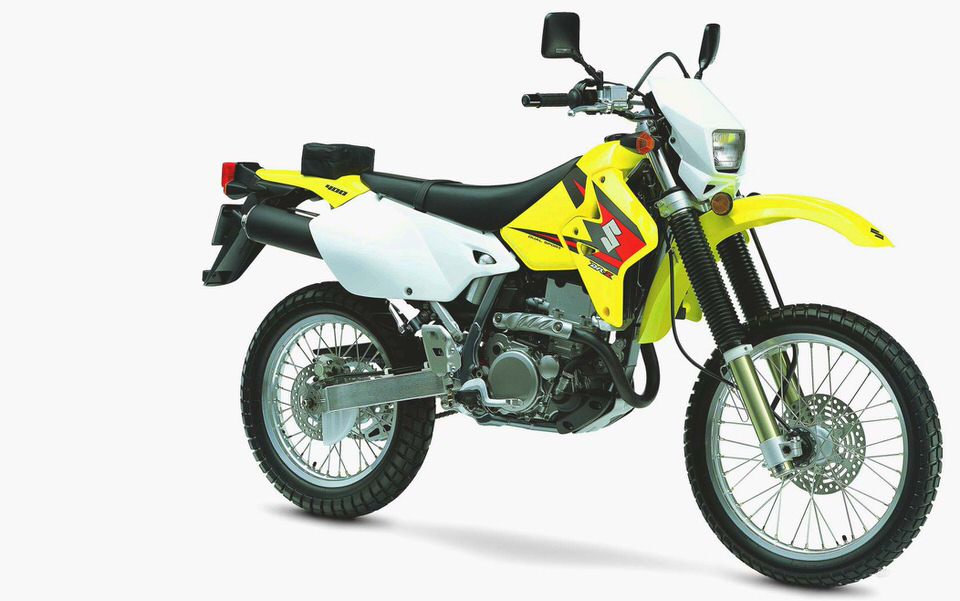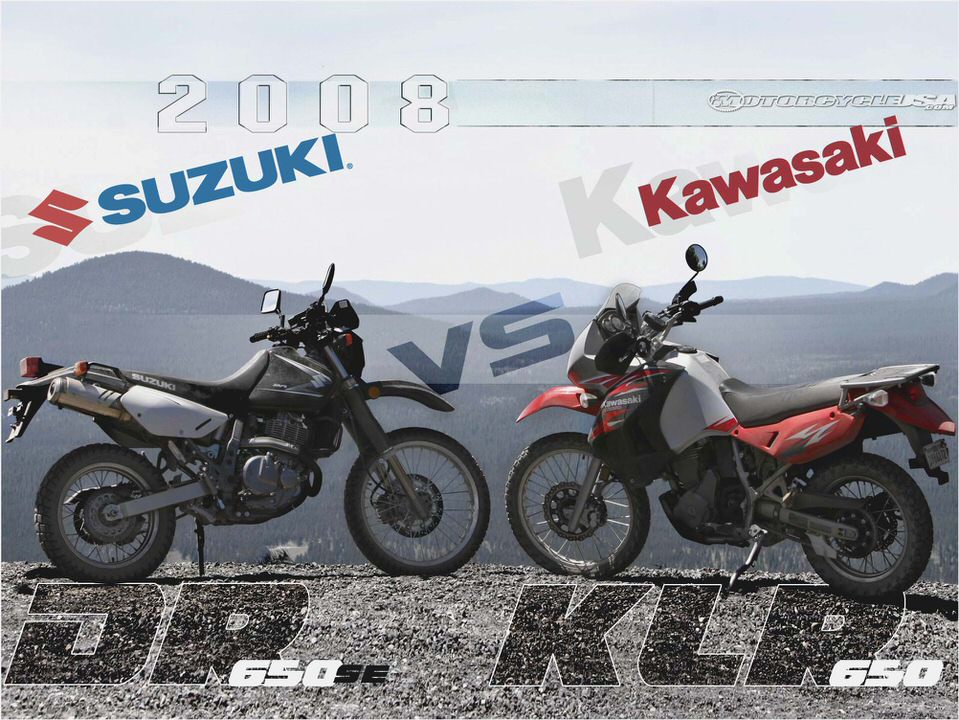 Some folks collect stamps. Others collect coins.
Story by Greg Williams. Photos by Amee Reehal
John Whitby's hobby is far more interesting. He collects dysfunctional motorcycles. Working in his suburban two-car garage — already stuffed to the rafters with two hot rods, a metal lathe, welding gear and a half dozen other bikes — he takes them apart and puts them back together in a way the original maker never intended.
But Whitby insists if he could afford one, and he didn't already have a skunk works full of completed projects, he'd have a brand new dual purpose Triumph XC800.
Instead of wishing, Whtiby dug in, doing what he does best; he built his own. A few years ago Whitby rescued a 2002 SV650 from bike breaker TJ's Cycle in Calgary. With the project came a 1999 engine and swingarm.
He built a high performance engine with the '99, kitting it with 694cc Wiseco pistons, new cams, Kibblewhite valves and flat slide carbs. The 1999 engine went into the 2002 frame, and the original engine was kept in case the hot rod imploded. It didn't.
"A couple of years later, I still had the '02 motor sitting on the bench, and I figured I should do something with it," Whitby explains. "So I thought why not build a dual sport?" Simple enough if you're Whitby.
He'd kept the 1999 swingarm, and tracked down a $250 frame from Re-Cycle Motorcycles in Edmonton. "Once I had the frame, I just started hanging bits on it," he says. One of those bits is a 1991 Yamaha YZ250 inverted fork, installed using the original SV taper bottom bearing and the YZ250 upper ball bearing.
Because the YZ250 stem was longer Whitby machined a 1/4" spacer to take up the difference between the top clamp and bearing. Better braking comes from a 1993 YZ250 front wheel, scored on eBay for $25, which is fitted with an EBC 290mm floating rotor and a 90/90-21" Michelin T63 tire. Britannia Composites in Vancouver supplied the universal fit twin-HID headlight fairing, and an MSR aluminum handlebar raised on 1 1/8" spacers tops the fork.
Mounted in the fairing, speed and distance traveled is monitored by a Trail Tech Vapor digital instrument. Switchgear is all from a 2000 Katana 600, while a Suzuki DR200 provided the front brake master cylinder.
For $180 Whitby bough a Kawasaki KLR650 rear wheel on eBay. He changed the bearings to fit an SV axle, and spacers were whipped out on the lathe to align the wheel in the SV swingarm while a rear brake caliper carrier was fabricated. Rear tire is a 130/80-17" matching Michelin. "The bike is sort of like the eBay bike," Whitby says.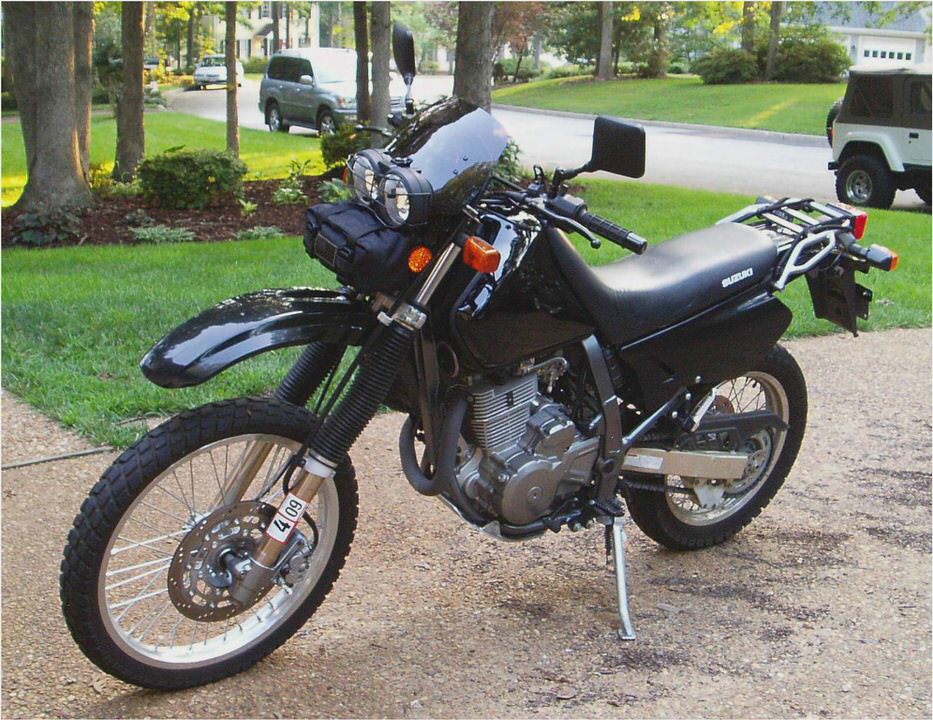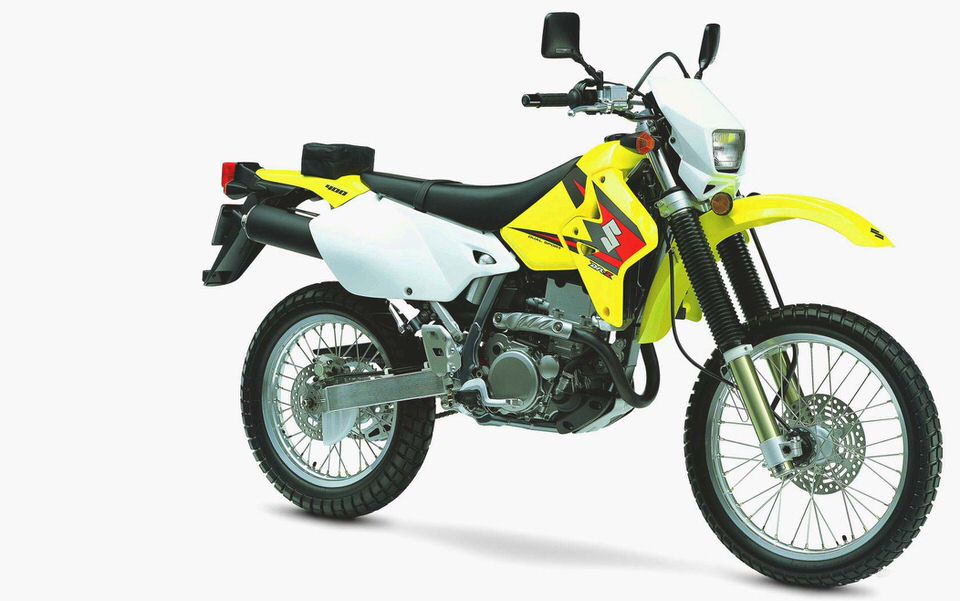 Numerous components, including motor mount bolts, rear axle, wiring harness, CDI unit and side stand came from online sellers.
Ride height is slightly increased with a 1999 GSX-R 600 shock, which is 3/4" longer than stock. Searching for a suitable saddle in the bone yard at TJ's, Whitby found a seat from a 1980s-era Suzuki DR, and had it recovered by Chinook Uphostery in Calgary. Fabricating a rear sub frame, Whitby bent the top rails to suit the DR seat base, cutting and welding almost 12' of DOM tubing to complete the back half of the motorcycle. A rattle can shot of silver gave it a respectable finish. "I wasn't going to spend money to make it look pretty with fresh paint," Whitby says
Renntec (U.K.) crash guards protect the engine, while the bash pan is Touratech. Originally intended to fit a Suzuki DL650, Whitby made front and rear mounts to bolt it in place. Exhaust headers are part of a system he first made for his road-going hot rod SV650.
A 2-into-1 unit is stock, but Whitby made a 2-into-2 set of pipes ending with a pair of $5 swap meet-sourced 2005 Honda CRF250 mufflers.
Front and rear fenders are white bits of plastic from UFO Plast, the front for a Yamaha YZ fork while the rear was modified to fit. Whitby first installed a 17-litre SV650 gas tank, but the usable range was only 220 km. Disappointed with that, on eBay.co.uk, he found a 25-L Honda Varadero tank.
This necessitated changing front and rear mounts, but Whitby insists the tank slipped right into place, giving him about 400 km of travel.
Although original mileage is unknown Whitby has done nothing to the engine apart from changing the oil; it's running flawlessly as found. Since finishing he's put about 1,800 km on the dual-purpose SV650, riding on dry pavement, on skidding gravel, on rutted back roads. "It's a little heavy to be on the far beaten path, but it's a great high-speed gravel bike," Whitby says. "It's a blast to ride, really just a giggle." If it's providing fun, there's nothing dysfunctional about the SV650 now.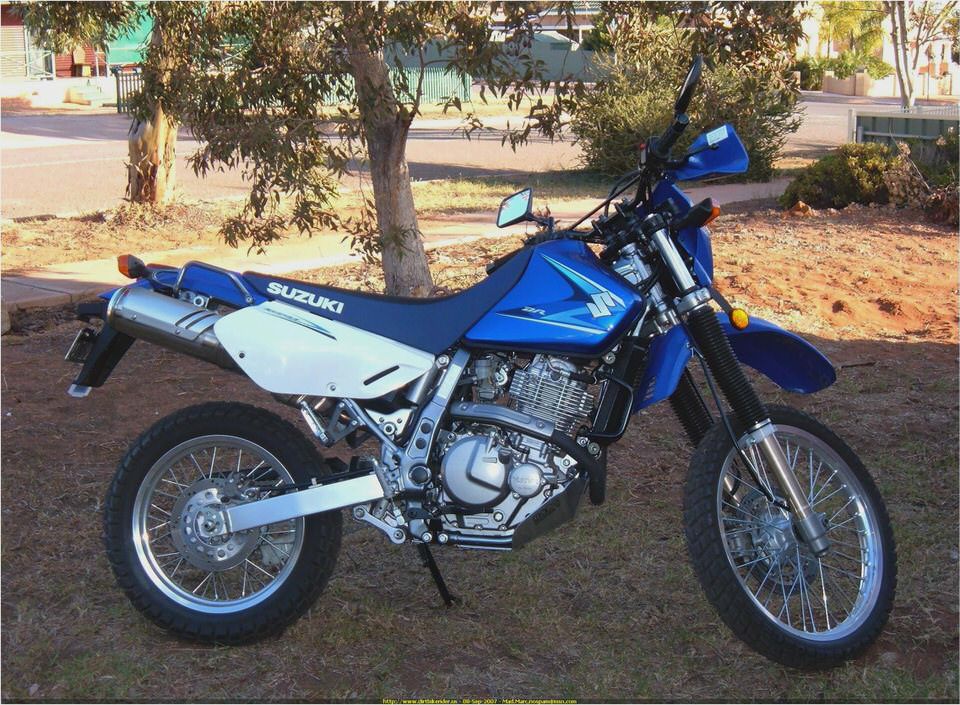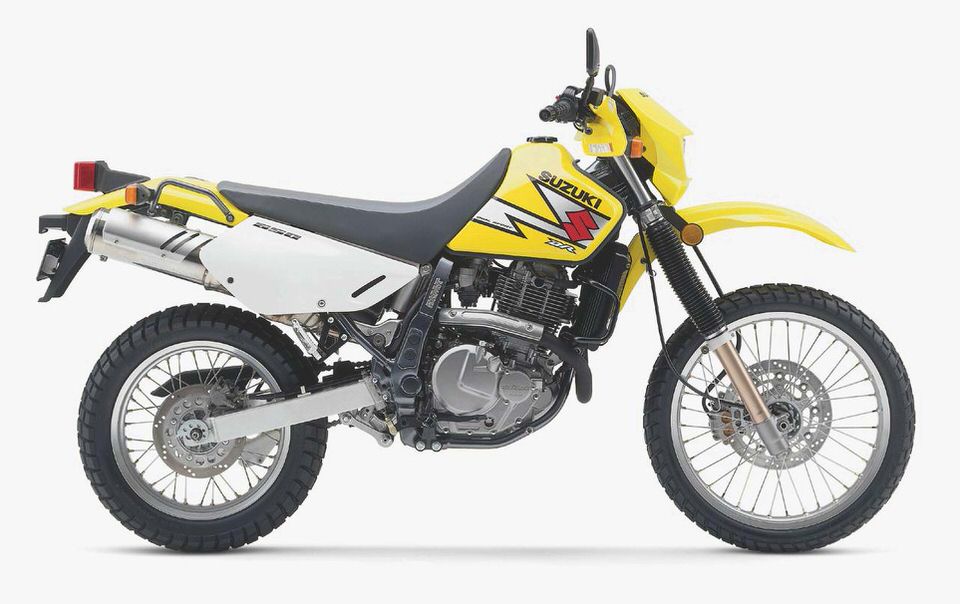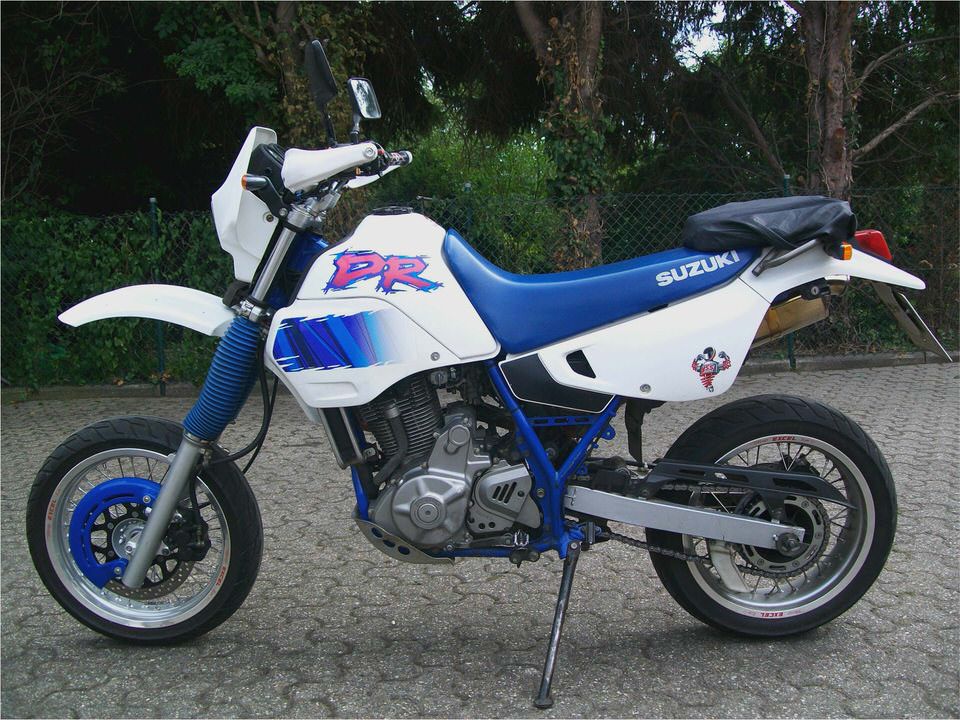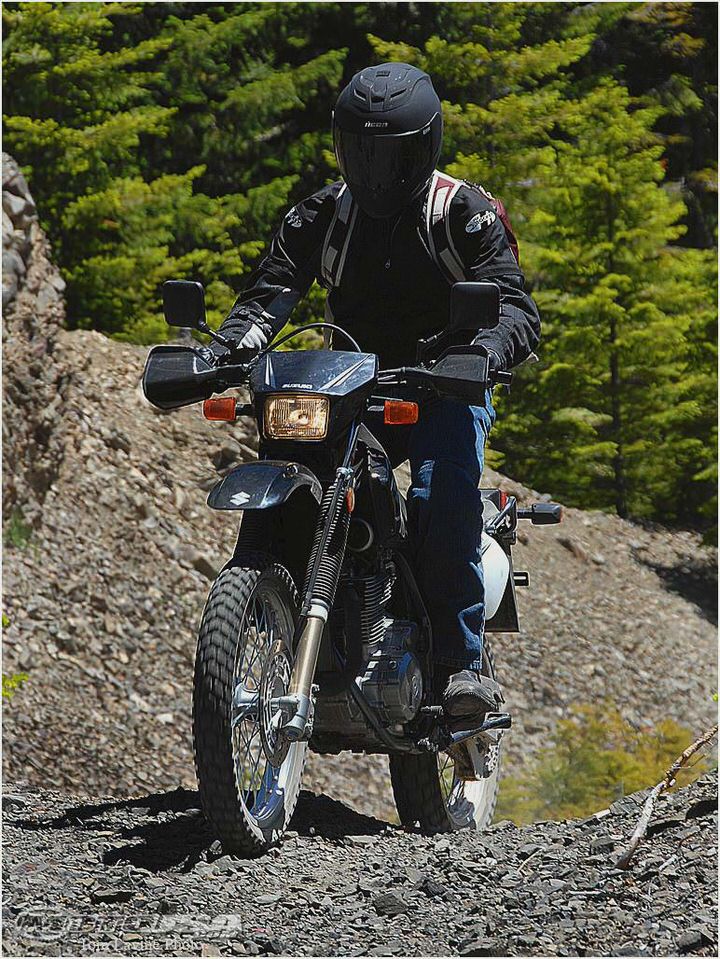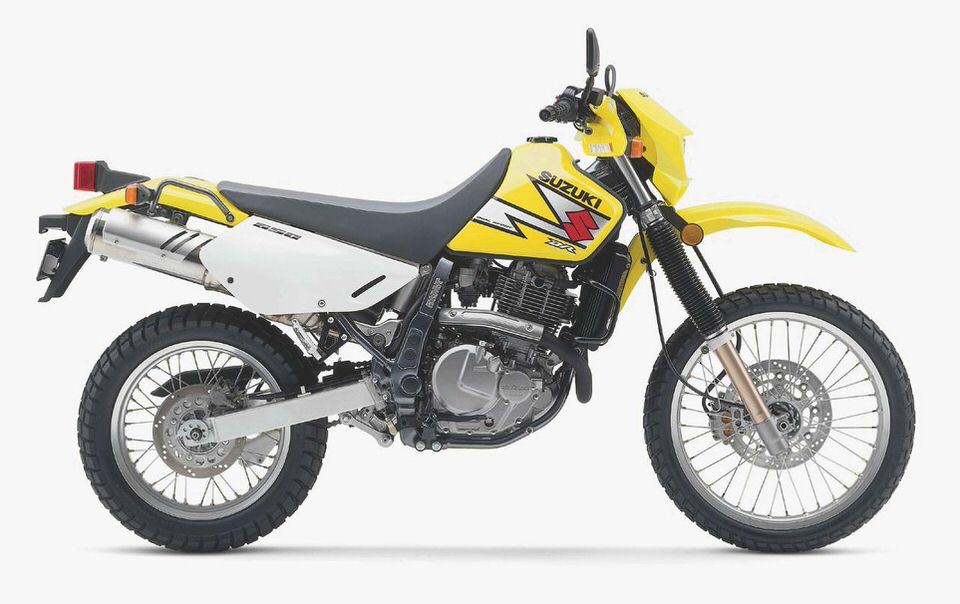 Tokyo Motorshow Grease n Gasoline
Ready Suzuki Sportbikes,Cruisers ,Touring & Scooters
Suzuki Ozark Review
Motorcycle Buyers Guide – Suzuki VS800 Intruder, VZ800 Marauder, VL800 Volusia
Suzuki GS 850 power cruiser shaft drive