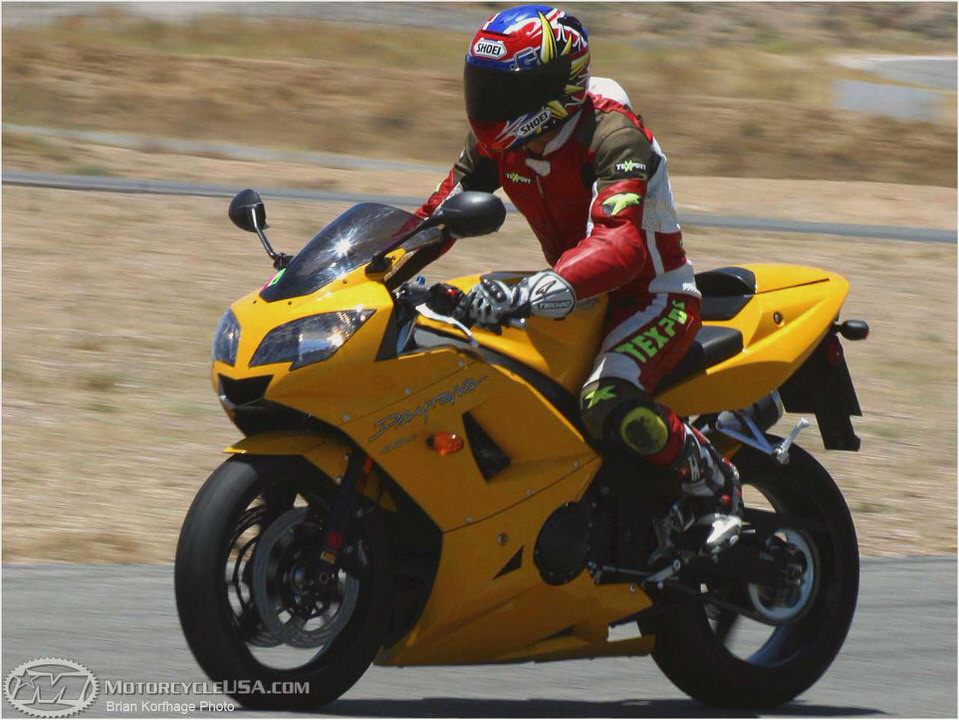 2005 Triumph Daytona 650
2005 Triumph Daytona 650
2005 Triumph Daytona 650
– 2005 Triumph Daytona 650
The Daytona name is stuff of racing legend for Triumph Motorcycles and never used lightly. An evolution of the Daytona 600, a machine that-s proved itself in both short circuit and real-roads riding, the Daytona 650 is a pure supersports machine. It features a race-bred chassis offering direct, uncut connectivity with the tarmac matched to an engine spinning out a maelstrom of power and torque.
Never content with resting on their laurels the Daytona-s liquid-cooled, fuel-injected, DOHC, sixteen-valve, inline four-cylinder motor has been extensively worked over by Triumph-s engineers. The engine-s stroke has increased 3.1mm to 44.5mm and boosting the engine-s capacity 47cc to 646cc has seen the Daytona 650-s surge of top-end power bolstered with a great gobbet of mid-range torque. The result is an engine that works effortlessly on the road and addictively on the racetrack.
No matter the situation the Daytona 650 rewards its rider with instant acceleration and lightning-fast throttle response throughout the rev range. Peak power of 114PS arrives at 12,500rpm, with a peak torque figure of 68Nm at 11,500rpm. Power delivery, thanks to a new EFI tune, is significantly improved throughout. Further refining the engine is a clutch fitted with a backlash eliminator gear while the slick-changing six-speed gearbox has been enhanced with a remote linkage.
A redesigned seven-plate clutch (down two plates) balances the extra weight of the backlash gear.
Universally praised as being one of the best handling middleweights around, the Daytona 650-s aluminium, twin spar frame uses a three-cell construction and is both incredibly light and strong. Rake and trail are a lightning-sharp 24.6/89.1mm, wheelbase a diminutive 1390mm. Dry weight is a competitive 165kg.
The front 43mm cartridge forks use single-rate springs. All fork internals – rods, cartridges and fixings – are made from aluminium and the forks are adjustable for spring preload, compression and rebound damping. The remote-reservoir rear shock is also adjustable for spring preload, compression and rebound damping. Twin four-piston calipers operate on the front 308mm discs, one single-piston caliper the rear 220mm disc.
Lightweight three spoke wheels are cast in aluminium. Tyres sizes are front, 120/70 ZR17, rear 180/55 ZR17.
Many motorcyclists seek a hard-edged track-focused machine either as a first or second bike, but really don-t want to own -just- another run of the mill machine. Impressed with the need for individuality Triumph has ensured that the Daytona 650 is a machine that not only looks very different, with its distinct and seductive lines, but is also built with a level of care and attention to detail that ensures a great deal of owner satisfaction.
Available in two paint options, Racing Yellow and Tornado Red, a seat cowl is supplied as original equipment with every Daytona 650, as is a colour matched rear hugger. New for 2005 is the black-finished aluminium silencer.
The Daytona 650 blends technology, know-how, performance, ability and sheer beauty in one very compact and useable package. It-s a focused, sharp-edged machine with the added dimension of real-world real-roads usability and comfort, the benchmark of Triumph-s philosophy.
You can have it all – the Daytona 650 proves that.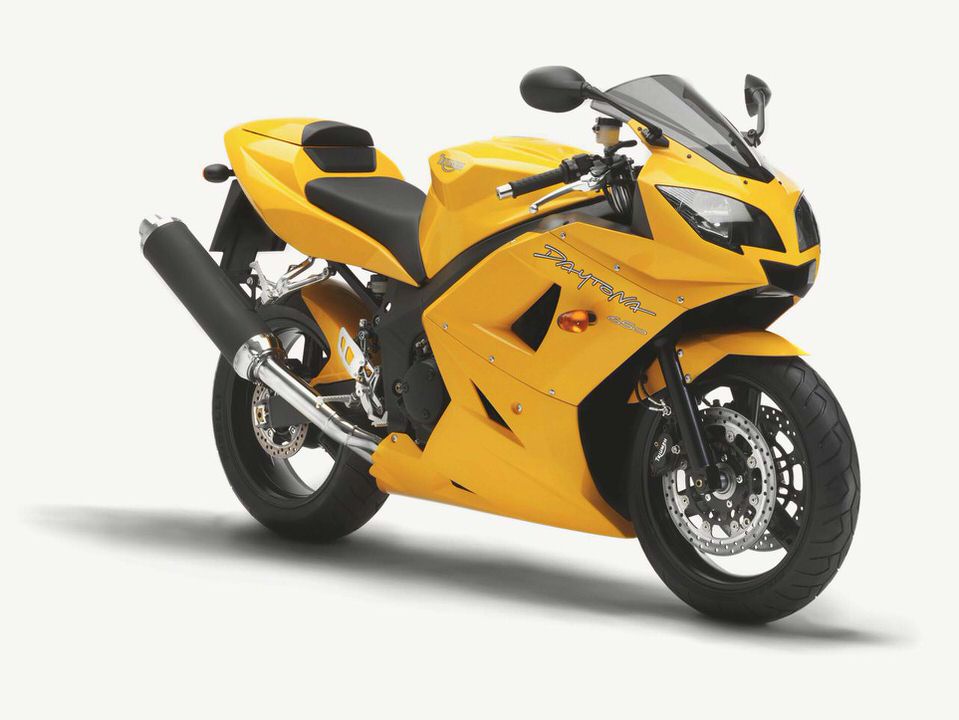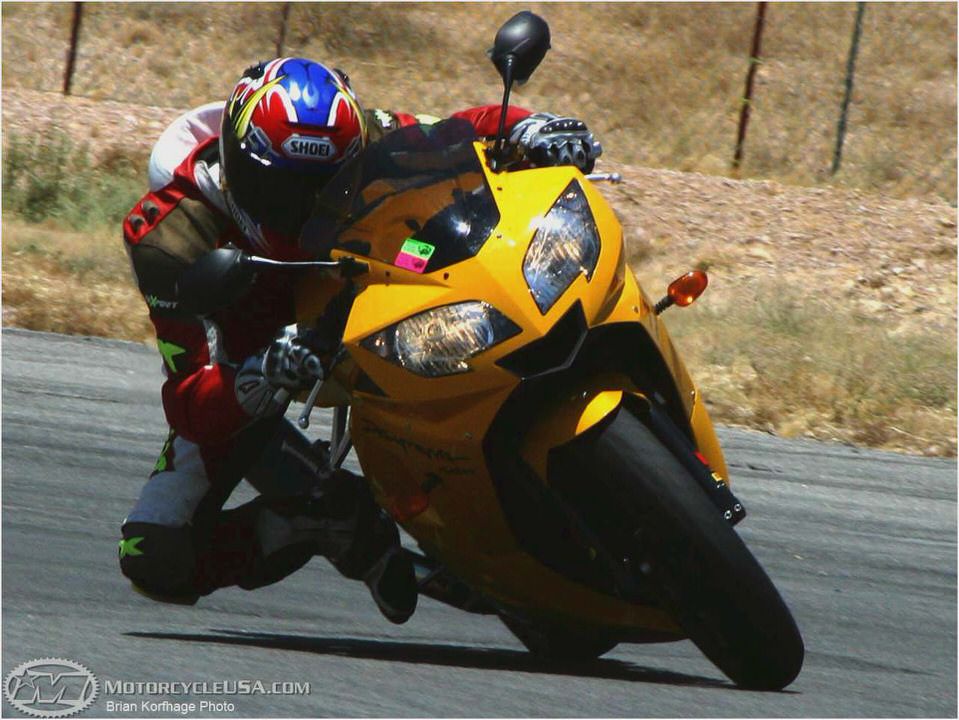 Specification changes for 2005:
– Refined, larger capacity (646cc) engine
– Remote gear linkage
– Black silencer finish
2005 Triumph Daytona 650 Specifications
Type Liquid-cooled, DOHC, in-line 4-cylinder
Capacity 646cc
Bore/Stroke 68 x 44.5mm
Frame Aluminium beam perimeter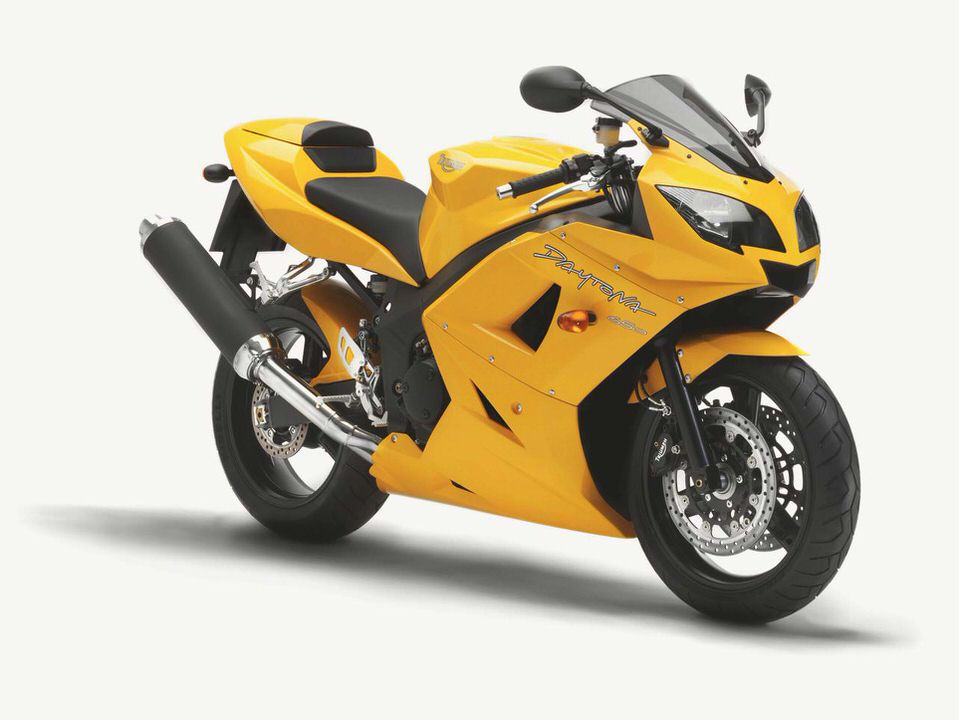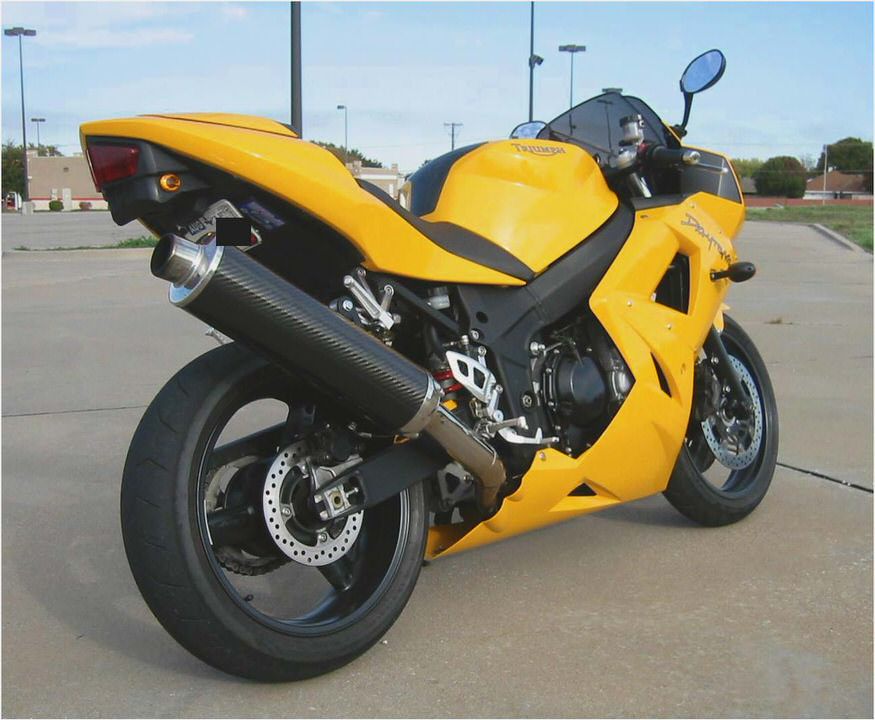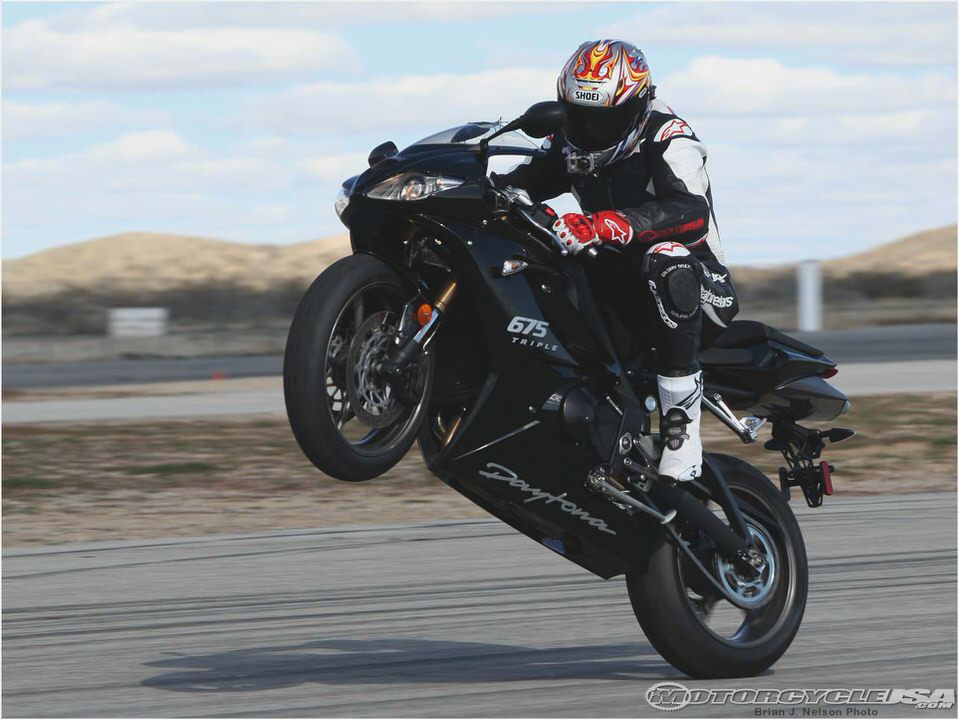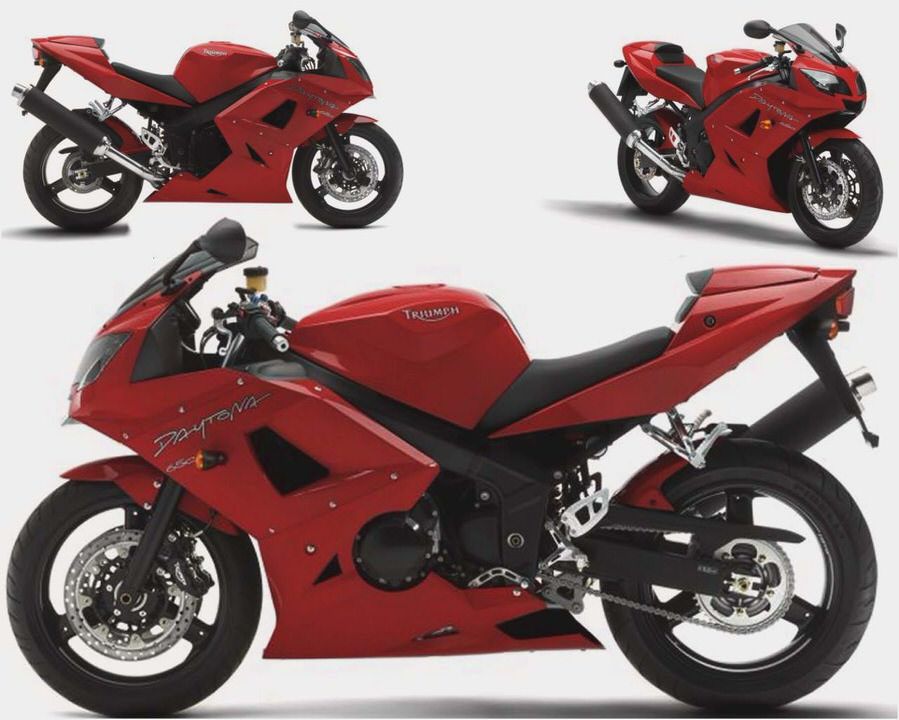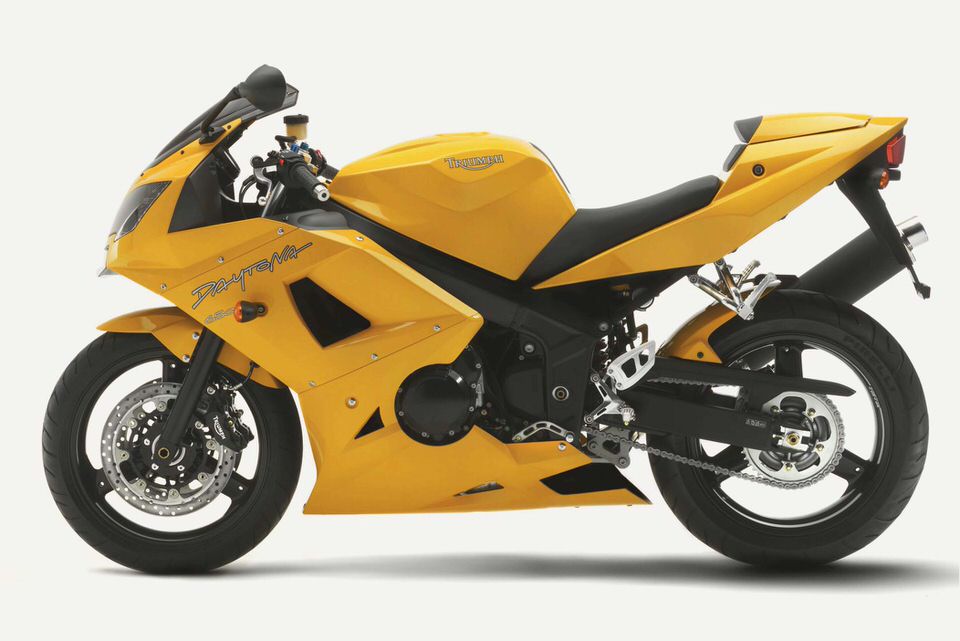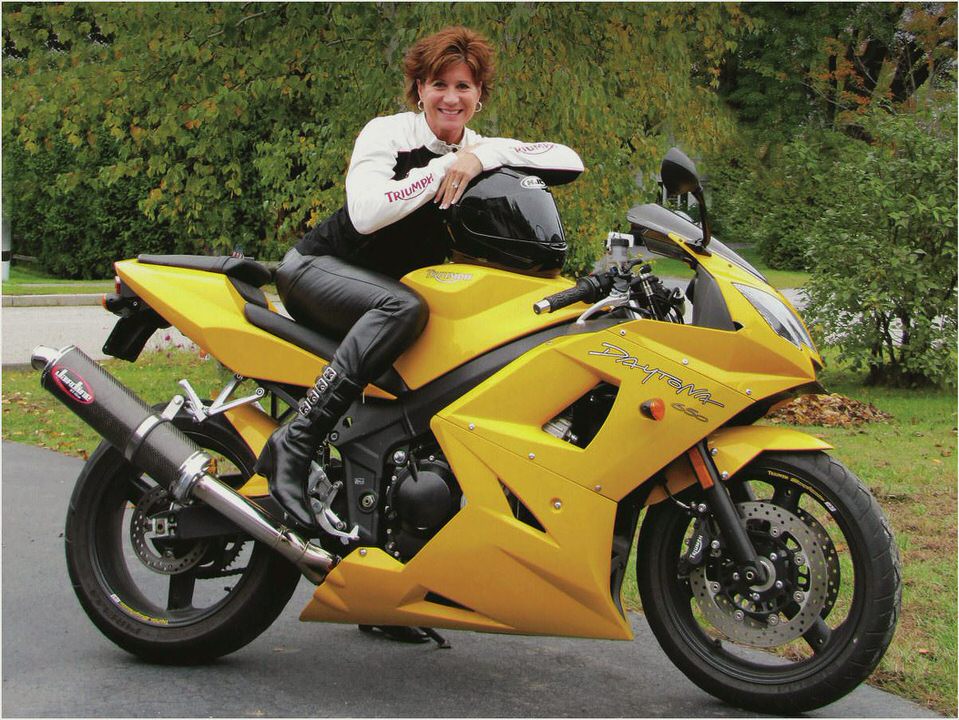 Triumph Thruxton Cafe Racer Motorcycle – First Ride & Review – Motorcyclist…
Triumph Motorcycle Turbo Kit
Triumph Sprint ST Windscreens
A 2009 Triumph Bonneville T100 Review – Yahoo Voices – voices.yahoo.com
2008 Triumph Rocket III Touring Road Test Rider Magazine