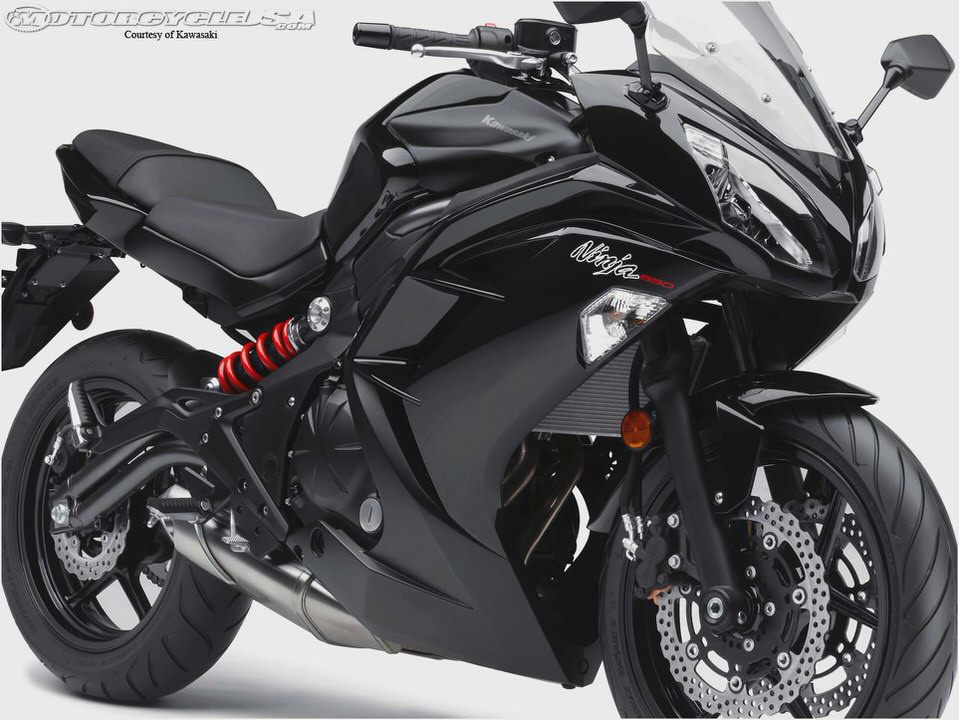 2006 Kawasaki Ninja 650r Review: 40,000 Miles Later
You're kidding me…40,000 miles? It seemed like I hit 10,000 only yesterday. If you told me when I bought my 650r three years ago that I would ride 15,000 miles a year, I would have called you crazy.
But here I am, and maybe I'm the crazy one.
If you don't feel like reading, I've summarized some of my thoughts into a video:
Over the years, throughout the videos and write ups I've discussed a lot of topics, but it occurred to me that I missed a fundamental subject…my Ninja 650r! At first I kept putting it off thinking that I hadn't put enough miles on to get a proper appreciation of the machine. At this point I don't know how much more I can appreciate my 650r. In fact, let's crunch some numbers to get an idea of the sheer time spent with my 650r:
Total Miles = 40,000
Average MPG = 50
Average Speed = 50MPH
Actual Time Riding = Total Miles / Average Speed
Actual Time Riding = 800 Hours = 33 Days
My ass has been in the saddle for a total of 33 days…what.
Number of Gas Stops = Total Miles / Average MPG / Average Amount of Gas Used Per Tank
Number of Gas Stops = 40,000 / 50 / 3.1 = 258 I bought my brand new Kawasaki Ninja 650r in March of 2006. It was my first motorcycle. After three years and 40,000 miles I'm still loving my 650r.
There are a lot of motorcycle reviews out there, but most of them take the bikes out for an afternoon, weekend or at most, a week before writing about them. Hardly seems enough time to get to really know a motorcycle. I have spent a month on my motorcycle in the past three years…literally.
Over 800 hours of time in the saddle. So I would like to take some time to talk about the 2006 Kawasaki's Ninja 650r.
Know the Rider, Then Know the Ride.
I can never trust any word about a motorcycle until I have some idea about the motorcyclist. So I feel like I should say something about myself first. Riding style, experience, knowledge and enthusiasm play the biggest parts in my estimation of a fellow rider. My riding style varies depending on where and when I'm riding. I commute daily and tour often.
Fast sweepers are fun at times, but I like the switchbacks and tight corners best. The Ninja 650r is the first motorcycle I've owned ( was a bit of a squid when I started). I've been riding for 3 years and over 40,000 miles. I practice motorcycle handling techniques often and read as much as I can about the subject. As for enthusiasm, several friends have expressed concern over my "hobby" which has consumed my life.
So yea, I like motorcycles.
Enough about me, let's talk about the 650r!
Torquey and Nimble.
I really feel like I have been spoiled with how nimble the 650r is. I ride other bikes and I never realized how slow and cumbersome they can really be. The 650r just falls into the corners. It will leap into them if you want to.
The amount of input needed on the bars is so slight that you think the bike just knows where you want to go. If for some reason I won a free Hayabusa or a ZX-10 the first thing I would do is sell it and buy a bike half the size. Smaller bikes are more fun.
The 650r gives you enough power not be bored and not too much to get yourself into too much trouble very easily.
The engine has a lot of torque between 20mph and 60mph. It's power band is much lower than other bikes. I would rather have power in the lower ranges. For commuting and inner city riding you shouldn't be going over 60 very often unless you are a reckless rider. I'm going to try and keep talk about riding styles to a minimum, but it does play a factor when considering the characteristics of a motorcycle.
It took me a while to get comfortable lifting the front wheel off the ground (on non-public roads of course), but once I did I found out how much power the 650r can really pump out. No need to pop the clutch, you can power wheelie from low speeds (around 20mph) very easily.
Sport Touring Capabilities
Honestly, when I bought the 650r, I didn't know what the term "sport touring" even meant. All that mattered to me was that I was comfortable when sitting on the bike and with the relaxed and non-aggressive seating stance it fits like a glove. I can lean completely forward and tuck in behind the windscreen, or sit completely upright and still have a hand on the bars.
I lowered my bars and I can still reach.
Hauling luggage is an easy task if you've got the right gear. I have been using soft luggage all these years. I use a Rev Pack Tour Pack for bulky stuff and long trips. Otherwise I stick to using the lighter and smaller Cortech Sport Tail bag or Saddle Bags.
I had no problem finding storage solutions even for a two week trip.
Mechanical Problems
I've had two major problems with my 650r. My head gasket blew and I was leaking oil. Also the oil pump had a leak as well. Luckily I caught these things early since I inspect my bike often. My mechanic said I couldn't have done any preventative maintenance to avoid this.
It just happens sometimes. The oil leak problem occurred at 32,000 miles, about 2 years into the bike's life. The second major problem I had was the stator going bad at 39,000 miles.
When I heard this I thought, what the heck is a stator? The stator is a collection of copper wires in which the magnets spin inside of and in effect produce electricity.
So those are the only two major problems I have had. Something had to go wrong eventually, and I'm happy I went as long as I did. I've gotten sick of trips to the shop and now I've got myself a service manual and am getting my hands dirty by doing the work myself.
Maintenance Log
You have heard me tout the merits of keeping a proper maintenance log in the past. So I might as well show you mine so you can get an idea of all that goes into keeping the Ninja 650r running. It may look like a lot all in one list, but it's really basic stuff for the most part.
Modifications
Throttlemiester throttle lock
Lower handlebars: Wanted a more aggressive stance. At this point I might like the stock bars better because they are geared towards touring.
IPod Mount: Gotta have my music
Electrical Outlet: Essential to keep all my gadgets going while in the middle of nowhere.
Gerbing Heated Liner Wiring Harness
Tank protector
Frame sliders: Saved my fairings from getting all scuffed up 3 times. They've paid for themselves.
Fender eliminator: Just cosmetic thing.
Garmin GPS Map 60CSx handlebar mount (Ram-mount)
Custom camera mount installed on swingarm spool
In Conclusion…
Motorcycling has changed my life forever. Perhaps there's another bike out there that could have filled the 650r's tires…who knows. What I do know is how much this motorcycle means to me.
I've grown attached to this collection of steel, plastic and rubber. I know when she's running a little off, and she tells me when I'm a little off myself. It's strange to consider, but unmistakable for me to acknowledge.
Here's to my first 40,000, and hoping for another 40,000.
Kawasaki Versys 2010 Ash On Bikes
Specifications of the Kawasaki GPX eHow
MODEL KAWASAKI ZI 900
2006 Kawasaki Ninja 650R: MD First Ride -…
Kawasaki KR 350 Review Motorcycle Trader New Zealand