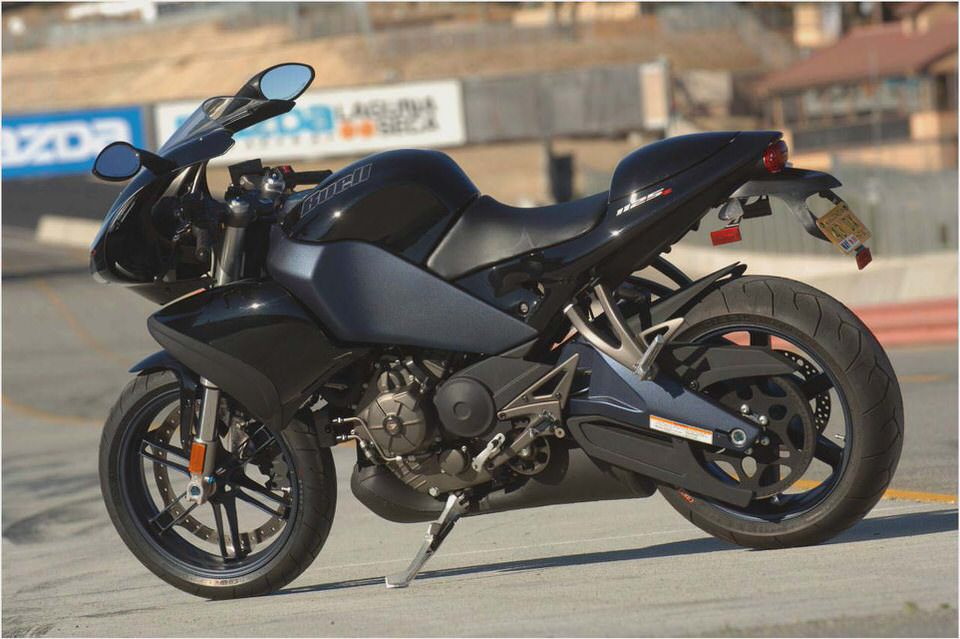 2008 Buell 1125R Review
It wasn"t until the drive home from a day in the saddle of the new Buell 1125R at Virginia International Raceway, that the best feature of the new liquid-cooled sportbike became clear. Cruising along in my ancient Honda listening to a little Barry Manilow on the cassette player, while wondering if it"s the smell of stale Burger King or the blue velour seats that puts the girls off, I realized my legs weren"t even stiff. Normally, at my advance aged, a full day of thrashing the pants of a sport bike on a racetrack comes with a certain amount of muscle fatigue and soreness.
Wriggling around on the decade old coffee stains and chewing gum patches, while singing along to a chorus of Mandy, I also realized my neck wasn"t even slightly stiff. As I had spent the majority of the day doing everything in my power to chase down Schwantz School instructor Harry Vanderlinden on an identical machine, I know I hadn"t been taking it easy. So I have to take my hat off to the 1125R"s ergonomics for my physical condition and retract some early thoughts I had of the Buell"s newest sportbike.
Diving down into the small roller coaster of turns on the VIR north course, hustling the 1125R during my first session felt like dancing with a lady of overly ample proportions. Sure she knew the moves, but there just seemed like a lot of her to get around. Tipping the scales at a claimed dry weight of 375 pounds though, this sense of size is really more of an illusion caused by the wide aluminum frame and fairing panels that stick out in front.
Add in a generous, by sport bike standards, upper fairing, a roomy foot peg to handlebar ratio, and the Buell actually feels more toward the sport-touring end of the spectrum. Get comfortable with the beast though, and it"ll blast round a racetrack as fast as you want. And, checking times with my onboard video, I was turning laps three-four seconds slower than my last visit here riding a near Formula Extreme level Yamaha R6 on race tires.
As a completely new model for 2008, the big news with the 1125R is the engine. For the first time in the Buell line up, a water-cooled engine makes its way in between the massive aluminum frame rails, and it"s not a Harley Davison sourced unit either. Moving away from the air-cooled, 45-degree V-twin power plant for the first time, Buell worked with BRP-Rotax to design a new, high performance, 72-degree, water-cooled, V-twin. As a name you might be familiar with for their work with Aprilia"s big sport bikes, BRP-Rotax has been designing and building engines since 1920
By using a 72-degree cylinder angle, Buell was able to put the engine as far forward as possible, giving the 1125R 54% of its weight distribution on the front wheel. Inherently smooth by virtue of its angle, the engine is further calmed with three internal balance shafts. Worry not, the big V-twin most certainly doesn"t feel like it"s been neutered, as it still shakes, rattles and rolls with enthusiasm the minute you thumb the starter button.
It just isn_t enough to spoil the fun. The cylinder capacity was chosen to allow a large 103mm bore, which allows more valve angle for better breathing. The shorter stroke allows the engine to rev quicker and higher, while also giving better throttle response.
From the rider"s perspective this is all to be applauded, as the Buell is smooth and rev hungry up high, while still being blessed with gobs of V-twin torque from way down the range.
As a stress member of the frame, the new engine continues the trend of contributing to a very stiff chassis, something that is a trademark Buell feature. Inside each of the heads there are four valves. Double overhead camshafts open and close them, and a self-adjusting cam chain turns the intake cams.
The exhaust cams are opened and closed by a gear drive from the intake cams.
Valve actuation borrows from Formula 1, with  finger followers that use shims for adjustment. This system is said to reduce friction and allows a steep valve angle and downdraft fuel injection. With Buell"s air-cooled models the fuel delivery is often the weakest point of the motorcycle, I am happy to report the DDF13 EFI on the 1125R rocks.
Delivering the correct amount of fuel whenever you need it, the system performed flawlessly throughout my test. Do bear in mind here that I didn"t get a chance to try the bike on the road.
Producing a total of 146 crankshaft horsepower, the new 1125R is also the most powerful Buell produced so far. The peak figure is made at a lowly 9,800rpm, with a solid 82 ft. pounds of torque thumping out at 8,000 rpm. Feeling deceptively fast, the Buell never gave me the feeling it was working too hard. Running down some guys on Japanese sport bikes, I know Harry and I gave them quite the shock with our mirrors and lights in place, but this is the nature of the Buell.
A bike that is made to go fast on a racetrack and one that comes with all the tools to be a good street bike.
The stiffest chassis yet produced by Buell, the new IRC (Intuitive Response Chassis) appears to differ only slightly from existing models. Personally, IRC sounds like some sort of new therapists couch to me, but the unique looking frame still doubles as the gas tank, holding 5.6 gallons of motion lotion between its rails. The cast-aluminum swing arm is also new and pivots in the engine cases for additional rigidity.
Healed way over in VIR"s downhill sections, the bike was as solid as a rock, and it would take some sort of demonic behavior to upset this chassis.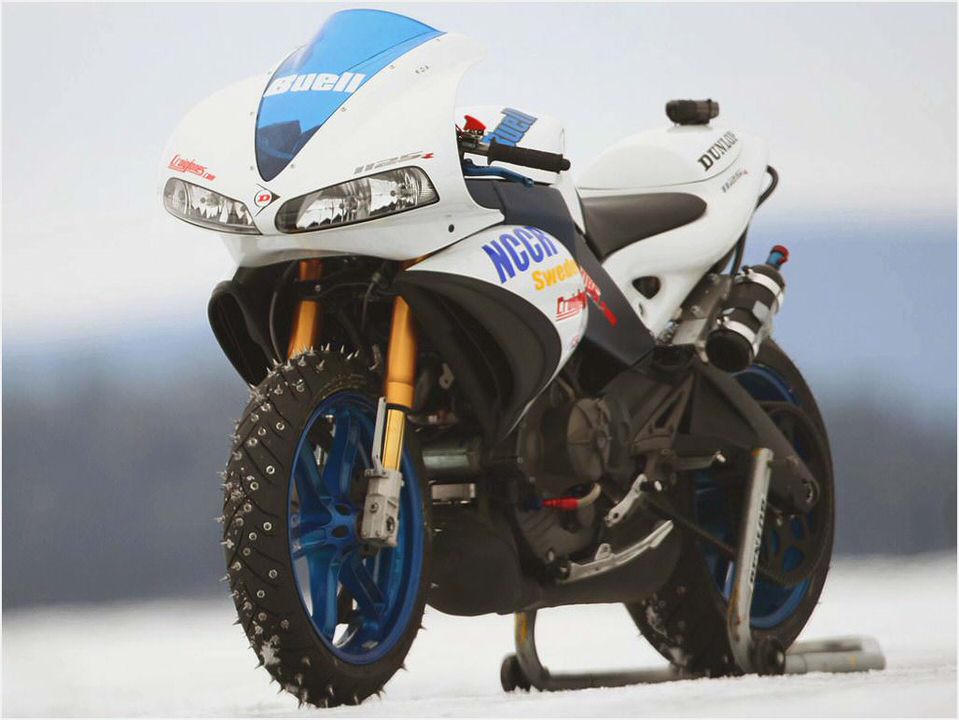 Suspenders are from the Land Of The Rising Sun, with a Showa inverted 47mm fork where it"s supposed to be, and a fully adjustable Showa single shock to keep your arse off the rear wheel. Set up on the soft side, as our test units were demo bikes, I decided to leave things alone and work on riding smoother.
While it would have been nice to eliminate some Also, real casinos have few tables for each game while here there are thousands of tables. dive, it did make for some fun using the super strong brakes to pass people into turn one, before getting into a mess when the suspension bottomed out. Wheelbase is 54.5 inches and you can certainly feel it.
On a motorcycle like the older Ducati 999, you are always aware of the bike"s length in the tighter turns, the Buell doesn_t exhibit any of this feeling. And, I was surprised how I could change lines and pass people in the tight stuff, where my preconception was it would be more difficult to turn.
Braking is typical Buell, and they are going their own way as usual. Using the ZTL (Zero Torsional Load) system, no that"s not something you experience in an airplane bathroom at 30,000 feet, the 1125R uses just one single 375mm stainless disc that attaches to the outside of the rim. Lighter than a conventional dual disc set up, a single eight-piston caliper gets the job of pushing the pads onto the wild looking disc.
And work well it does. With good lever feedback, strong progressive power as you squeeze, more stopping power was not a thought I entertained all day. In the rear a more conventional 240mm stainless steel rotor is used, although it does have its caliper mounted directly to the inner swing arm, which is said to save another 1.5 pounds of unsprung weight.
A hydraulic slipper clutch lets you feed the power out when you select the first of the six close-ratio gears, and this uses a HVA (Hydraulic Vacuum Assist). This works very nicely when you shift down one too many gears at the wrong moment, and I assure you the only reason I did this was to be able to report it works. Taking power to the rear wheel, Buell has employed their own unique belt drive system, and the quiet, clean Goodyear Hibrex final drive set up is as much as five pounds lighter than a chain drive system.
Visually, to me the Buell is going to be an instant take it or leave it machine. Bordering on the weird, you aren"t going to confuse it with another brand in a parking lot full of motorcycles. The big front fairing was designed to give the rider Quiet Zone cockpit aerodynamics. Flowing the wind over and around the rider, the lack of soreness in my neck attests to the success of the design.
With VIR using a long, front straight, a rider spends a healthy amount of time pushing winds close to 145 mph with his melon on a smaller sport bike, so I for one appreciate the design here. Featuring six individual headlights, there are three per side in a horizontal plane. LED turn signals are found up front in the mirrors, while coming in the more traditional fashion out back.
The cockpit area is very clean and nicely finished, with a big analogue tachometer sitting on top of a smaller digital speedometer. And, gracing the top of the 47mm forks is a 25th anniversary triple clamp signed by the great man himself, Eric Buell.
With plenty of track time during our day of testing, the Buell and I became very good friends by the end of our ride. Sweet shifting, lots of strong predictable power, and top shelf handling made for some entertaining stories with the sport bike guys in between sessions. Comfortable and quiet, it_s a real track day sleeper for us old geezers, and with some suspension tweaks, a performance exhaust and some stickier tires, it could do some serious damage.
Anthem by Erik Buell and the Thunderbolts Thunder Press
2008 Buell 1125R First Ride Motorcycle Smack
Buell XR9R FireboltSportfighter
Motorcycle Specs
EBR 1190RR sports bike – Motorbikes Reviews, News & Advice – bikepoint.com.au