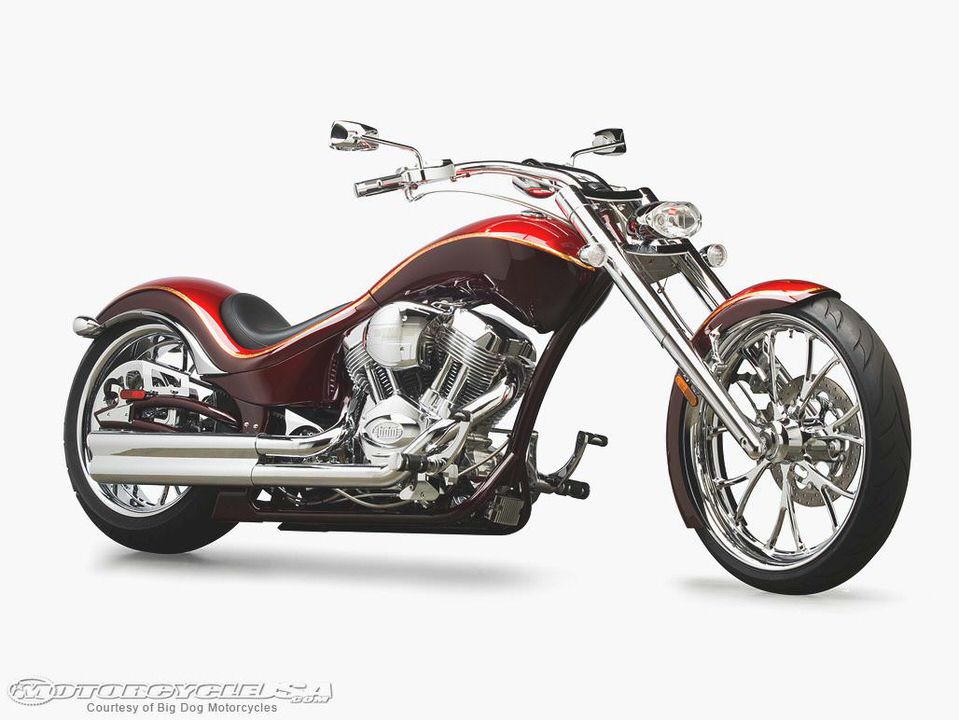 Your message has been sent!
I received my marching orders by courier from the Bikernet Interplanetary Headquarters, editorial boardroom publisher's assistant. I was assigned to test a Big Dog motorcycle for Bikernet. I ask Bandit, Cool, can I ride the Coyote like I did back in October for the '09 model release?
I attended the gathering with editors from all over the country?
No! he said. They want you to ride the new Wolf. Did you read the assignment sheet? The Wolf is the most anticipated bike in the company's 15-year history.
It's available complete with an exclusive engine, distinctive sweeping design, fresh styling features, and unparalleled performance.
The Wolf? I responded carefully. Uh, Bandit, oh-buddy of mine, must I remind you that I'm only 5'6 and that the wolf is the size of a Locomotive?
Listen Towle, get yer butt down to the dealership, Bandit said, his voice decibel level was inching up. This is an exclusive, a new generation of premium pro-street cruisers: The all-new 2009 Big Dog Wolf is the most exotic motorcycle ever built by the 15-year old company. Try one on and then get back to me.
Bite me, I said under my breath.
What? Bandit snapped.
Uh, nothing, I said, will do. I like to give him shit, but actually I was damn excited, yet a tad concerned about the fit for my stubby self. I knew from watching other editors straddle this rocket ship, that it was sorta the Ferrari of limited production motorcycles.
I was actually a tad intimidated to ride the beast. This is a $45,000 motorcycle, and I'm accustomed to low buck used Sportsters.
With that, I heard a loud click as I was hung up-on– nothing new, business as usual. So, off I went to the Big Dog Dealership in Costa Mesa California, on a Harley no doubt, which kinda made me think of showing up at the U.C.L.A. campus wearing a U.S.C. jersey. No worries, they didn't give any trouble.
So, Mr. Salesman, can you direct me to the Wolf?
Sure, it's right over here, he said and presented me with one exceptionally stunning motorcycle. It was like a high-dollar, high performance Italian sports car. The fit and finish on this baby was second to none! Not like anything I've seen before. The Wolf's striking lines produce a look that is both powerful and radically elegant.
In one continuous sweep, the distinctive 41-2- gallon tank, seat pan, and rear steel fender are integrated, flowing from one component to the other, giving the nine-foot long bike an unmistakable stance.
The salesman broke my nutty hypnotic trance with, Hop on her and see how she feels.
I jumped on and it felt like a deerskin glove. Then, seeing the giant 220 rear rubber and the two billion mile-long front forks, I started to get a tad intimidated again. Its front centers around the chrome, sleeved 41mm front forks stretched out three inches, while cradling a chrome 23-inch billet wheel.
A new, exclusive headlight lights up the style even more. The rear is marked with a new radical swing arm giving the bike a more active suspension and the operator a smoother, more comfortable ride. Its drive side brake allows for an uncluttered view of the stunning 20-inch chrome rear wheel.
I had to research some of these components to discover that this production bike was delivered stock with many bike-show winning components. Big Dog wasn't messing around with this shapely monster.
Then I slapped both feet on the pegs. uh-oh, this is Little bit of a stretch for me. I scooted up on the seat a bit and pointed my toes and the fit was just fine. The controls are adjustable.
Confidence flooded over me like a kid scoring an A on his report card. I gotta ride this bike and I did.
We're living through interesting times. The custom bike market was once made up of choppers, done deal. The market has expanded like wildfire over the last two decades. Now, just in the custom market, we have choppers, bobbers, baggers, hot rods, you name it. If a guy has a limited budget, he can ride a swapmeet special, and that's cool.
But if a guy is working hard and making the bucks, there's the Wolf for the man who has cash, but no time or tools to build a world class custom. He can ride a state-of-the-art custom and be warranty confident– novel thought.
I fired up that exclusive tri-cam, 121 cubic inch, power plant which almost cracked my jaw from the extreme smile it brought to my ugly mug. I let her warm up until sufficiently heated. I slipped the easy-pull clutch in just so I could give her a nice blip. wudda sweet sound.
Between the front and the rear is an innovative drive train comprised of an all-new SS X- Wedge 121 cubic inch engine and the award-winning 6-speed BDM Balance Drive.
A Big Dog Motorcycles exclusive engine configuration, the 121 size is equivalent of nearly 2,000cc. For all its muscular character, the engine has plenty of refinement. The 56-degree, tri- cam engine has a bore and stroke of 41-4" x 41-4", a 21% reduction in vibration, 30% fewer parts, and 22% more fin area making it a smoother, quieter, and more durable v-twin design and well- suited for any riding aspiration – short jaunt to long haul.
Its closed-loop EFI system constantly checks air temperature; engine temperature and speed; throttle position; and exhaust oxygen levels, resulting in better performance, improved throttle response, increased torque, easier starting, and cleaner emissions. The electronic break-in procedure contributes to a longer life.
I started out on Harbor Blvd. the home of the Wives of Orange County, with another hint of intimidation because of her size..Ha! She handled like a dream. I couldn't believe it, smooth as silk! Cruising down Harbor, where there's a lot of car dealerships, I notice one particular car salesman standing by the curb talking on his cell phone.
I'm thinking this is too good to be true. I rolled right up upon him, and once again pulled in the ol' clutch and blipped the hell out of that 121-inch monster with 2:1 double-barrel exhaust, which of course scared the living shit out of Mr. Salesman. He jumped, but the Wolf lines caught his attention.
He hung up the phone and gave me a resounding thumbs up.
Big Dog Motorcycle translates the full-polished engine's power into motion in typical BDM style and design: the 6-speed BDM Balanced Drive. The proprietary system gets the Wolf up to speed quickly – taking it from a standstill to 60 mph in less than 4 seconds. But even with these performance statistics, the engine boasts a very modest thirst, needing only a gallon of gas for every 42 miles I traveled.
The clutch, redesigned in 2008, dramatically reduced lever effort for smooth and easy gear engagement. New for 2009, a primary compensator sprocket ensures a smoother, quieter ride as more power is applied.
The cat who drove me to the dealership told me something interesting that happened while following me home. He said that the afternoon sun bounced in his eyes while driving, but when I hit the brake lights on the Wolf, to slow up for some old lady on the freeway, the brake lights damn near blinded him. Point being, the brake lights on the Big Dogs have no problem letting the evil one in the cage behind you know you're touching the brakes.
Hats off to the BDM boys, cool safety feature.
This bike was as stable as a rock. You know immediately that your butt is planted on a ride that can make crazy power, but the more I rode the more confident I was of complete stable control of this power. It's kinda like you're the pilot of an F-14. you have complete control but without the crazy vibration thanks to the 2009 motor design that reduces vibration by 21% and includes 30% fewer moving parts.
"With the Wolf's narrower tire and purposeful frame design, when you get behind the handlebars, it's almost impossible to believe that you're riding a bike that weighs almost 800 pounds and over nine-feet long, said Paul Hansen from the BDM factory. It is unlike any other Big Dog out there."
They conceived 22% more engine fin area to keep her cool and not all hot headed like your wife. I loved the way she rode, handled, and really dug the way she looks. There is no camera made that can capture the way this bike looks in real life. Everywhere I rode dudes would either give me the stink eye because he wasn't on the bike, or, looks like, very cool, punk.
But the ladies, oh brother, they really eye balled this ride, and I can assure you they weren't looking at my sorry fat ass.
As the top model in Big Dog Motorcycles' 2009 line-up, the new Wolf (MSRP $35,900) makes use of the entire BDM expertise in its frame design and manufacturing. A dramatic single down tube radical swing arm design, plus its long, low frame architecture gave it a dynamic edge. The frame is a substantial 11-2" in diameter and welded with fewer components for improved durability.
The Wolf cuts a supremely long, low figure with a seven- inch backbone stretch, 40-degree frame rake and five more degrees in the triple trees. The ground clearance was less than four inches. The result was an unmistakable design and unmatched handling and maneuverability.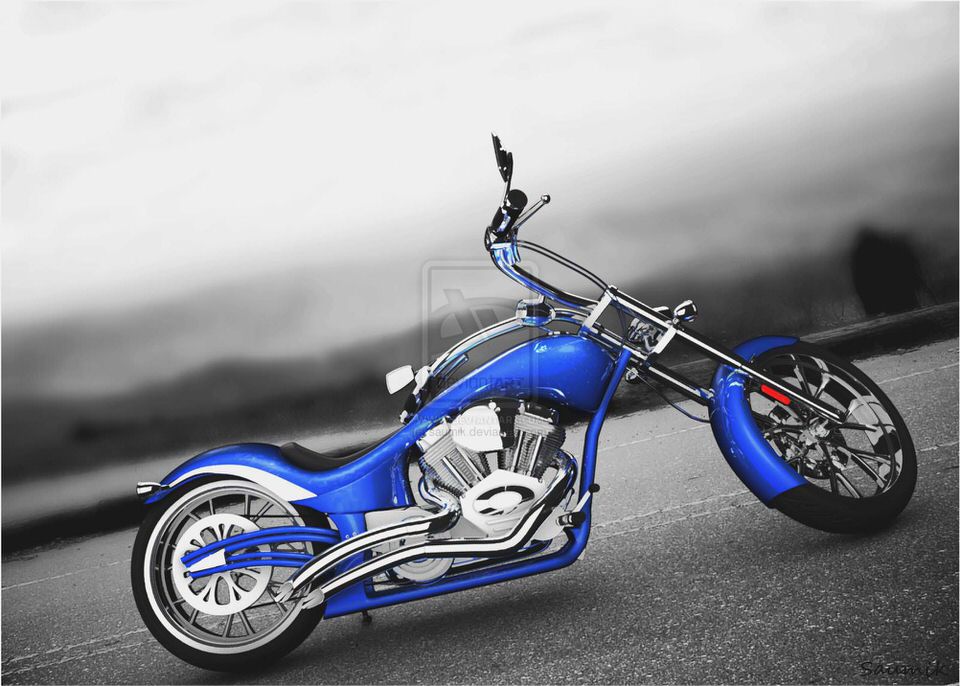 The maneuverability is amplified with its 220/50R20 rear tire and 130/60R23 front.
I'm a renowned dismal Dan, but I was beginning to sound like Mr. kissy-ass here, but tough shit, I really like this bike! It's impressive. This bike is very expensive, but I've eyed other so called production customs, and the others aren't even in the game. Big Dog has the corner market here, hands down. If there was something I didn't like about this bike, I would have great pleasure in saying so.
It's just the way I fly. So, sorry kids, I don't have an opportunity to bitch here. I loved the exclusive grips that never let my mits get numb.
Stopping power from Performance Machine components was flawless (PM 4-piston brakes (front and rear) for unrivaled braking control).
Several design details are equally striking, namely the chrome brake calipers, rotors, forward controls, handlebar controls, and struts as well as a digital/analog speedometer with a unique "floating" mount has amazing day and night visibility.
Shifting was light and immediate. Look, If I had the greenbacks to buy this thing, I surely would. Dump that dumb- ass S.U.V. yer driving, sell that boat you never use and buy this bike, life will be fun again. remember when it use to be fun?
Well, get on it.
–Jon Towle-
The Wolf by Big Dog Tech Chart
6-Speed BDM Balance Drive
Hidden Shock Suspension
45-Degree Total Rake
220 x 20 Rear Tire
Single Down Tube
Standard Chrome Wheels Components
Optional Detachable Saddlebags
Touring and Accessory Capabilities:
The ground-breaking Wolf also redefines Big Dog Motorcycles' touring capabilities. Optional detachable hard saddlebags hold enough gear for any travel distance, transforming the Wolf from a boulevard cruiser to long-distance cruiser in minutes. Other available touring and passenger requirement include a fastback seat, rear pegs, sissy bars, backrest pads, touring bags, windscreens, and more.
Riders can make their Wolf more individual with a choice of nearly twenty base colors, a comprehensive choice of graphics, and an extensive line of aftermarket accessories. These include made-to-order custom seats; oil coolers; decorative accessories, and more. Big Dog Motorcycles also supports the riding lifestyle with a selection of clothing, riding gear, and collectibles.
Big Dog 2009 Line-up The company's 2009 line-up includes seven models in three classes: pro-street, chopper-style, and touring. Each motorcycle is designed, assembled and hand-painted at the company's 150,000 square foot factory in Wichita, Kansas. The company is currently celebrating its 15th year in business and has built over 25,000 motorcycles.
Big Dog Motorcycles has nearly 100 dealers in the United States and will soon have it products distributed in Canada.
2010 Big Dog Bulldog Road Test Rider Magazine Reviews
Used 2006 Big Dog K-9 – Reviews, Prices and Specs at Motorcyclist Magazine
200-Hp Voxan Wattman is world's most powerful electric cruiser
Mastiff Dog Breed Information
Big Dog Motorcycles Introduces 2010 Chopper – Motorcycle USA