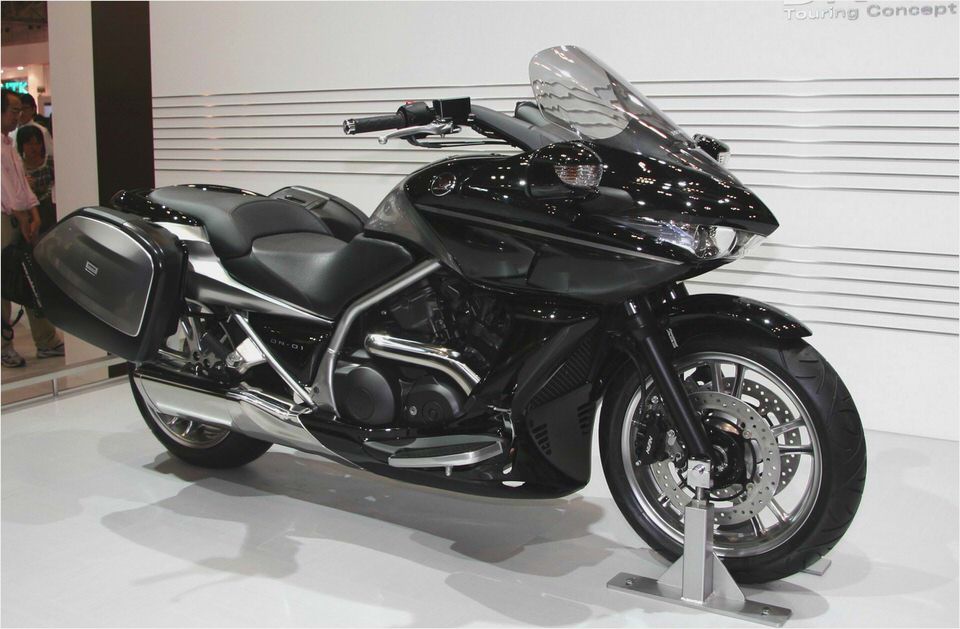 Test: 2009 Honda DN-01 Honda makes a case for the automatic motorcycle.
The longtime dedicated motorcyclist approaches the scooter with some suspicion. Full bodywork, little wheels, little engines, all designed for ease and economy rather than speed and adventure.
But despite its low, plastic profile and automatic transmission, the Honda DN-01is not a scooter. Start by looking at its 680cc V-Twin engine, 17-inch wheels and sport rubber. Realize that it has a gas tank between your legs, not the air of a step-through. Realize that you can't call something that costs $14,599 a scooter.
What to call it? Honda offers the word "crossover" and describes the DN-01 as a "comfortable sports cruiser."
Okay, we accept that. With some suspicion, of course…
Says Ray Blank, VP at American Honda, "It's not something that came out of market research. It's kind of a hunch. It's dreaming.
It's something different; nobody's got it, so let's give it a try. As a new-think kind of vehicle, we hope it will be intriguing."
It is that. Never more so than when you push the Drive button to engage the hydromechanical continuously variable "Human Friendly Transmission." The smooth idle of the four-valve-per-cylinder, 52-degree V-Twin is drawn down ever so slightly, which you hear audibly and see on the LCD bar-graph tachometer. Now, just roll on the power and glide smoothly away.
The centrifugal hydraulic clutch action is predictable and easy to modulate through throttle application.
There are Drive and Sport modes for full-auto operation and a pushbutton manual option for six "gears." Even in the latter, it's not fully manual; HFT won't go up or down in ratio unless the road-vs.-engine speed is appropriate. And while I "ran gears" on a winding road and in town, it seemed sort of ridiculous. The automatic settings give the best street performance and the quickest roll-on times, although the quickest quarter-mile time came in Manual.
On the road, Drive holds lower rpm and gives you fewer revs when you snap the throttle open to yield the best balance of efficiency and performance, says Honda. Sport gives you 500 rpm more at steady state (unless the tallest "direct" ratio is obtained) and usually hands you 1000 more when you snap open the throttle. The DN-01 is usefully more vigorous in Sport.
Even so, it isn't a particularly quick vehicle. It will blow doors on most cars, and all you have to do to jet off the line is whack it wide-open. Under launch circumstances, the engine sounds like it gets its spark timing retarded a bit to control power output until the hydro clutch is fully engaged, and then you are runnin'.
At a stop, Neutral can be selected to disengage the drive from the rear wheel if you desire, but it will idle all day in Drive. Neutral engages automatically when the key is turned off so the motorcycle may be pushed. Because there is no "gear" when in the off position, a cable-actuated parking brake is provided, operated by a lever under the right side of the fuel tank.
On the dyno, locked in "fifth" gear, the DN-01′s 680cc V-Twin made 45.6 horsepower at 7400 rpm and 35.8 foot-pounds at 5800 revs. The curves are quite linear and torque production is broad, which seems strange, given the ability of the transmission to hold any chosen rpm. Seems Honda's tuners could have sacrificed a bit of engine flexibility and shifted power and torque to the upper rev range, then used the transmission's inherent tunability to exploit that.
But in traditional terms, this is a very well-tuned powerplant.
It takes almost no time to become accustomed to how the throttle and transmission work together to provide forward motion, and even less to get used to how the DN-01 handles. The chassis is neutral in corners and stability is excellent. Rake and trail are very relaxed at 28.5 degrees and 4.5 inches. Wheelbase, too, is geared toward stability, with 63.5 inches between axles.
This also provides space for a low seat (27.3 inches) and the mechanicals for this very Gurney Alligator-like machine.
If you'll remember, the Alligator, both in the Single-cylinder form we tested previously and also the new V-Twin version, places the rider nearer the ground to give a low center of gravity and a very confident, easy-steering nature. The DN-01 isn't as extreme in its lowness as Gurney's effort, but there is nothing else currently available as a "motorcycle" that imparts the ease of handling that the DN-01 does, which is even more surprising when you consider its 591-pound dry weight. Even with that and the conservative steering geometry, the roll response of the chassis is quick and precise.
In fact, the positive handling qualities of the DN-01 make the ease with which the floorboards can be ground not at all surprising. Cornering clearance is pretty good—much better than with your average cruiser—but on a tight, winding road, the boards are by far the greatest limiting factor in how fast corners can be taken. A swift pace is easy to maintain, but the last bit of aggression is mitigated by scraping metal.
Braking performance from the Combined ABS braking system is superb. Trail-braking down to the apex has no effect on steering, which simply adds to the ease of riding quickly and being ready to respond to surprises around that next blind corner. While the lever and pedal do have a somewhat dead feeling, the three-piston calipers—two in front, one at the rear—nonetheless haul this thing down with confidence.
The anti-lock element is an added bonus (this is, by the way, not the same new system as fitted to the CBR-RR sportbikes).
On one long test loop that included snow and icy roads, I was thankful for the tractable nature of the power and predictability of the auto-clutch, the lowness of the chassis and the anti-lock brakes. Also, as the dark and stormy day turned into a very dark and stormy night, the excellent headlights and superb mirrors were additionally reassuring.
Highway behavior is comfortable, with a good ride from the 41mm conventional fork and single shock. Wind protection is decent, although at 70-plus mph, the low fairing top and screen allow wind to strain the rider's neck after a short time. This head-level blast and the generally kicked-back, feet-forward nature of the riding position make the high cruising speeds attainable on the DN-01 a bit less comfortable than they otherwise might be.
The seat is excellent, but riders over 6 feet tall will wish for a bit more room both to the grips and to the floorboards. These aspects would limit touring opportunities, as does the 324-pound load capacity. Based on that figure, two-up touring with any kind of luggage would virtually guarantee an overloaded bike.
Still, in terms of overall function, the DN-01 is excellent. But, in many respects, we wish Honda had gone the two-wheeled Acura route here. As it is, the only true "feature" is the transmission.
How about standard heated grips (admittedly they're an option), a GPS navigation system (an option in Europe, but not here), a power port or two for electric vests or other electronic devices and, perhaps, any kind of storage? The best case for the latter would be a place to put a bag of groceries, but even something smaller would be welcome. Currently, there is space for a U-lock under the seat, and that is it.
This bike begs for a level of storage utility that would allow parts running or grocery getting.
As it stands, on that long test loop during very foul weather that included snow, ice and hail, I had to keep all my stuff in a plastic trashbag in my backpack. That, friends, is anti-convenient. With a nice underseat storage container or perhaps a tank-top setup similar to that of theAprilia Mana 850, I could have just popped my stuff in there.
Dammit, Honda!
The gauge package, too, is a bit annoying. It's far away, it's small, there are no ambient or engine temperature gauges and the tiny, hard-to-find-at-night tripmeter buttons are waaaay out there in front of you—a big reach, especially if you are moving. Further, that low, sweptback windscreen is pretty close to the handlebars, so getting your geared-up arm and winter-gloved hand in there to push the buttons is a pain.
Suggestion: Make the trip functions activated by a trigger on the left switch pod.
Fundamentally, what makes these complaints all the more frustrating is, again, how easy the DN-01 is to ride. This bike functions. The lowness, the steering quality, the brakes, the transmission and the power are all seamlessly integrated and allow unparalleled ease of use coupled with a good feeling on the road. Just turn it on.
Ride.
Despite the gripes here, the only true, potentially fatal flaw in the program is the price. At $14,599, the DN-01 costs as much as an ST1300 sport-tourer, and the non-ABS Kawasaki Concours 14 is $13,499. Inevitable scooter comparisons yield competition that falls under $10,000. Looking at the Honda FourTrax Rubicon quad that uses the same transmission technology on a smaller mechanical scale shows that you can purchase the base model for $7500 and a GPS-optioned unit for $8000.
Honda's response is that the sales volume in the quad market allows the per-unit cost to be lower, while projected worldwide sales of the DN-01 are comparatively small. "Low production leads to higher pricing," says Blank. "The technology leads to higher pricing. Until there is big volume in making an all-new auto transmission like this, it's going to be expensive to manufacture."
Still, it seems Honda has missed an opportunity with the DN-01. It could bring many new people onto two wheels, but based on the price alone, this is highly unlikely. It could draw experienced riders looking for something easier to live with than your average cruiser or sportbike. It could draw touring riders who are in search of an additional, lighter alternative for shorter trips and in-town use. But the price probably will get in the way of much of these potential purchases, too.
And, if the high MSRP were part of a "premium-bike" marketing ploy of this new concept, then we might also have expected more electronic doodads to take it upmarket, which might help justify the dollars required for purchase.
So what is the DN-01 besides pricey? It is easy to ride. It is interesting. It is good. And it ain't no scooter.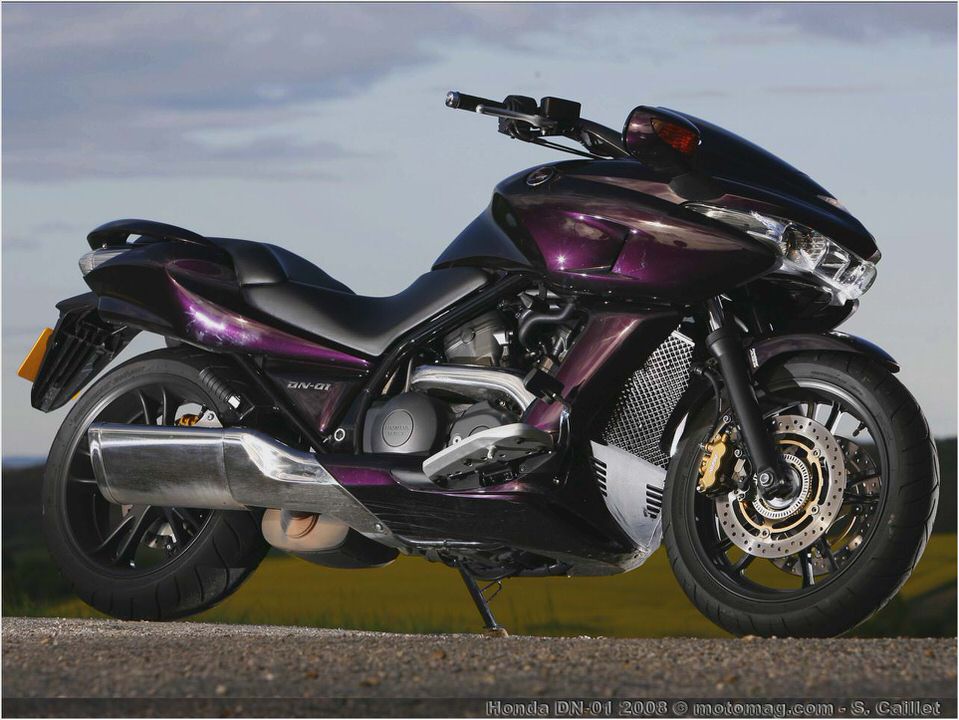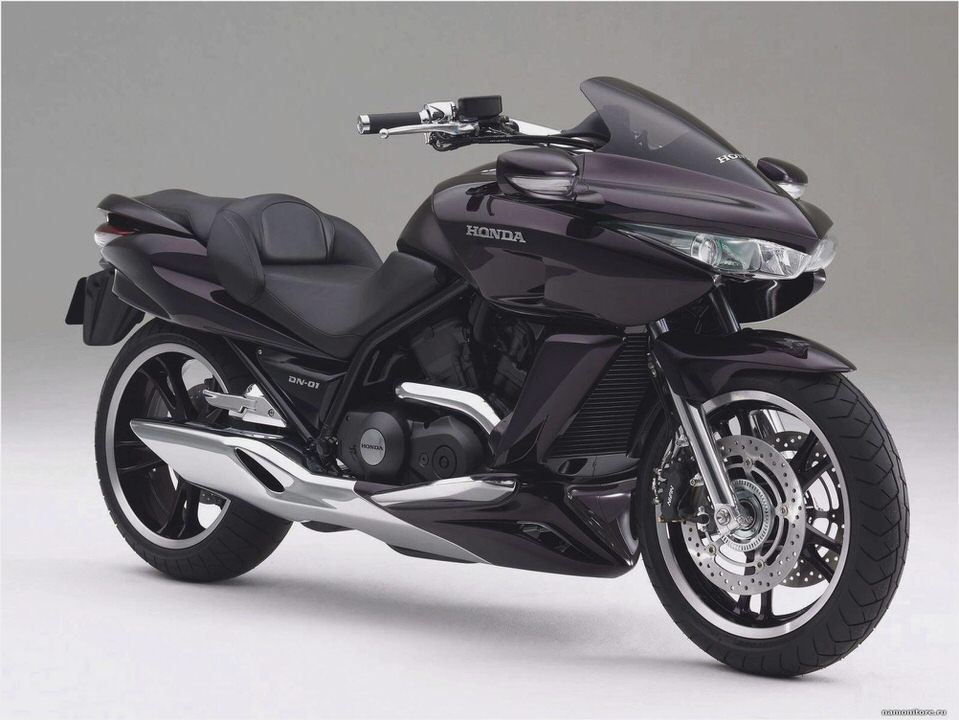 The Specifications for a 2004 Honda CB1300 eHow
GAS MILEAGE FOR A HONDA SCOOTER SCOOTER GAS
Honda NSF250R breaks cover – Motorbikes Reviews, News & Advice – bikepoint…
Honda announces new CBR600RR and CBR1000RR Fireblade for U.K. – Autoblog
2010 Honda RC212V Technical Overview – Ultimate MotorCycling