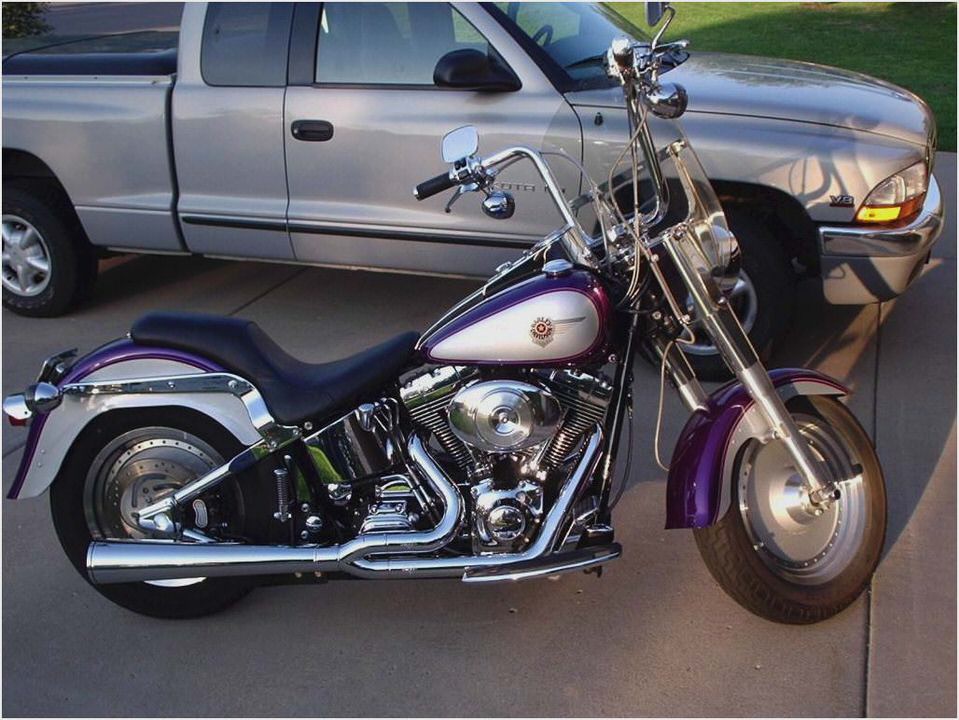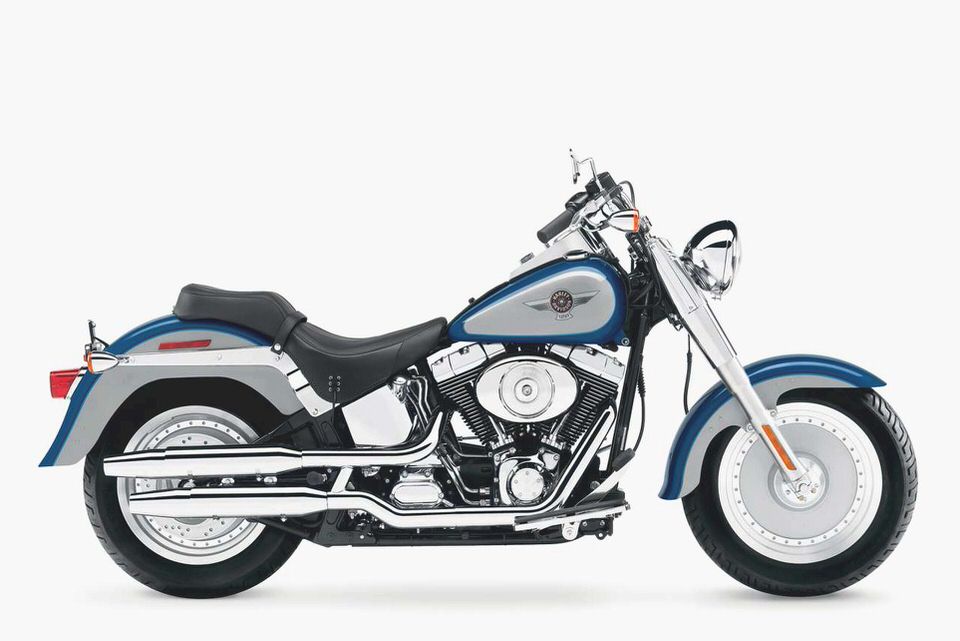 2011 Harley-Davidson Fat Boy | Review
2011 FLSTF Fat Boy
I guess the first thing I should disclose is that I've never really liked the Fat Boy moniker that Harley-Davidson put on this Softail motorcycle. But, then, I never liked the name Fatburger–a popular local hamburger chain in Los Angeles–even as I happily devoured their signature sandwich. So, like the famed Fatburger, the neo-classic 2011 Harley-Davidson Fat Boy overcomes a non-intuitive name and is a winner all around town.
The logic for the first word in the Fat Boy name comes from the beefy appearance of the motorcycle, including a muscular 140 front tire. Is it a boy bike? It seems undeniably masculine and post-pubescent to me.
Regardless, it's all about the Twin Cam 96B V-Twin engine with Electronic Sequential Port Fuel Injection and how it gets this bruiser around town.
As it turns out, the Fat Boy is a stunningly good boulevard cruiser. I'm a big fan of the balanced Twin Cam motor with the rigid mounting for city cruising. The engine doesn't shake like a cement mixer at stoplights, and the vibes never go away–a perfect balance (no pun intended, until I wrote it).
Ergonomics are pure genius. Everything is where it should be on the Fat Boy. I like the dual switches for blinkers and the loud horn gets the message across insistently. The speedo is easy to read, and all the idiot lights are stealth.
There's a small LCD readout that can be switched between various mileage indicators, as well as a completely unnecessary gear-position indicator.
That fat front tire, along with a boisterous 200 rear tire (both are Harley-Davidson branded Dunlop 17-inchers), gives the Fat Boy both a solid presence and a solid ride. No one is going to cut you off, thinking that you're on some slight vehicle. The bike weighs in at over 700 pounds with fluids in place, and there is no effort to hide the appearance of mass.
Handling is a different story. The Harley-Davidson Fat Boy's weight all but disappears beneath you, thanks to the low-slung Softail frame. The seat height with rider aboard is just above 25 inches, low enough that few riders will complain.
Additionally, the front of the seat is cutaway, so you can move your thighs down at a stop, making the seat feel even lower.
Despite the fat front tire, the Fat Boy is more than nimble enough around town. It's a motorcycle that responds to you without much thought. The powerband is extremely wide, with plenty of the claimed maximum of 94 ft/lbs of torque available at 3000 rpm on tap no matter where you are in the rev range.
Add in a six-speed gearbox and you always have access to exactly the right ratio.
You can pull away from the light with authority, and shock a few sport bike guys who aren't 100-percent ready when the light turns green. 2nd or 3rd gear in-town is all you need, so shifting only happens at stops (and neutral was typically a pain to find). The clutch pull isn't unreasonable, so your left hand stays fresh all day.
No one is going to describe the Fat Boy's Softail suspension as plush. However, with over five inches to work with for the forks mounted at a 31-degree angle, and the hidden rear shocks controlling over four inches of travel, you aren't going to get beaten up, even on some mean city roads. For the most part, the Fat Boy takes the edge off the potholes and dips, without even trying to isolate you from them.
It's a visceral ride and I like it.
Braking on a Harley-Davidson is always a crapshoot. Some have great rear brakes; others are lacking at the pedal. In the case of the Fat Boy, the rear brake is the way to go.
It allows you to modulate your deceleration nicely. If something unexpected happens, let the single 292mm front disc get involved. ABS is an option, but I didn't feel it was necessary in dry conditions.
On the freeway, the Fat Boy is a decent ride. The wide front end blocks some of the windblast against you, and the bars aren't overly wide. The 6th speed overdrive comes in handy when cruising at 70 mph, but will seem too high for roll-ons.
At anything under 70, or when passing, you'll want 5th gear. Yeah, 6th is stratospheric on this bike.
If you're the kind of rider who likes to head for the canyons, you'll find the Fat Boy a bit ponderous. The lean angle of 31-degrees on each side is certainly adequate, so you won't be grinding down the comfortable floorboards any time soon. If you are, you should consider getting an XR1200X.
It's not a sporty Harley-Davidson by any means, but you can ride it leisurely through the twisties without a thought. Turn-in is predictable, it's solid through the turns, and doesn't stand up on exits.
Harley-Davidson did update the Fat Boy this year, but the changes are minor. The wires on the bars are hidden better than in the past. The horn switch does double duty as the odometer switch.
As I mentioned earlier, the LCD will tell you what gear you're in, but that's not critical info and it's hard to read, as is the utterly pointless RPM display. Also, you can get a Harley-Davidson Smart Security System with hands-free fob if theft is a concern.
Me? I'll just park the Harley-Davidson Fat Boy where I can see it, and lock it up in the garage. The ability to go keyless on the standard version is a great convenience. It's a perfect in-town cruiser with a comfortable firm seat that let's you prowl the street all day (and all night) long. You can't knock the styling, and its brawny appearance is backed up by the 96B's powerful grunt and wonderful feel.
He may be a Fat Boy, but there's plenty of muscle and dexterity go along with it.
2011 Harley-Davidson Fat Boy | Motorcycle Specs 
Length 94.3 in. (2395 mm)
Overall Width 39.2 in. (996 mm)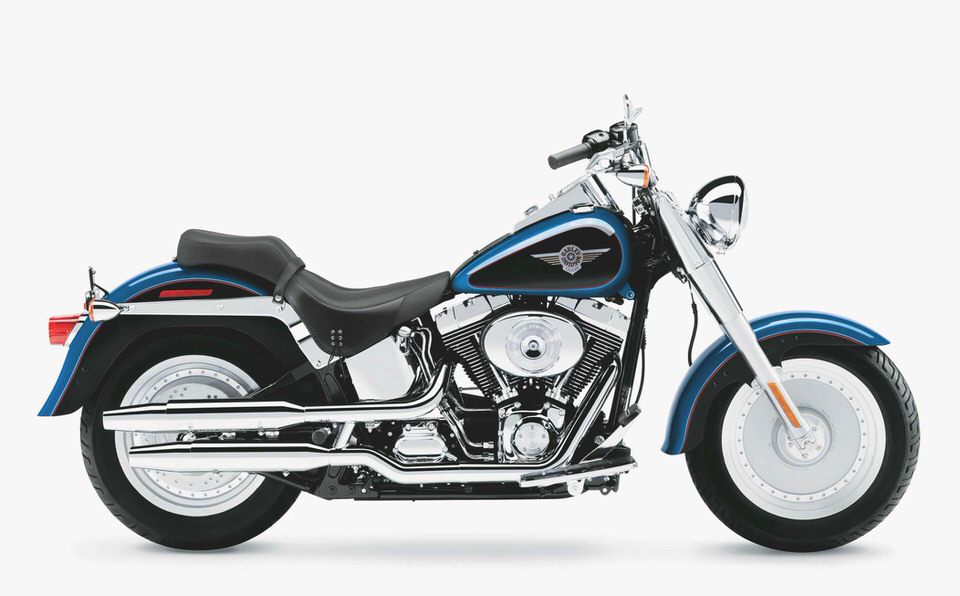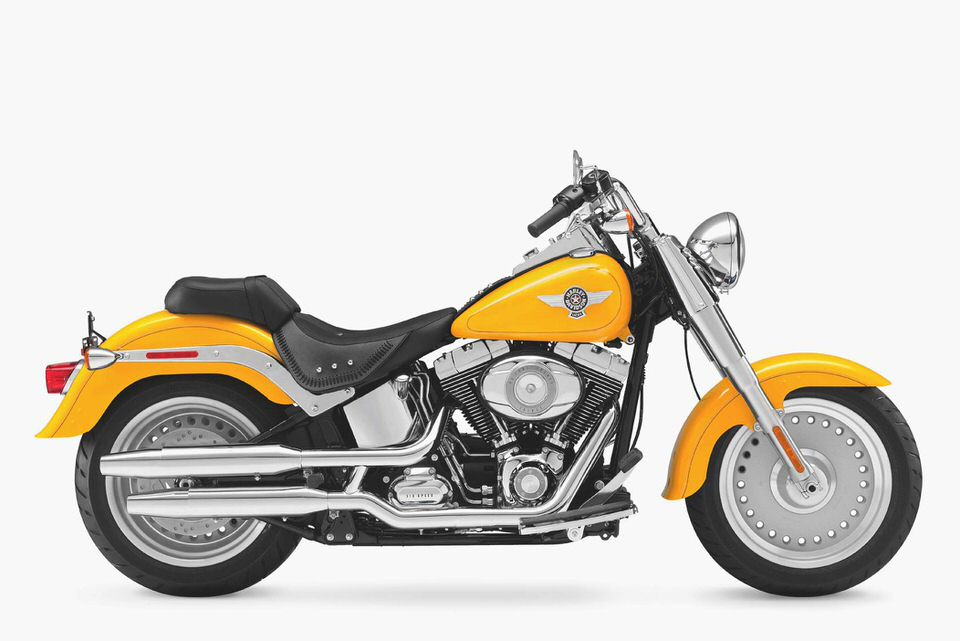 Overall Height 44.5 in. (1130 mm)
Seat Height 27.5 in. (699 mm)
Ground Clearance 5.1 in. (130 mm)
Rake (steering head) 31°
Fork Angle 31°
Trail 5.8 in. (147 mm)
Displacement 96 cu. in. (1584 cc)
Compression Ratio 9.2:1
Fuel System Electronic Sequential Port Fuel Injection (ESPFI)
Air Cleaner Paper, washable
Lubrication System Pressurized, dry System
Primary Drive Chain, 34/46 ratio
Final Drive Belt, 32/66 ratio
Clutch Multi-plate, wet
Transmission 6-Speed Cruise Drive®
Frame Mild steel tubular frame; rectangular section backbone; stamped, cast, and forged junctions; forged fender supports; MIG welded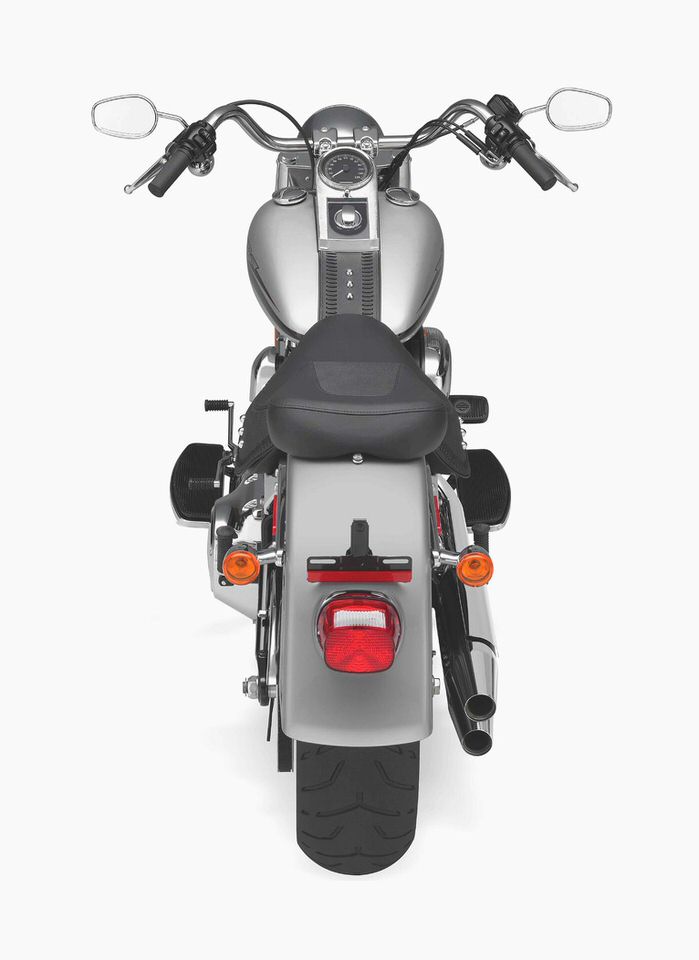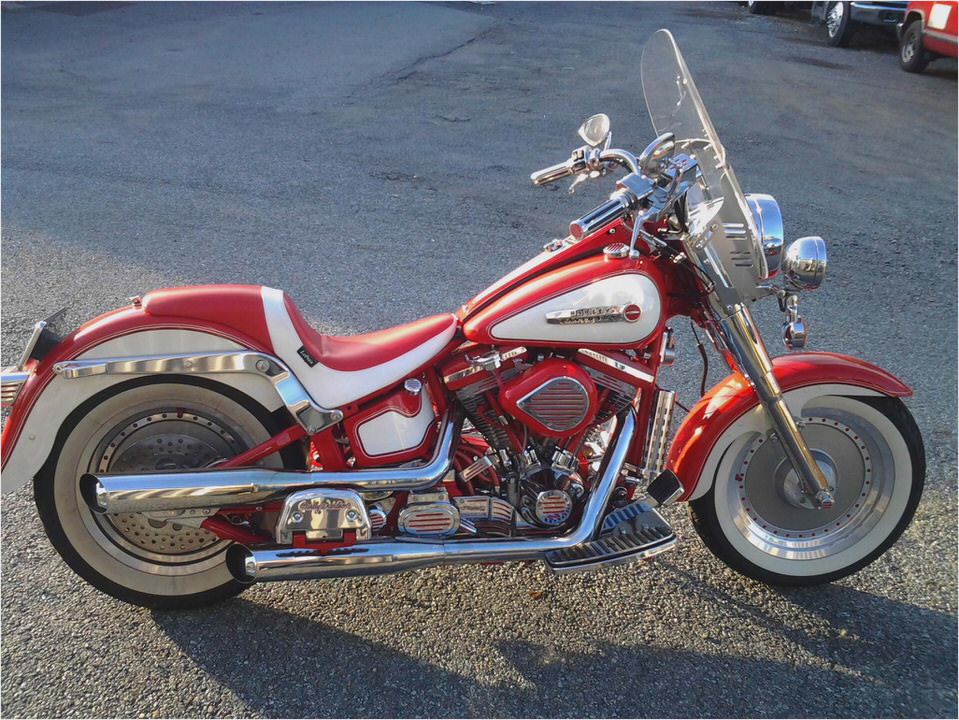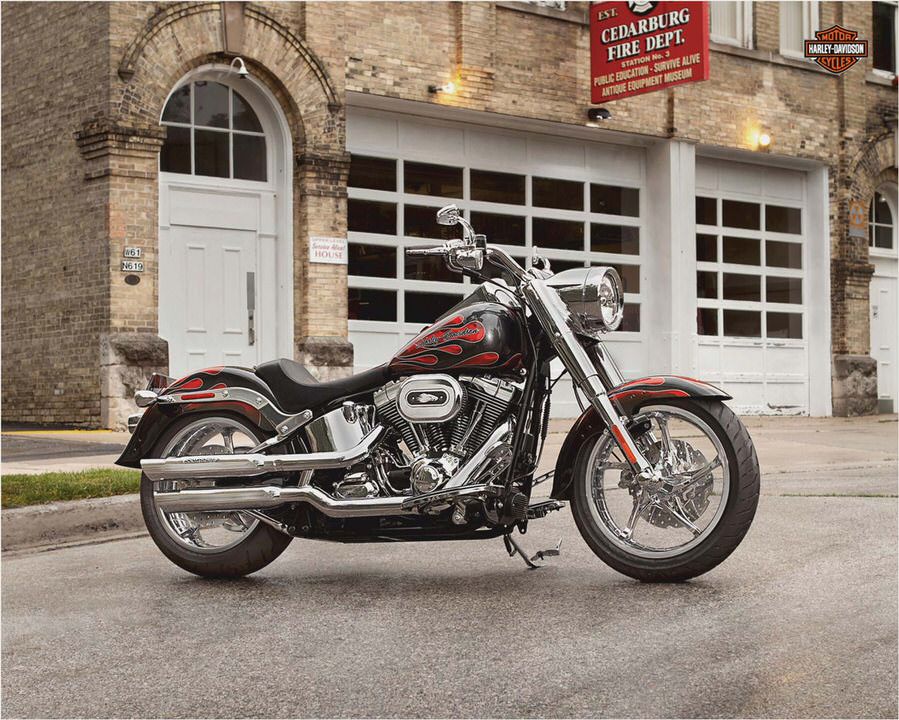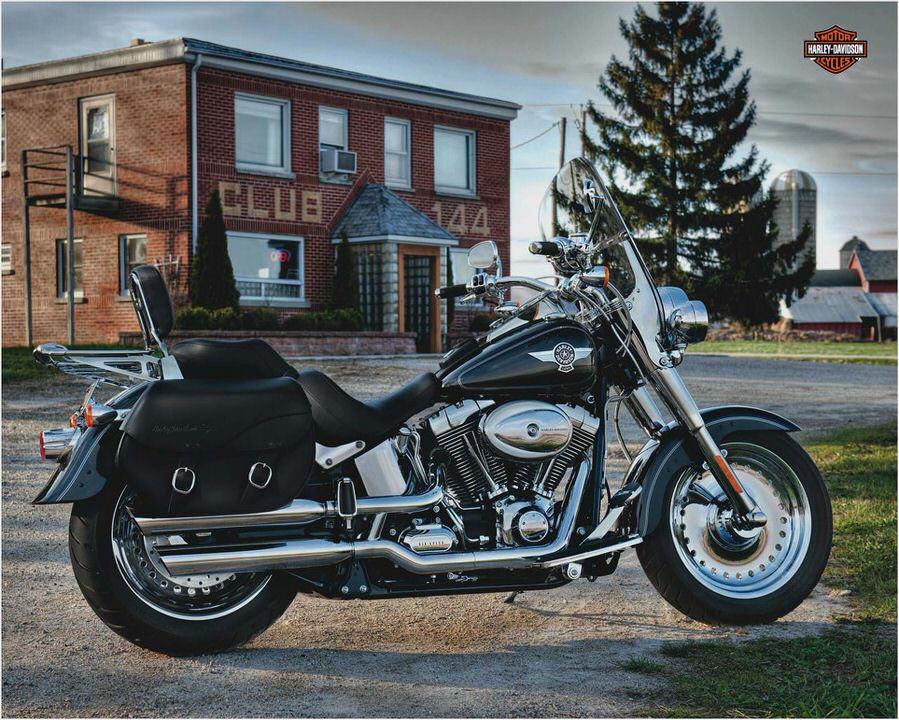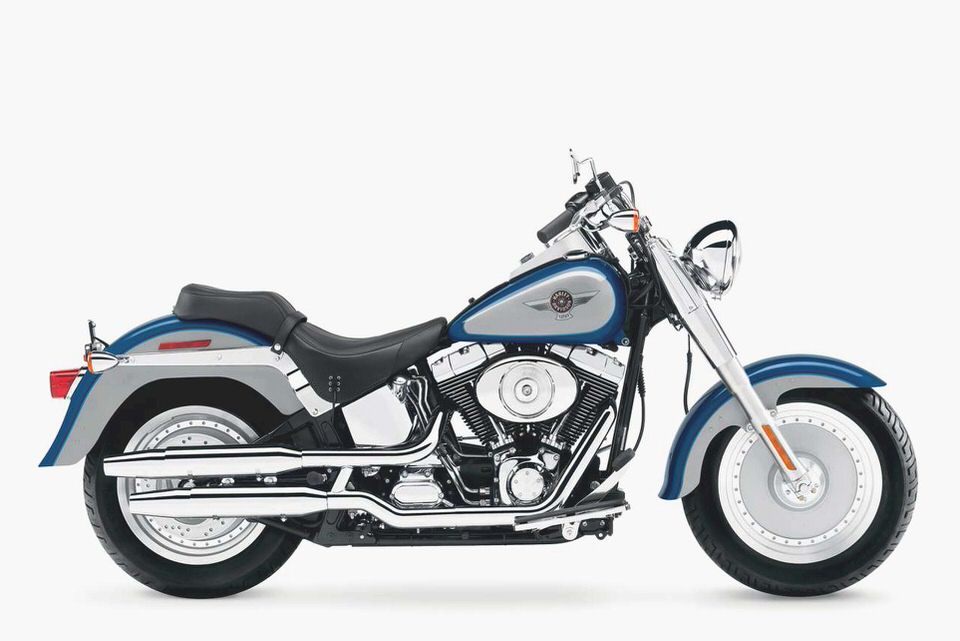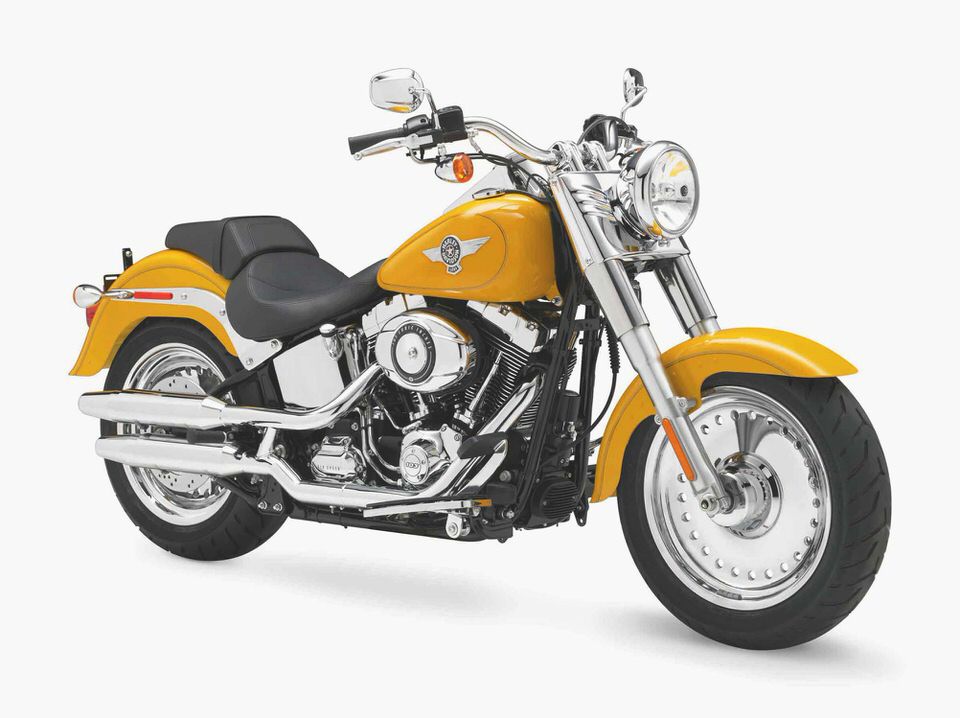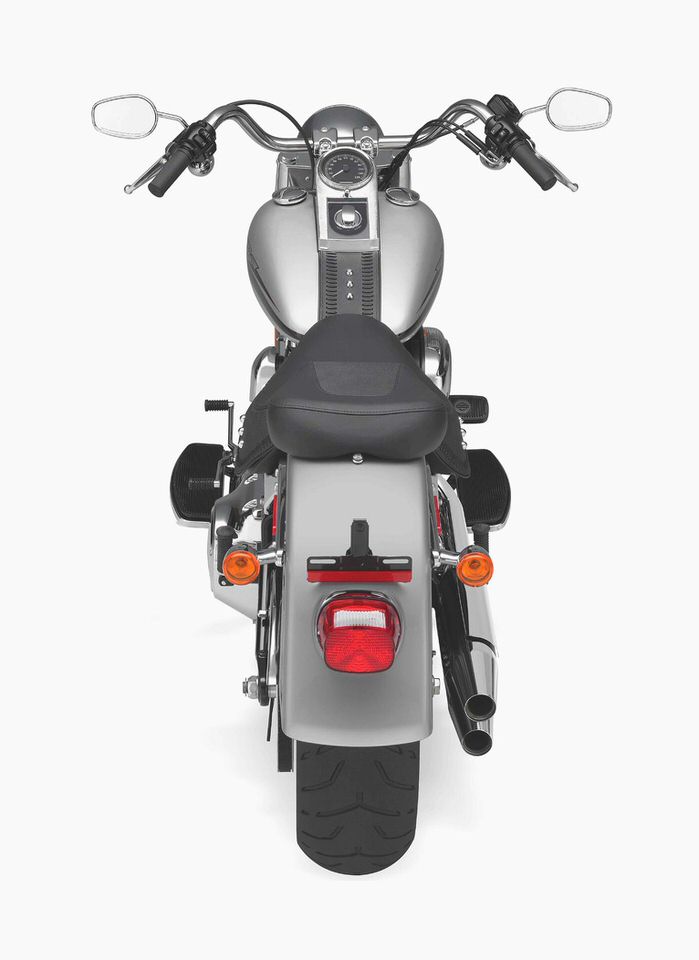 The Harley-Davidson Revolution … V-ROD
Harley Davidson Road King Motorcycles
Harley-Davidson 2006 XL Sportster 1200L Brings it All, Harley-Davidson Inc.
Road test: 2007 Harley Davidson FXSTC Custom Softail Driving
2010 Harley Davidson Electra Glide Ultra Limited 8K mi. Pristine Cond.