2011 Kawasaki Vulcan 1700 Vaquero Motorcycle Test
Modern Day Duke – Cooler Than Clint
Back when I was a kid, my dad instilled some basic ideas of what it is to be a man's man. He swung a hammer for a living, smoked Marlboro cigarettes, drank Schaefer beer, and there was only one movie star a real man could admire: John Wayne. The Duke. If anyone was channel surfing, which in those days meant getting up and turning the dial, and we passed a John Wayne cowboy movie, that was it, that's where the surfing would stop.
The Duke was larger than life: always the good guy, a straight shooter, and only fools dared cross his path. Anyone who attempted to draw on the Duke paid for it, dearly.
As time's gone by, there've been perhaps too many modern action heroes to muddy the waters of celluloid manhood. Clint, Bruce (Willis), Arnold, and Sly wouldn't stand a chance against John Wayne. 'Nuff said!
As I walked around the 2011 Kawasaki Vulcan 1700 Vaquero for the first time at the recent press launch, in, appropriately enough, Houston, Texas, I was asked, on camera, to qualify who would want this bike. Who was it aimed at? Initially, I must admit, John Wayne did not come to mind. I see the John Wayne of my youth as the Vulcan 1700 Classic kind of guy. But after spending time aboard the Vaquero and pondering it more, I saw a modern day John Wayne riding off into the sunset.
Not the man himself, but a modern man's man with the principals and traits of the Duke. A real man who drinks whiskey, drives a pickup, and doesn't eat quiche.
Kawasaki chose to use the Spanish word for cowboy, vaquero, as the bike's name. I think it fits well. I see this bike appealing to the independent, adventurous, lone wolf man's man out there. A Kawasaki representative told a tale of a husband and wife's first encounter with the Vaquero at a recent Indoor Motorcycle Show. The husband, a big guy, marched right over and said "Yeah!
That's it! That's the bike for me!" (me being the key word here), and the wife disagreed, until she saw the accessorized version with all sorts of passenger amenities attached. Well, I agree with the husband. That is the bike for him. Just him.
It's the bike he can ride to show his independence, his fortitude. It's the bike that will show the world he's a bada$$. Shame on him for forgetting his life partner. And I can imagine how the conversation went over dinner that night.
She probably won, and he'll water down his Vaquero, poor guy. But for his inner cowboy, the Vaquero called out to him.
Although there is a family resemblance to Kawasaki's king-sized tourer, the Voyager, many revisions have been made as Kawasaki tweaked and fine-tuned the Vulcan 1700 platform to meet enthusiasts' demands. This is not merely a blacked-out Voyager sans luggage. No sir-e-e. We've evaluated the Voyager a couple times already, most recently in the November issue.
So I'll spend most of my time here describing the differences and improvements that come along with the 2011 Vaquero.
Obviously, the most apparent change is the lack of tour pack topcase. This shaves 60 pounds off the Voyager, and with the suspension remaining essentially the same, this gives the Vaquero sportier handling characteristics. The 45mm front forks remain, except they got the black treatment, and, out back, the rear shock air fittings were relocated to a position hidden under the seat.
This is due to the fact that after removing the topcase, Kawasaki engineers cleaned up the bodywork with some attractive filler panels between the sidecases and the rear fender, which would have obscured the stock Voyager air fitting access. When you remove the seat, you'll also notice twin helmet security hooks. The lack of hooks was a complaint of mine about the original Voyager. Somebody's listening.
That's good.
The Voyager look-alike frame-mounted front fairing gets a low-profile, dark smoke windscreen which adds instant street cred. You may remember we bolted on a similar low-profile accessory screen to our Voyager demo bike last summer. And while long-distance touring comfort was compromised, there's no denying the chopped version has a more "tough hombre" look.
The stock 5″ tall Vaquero windscreen is not the Voyager's accessory unit. There's also the 6-1/2″ tall smoked screen available, as well as 12″-, 14″-, 16″-, and 18″-tall clear ones in the Kawasaki accessory catalog. Me?
I'll keep the 5″ stocker. You'll notice the Candy Fire Red version of the Vaquero has a color-matched headlight surround, while the Ebony Black Vaquero retains the chrome version. I like the monochromatic look on the red Vaquero, but I agree with Kawasaki's choice to retain the chrome on the black version. A black surround might have been too much.
Also, where driving lights reside on the Voyager, the Vaquero gets a pair of louvered ducts that seemingly lead nowhere, but add to the muscular image. Hanging below the fairing is an all-new, aggressively styled radiator surround chin scoop fairing. It adds a sporty flavor to the Vaquero, and it's a departure from the Voyager's bulbous, rounded leg shields.
On the back side of the upper fairing, the rider is faced with a color-matched red inner gage surround panel on the red bike, while the ebony bikes get a textured, satin black panel. An extra step goes into painting the red panels to provide a smooth glossy finish. All Vaqueroes get a new red backlight color on the speedo and tach, with an amber center LCD panel.
The superb factory audio system has FM, AM and WX and is compatible with iPod, XM tuner, or CB radio, just add the accessory modules you desire. Left and right lockable glove boxes provide a handy place for storing smaller items, and just below those are block plates for accessory fog light switch and power outlet position. Flowing down from the fairing, I immediately noticed the blacked-out handlebar clamps, speaker trim, and tank panel, again requests of mine after spending time on the Voyager with its sunlight-reflecting chrome parts.
Actually, there aren't many chrome accents on the Vaquero at all; engine guards, exhaust, mirrors, handlebars, sidebag handles, taillamp, and thin analog gauge trim. That's about it. They provide just enough to accent the glossy paintwork.
The multitextured blacked-out engine and chassis treatment, called Volcanic Magma, covers the engine, air-cleaner cover, wheels, and fork assembly, giving the bike a menacing look.
Beneath the darkness is the Vaquero's 1700cc liquid-cooled single overhead cam V-twin with 108 ft-lbs. of torque, which powers all four Vulcan 1700 models: Voyager, Classic, Nomad and Vaquero. It's been breathed upon by Kawasaki for 2011, mostly in the breathing department. The intake manifold has a redesigned shape with increased volume for improved idle and a more linear throttle response.
Kawasaki calls it ported, but it's not hand-ported, more like the casting was opened up for better flow. The Vaquero model only gets a new second piston ring for improved durability, a deleted lower primary chain guide for weight reduction, and no damper on the clutch for a more V-twin character (the Vulcan 1700 Classic gets the same clutch).
Another Vaquero mechanical distinction is a new first gear ratio which is intended to reduce "shifting sound" from neutral to first. In other words, Vulcan 1700 riders complained of a clunk. The clunk is still there, albeit a little lighter.
And third and fourth gears on the Vaquero have taller teeth contact areas for a smoother shift and reduced noise. As in previous Vulcan 1700 models, fifth and sixth gears are both overdriven. Nomad, Voyager, and Vaquero get a new tapered-tip dual muffler set for reduced decibel level at cruising speeds, and the carbon fiber drive belt is now 2mm narrower with a new tension spec for better tracking and reduced noise.
Kawasaki's efficient electronic throttle valve system (ETV), a semi fly by wire with cruise control, comes standard on the Vaquero. Two throttle cables exit the handgrip control and work on an accelerator position sensor (APS). From there the TPS and ECU make decisions and control engine throttle.
It's smart and works great.
Nine-spoke, cast-aluminum, flat black wheels hold fat 130/90-16″ front and 170/70-16″ rear radial tires that offer solid handling characteristics. Braking hardware consists of dual 300mm front discs with twin-piston calipers and a 300mm rear disc with a two-piston caliper. There is no ABS available on the Vaquero.
I locked the rear brake a couple times, but I was trying hard. For the savings in cost, I'd say the Vaquero brakes are just fine as is.
In perhaps my favorite revision of the Voyager, the lockable, side-loading hard bags are a welcome change. Similar in shape to the former Vulcan 1600 Nomad, these attractive new bags feature a smoother, redesigned lid. The operation of the latches needs only a one-finger touch, and they open, close, and lock easily.
They provide nearly 10 gallons of storage space, plenty for an overnight trip or a place to store a half helmet. They're beautifully integrated thanks to the fender filler panels, plus they're spacious and carry the bike's long, low look to the tail. Convenient saddlebag liners are available.
A scooped saddle offers a comfortable rider position, and there's minimalist passenger pad for when this buckaroo meets a filly and offers a ride. Stay tuned for an accessory rider backrest, which will fit into the slot in the seat just aft of front rider position. Seat height is the same as the Voyager, 28.7″.
The Vaquero's floorboards differ from the Voyager and are 30mm forward, more akin to the Nomad's board position.
While some manufacturers claim market research which misses the mark sorely, Kawasaki rounded up the right information when they decided to outfit this iron horse. It's fun to ride, powerful, and exudes a major masculine attitude whether sitting still or riding the plains. No complaints from this cowhand.
And I think Dad and the Duke would be proud to see me riding one. RB
Optional Accessories
Kawasaki offers a large number of optional accessories, including an iPod connector, XM radio module, standard gel seat, saddlebag liners, auxiliary lights (essentially the Voyager driving lights), DC power sockets, engine cover trim, saddlebag top rails, and more. I admonish Kawasaki for producing the dual gel saddle, passenger backrest, and passenger floorboards. How dare it make accessories to make a man's man's motorcycle into a fun family truckster.
But my favorite new accessory is the GPS mount/billet handlebar clamp. Available in chrome or black, it replaces the Vulcan's pair of handlebar clamps with a solid single piece unit with a pivoting platform for accessory mounting. As you can imagine, I'm partial to the black version.
By Steve Lita, Photos by Adam Campbell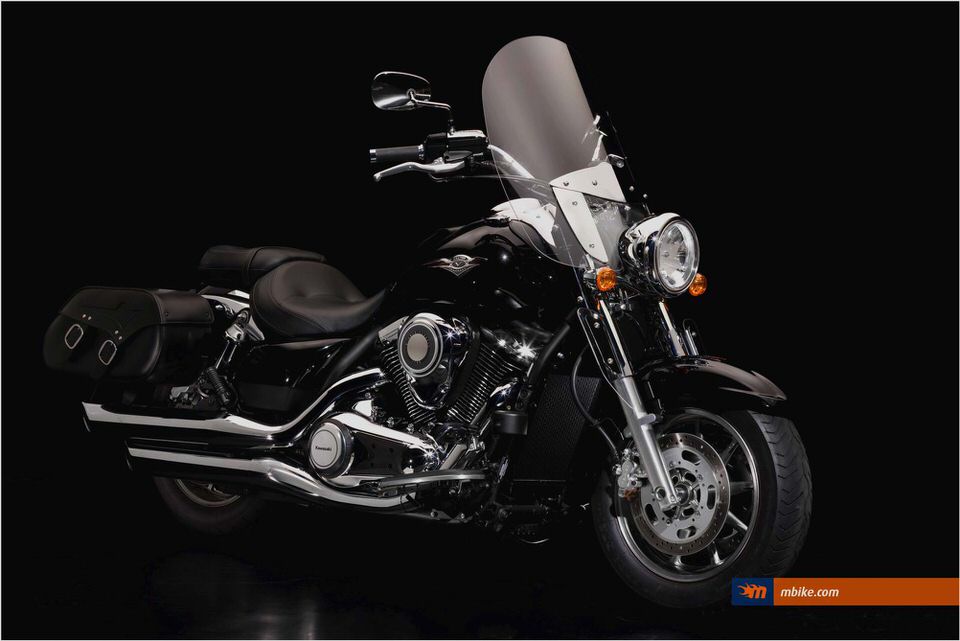 2009 Kawasaki ZX-6R Review –
2013 Kawasaki Ninja 300R *UPDATED*: A Sneak Peak Biker News: Dillon Brothers
2008 Kawasaki CONCOURS ZG 1400 14 w/ ABS Low for sale on 2040motos
2009 Kawasaki ZX-6R Project Bike – Part III – Motorcycle USA
Kawasaki ZR750K – CycleChaos