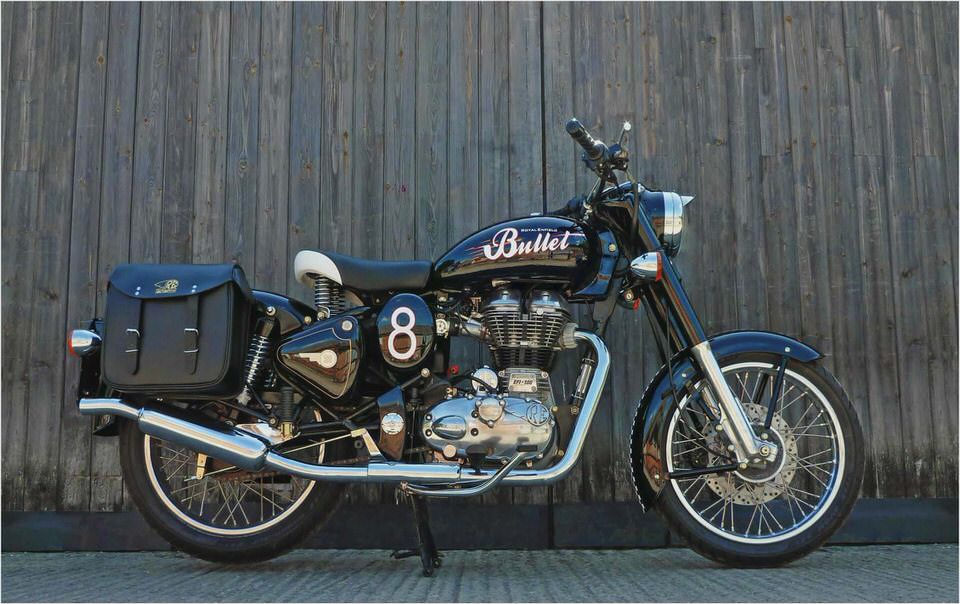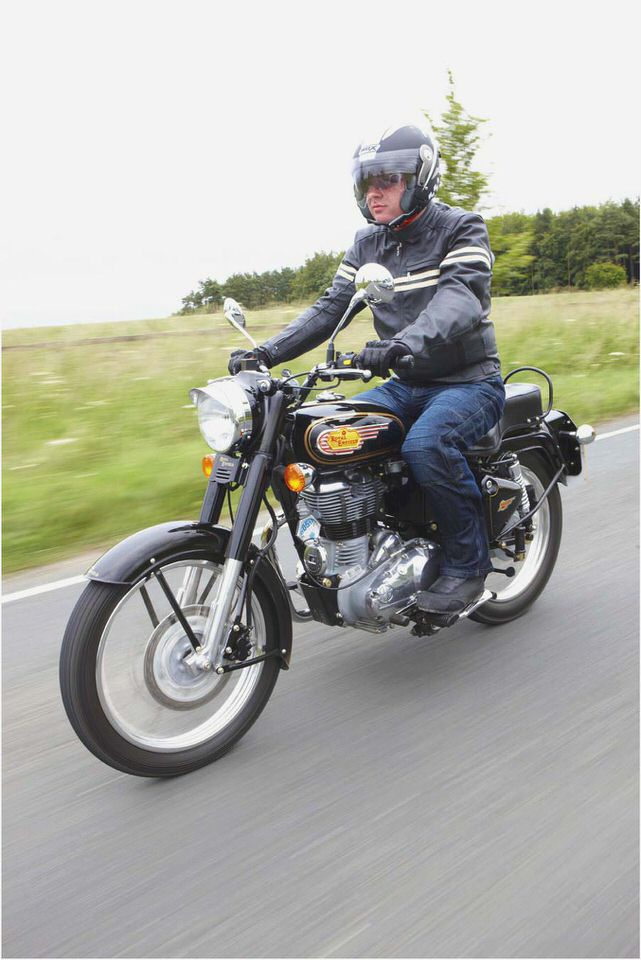 2011 Bullet 500 B5
2011 Royal Enfield Bullet 500 B5
Intro
The Royal Enfield has a history that dates back to the 1890s, when the British Enfield Cycle company was formed as a division to the Royal Small Arms Factory. By the 1950s, production had shifted to India, and by 1971 the Royal Enfield of England was defunct and put in the control of Indian Industrialists. The Bullet, which has been the company's flagship model, has been around since 1939, and they were one of the first bikes with swing arm suspension.
In all these decades, the classic bike has changed very little. Today, the 2011 Royal Enfield Bullet still retains the same rugged good looks of its predecessor with the Royal Small Arms Company logo that says "Made Like A Gun." The low center of gravity and heavy weight of the motorcycle makes it easy to manage. A lot of the elements date back to the 1950s Bullet, including the extended mudguard fenders, thigh pads for the tank, and single saddle seats with dual springs underneath.
In fact, the seats are quite comfortable thanks to the springs. The controls are quite basic, and there is no fuel gauge- only an indicator that tells when the bike is using reserve.
The vintage design of the 2011 Royal Enfield Bullet is quite different from what is seen today. The bike is a lot more welcoming than modern motorcycles with its thin and wiring stance. Of course, a push of the electric start button brings the engine roaring to life. The manual transmission works perfectly and easily, and the engine offers lots of torque.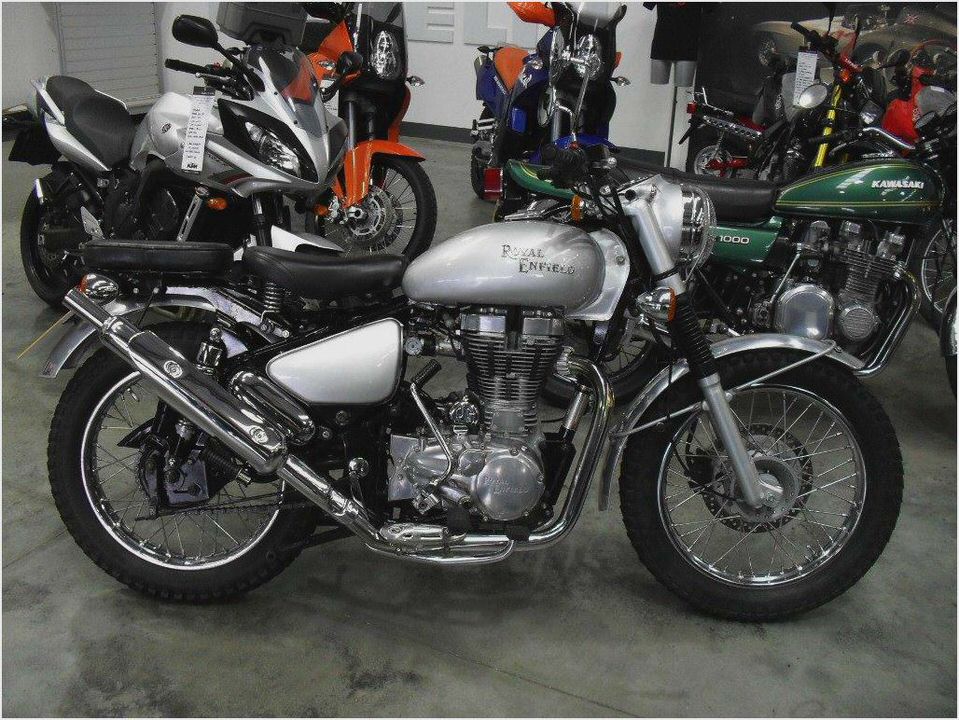 The third and fourth gears especially offer great pull, and the fifth gear brings the bike to a comfortable top speed of 65 miles per hour. Despite its looks, the suspension of the 2011 Royal Enfield Bullet handles like any other modern street bike. The low center of gravity makes it much easier to balance, and the motorcycle turns very well at any speed. In fact, it could tackle any uphill or downhill turn with ease.
The brakes perform well too, and the front disc brake adds a lot of power to the bike. The rear drum brake, however, feels a little soft in comparison to the disc brake, but that is expected.
The 31.5-inch seat height means that the suspenders do not travel too much. The front moves around four inches and the rear moves a little less, but the combination of the two suspenders and the twin springs under the seat provides the rider with a comfortable ride. The Bullet is not only easy to drive and fuel efficient, but also a lot of fun. The short silencer gives the signature 'Bullet Thump', the handling characteristics are great, and the engine is powerful enough.
The build quality of the 2011 Royal Enfield Bullet is also quite good, lasting for years on end and acting as a great cross-town commuter.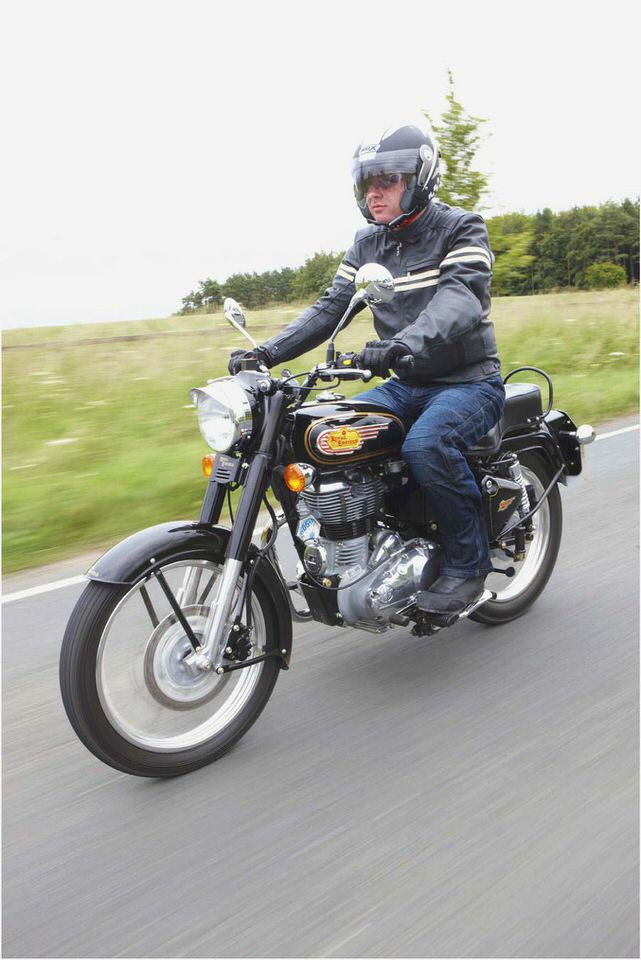 Cheap thrills – Royal Enfield Bullet
Royal Enfield Motorcycles: Royal Enfield Sixty-5 brought new features
Royal Enfield Bullet Electra X 500 with Hitchcocks' kit eBay
Royal Enfield Bullet Classic EFI – Stock Silencer (UK) Sound DIY Reviews!
Royal Enfield EFI Bullet 500, Part 6 – Classic Motorcycle Review – RealC…