2012 Harley-Davidson VRSCDX V-Rod 10th Anniversary Edition
2012 Harley-Davidson VRSCDX V-Rod 10th Anniversary Edition
– 2012 Harley-Davidson VRSCDX V-Rod 10th Anniversary Edition
2012 Harley-Davidson VRSCDX V-Rod 10th Anniversary Edition Review
Celebrating 10 years of V-Rod power and performance in shining style.
The V-Rod 10th Anniversary Edition is a tribute to the original 2002 V-Rod, the motorcycle that introduced the liquid-cooled Revolution engine and a new styling direction for Harley-Davidson. Brilliant Silver Pearl bodywork with color-matched frame are exclusive in the V-Rod line and evokes the anodized aluminum bodywork of the original V-Rod. Extra chrome and polished surfaces dazzle on the engine, exhaust and speed screen.
Harley-Davidson celebrates a decade of pavement-pounding performance with the V-Rod® 10th Anniversary Edition motorcycle, one of three models in a 2012 V-Rod line that also includes an updated Night Rod® Special and the V-Rod Muscle®. Introduced as a 2002 model, the original V-Rod ushered in a new era of Harley-Davidson performance.
Its 1130cc 60-degree Revolution® V-Twin engine was the first Harley-Davidson production engine equipped with overhead cam shafts and liquid cooling, and came with a high-winding 9000-RPM redline. Inspired by drag-racing bikes and monster-motor customs, the V-Rod debuted with aluminum disc wheels, a raked out chassis, fast-back seat and anodized aluminum bodywork, a new styling direction for Harley-Davidson.
In just 10 years, the Harley-Davidson V-Rod family grew to include a number of new models. V-Rod took to the track as the basis for the 2007 Custom Vehicle Operations V-Rod Destroyer, an eight-second factory drag racer. It was also the inspiration for the Harley-Davidson Screamin' Eagle/Vance Hines V-Rod, a four-time world champion in Pro Stock Motorcycle professional drag racing.
For 2012, Harley-Davidson V-Rod models continue to serve up explosive performance and urban-cool styling for riders seeking a singular power-cruiser experience.
V-Rod 10th Anniversary Edition
A tribute to the original V-Rod that will be offered only in 2012, its Brilliant Silver Pearl bodywork with color-matched frame is exclusive in the V-Rod line. Extra chrome and polished surfaces dazzle on the engine, exhaust and speed screen. This special edition features all of the new additions made to the Night Rod Special for 2012.
All 2012 V-Rod models are powered by the latest version of the Revolution engine, a 1250cc liquid-cooled V-Twin with dual overhead camshafts, four-valve cylinder heads and Electronic Sequential Port Fuel Injection (ESPFI). The powertrain is equipped with an Assist and Slip clutch, five-speed transmission and high-performance carbon-fiber drive belt. Tires are Michelin Scorcher radials, including a 240mm rear.
Brembo® triple-disc performance brakes are available with optional factory-installed anti-lock braking system (ABS). ABS is part of the optional Security Package that also includes the Smart Security System with proximity-based, hands-free security fob.
ANNIVERSARY FINISH
It's been ten years since we launched our V-Rod® family of high performance, drag-inspired Harley-Davidson® motorcycles, and we're celebrating with this exclusive, limited edition anniversary model, a shining homage to the original V-Rod. This exclusive edition-s every shining element-from its silver wheels and instrument cluster to its polished forks, clamps and handlebars, its leafy Aluminum frame and polished aluminum speed screen to its chromed mufflers, heat shields, and covers-all reflect a decade of aggressive attitude and serious street performance.
With ultra-limited availability, and true to its drag bike heritage, it's going to go fast. So don-t wait-this unique chance to own a piece of Harley-Davidson history will itself be history all too soon.
DOUBLE-BARREL EXHAUST
Proving that a performance exhaust can still be a beautiful set of pipes, this double-barrel exhaust features chrome dual mufflers and exhaust shields. Performance and bold style erupt with every crack of the throttle.
The V-Rod 10th Anniversary Edition comes on strong, with a redesigned speedscreen that's pared down to bare performance minimum, wrapped around a sleek, newly-restyled headlamp, riding over a slotted-bracket sport fender-all for a wickedly aggressive race-inspired profile that embodies its power-first ride.
FASTBACK TAIL SECTION
This sleek tail section is designed to deliver drag-strip performance and attitude. Its chopped down and aggressively tapered fender shows off that fat rear tire, while its slim center plate mount and flush-mounted low-maintenance LED tail-lamp create a streamlined impression that lasts long after you're out of site.
FAT REAR TIRE
Behold an ultra-fat, 240mm rear tire for a powerful, no-nonsense look and added grip. Harnessing explosive, off-the-line power, this tire enhances the V-Rod Anniversary Edition's pure dragster look with the sticky, high-performance tread you need for staying glued to the pavement.
CAST ALUMINUM PERFORMANCE WHEELS
When the rubber meets the road, it-s your wheels that make the difference. Inspired by performance sports car design, these color-matched split 5-spoke wheels flash heavy-weight attitude, but do it at a full 3 pounds lighter than earlier generation V-Rod® motorcycle wheels, which means you roll with tighter handling and smoother suspension response.
Grab the slammed stainless steel, drag-style handlebar for an aggressive riding position that keeps your controls in easy reach-it's a comfortable, slightly forward position reminiscent of tearing up the racetrack.
RADIATOR DESIGN
Every inch of a Harley-Davidson® motorcycle is created to sync up with the bike's overall look and performance. As our very first liquid-cooled rides, we turned to styling to make sure the radiator on every V-Rod®model became part of the design instead of an interruption to the flow of the eye.
PREMIUM PAINT
Up to two times thicker than the competition, custom quality paint comes standard on all Harley-Davidson® motorcycles. Clearcoat layering up to five mils deep. Bigger metal flakes. Unique effects.
Skimping simply is not in our vocabulary.
REVOLUTION® ENGINE HERITAGE
From the Strip to the Street. Harley-Davidson has a passion for performance that is rooted in decades of racing and winning championships. So when The Motor Company set out to produce a high-powered, liquid-cooled engine, it began with the VR1000 superbike engine.
Its performance is inspired by American-style, big, powerful torque coupled with high-end horsepower. The Revolution® engine is the heart of a machine that attracts a breed of riders who are fascinated by the heritage and mystique of Harley-Davidson and the power of a high-end street performance motorcycle.
REVOLUTION® ENGINE INNOVATION
Through a partnership with legendary automaker, Porsche, and their world-renowned team of engineers, Harley-Davidson created a revolutionary engine. The final result was something uniquely Harley-Davidson, the industry's most perfect blend of torque and horsepower in the high revving V-Twin Revolution® engine. Fuel injection. Dual overhead cams.
Liquid cooled. 125 horses. Massive, brute power behind pure Harley-Davidson innovation and style.
PURE HARLEY-DAVIDSON STYLING
Feast your eyes on the Revolution® engine and there's no mistaking its roots. This is authentic Harley-Davidson® style through and through with an attention to detail you won't find from any other motorcycle company. Deep black cylinders and rocker covers complete the dark look, while the machined cooling fin tips on the cylinder heads give it a stripped down, raw metal finish. It's a jewel machined out of metal. Pure.
Dripping with power. From the classic edge of the cooling fins to the clean lines of cases and covers-the Revolution® engine makes an ironclad statement to holding on to what's right and staying true to what satisfies the rider.
CUSTOM POWER AND PERFORMANCE
Tuned to produce 125 horsepower the 1250cc Revolution® engine is Harley-Davidson's highest horsepower engine to this day. With dual overhead cams and four valves per cylinder, it provides 84 ft. lbs. of torque at 7000 rpm, while feeling refined and velvety smooth all the way up to the redline.
HIGH MARKS FOR DURABILITY
The Harley-Davidson Revolution® engine is an extremely durable motorcycle engine. It survived the most brutal and aggressive durability test in the industry: the Dusseldorf Test. Simulating a grueling trip along Germany's notorious Autobahn, the engine endured a wide range of performance tests.
From idle states to city speeds, to wide-open throttle and mountain climbing torque, the Revolution® engine surpassed the goal of 500 hours of non-stop punishing performance.
HYDROFORMED FRAME
Harley-Davidson's Chief Styling Officer, Willie G. Davidson, asked for a frame so beautiful it could sit in a museum. And that's exactly what the Harley-Davidson team of engineers created. Using an innovative process called hydroforming, they were able to form unconventional angles and apply fewer welds by bending and shaping metal pipes with high-pressure water.
The result: a sturdy chassis with improved rigidity. To date, The Motor Company is the only major motorcycle manufacturer to use hydroforming to construct frames.
H-D® SMART SECURITY SYSTEM (OPTIONAL)
The factory installed next-generation security system features a hands-free fob that automatically arms and disarms the vehicle electronic security functions as you approach and walk away from the bike. Stick the fob on your ignition key ring and let it do all the work. It's this attention to details and security that make Harley-Davidson® motorcycles unique.
Offered as a part of the Security Package (which includes Anti-Lock Brakes).
ARTFULLY HIDDEN TECHNOLOGY
Harley-Davidson leverages the latest in technology without compromising style and function. That means we hide electronics. The whole wiring harness is skillfully routed behind the jewels of the bike-the tank, engine and all the other eye-popping features you want to see.
It's just another way The Motor Company goes the extra mile to give its bikes that premium, top-of-the-line fit and finish.
INTUITIVE CONTROLS
Hand controls on a Harley-Davidson® motorcycle are incredibly intuitive. The turn signals are self-canceling and, based on the speed and angle of the motorcycle, they know how long to stay on. Engaging the controls quickly becomes second nature so you can focus less on turning off your signal and more on basking in the freedom of the ride.
INVERTED FORKS
Grab on and feel the total command delivered by this performance-tuned front end assembly. It features inverted forks and a low-angle rake that keep the motorcycle's unsprung mass low and its turning tight, for a nimble and responsive ride at every speed.
BREMBO® BRAKES WITH OPTIONAL ABS
Increased confidence and control. High-performance Brembo dual-disk brakes offer consistent stopping power on every leg of your journey. Plus, the optional Anti-Lock Braking System (ABS) helps reduce the chance of wheel lock-up if you need to brake suddenly. And since we hid the speed sensor, the bike maintains its clean, slick look. Performance without sacrificing style.
That's what The Motor Company is all about. The Anti-Lock Brakes are offered as a part of the Security Package (which includes the H-D Smart Security System).
SLIPPER CLUTCH
Taken from the racetrack to the world of custom. The V-Rod 10th Anniversary Edition features a slipper, (or slip and assist) clutch that provides smoother, high-power handling in turns or whenever you downshift. By reducing clutch friction, the slipper clutch helps keep your rear wheel at a controlled clip.
MICHELIN® SCORCHER- TIRES
The Michelin Scorcher tires provide the superior performance, sensational grip, impressive durability and excellent handling expected on a race-bred bike. The exclusive deep-cut tread design improves grip and water evacuation capability. Grip performance and durability is also enhanced by the tire's rubber compounds, which use the latest generation of Michelin synthetic polymers.
Under the rear rubber, aramid belts are used to stabilize your ride, which helps inspire confidence in handling.

TUNED TO BE RIDDEN
Harley-Davidson® motorcycles are different from any other bike out on the road. There's a balance to them. The steering, the maneuverability-it's all in concert. And each Harley-Davidson® model is tuned differently to create a unique riding experience for each individual no matter which bike they swing their leg over.
Let's face it, we didn't get to where we are by being like everyone else.
ENHANCED ERGONOMIC CONTROLS
Comfort and confidence are critical when you're performance riding. That's why we carefully placed the V-Rod Anniversary Edition's handlebars and rider foot pegs so that you ride low and mean, but always with your controls in close and easy reach.
TWO-UP BUCKET SADDLE
Settle in and experience the confident connection you get from the this deep rider bucket. We designed it to hold you close, low (25.6 inches) and in control, even when you throttle up fast. Just like all Harley-Davidson® seats, it's built with the premium material, custom stitching and attention to detail that mark the work of motorcycle makers who-ve been putting their own seats in the saddle for over a hundred years.
The seat is home for Harley-Davidson® motorcycle riders. They want a seat that has unique style without sacrificing comfort. Because of that, Harley-Davidson invests a lot of time in researching, designing and testing seats so that every bike has just the right saddle.
2012 Harley-Davidson VRSCDX V-Rod 10th Anniversary Edition Model Highlights
NEW Chrome powertrain with platinum crankcase and heads
NEW Straight-shot exhaust with dual, chrome slash-cut mufflers and chrome exhaust shield
NEW Silver Split 5-Spoke Cast Aluminum wheels with with diamond cut highlights are three pounds lighter than previous wheels
NEW Tapered tail section with flush-mount LED taillight
NEW Pullback handlebar with polished finish.
NEW Reduced reach, forward-mounted rider footpegs
NEW Inverted front forks in silver and polished finishes.
NEW Two-up seat with custom stitching
NEW Stylized, chrome speed screen visor
NEW Slim design, center-mount license plate
NEW Graphics, including V-Rod 10th anniversary emblem.
– Rubber-mounted, liquid-cooled, 1250 cc Revolution® engine with Electronic Sequential Port Fuel Injection (ESPFI); 125 hp @ 8,250 rpm; 85 ft. lbs. @ 7,000 rpm.
– Polished, handlebar, front fork, and triple clamps
– 240 mm wide rear tire
2012 Harley-Davidson VRSCDX V-Rod 10th Anniversary Edition Features and Benefits
– Rubber-mounted, liquid-cooled 1250cc Revolution V-Twin engine with dual overhead camshafts, four-valve cylinder heads and
Electronic Sequential Port Fuel Injection (ESPFI); 125 hp @ 8,250 rpm; 85 ft. lbs. torque @ 7,000 rpm
– Race-bred clutch with -slipper- action helps ease drive train effort during downshifting
– 5-speed transmission
– High-performance carbon-fiber drive belt
– Brembo® triple-disc performance brakes
– Michelin® Scorcher® radial tires
– Round reflector-optic headlight
– Electric power accessory connector under seat
– Security Package Option bundles Anti-lock Braking System (ABS) with Harley-Davidson® Smart Security System with proximity-based, hands-free security fob
2012 Harley-Davidson VRSCDX V-Rod 10th Anniversary Edition – USA Specifications/Technical Details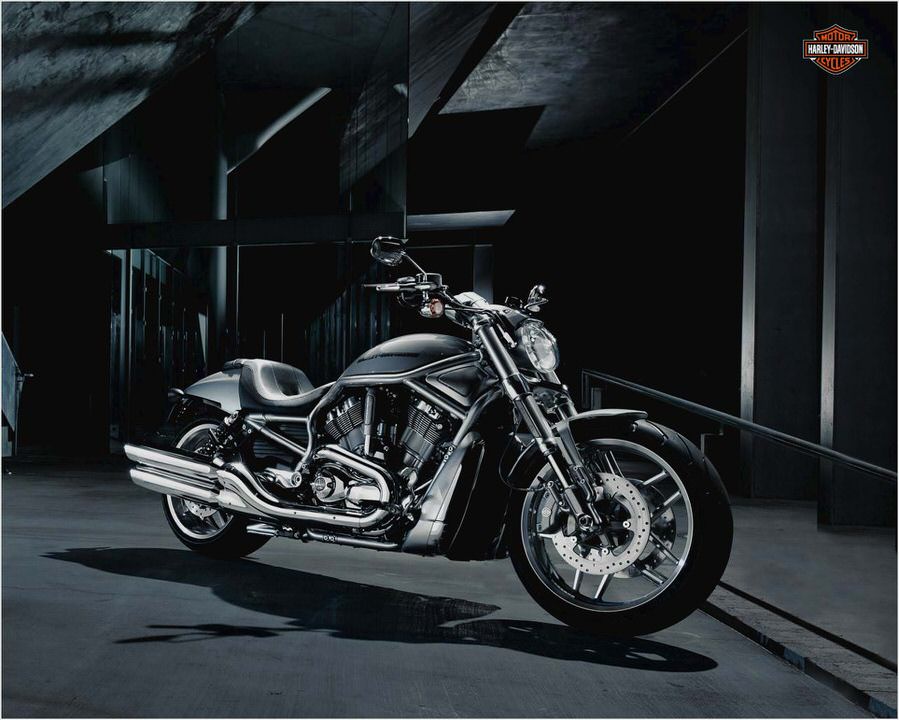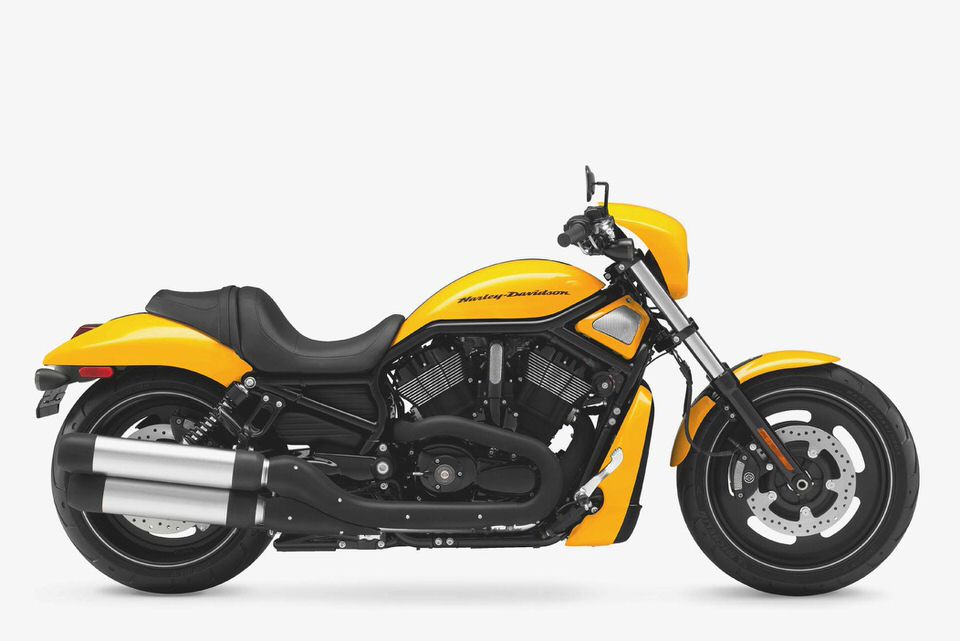 Harley-Davidson Sportster 883 Roadster Road King UK
2009 Harley-Davidson FXDFSE CVO Dyna Fat Bob-Harley Davidson
How to Change the Oil in a 2006 Harley Davidson Road Glide eHow
Harley Cross Bones by Warr's Bike EXIF
Demand For Harley-Davidson XR1200 Sparks American Debut – Riders Order…