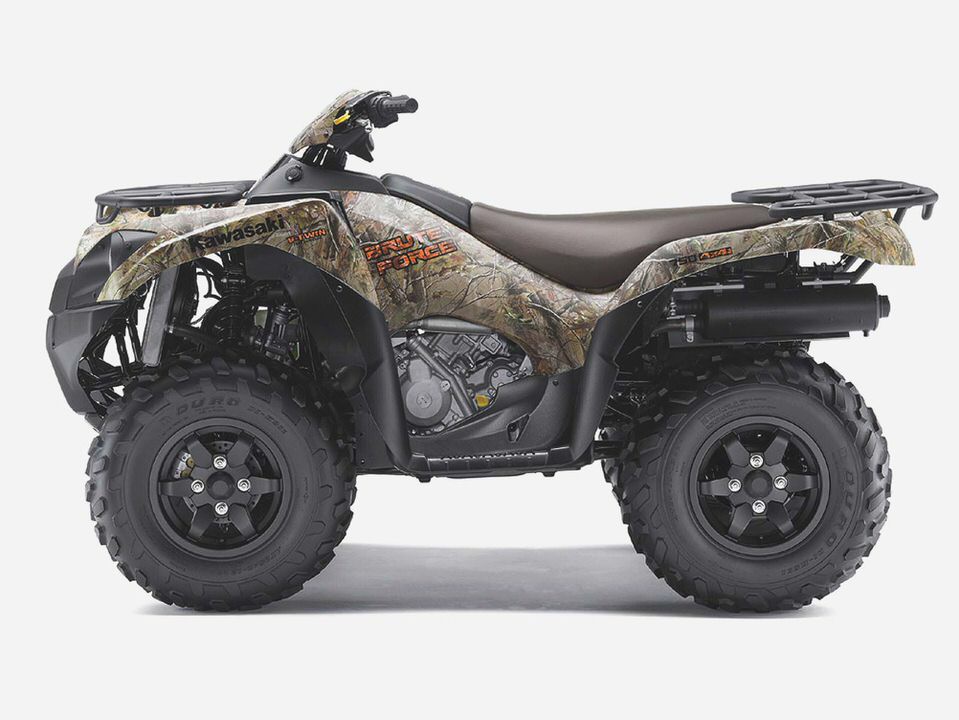 Stepping up the game with power steering and more of what makes you go!
Visit Kawasaki.com to see the Brute Force 750 4x4i
The Kawasaki 750 has been a popular and highly successful utility ATV over the last few years with off road fans around the world. Riders love Kawasaki quads because, they offer high power, awesome performance and are ready for anything. With the Brute Force 750 4x4i Kawasaki has once again improved an already awesome ATV and made it even better for 2012.
What Can Riders Look Forward To?
The first thing that riders will notice immediately is that the 750 4x4i has more power and performance than previous Kawasaki models thanks to the improved V-twin engine
Besides noticing the increased power and performances of the 2012 Kawasaki Brute Force 750 4×4 i Sport Utility Quad, riders will also love that this model has brand new wheels made of aluminum that replace the steel wheels. Kawasaki also started over on the 750 4x4i's body and completely re-designed it from the ground up including re-shaping the fenders, bumper and hood so that this quad has a wider and more rugged look than it did in the past.
The 750 4x4i also features an improved high-gloss paint job that looks great but is also resistant to scratches. dings and scrapes that so many riders encounter during a typical day of offroading fun.
More Functionality
One of the problems with other ATV's is a lack of cargo rack space, the 750 4x4i features a cargo rack that's more that 25% bigger than previous models and they've also included hook loops for tie downs.
This Kawasaki ATV also has bigger storage under the hood that can easily hold two large water bottles or a rain coat for days when the weather changes at a moment's notice. These improvements will make life so much easier for anyone who wants to use their Brute Force 750 4x4i for a day out riding with friends or to the back country for a weekend getaway.
Besides the increased storage capacity the 2012 Kawasaki Brute Force 750 4x4i Sport Utility Quad also features an improved instrumentation panel that' super easy to read, it's digital display has an odometer, fuel gauge, speedometer and so much more. When you combine the improved instrumentation panel with the newly improved headlights any rider can have confidence that they will be able to safely enjoy rides at night anytime they want.
Safety and Security
It doesn't matter if a rider enjoys their Kawasaki on weekends or if they ride it every day, it's got to be safe but most of all comfortable. The 2012 Kawasaki Brute Force 750 4x4i features a newly improved cradle that stronger than before and also reinforced at every critical point to guarantee that it will be very comfortable to ride but also absorb shocks much better than before, especially on all types of terrain.
Kawasaki also revised the steering assembly so that the 750 4x4i's sheering shaft isn't connected the differential in front like it was before. This modification has resulted in much better handling than other Kawasaki models and made for a more enjoyable ride. Changes to the Engine
Kawasaki didn't just stop at making changes to the exterior of the Brute Force 750 4x4i; they also made extensive changes to the engine as well too. This Kawasaki ATV features improved cylinder head and camshaft that will offer riders a better ratio of compression and more torque. Both of these improvements mean not only higher rpms but also better performance when a takes off from a dead stop.
Besides the improvements to the engine, Kawasaki also added precision rubber mounts to the muffler which will help to take the stress off the exhaust system. They also improved the starter gear and constructed it out of more durable materials so that it has teeth that are deeper and more durable than previous models.
Specs/Tech
Engine Liquid-cooled, 90-degree, four-stroke V-twin
Valve system SOHC, four valves per cylinder
Displacement 749cc
Starting system Electric
Bore x Stroke 85 x 66mm
Compression ratio 9.3:1
Fuel Injection DFI®; (2) 36mm Mikuni throttle bodies
Ignition TCBI with digital advance
Transmission Continuously variable belt-drive transmission with high and low range, plus reverse, and Kawasaki Engine Brake Control
Final drive Selectable four-wheel drive with Variable Front Differential Control, shaft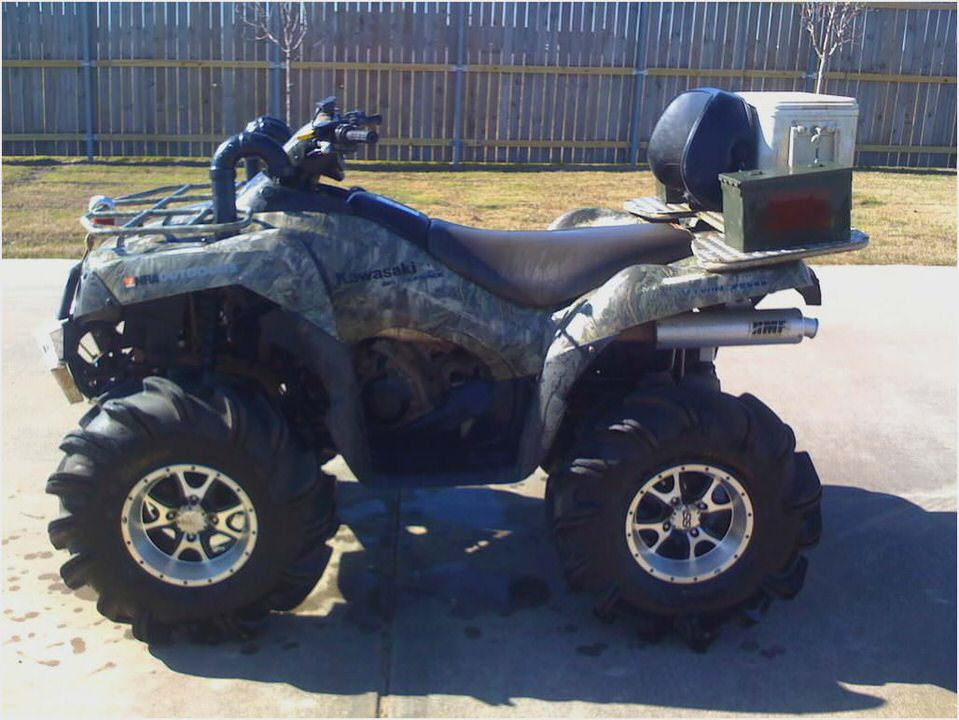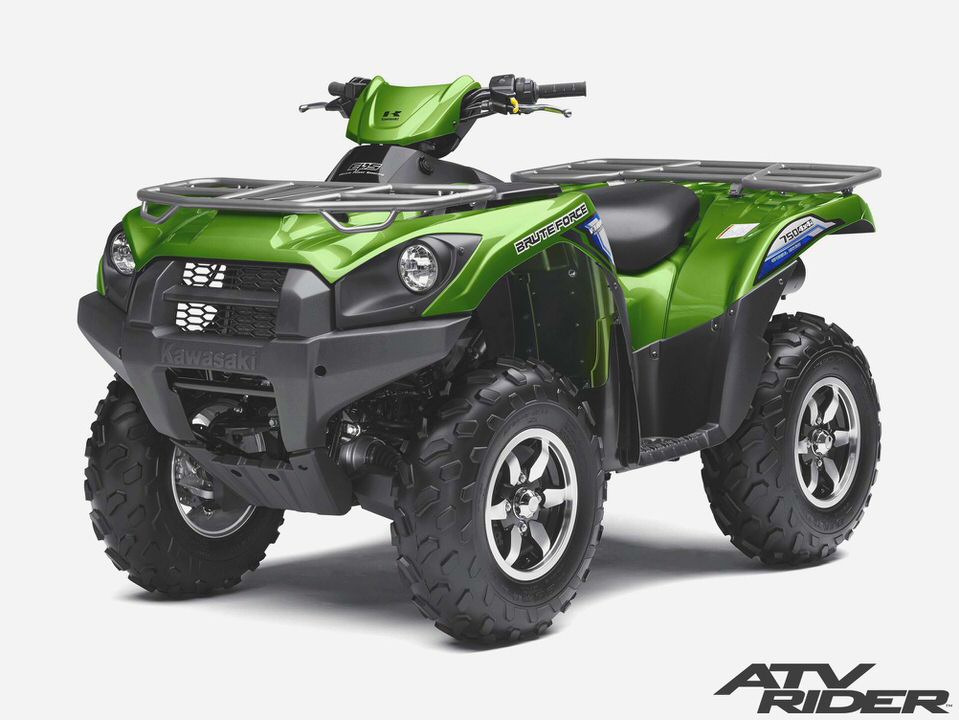 Frame Type Double-cradle, high-tensile tubular steel
Front suspension / wheel travel Double Wishbone/ 6.7 in.
Rear suspension / wheel travel Fully independent, dual A-arm / 7.5 in.
Front Tire Size AT25x8-12
Rear Tire Size AT25x10-12
Front brakes Dual hydraulic 200mm discs with 2-piston calipers
Rear Brakes Sealed, oil-bathed, multi-disc
Overall length 86.4 in.
Overall height 48.0 in.
Wheelbase 50.6 in.
Ground clearance 9.4 in.
Seat height 35.8 in.
Lighting 35W headlights, 5W taillight, 21W stoplight
Rack capacity, front / rear 88 lbs. / 176 lbs.
Towing capacity 1,250 lbs.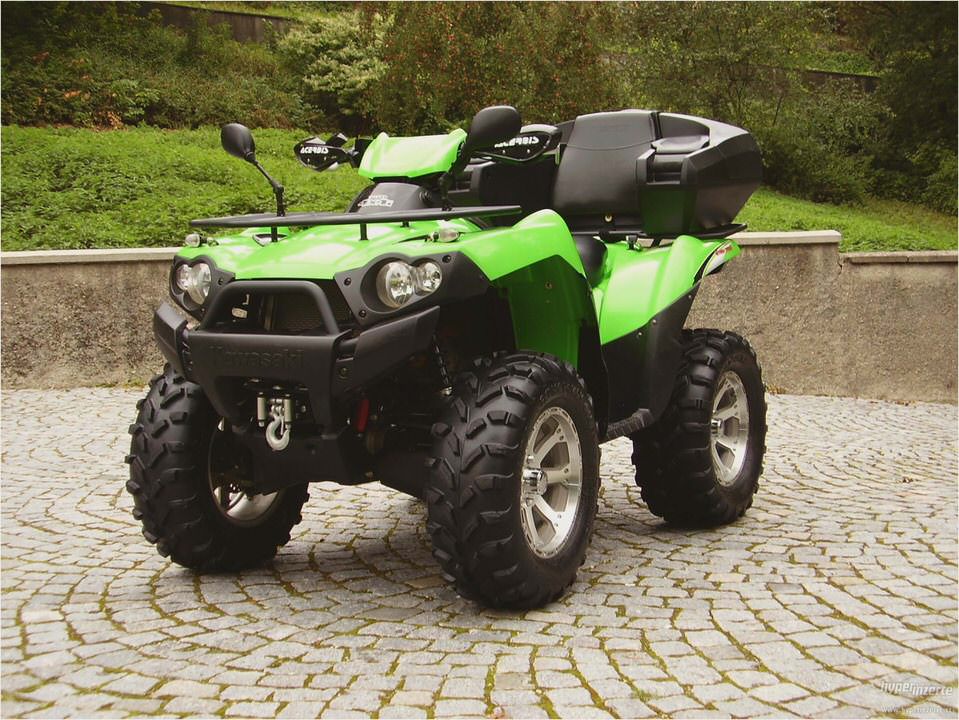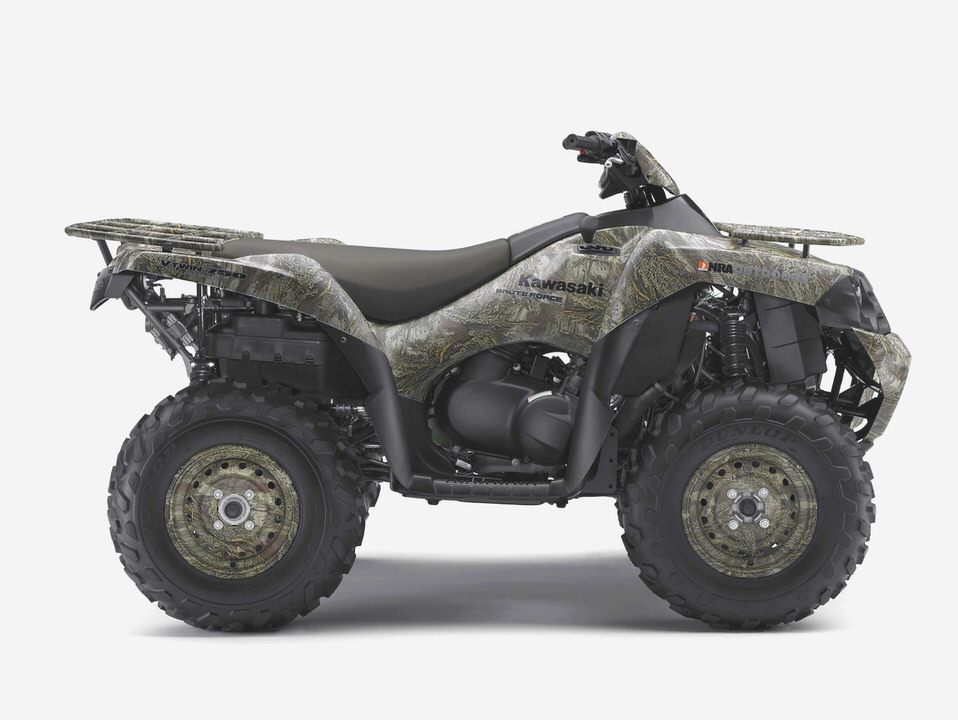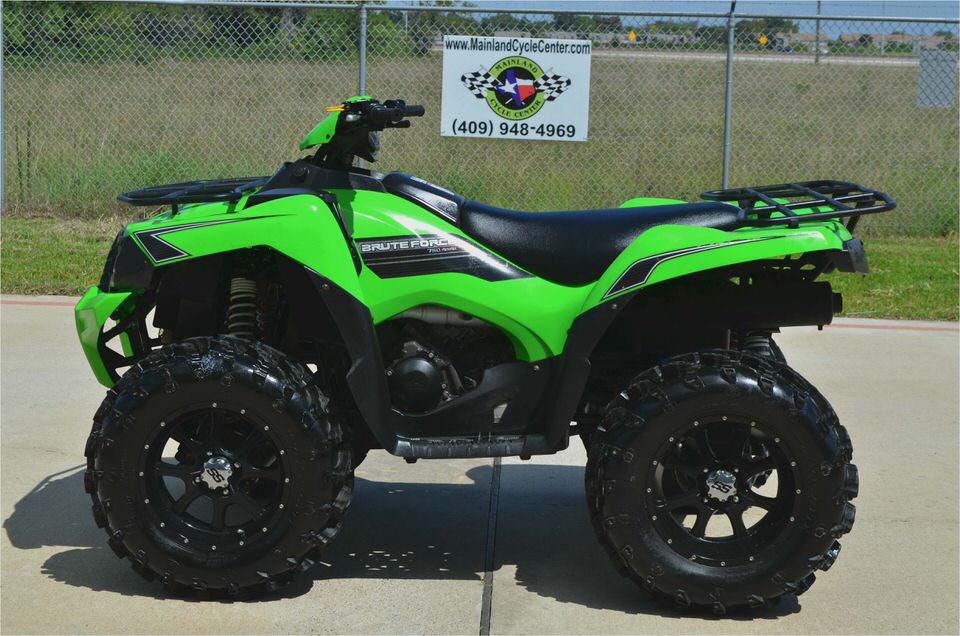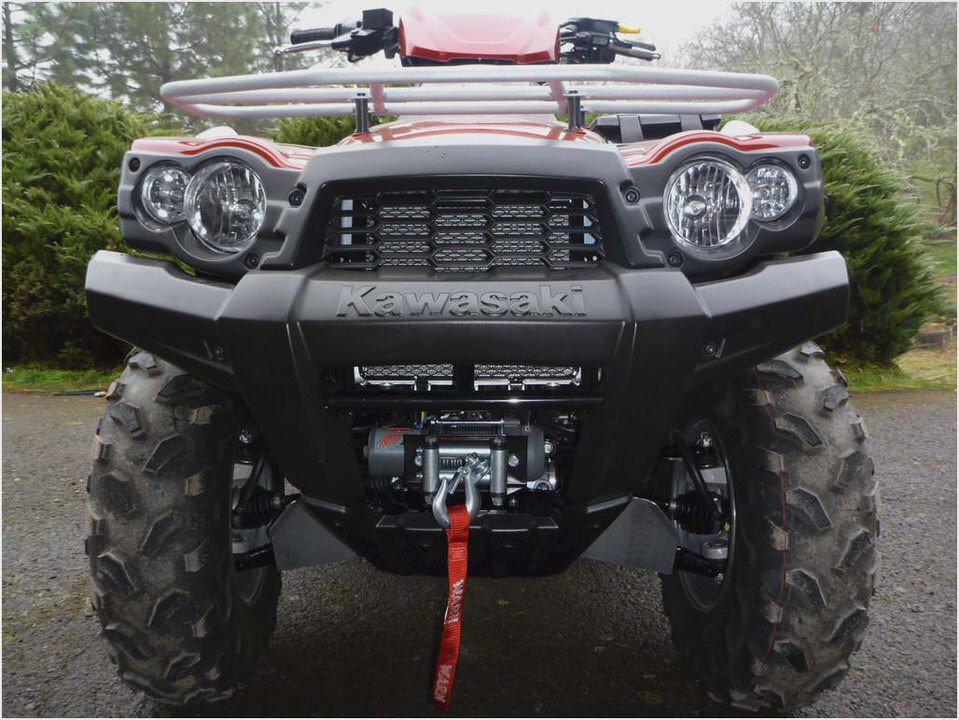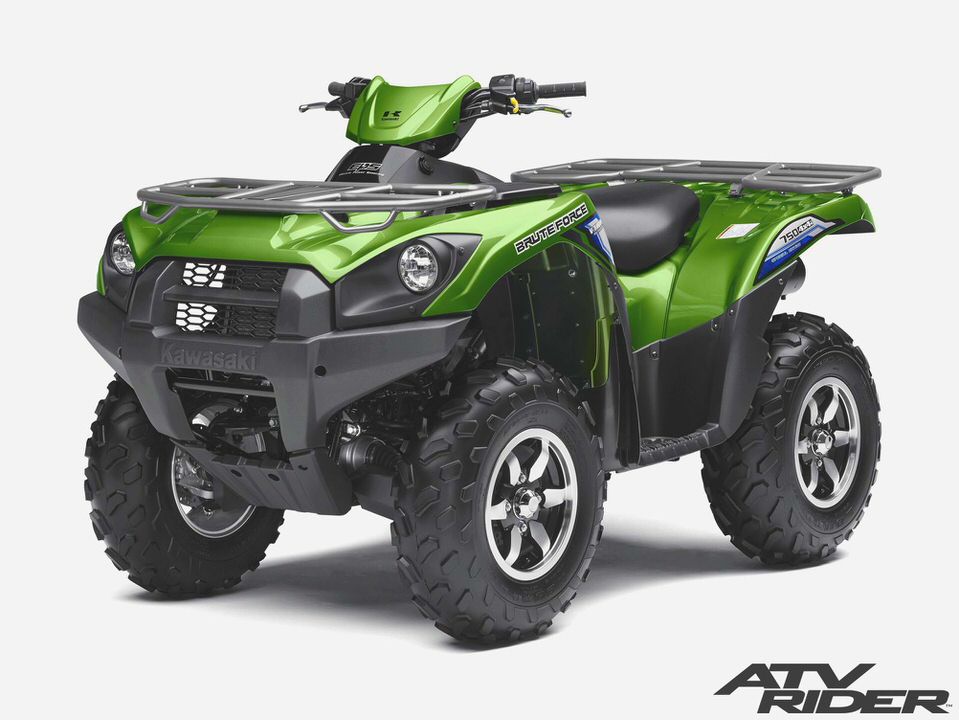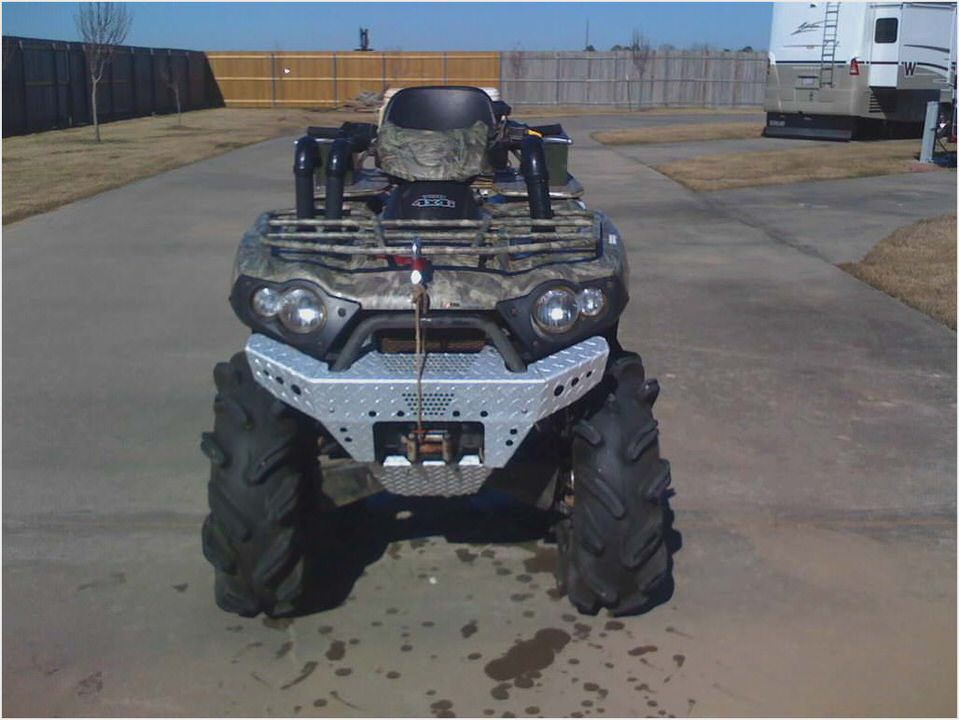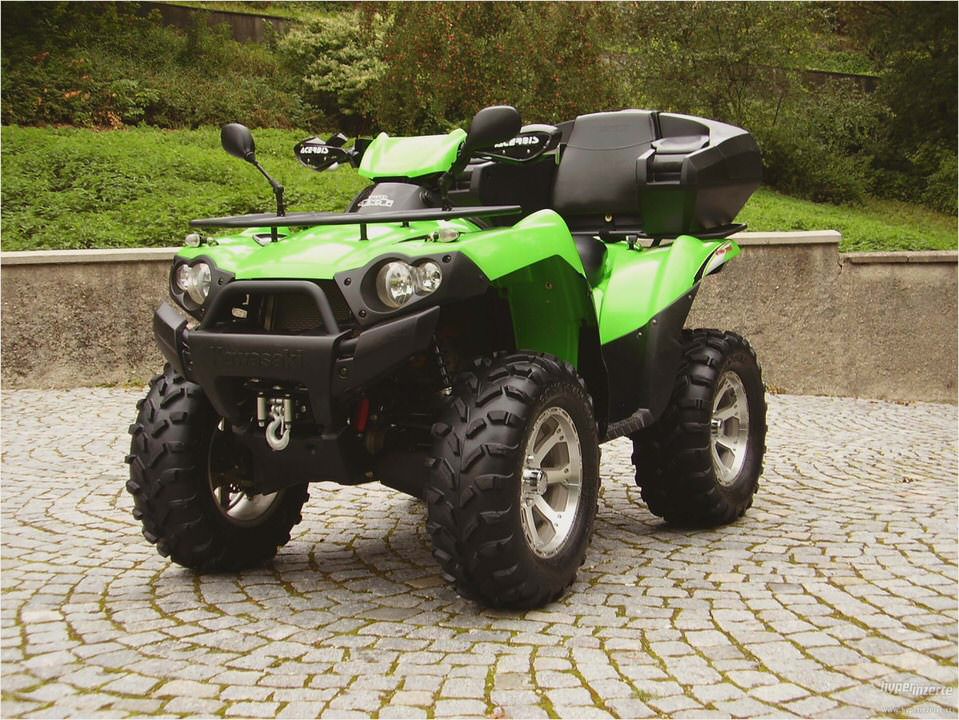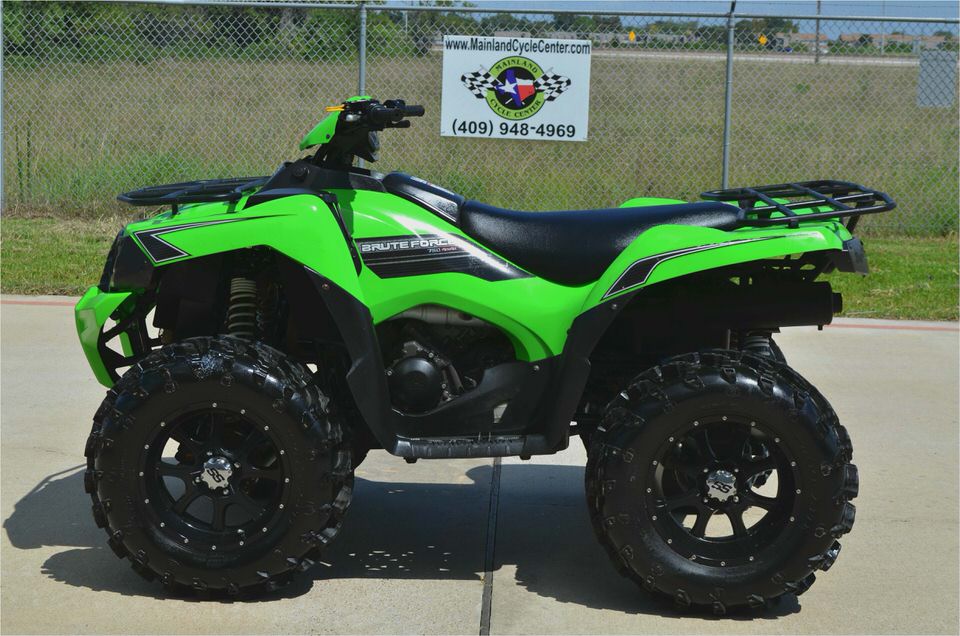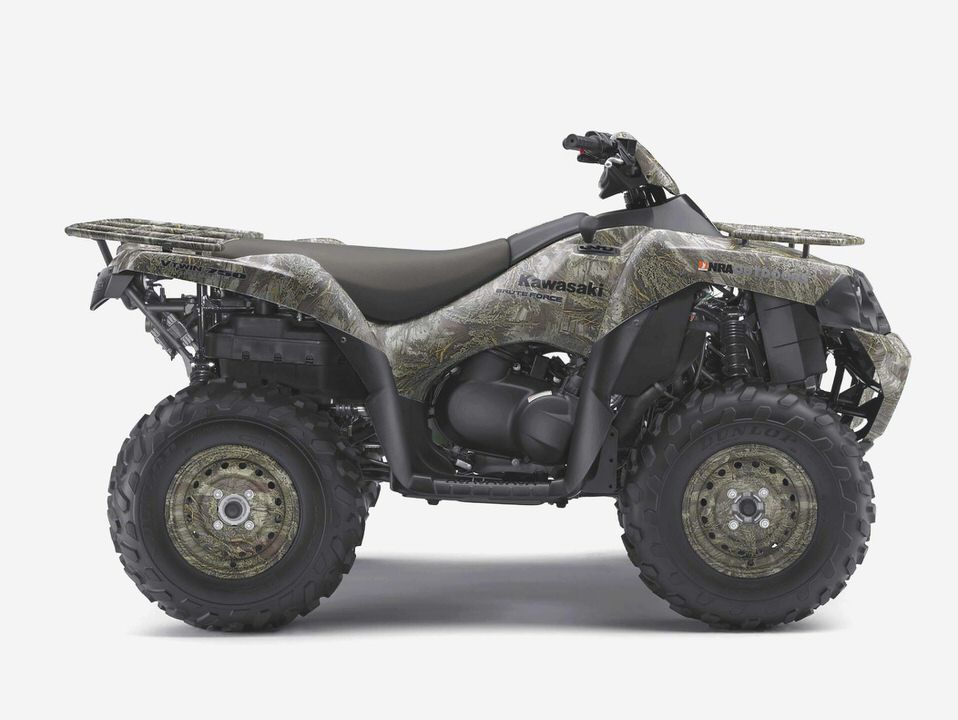 Bike Test Kawasaki GTR 1400 How To Save Money And Do It Yourself!
Scuderi unveils Split-Cycle engine prototype – SAE International
2014 Kawasaki Z1000 ABS: MD First Ride -…
The 2009 Kawasaki Vulcan Classic 900 LT Motorcycle – Yahoo Voices – voices.yaho…
Kawasaki W800: More British than the Queen