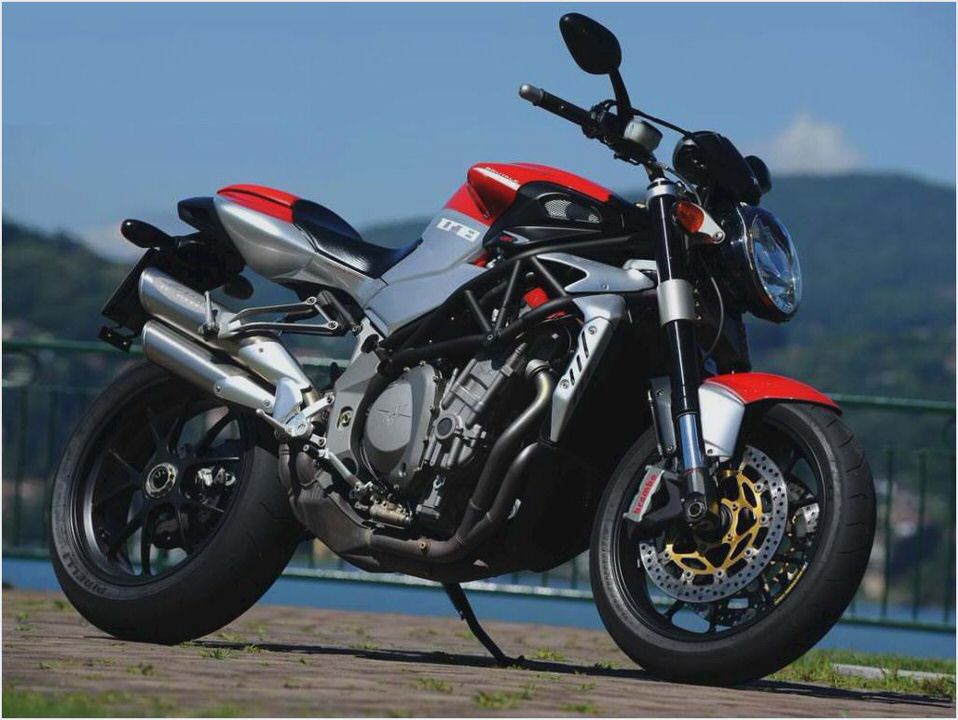 2012 MV Agusta Brutale RR
Tuesday, August 14th 2012. Category. Motorcycles views. 6843
Brutale. The name alone can instill fear in the meek and the young. Tag a couple of Rs onto the name and it can even make a grown man shiver. Starting up the 2012 MV Agusta Brutale RR 1090 only confirms its nefarious nature.
It emits a throaty growl from its twin, side-mounted mufflers that gets even meaner when you slip the bike from neutral into first gear. It really does; there s an electronically controlled valve mounted low on the exhaust collector, out of sight, that opens a touch when the bike is put in gear, changing the exhaust tone from a relatively subdued hum to a louder, raspier roar. It s a subtle acoustic clue that hints at the bike s mischievous underpinnings.
But you don t have to start the Brutale RR to be intimidated by its presence. Its naked styling is bold and aggressive (and particularly menacing in matte black), and the visible chassis components certainly exude a serious, sport bike character.
From its chrome-moly trellis frame with cast aluminum swingarm plates to its Brembo monobloc front calipers to its Marzocchi 50 mm fully adjustable inverted fork and fully adjustable Sachs shock (with high and low-speed compression damping), everything about the Brutale says supersport in disguise. Chassis geometry is certainly supersport-aggressive with a 25-degree rake angle, 103 mm trail and 1,438 mm (56.6 in) wheelbase.
The only thing that doesn t say supersport (aside from the Bru-tale s state of undress) is the riding position, which is relatively upright and relaxed. The bike even has adjustable footpegs; as delivered in the centre position they were located supersport-high, but lowering them using the eccentric adjusters placed them comfortably lower, while still providing more than enough cornering clearance. The tips of the brake pedal and shift lever are also adjustable to maintain the appropriate angle at your feet.
The 1,078 cc inline four is the same as the one in the F4, but it has been detuned to produce 156 hp, which is 30 hp down from the F4. The engine does produce tons of torque at lower revs (peak is 73.8 lb-ft at 10,100 rpm), though it really gets honking if the tach needle is kept above 6,000 rpm. The engine feels particularly strong due to its low-ish overall gearing (it has two more teeth on the rear sprocket, at 43, than the F4).
As such, the engine feels busy on the highway, spinning away at about 4,900 rpm at an indicated 110 km/h, though it is relatively smooth with only light buzzing coming through the tubular aluminum handlebar and footpegs. This lower gearing also affects fuel consumption, and the Brutale RR averaged 6.8 L/100 km (41 mpg) during testing, giving it a theoretical range of 337 km from its 23-litre fuel tank.
Power delivery is quite forceful —almost to the point of being abrupt —from right off idle, demanding a discriminating right wrist. This almost entices you to roll on the throttle, regardless of which gear you re in, just to feel the front end get light —very light. It gets light enough in the first three gears to lift the wheel without the clutch, though the bike s eight-level traction control makes sure I don t indulge in such indiscretions.
The fuel injection works well and the throttle is responsive, though the engine does exhibit what we once knew in the time of carburetors as cold-blooded behaviour. It would occasionally hiccup and cough through the intake system when cold, and would still do it, albeit at a much reduced frequency, when warm.
We re told this subsides with more kms (our two test units were very new), and it doesn t deter from the ride, though it is something that someone who d just spent almost 20 grand on a bike (the Brutale RR retails for $19,995) would probably point out as an annoyance and want corrected.
When I picked up the Brutale, the suspension was very soft. The bike sat low and the rear shock lacked appropriate rebound damping. This actually made riding around town nice as the Brutale soaked up road irregularities without harshness and felt quite plush.
However, as I hit the back roads I cranked up the compression and rebound damping front (damping duties are separated between the fork tubes, compression in the left fork, rebound in the right) and rear, and added a touch of preload in the rear (using the supplied tool on the twin locking rings) to adjust rear ride height.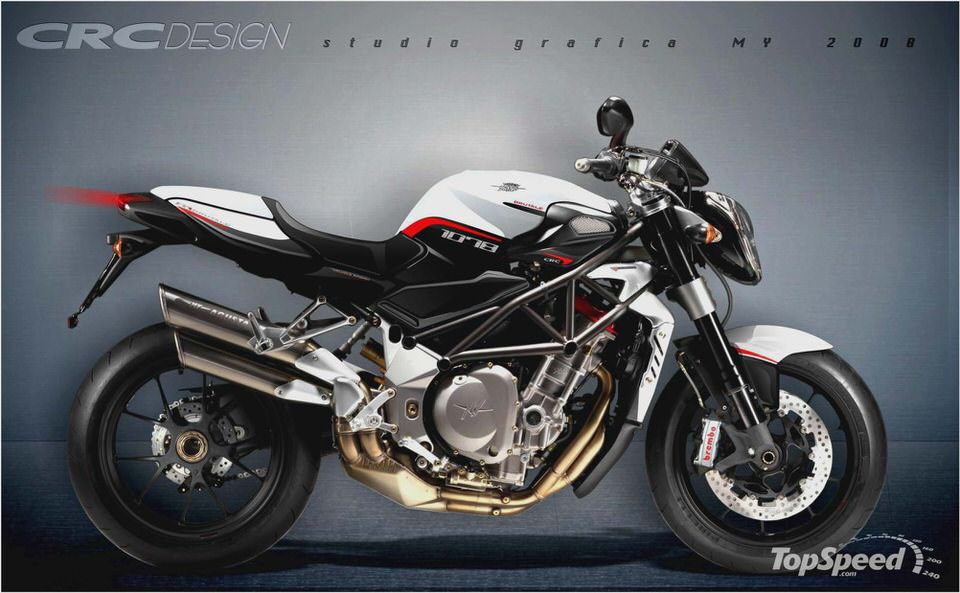 This transforms the Brutale into a true back road weapon, with sharp, responsive compliance and surefooted handling through both slower, tighter turns and faster sweepers. This wide adjustment range reveals that the Brutale s suspension is capable of handling a wide range of conditions, and is track day-ready right out of the box. The Pirelli Diablo Supercorsa radials also help in this respect, providing track-ready grip.
A centrally mounted, adjustable steering damper that is efficient —and looks cool to boot —enhances stability.
The front Brembos have a strong initial bite and require light lever effort for hard stops, while the rear isn t overly prone to lock up. Braking is aided by a slipper clutch, which keeps the rear end in check and chatter-free when nailing the binders coming into comers.
Of course, it s not all rosy with the Brutale, and one of the things engineers will need to work on is the electronics interface. Scrolling through the various menus in the LCD display (for adjusting traction control and such) is convoluted and confusing. Just resetting the trip meter requires pushing two buttons about six times in total before the elusive zero can be called up when topping up the fuel tank.
And there s no clock in the digital display, which is quite odd because the bike has an on-board lap timer. But these are minor hindrances on a machine that returns a great deal of riding pleasure.
If you do buy one, however, you should get accustomed to answering questions from curious onlookers, both riding and non-riding types. As much as its sound and character may intimidate, its unique styling draws stares, and it seems it does so equally whether in matte black or red, white and blue America colours (I got gawked at on both). It also comes in red/silver.
Is it worth almost 20 grand? Well, it costs less than the $22,495 Ducati Streetfighter S but more than the $15,695 Aprilia Tuono V4 R and $17,499 Triumph Speed Triple. It makes more power than the Triumph (133 hp), less than the Aprilia (165 hp) and is on par with the Ducati (155 hp).
MV Agusta is a small company with a storied past and, as of not too long ago, an uncertain future. With that uncertainty now behind, what the Brutale has on the others is exclusivity.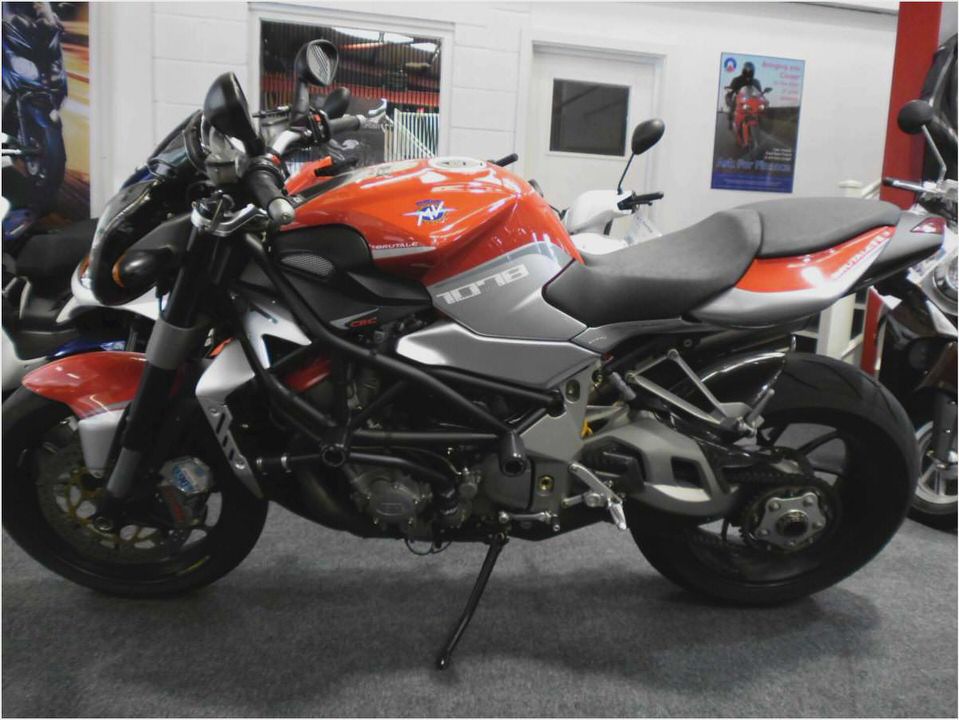 Past or Present? 1973 MV AGUSTA 350 Ipotesi And 2005 F4 Ago Rare SportBikes…
2005 MV Agusta F4-1000 S –
MV Agusta Brutale 910 S By Raptorsandrockets How To Make & Do Everything!
MV Agusta 1078 RR 312 – Motorbikes Reviews, News & Advice – bikepoint.com.au
Harley-Davidson plans to close Buell line and sell MV Agusta – Los Angeles Times